Plurality of Music-Streaming Users Want R. Kelly Removed From Platforms
Following guilty verdict, 44% of streaming users believe the R&B singer's catalog should be eliminated from Spotify and Apple Music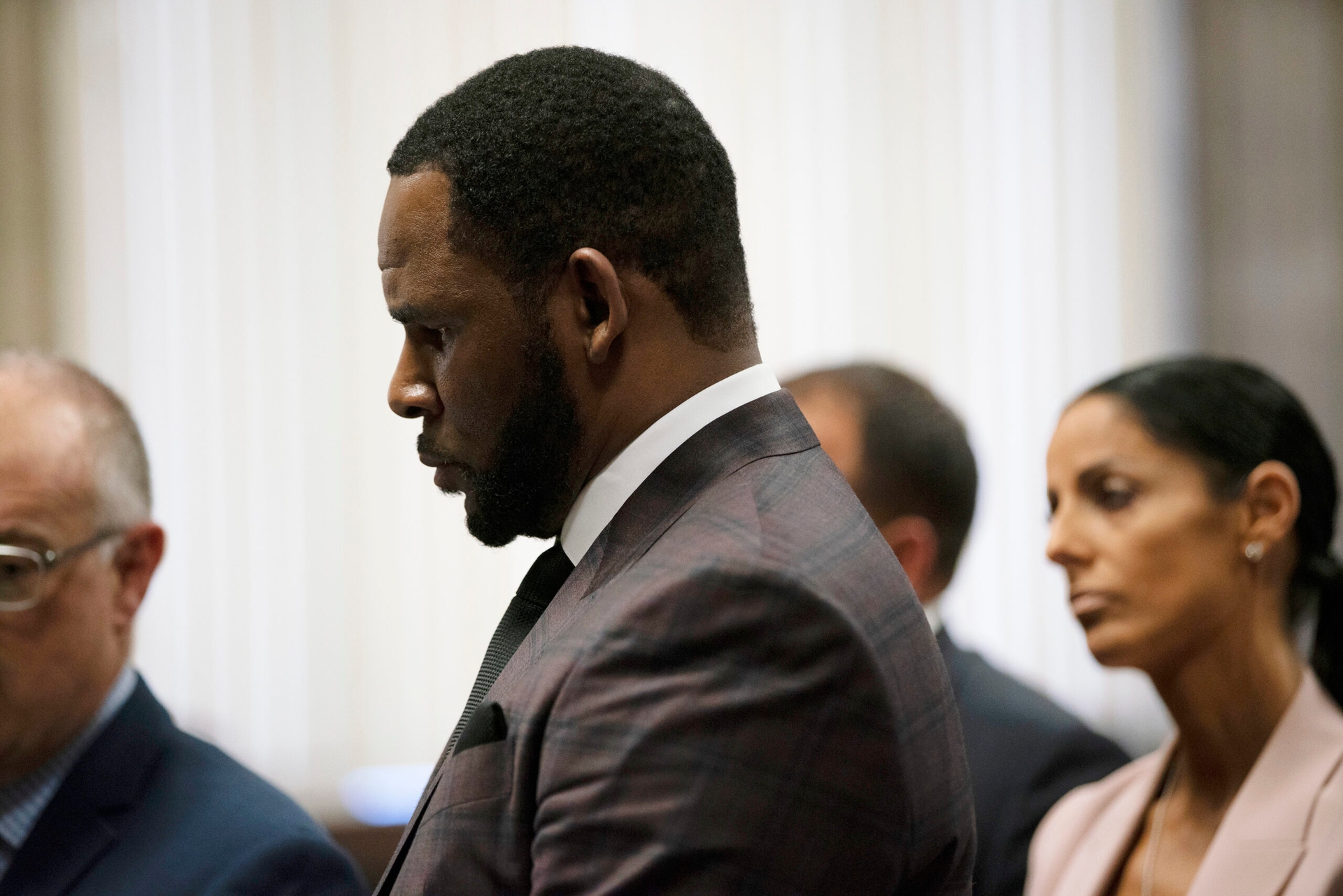 Key Takeaways
At 58%, baby boomers were the generation most likely to say Kelly's music should be removed from streaming services.

Meanwhile, Michael Jackson's favorability rating since a March 2019 poll has increased 12 points, to 58%.
If music streaming services removed R. Kelly's songs from platforms, a plurality of users would agree with the decision, according to new polling.
Following the disgraced R&B singer's Sept. 27 conviction on racketeering and sex trafficking charges, 44 percent of audio streaming service users said platforms such as Spotify and Apple Music should remove Kelly's music from their catalogs, while 36% said his work should stay up.
Among generations, baby boomers were most likely to say R. Kelly's music should come off streaming services, at 58 percent, while millennials, at 41 percent, were the most likely to say his work should remain on the platforms. The Sept. 29-30 survey of 2,200 U.S. adults and 982 audio-streaming service users carries margins of error of 2 and 3 percentage points, respectively.
For years, reports and rumors of Kelly's abuse toward women and underaged girls followed the "I Believe I Can Fly" singer, most recently in the 2019 Lifetime documentary series, "Surviving R. Kelly." Citing an artist conduct policy, and feeling pressure from the grassroots #MuteRKelly online campaign, Spotify removed Kelly's music from its platform in 2018, only to reverse course and add his work back to the service a few weeks later when musicians pushed back on the policy's fairness. Today, Kelly has nearly 5 million monthly listeners on Spotify, which had about 165 million subscribers overall as of June.
But after Kelly was found guilty of racketeering, sex trafficking, kidnapping, bribery and other charges, the question of whether these popular platforms should remove his music is being debated again. Facing the potential of life in prison, the 54-year-old Chicago native will be sentenced in May.
The late September poll, however, suggests the public's negative view of Kelly, a 26-time Grammy nominee and three-time winner, could improve over time — if recent sentiment toward Michael Jackson, another musician whose downfall has polarized the public, is any indication.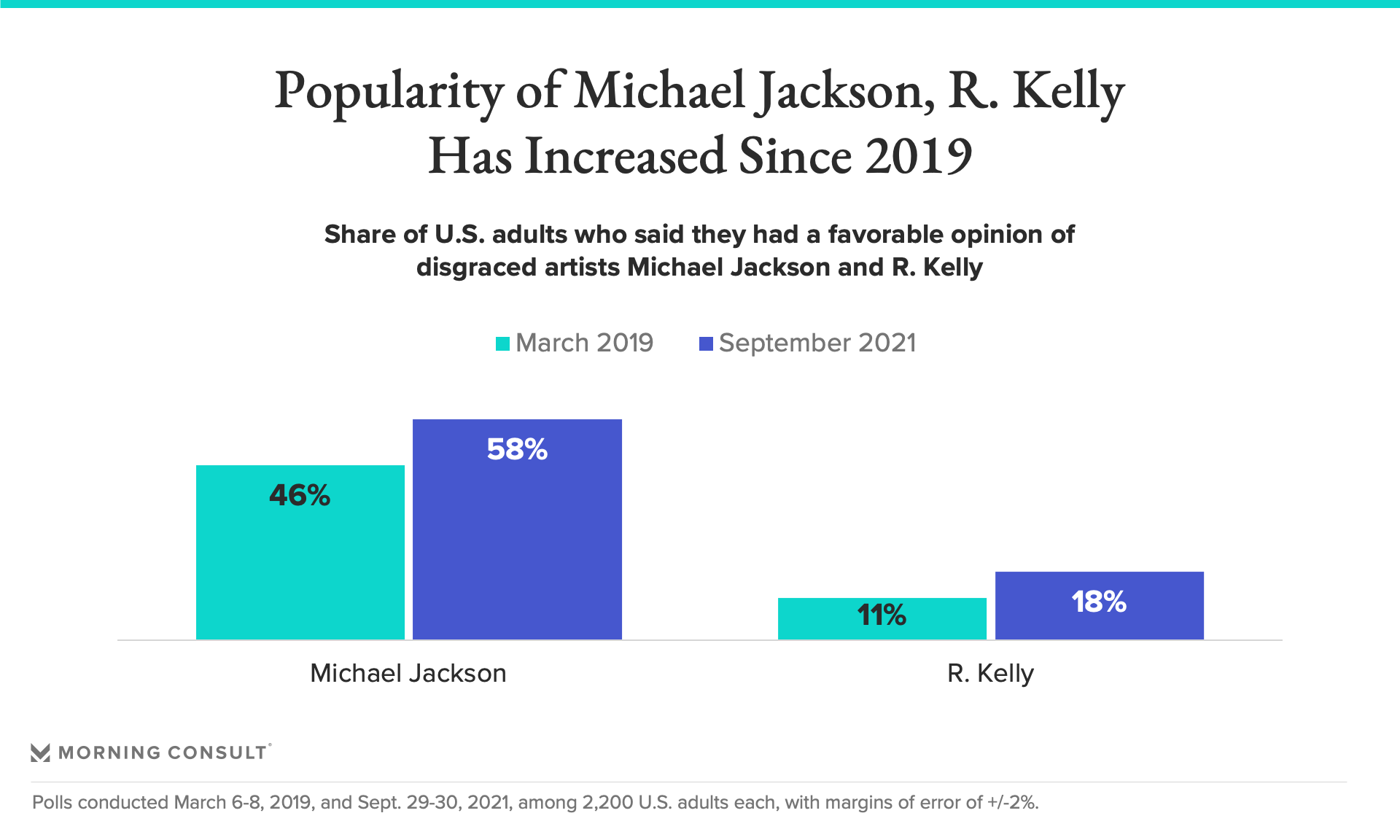 As of last month, Jackson's favorability rating among U.S. adults had gained 12 points, to 58 percent, since a poll in March 2019, when HBO released the "Leaving Neverland" documentary, detailing allegations that Jackson sexually abused two men, Wade Robson and James Safechuck, when they were minors.  
Kelly's starting point, however, was much lower than Jackson's. In March 2019, Kelly had a favorability rating of just 11 percent. As of late September, his popularity was 18 percent. And, unlike Jackson, Kelly was actually convicted. In a high-profile 2005 trial, Jackson was acquitted of sexually abusing a child, and he died before the later allegations described in "Leaving Neverland" came to light. Jackson's music also remains on all major streaming platforms.
Wesley Case is a research editor on the Industry Intelligence team, focusing on coverage of entertainment, brands and sports. Prior to joining Morning Consult, he was an editor at The Athletic and a features reporter and critic at The Baltimore Sun. Wesley graduated from the University of Delaware with a bachelor's degree in English and a concentration in journalism.
We want to hear from you. Reach out to this author or your Morning Consult team with any questions or comments.
Contact Us