As 2022 Campaign Begins, GOP Voters Sour on Senate Republicans
Most Republican incumbents saw their approval ratings fall among GOP voters in recent months, highlighting the risk of distancing from Trump
Key Takeaways
Senate Minority Leader Mitch McConnell (R-Ky.) saw the largest decline in his approval rating among GOP voters, dipping 29 points, to 41%.

Sen. John Thune (R-S.D.), who is up for re-election next year, saw his approval rating fall 16 points among Republican voters, and just 22% are "strongly" in his corner.

Intraparty declines for retiring Pennsylvania, Ohio senators illustrate the challenges of simultaneously satisfying both the base and the broader electorate in the Trump era ahead of contested primaries.
Retaking control of the Senate chamber next year is within the GOP's reach, but first the party's senators will need to cure the collective political hangover brought on by the ignominious exit of former President Donald Trump and come to grips with his continued influence with their voting base. 
That's no minor feat, according to Morning Consult Political Intelligence tracking data, which shows that Republican voters have taken a dimmer view of most of their senators in recent months.
The mere acceptance of President Joe Biden's victory – culminating in the Jan. 6 votes to accept the Electoral College count after rioters acting in Trump's name stormed the Capitol – and criticism of the outgoing president's conduct preceded a weakening in state GOP voter support for many of the conference's members, underscoring Trump's enduring hold on the party's base as the Senate GOP looks to avoid contentious primary elections and keep the Trump coalition united and energized going into next year's midterm elections.
"You cannot say, 'Trump voters, come out and vote and support us' while saying 'Trump's a horrible person,'" said Shermichael Singleton, a former Republican consultant who worked on Ben Carson's 2016 presidential bid. "These people are not stupid."
Senate Minority Leader Mitch McConnell (R-Ky.), who cruised to re-election last year before losing the Senate majority and emerging as a critic of Trump's assault on the election process, saw the sharpest intraparty drop when comparing surveys conducted before the November election and throughout the month of January ahead of Trump's impeachment trial. His approval rating fell 29 percentage points among Kentucky Republicans, to 41 percent, while the share who disapprove of his job performance increased to 54 percent.
While McConnell may not be on the ballot next year, his top lieutenant, Minority Whip John Thune of South Dakota, is. After refusing to go along with Trump's baseless allegations of voter fraud – leading Trump to declare his political career over and urge a Republican to challenge him in a primary – Thune's approval rating among Republicans dropped 16 points. While 69 percent approve of Thune, only 22 percent are "strongly" in his corner.
Other Republican incumbents facing re-election in red states – such as Jerry Moran of Kansas or Roy Blunt of Missouri – have similarly soft numbers, with GOP voters far more likely to "somewhat" approve of their job performance than to do so "strongly."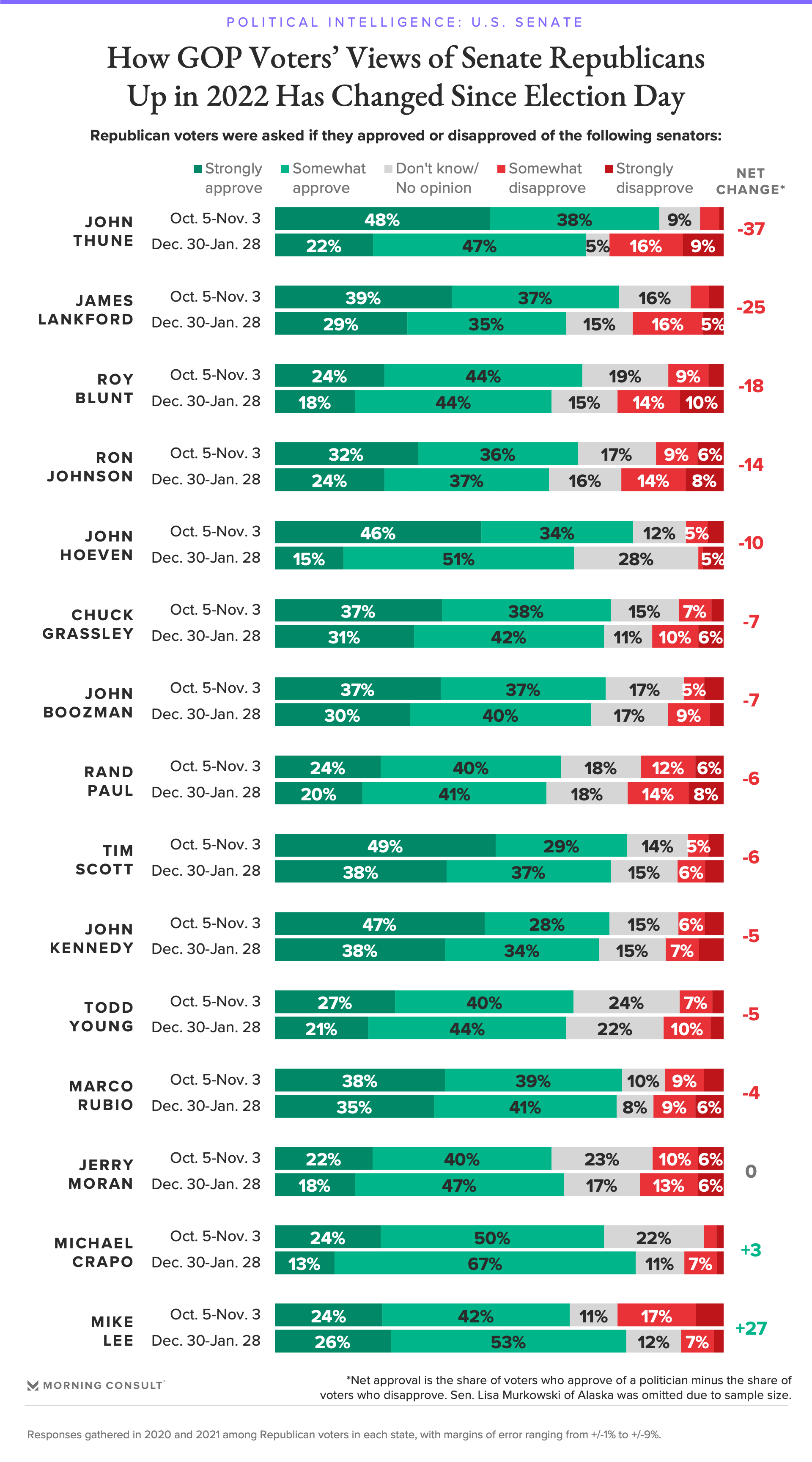 In Missouri, Republican strategists interviewed over the past week view Blunt as particularly vulnerable to a primary challenge from someone like former Gov. Eric Greitens, who has not publicly ruled out a bid. Sixty-two percent of voters approve of Blunt's job performance – with 18 percent doing so strongly, and he remains in weaker standing with Missouri Republicans than his junior colleague, Sen. Josh Hawley (R-Mo.), who, unlike Blunt, led Senate efforts to challenge the election result. Sixty-nine percent of Show-Me State GOP voters approve of the junior senator, including 40 percent who do so strongly.
Sens. Marco Rubio of Florida, Tim Scott of South Carolina and Chuck Grassley of Iowa – who, at 87, is the chamber's oldest Republican and has not yet indicated whether he will seek re-election – all appear to have been spared the base's wrath since Nov. 3, remaining popular with more than 3 in 4 GOP voters. But South Carolina Republicans' support has softened for Scott during that time, after he ultimately voted to uphold Biden's victory on Jan. 6.
In Wisconsin, Sen. Ron Johnson – who aligned with Trump's election challenge publicly while reportedly admitting privately that Biden won – starts the 2022 cycle with one of the weakest approval ratings (61 percent) among GOP voters. He is also the most unpopular Republican among the broader electorate who is up for re-election next year.
Johnson has not said whether he will run in 2022, but four of his Republican colleagues have already decided to retire. Though Sen. Richard Burr of North Carolina has long since announced his intent to step aside, Sens. Richard Shelby of Alabama, Pat Toomey of Pennsylvania and Rob Portman of Ohio more recently publicized their plans, setting off potentially divisive primary contests ahead of competitive November campaigns in each state besides Alabama.  
Shelby and Burr saw little movement in their job approval ratings among Republican voters following the 2020 elections, but Portman and Toomey – who was especially vocal in pushing back against the president's rhetoric of a stolen election – did. The decline in positive Republican sentiment about the two Republicans was not echoed among independent and Democratic voters in their states, illustrating the challenges of simultaneously satisfying both the base and the broader electorate in the Trump era. 
"The former president's still incredibly popular with Ohio Republicans," said Nicholas Everhart, a Republican strategist in Ohio. "I don't think anybody who's running from him will succeed, and the guys who aren't 'Trumpy' aren't going to badmouth him."
The Buckeye State offers an early look at how Republicans will wrestle with the proverbial elephant in the room for 2022. While Rep. Jim Jordan (R-Ohio), a top Trump ally in Congress, has passed on the race, former state Treasurer Josh Mandel launched his Senate campaign by citing the former president's second impeachment trial as its impetus, and Jane Timken, who was formerly the Trump-backed chair of the Ohio Republican Party, is also expected to run. Strategists involved in the state also suggested a potential run from Rep. Steve Stivers (R), who's taken a more cautious approach to Trump.
At this point, Republican strategists working in Ohio are talking about engagement: getting those Trump voters who helped the 45th president carry the state twice to do it again without the "MAGA" leader atop the ticket. Everhart said the sweet spot for a Republican Senate nominee would be someone who can attract both the Trump backers – often white voters without college degrees – and the more traditional Republican base: voters who prioritize guns, religion, abortion and other social issues.
It's going to take someone who is personally dynamic who can communicate well with a broad coalition under a GOP banner.
Charlie Gerow, Pennsylvania Republican strategist and vice chairman of the American Conservative Union
But Trump won't be on the ballot next year, and the January Georgia Senate runoffs offered a potential warning sign for what happens to GOP turnout when Trump is actively undermining the party's efforts or isn't sufficiently invested in helping it -- though House Minority Leader Kevin McCarthy (R-Calif.) has promised the former president will be supporting the party's efforts in 2022.  
Along with the push from the right to embrace the former president, there's also the fear of overcorrecting the base problem and firing up Democratic voters as Biden's party looks to hold Senate seats in Arizona and Georgia, and rack up wins in places like Ohio, Pennsylvania and North Carolina.
"There's going to be a side on the right that thinks that because Biden's in the White House, if we win the primary, we're going to win the general election," said Paul Shumaker, a Republican strategist in North Carolina who helped shepherd Republican Sen. Thom Tillis' narrow re-election win last year. "I think McConnell and company recognize it's a much bigger lift than just that." 
Shumaker said any Trump voter turnout boost in the Tar Heel State was outpaced by Biden's in key counties for the president's party – something Democrats are actively working to improve as they seek to flip Burr's seat. Former Rep. Mark Walker is the lone GOP candidate in the race and has already been endorsed by freshman Rep. Madison Cawthorn, a rising star in the Trump wing of the party. But Walker isn't expected to skate by without a conservative challenge: Former Gov. Pat McCrory is considering a bid, according to three GOP strategists working in the state, and there is also the possibility that former Trump chief of staff Mark Meadows, Cawthorn's predecessor, reconsiders his decision not to run. 
The balancing act is even tougher in Pennsylvania, home to one of Biden's narrowest November victories. Republican strategists involved in the Keystone State are prepared for the possibility of a large field, with a number of House Republicans considering a run for either Toomey's seat or the gubernatorial race if congressional redistricting does not work out in their favor.
In addition to interested parties on Capitol Hill, there are also several other potential candidates: Carla Sands, Trump's former ambassador to Denmark; Kenneth Braithwaite, a former Trump Navy secretary; and Jeff Bartos, a Trump-friendly suburban Republican who has publicly acknowledged his interest in the seat. Several strategists also floated former Rep. Ryan Costello, who emerged as a Trump critic after he left Congress, as a potential GOP candidate. 
"It's going to take someone who is personally dynamic who can communicate well with a broad coalition under a GOP banner," said Charlie Gerow, a Pennsylvania Republican strategist and vice chairman of the American Conservative Union, alluding to the Trump loyalists who showed up for the president and the suburban voters outside Philadelphia who shunned him. "You're going to have to have both of those constituencies put together, and that's going to be the challenge for any Republican candidate." 
When it comes to the competitive Senate races, a prevailing view among state-level Republican strategists is that the Biden presidency itself could be a key part of uniting the disparate coalition to defeat Democratic Senate candidates – potentially glossing over some of the internal heartburn over individual Republicans' fealty to Trump with a focus on potentially unpopular actions from Washington. 
"There are going to be some real problems that have to be solved, and the Democrats may be helping," said Shumaker.
Correction: A previous version of this story misspelled Cawthorn's surname.
Eli Yokley is Morning Consult's U.S. politics analyst. Prior to his current role, Eli was Morning Consult's senior reporter covering U.S. politics. Eli joined Morning Consult in 2016 from Roll Call, where he reported on House and Senate campaigns after five years of covering state-level politics in the Show Me State while studying at the University of Missouri in Columbia, including contributions to The New York Times, Politico and The Daily Beast. Follow him on Twitter @eyokley. Interested in connecting with Eli to discuss his analysis or for a media engagement or speaking opportunity? Email [email protected].
We want to hear from you. Reach out to this author or your Morning Consult team with any questions or comments.
Contact Us