Diners Miss Community, Ambiance — Two Things That Will Likely Be Absent as Restaurants Reopen
2 in 5 said one of the things they miss most about dining out is social experience; 19% cited ambiance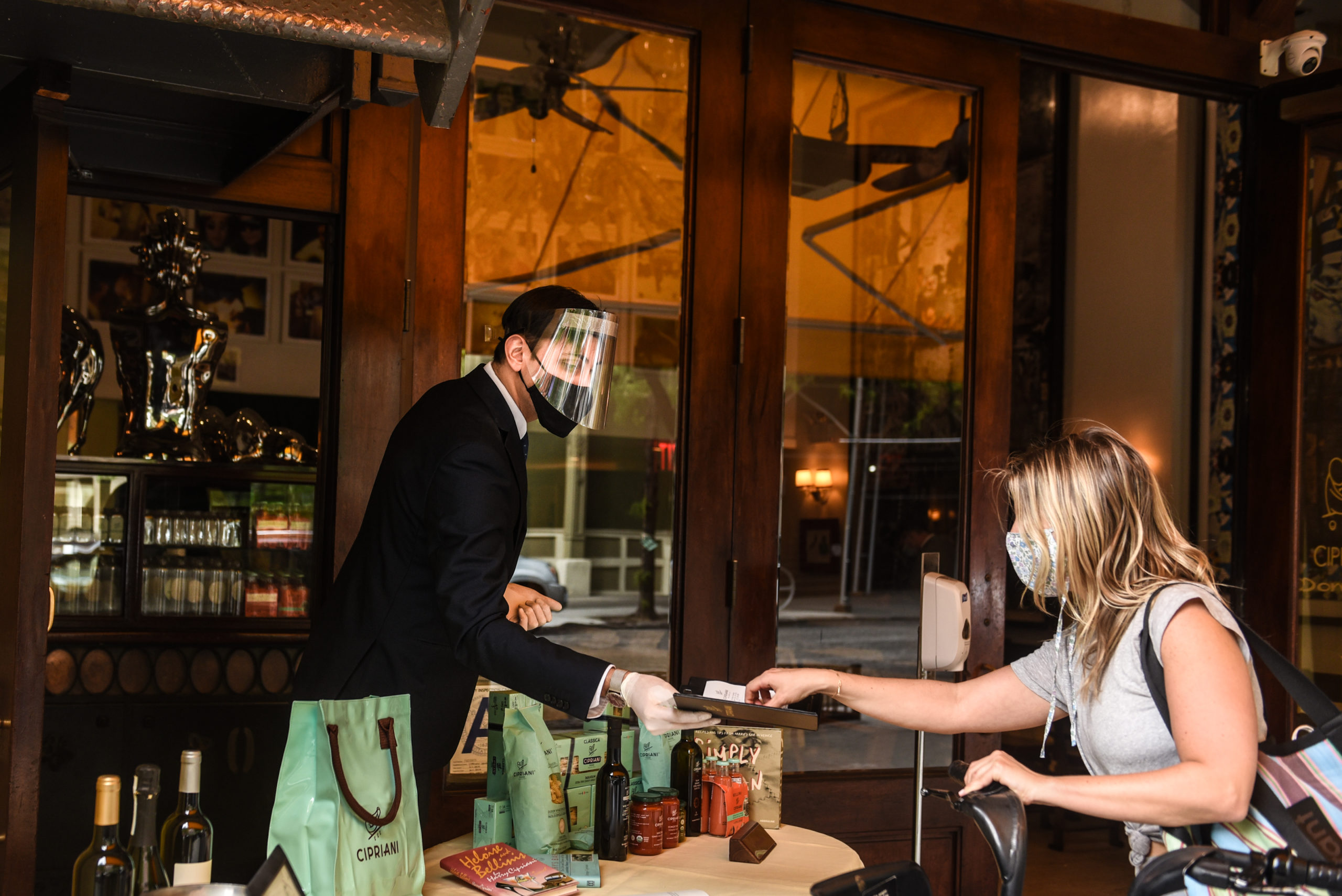 Before the pandemic, Americans spent more dining out than in grocery stores. But in April, the month with the most recent U.S. Census data available, with millions under stay-at-home orders and dining establishments shuttered nationwide, spending at restaurants dropped 49 percent compared to a year prior, and grocery spending jumped 13 percent.
Here's what that data looks like in real life: Never-ending piles of dishes in the sink. The same meals cooked at home on rotation, eaten either alone or with the same dinner guests. And the occasional take-out order, a brief respite from cooking, delivered in a bag and plastic containers. 
There's a lot to miss about dining out, but Morning Consult wanted to learn what specifically diners miss the most.
A new survey asked 1,551 U.S. adults what they miss most about dining out and provided them a blank space to respond — and many mentioned elements that could prove difficult to replicate under new social distancing policies.
Nineteen percent said something about ambiance or atmosphere in their response, while 17 percent wrote that they missed being waited on.
"There are going to be safety processes put in place that are going to take away from the pleasure of dining," said Amit Mehrotra, a professor in the New York City College of Technology's hospitality management department. 
Social distancing requirements have strictly limited the capacity for eateries that have reopened — in some cases by 25 or 50 percent, meaning that many normally buzzy, crowded eateries will be missing the typical ambient noise and dinner chitchat.
A quieter dining experience is not the only atmospheric change consumers might notice as they return to restaurants.
Some high-end restaurants in particular might bid farewell to leather-bound menus, swapping them for disposable ones to reduce the spread of germs. Diners might have to get used to pouring their own water or hand-selecting bottles of wine. Contactless payments could become much more common, and it might not be out of the ordinary for waiters to don face coverings and gloves.
Americans miss more than just the luxuries of ambiance and service at restaurants. Roughly two in five (41 percent) mentioned something about socializing when asked what they miss most about dining out, usually in reference to spending time with friends or family.
"We as human beings are social creatures," said Mehrotra, who also serves as a member of the International Council on Hotel, Restaurant and Institutional Education, a nonprofit dedicated to improving the hospitality and tourism industry. "The food is important because you can't be cooking every day and dishing out restaurant-quality food, but people also miss being social and being together."
Sarah Hassler, the chief executive officer at Hassler Hospitality Group LLC, which serves as a consultant for other chefs and restaurants, said that early on in the pandemic, she anticipated that people would miss the entire experience of dining out.
Consumers go to restaurants for that element of being taken care of, she said.
"Welcoming owners and waiters make the dining experience," Hassler said. "They'll have to pay attention to helping people feel safe but not shunned or unwelcomed, so it's a little more complicated that it was before."
Restaurant owners do face a challenge in encouraging customers to feel safe returning to their establishment, according to separate Morning Consult polling. As of early June, a little more than a third (35 percent) of adults said they feel comfortable eating at a restaurant, although that figure ticks up to 39 percent among U.S. adults making more than $100,000 per year.
Every home-cooked recipe comes with a grocery list, food to prepare and a sinkful of dishes to clean. Many are now missing the wait service of higher-end restaurants, where staff deliver meals, check in with tables frequently and clean up when customers leave. 
But in order to reopen safely, restaurants will have to limit staff interactions with customers whenever possible. 
"I think the policy will be to try to have minimum contact," said Mehrotra, of City Tech. "People like to feel special, and they like the attention when they're dining, but at the same time, you don't want people to feel like too much staff is circulating."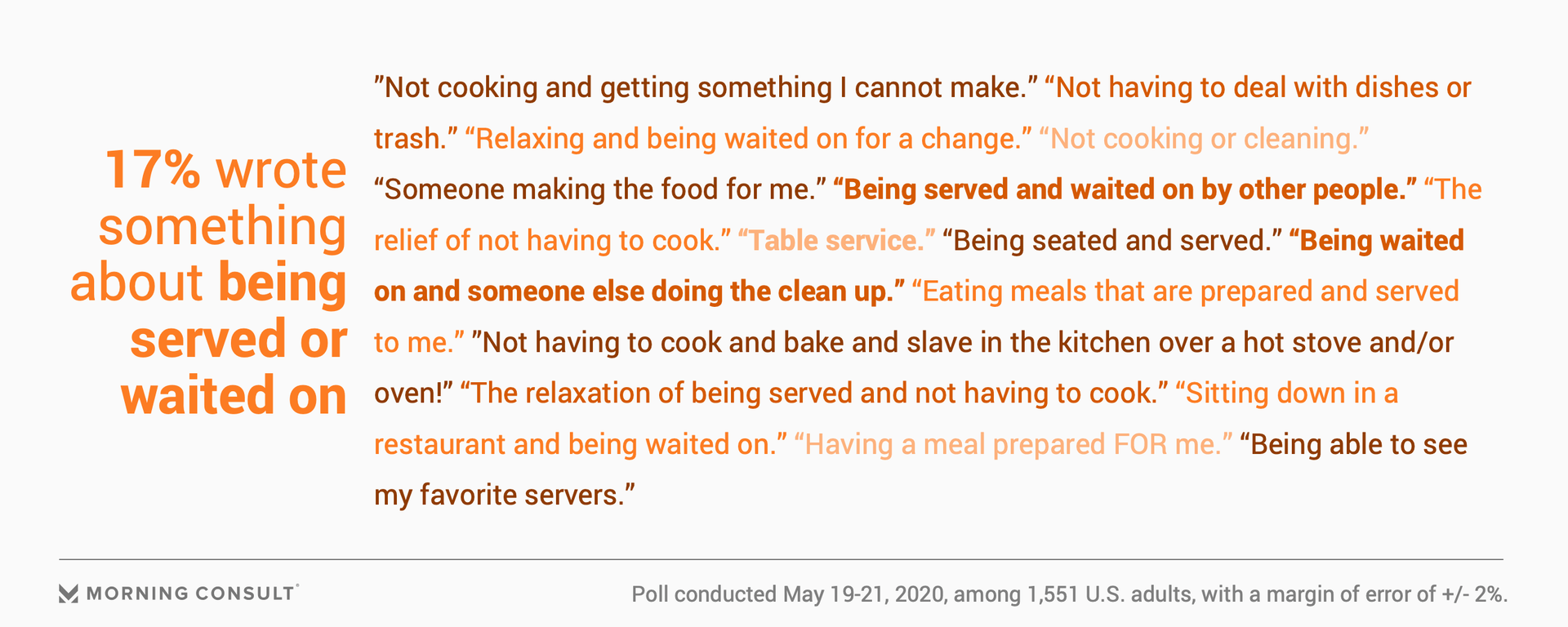 This could result in not only less attention from waiters but a stricter division of labor. The person who brings out your meal likely won't be the one to wipe down your table when you leave, for instance, and the person who takes your order won't be touching other dishes in the meantime. 
"That relationship with the waiter recommending a wine or pointing out an item on the menu isn't going to be there anymore," said Ramiro Lescano, the owner of Uruguayan restaurant Tabaré, which has two locations in Brooklyn. "It's going to be a cold relationship between the customers and the wait staff, but I'm sure customers will understand that this is the situation."
But for some restaurant owners, for whom staff are part of their brand and experience, it might not be worth reopening in the near future if they can't interact with customers.
That's how Luke Houghton, executive chef and owner of Pure Market and Eatery in Auburn, N.Y., sees the situation. 
"It's one of the reasons I don't really want to reopen yet," Houghton said. "That's part of our brand, that human connection you have with the staff and the people around you. I think you're definitely going to lose some of that with masks and social distancing."
Restaurants in New York state have been allowed to reopen with outdoor seating, but Houghton said he is not in any rush to do so, and will probably wait until July at the earliest to welcome back customers.
The biggest concern for dining establishments, however, has been balancing costs and revenue. Between increased investments in safety equipment, reduced capacity and dealing with the lost revenue of closing dining rooms for months, restaurants are likely to raise their prices.
"Anybody who is smart is going to raise their prices right now," Houghton said.
Morning Consult polling suggests consumers might be willing to pay more for a meal cooked by a professional. 
While many people have used their time in quarantine to improve their cooking skills, some have found they simply can't replicate their favorite restaurant dishes: Roughly a quarter (26 percent) of Americans said that food was among the things they missed the most about dining out. 
Although restaurants in New York City have not been allowed to bring customers back to their dining rooms as part of the city's first phase of reopening, Tabaré is already weighing its options for when it opens its doors, including a pre-fixed menu on typically crowded nights to ensure customers are spending enough for the restaurant to turn a profit. 
Lescano is also considering new safety measures such as contactless payments, masks and gloves for waiters and reduced interactions between diners and staff. 
The chef and owner is optimistic that customers will be willing to sacrifice part of the ambiance while paying higher prices to support small businesses — at least for the time being. But considering how strongly consumers are craving the experience of sitting down with friends and family to enjoy a meal, Mehrotra also said he anticipates they will accept the give and take. 
"It's not going to be like before, but I think people will adjust to the new normal," he said.
Alyssa Meyers previously worked at Morning Consult as a reporter covering brands and marketing.
We want to hear from you. Reach out to this author or your Morning Consult team with any questions or comments.
Contact Us