As Delta Variant Adds Urgency to COVID-19 Vaccination Drive, About 3 in 5 Adults Back Vaccine Mandates
Findings come as California, New York City impose vaccine requirements for government and health workers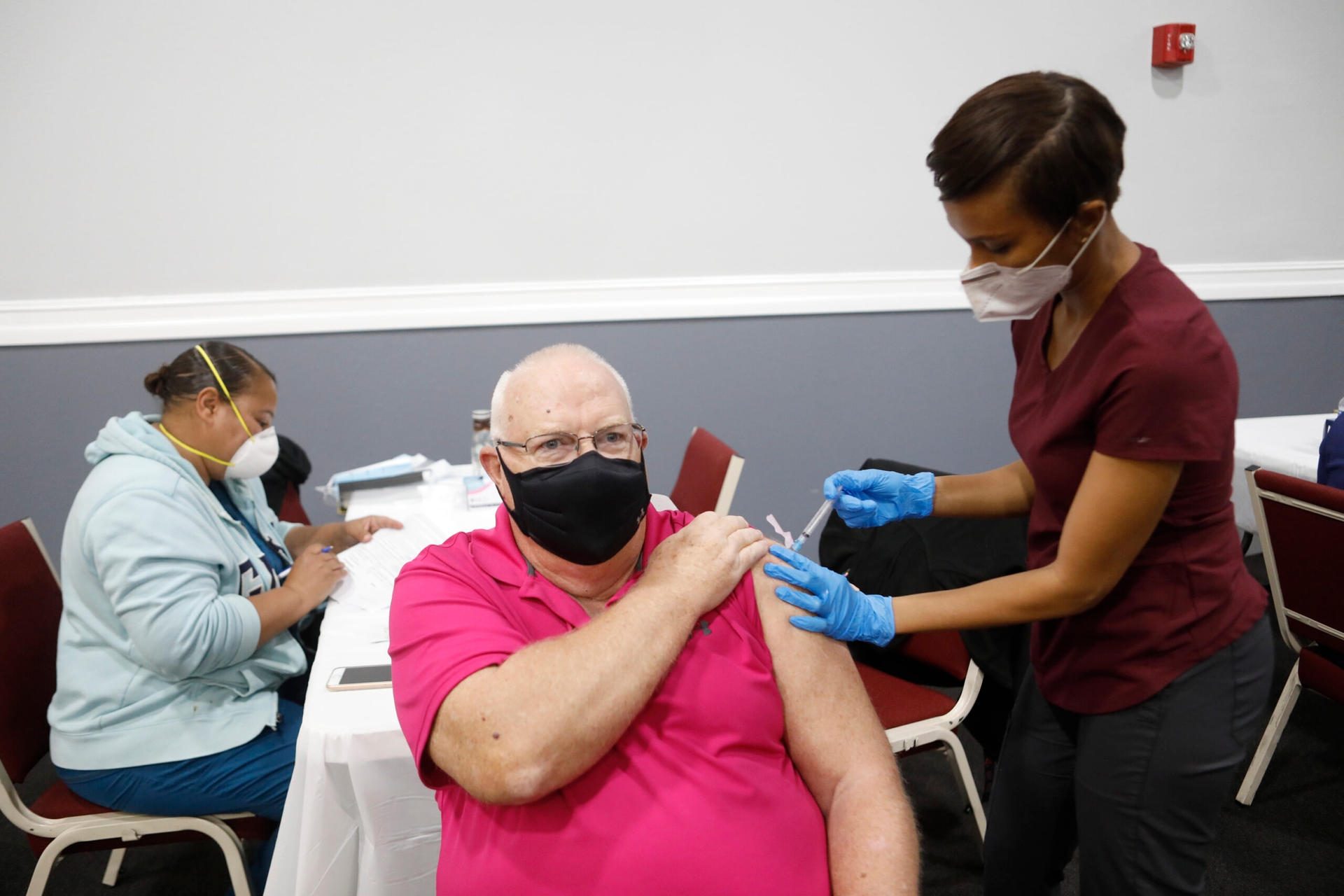 Key Takeaways
About 3 in 5 adults said federal, state and local governments, as well as employers, schools and businesses, should require vaccinations for residents, customers and workers.

77% of vaccinated adults said the federal government should impose a vaccine requirement, while 34% of unvaccinated adults said the same.

73% of adults said they are concerned about the delta variant.
After a relatively fruitless summer of vaccine incentives offered in an attempt to win over wary Americans, the country's COVID-19 vaccination campaign is shifting: Out with the freebies, in with the mandates.
The U.S. vaccination drive has fallen to a seven-day moving average of roughly 483,000 shots administered per day, down from its peak of more than 3 million daily doses in mid-April, and policymakers are now mulling options to reinvigorate the effort as the delta variant drives up infections across the country.
This week alone, California, New York City and the Department of Veterans Affairs have all announced new vaccine requirements — with caveats for those willing to undergo regular testing — while leading medical groups are calling for similar rules for all health care workers and President Joe Biden said Tuesday that a mandate for federal workers is "under consideration."
New Morning Consult data suggests much of the public is on board: About 3 in 5 adults say federal, state and local governments, as well as employers, schools and businesses, should require vaccinations for residents, customers and workers.
Yet there's a stark divide between those who have gotten the shot and those who haven't: 77 percent of vaccinated adults, for example, think the federal government should "definitely" or "probably" impose a vaccine requirement, while just 34 percent of unvaccinated adults say the same.
Nearly 3 in 5 Adults Back COVID-19 Vaccination Mandates by Employers
U.S. adults were asked whether employers should require COVID-19 vaccinations for residents, employees or patrons
Poll conducted July 22-24, 2021, among 2,192 U.S. adults, with a margin of error of +/-2%. "Don't know/No opinion" responses are not included.
"The tipping point really is the recognition by the vaccinated that the choices by the unvaccinated really impact everyone's life and the economy, and a recognition that delta is real and bad," said Dr. Bob Wachter, chair of the department of medicine at the University of California, San Francisco. "The initial strategy of all carrots was not getting to a place that we need to be."
Yet while 73 percent of U.S. adults in the poll — including 83 percent of vaccinated adults — said they are concerned about the delta variant, unvaccinated adults were less likely to say as much, at 58 percent.
Many communities with lower vaccination rates have also been resistant to pandemic restrictions such as mask mandates, suggesting vaccine requirements will face more resistance in areas where rates need to be brought up the most.
"It sort of spirals in both directions," Wachter said. "Certain places that are doing OK are probably going to continue doing more OK, and the places that are doing poorly are going to continue to do poorly."
The divide is in part a political one. Republicans have been consistently less likely to say they've gotten vaccinated than Democrats, and the latest survey highlights a similar split around vaccine requirements: 76 percent of Democrats said they back vaccination mandates from employers, for example, compared with 38 percent of Republicans.
If mandates are implemented in areas with low vaccination rates, they "will be politically unpopular among the vocal unvaccinated, but they're also very likely to work at getting more people vaccinated," said Larry Levitt, executive vice president for health policy at the Kaiser Family Foundation.
Dr. Leana Wen, a visiting professor of health policy and management at the George Washington University and former Baltimore city health commissioner, said de-escalating the idea of vaccine mandates will be critical to getting more people to accept them, and suggested reframing them as COVID-19 testing requirements that people can opt out of by getting a shot.
Such mandates could be especially effective in health care settings like nursing homes and in workplaces where people are being asked to work in-person, she said, adding that "doing more of the same is not an effective strategy."
The White House has shied from endorsing vaccine requirements so far, but Biden cited concerns over the delta variant Tuesday when he announced that a mandate for federal workers is on the table. The findings also come as the Centers for Disease Control and Prevention reverses its May guidance on mask-wearing to recommend that some fully vaccinated people resume wearing them in public.
The agency and the Biden administration have suffered hits in public opinion as the delta variant spreads, with the poll showing that among voters, net approval for the CDC's and President Joe Biden's handling of the virus fell to record lows this week.
Now, with the administration growing increasingly desperate to drive up vaccination rates and stave off the spread of the delta variant, Wen and Wachter said it may be time to take a tougher approach with vaccine holdouts.
"It's pretty clear that we need the vaccine rate to be higher," Wachter said, "and it's pretty clear that the only way to get there is going to be putting more skin in the game."
Gaby Galvin previously worked at Morning Consult as a reporter covering health.
We want to hear from you. Reach out to this author or your Morning Consult team with any questions or comments.
Contact Us