Rising Democratic Support for Candidates Who Favor 'Medicare for All' Over ACA
Increase comes amid wider media coverage of party's debate over single-payer health system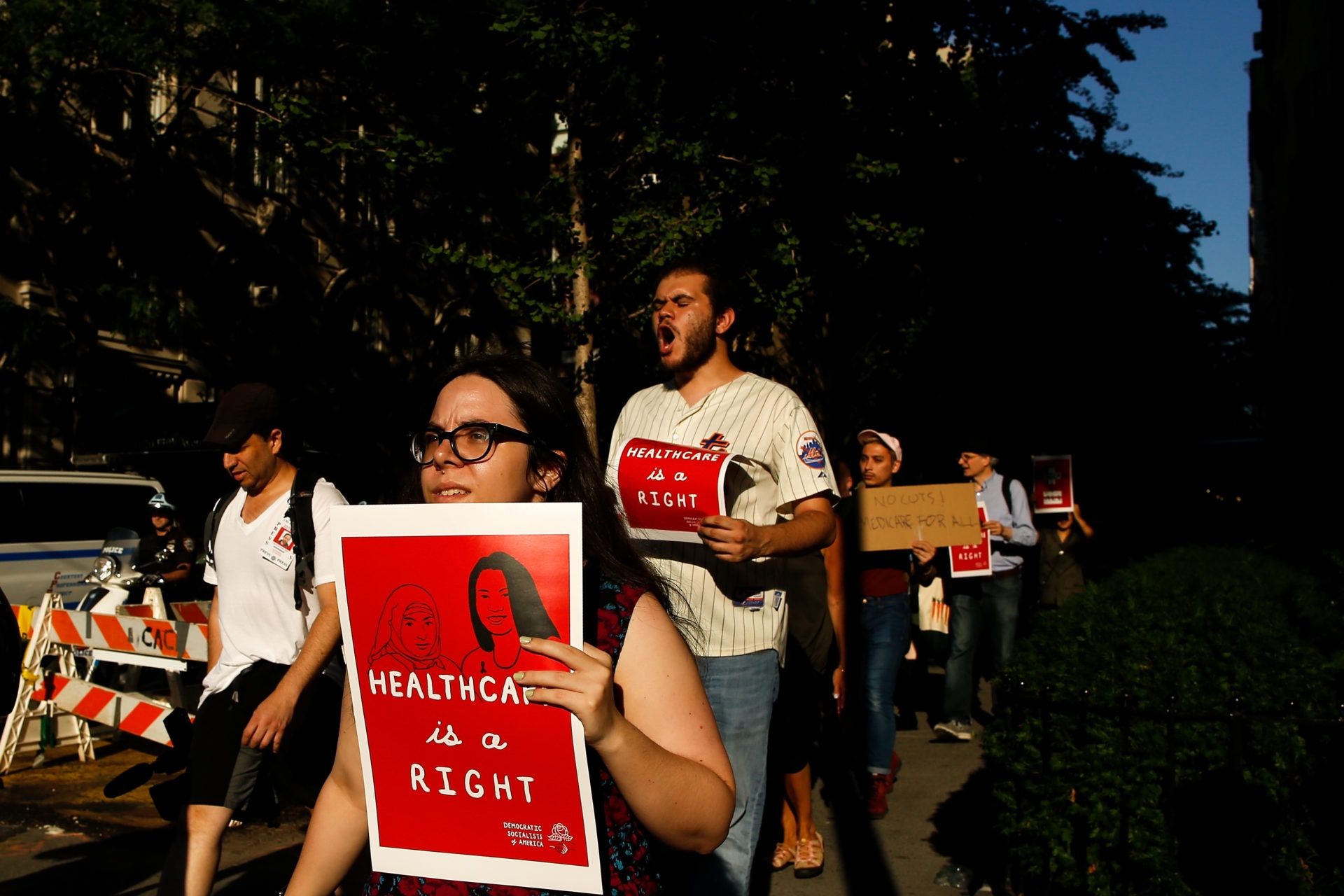 Key Takeaways
Net support for a candidate that supports 'Medicare For All' over building on the ACA was at 52 points in August, up from 35 points in January

Still, Joe Biden retains his lead among potential Democratic primary voters, polling at 33% while Bernie Sanders is at 20%
As distinctions between Democratic presidential hopefuls become increasingly stark nearly six months before the 2020 Iowa caucuses, a new survey finds enthusiasm within the party's electorate for a candidate that supports "Medicare for All" over building on the Affordable Care Act has surged over the course of 2019.
Morning Consult/Politico polls taken Jan. 25-27 and Aug. 23-25 asked voters if — and in what direction — a candidate's support for implementing a Medicare for All system over preserving and improving the ACA would affect their likelihood of backing that candidate.
Among Democrats, net support (the share of those who said that attitude would make them more likely to back a candidate minus the share who said they would be less likely) grew from 35 points in January to 52 points in the latest poll, which surveyed 1,987 registered voters, including 768 Democratic voters. The overall poll had a margin of error of 2 percentage points, while the subsample has a margin of error of 4 percentage points.
While it is challenging to draw direct links between a candidate's position in one particular policy area and their subsequent performance in the polls, affinity toward Medicare for All by three of the four current frontrunners (albeit to varying degrees) is worth noting when taken alongside the survey results, and revealing of the leftward shift within the Democratic Party during this primary. 
Eagan Kemp, a health policy expert at the progressive nonprofit consumer advocacy group Public Citizen, noted how the dialogue around health care has changed from January through August: three House committee hearings on Medicare for All, extensive time devoted to the issue in two Democratic presidential primary debates and ongoing coverage of the differences between the candidates' plans.
Still, the data comes as former Vice President Joe Biden — who has spurned a single-payer system in favor of expanding the ACA with a public option — continues holding tight to his 13-point advantage over Sen. Bernie Sanders (I-Vt.), the party's loudest supporter of Medicare for All.
That's because the Democratic primary, and the upcoming general election, is about more than just health care, said Leslie Dach, campaign chair for health care advocacy group Protect Our Care and a former adviser to former Secretary of State Hillary Clinton's 2016 presidential campaign. 
"The Democratic base and the people who will not stay home in this election, they're not going to stay home because of questions about nominees' agendas on health care," Dach said. "There's just people's overwhelming desire to rid America of Donald Trump."
Biden has underlined this message across policy areas by deploying a strategy that largely glosses over primary disputes and lands squarely on what's at stake come November 2020. 
And where health care is concerned, Dach said, Democratic voters respond more to kitchen-table issues — drug costs, protections for people with pre-existing conditions and health plans with broad coverage — than the ideological split with the party on the future of the U.S. health system.
In the general election, Dach said, the health care debate will recalibrate on the gulf between the Republican zeal to overturn the ACA and "what the American people want."
Among all voters, net support for a candidate who prefers Medicare for All to the ACA is notably lower, at 13 points in the August survey. Still, Democrats maintain their 14-point edge over Republicans when voters are asked about which party they trust more to handle health care — a lead the Democratic Party has held since the Republicans' failed ACA repeal attempts in 2017.
No matter who the nominee is, Kemp said he does not expect the grassroots push for Medicare for All to wane.
"If it is Biden, or somebody who is not as strong on Medicare for All," Kemp said, "there's going to continue to be strong pressure to bring Biden in line with the Democratic base, and continue pushing legislators and others around the country to support Medicare for All."
Yusra Murad previously worked at Morning Consult as a reporter covering health.
We want to hear from you. Reach out to this author or your Morning Consult team with any questions or comments.
Contact Us