Sanders, Biden Can Expect Near-Equal Gain From Warren's Exit
Supporters of the Massachusetts Democrat are slightly more predisposed to back Sanders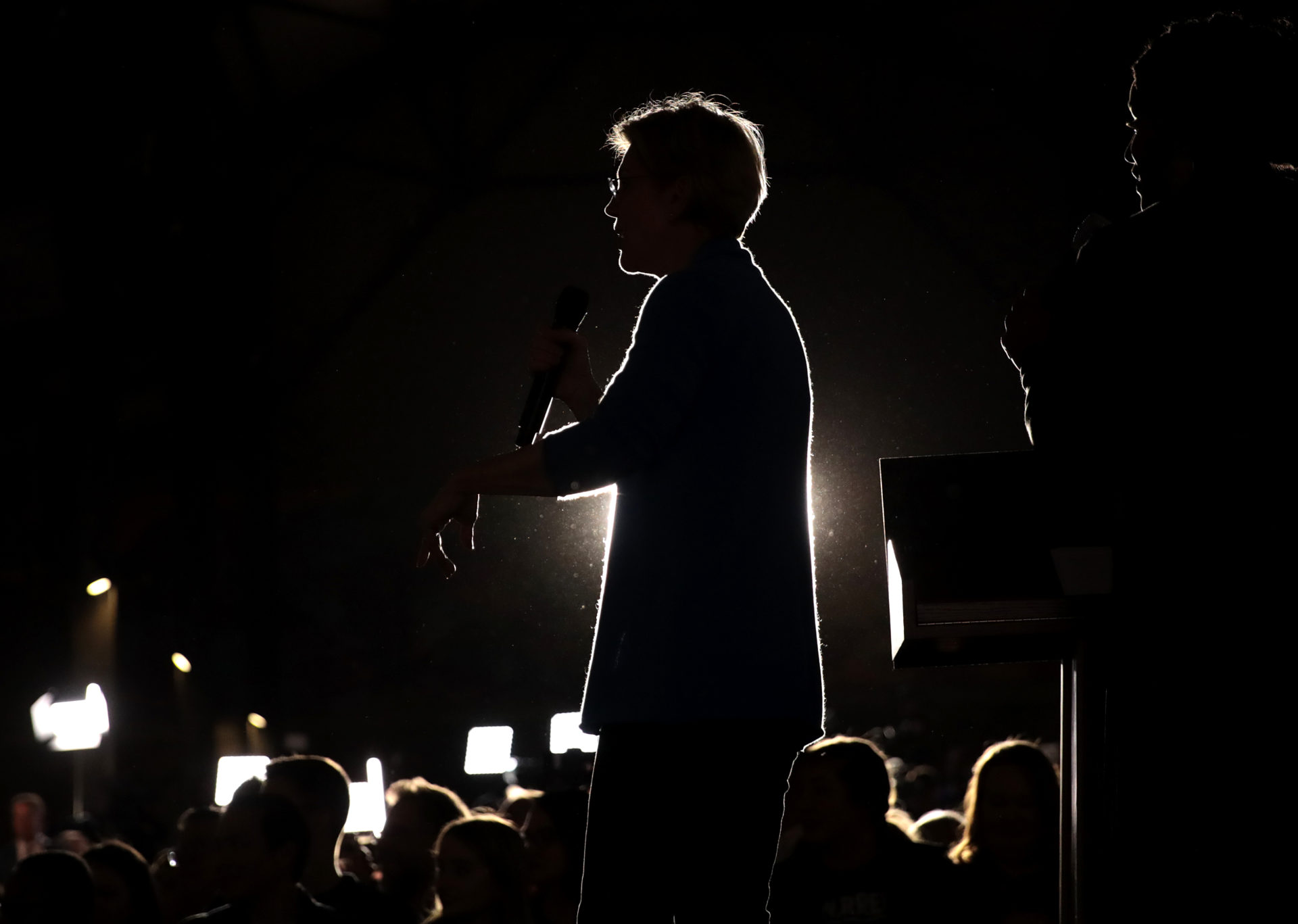 Key Takeaways
43% of Sen. Elizabeth Warren's supporters backed Sen. Bernie Sanders as their second-choice candidate versus 36% who said former Vice President Joe Biden.

If those supporters switch to their second choices, it would likely amount to 5- and 4-point increases in support for Sanders and Biden, respectively.

However, a Warren endorsement for either candidate could significantly alter the picture.
Sen. Elizabeth Warren (D-Mass.) dropped out of the Democratic race for president on Thursday, ending a promising campaign that ultimately failed to live up to the high expectations at its onset.
Her exit, on the heels of a poor showing in Super Tuesday contests, is expected to give an almost equal boost to Sen. Bernie Sanders (I-Vt.) and former Vice President Joe Biden, according to recent Morning Consult polling tracking the race.
In responses from Democratic primary voters collected 3 p.m. Monday through Tuesday -- before former New York City Mayor Michael Bloomberg dropped out of the race -- 43 percent of Warren supporters said Sanders was their second choice, compared with 36 percent who said Biden. That would amount to an increase of 5 percentage points for Sanders' first-choice support if her supporters move where they are inclined to go and a 4-point boost for Biden, clearing the field of their last major challenger.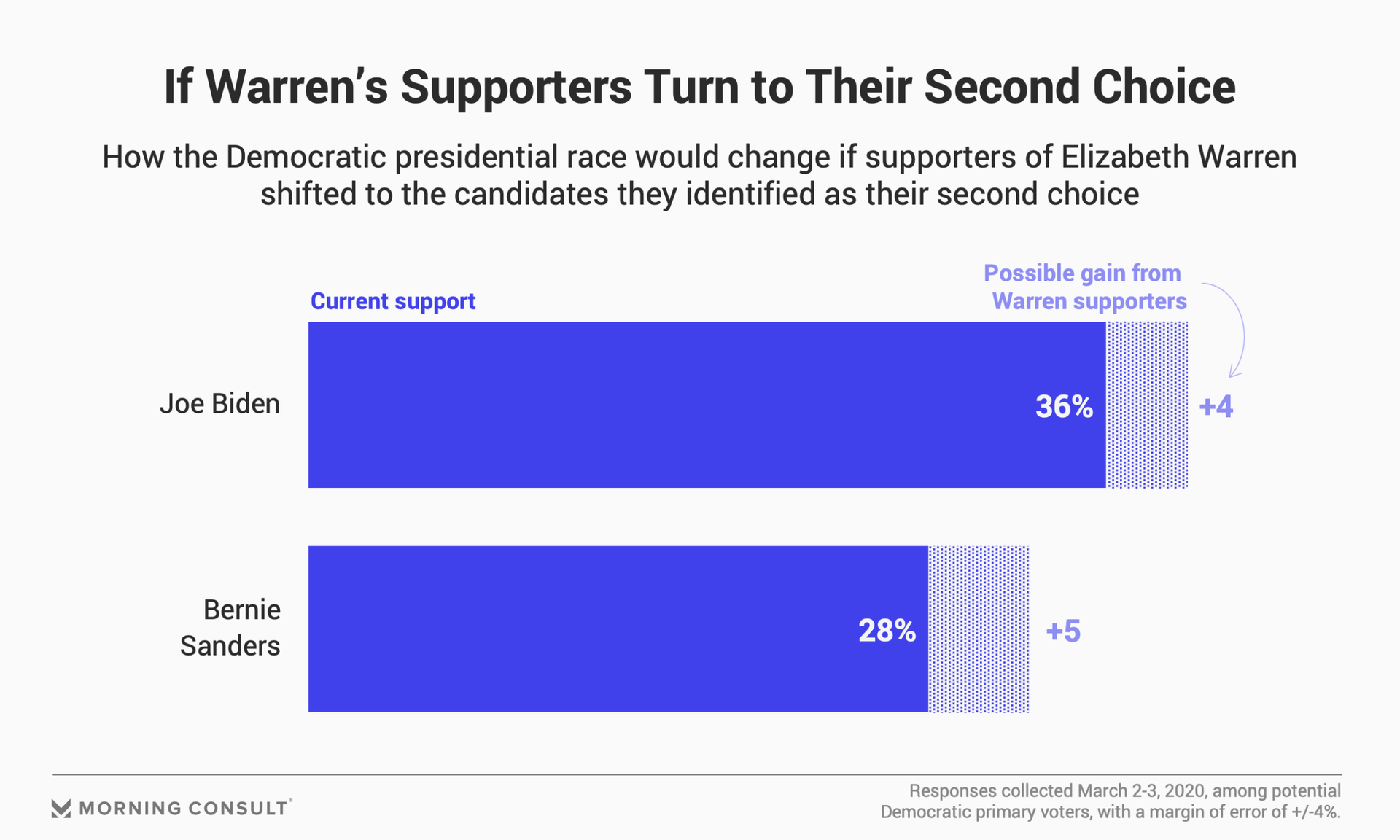 However, given the size of her support, these numbers could change in a meaningful way based on whether or not she chooses to endorse a candidate. A Morning Consult polling experiment conducted in mid-January found that most Warren supporters would heed her call if she were to endorse Biden, potentially hampering Sanders' bid to expand his base.
The poll surveyed 347 Warren supporters, with a 5-point margin of error.
Warren's campaign peaked in late September and most of October, when she briefly dislodged Sanders as Biden's closest rival. But her support began to decline amid a debate skirmish over how she would pay for her "Medicare for All" health care plan. 
It only worsened amid former President Barack Obama's thinly veiled criticism regarding the kind of "big structural change" promoted by Warren's and Sanders' campaigns. (Obama said most voters don't want to "tear down the system" as it stands.) 
Perceptions about gender and politics also appear to have been an obstacle. Polling in January found 58 percent of Democratic voters said they believed it would be difficult for a woman to beat President Donald Trump, a larger share than all but one of the candidate traits listed.
Warren -- armed with a large campaign email list that could be a fundraising boon for other Democrats -- remains popular with Democratic primary voters, and very well-known. According to responses gathered Feb. 26 through March 1, 61 percent have favorable views about her, while 26 percent have unfavorable views. And looking ahead to November, polling has shown that Warren's supporters are more likely than the supporters of any other top candidate to back whomever the party nominates at the Democratic National Convention in July.
Eli Yokley is Morning Consult's U.S. politics analyst. Prior to his current role, Eli was Morning Consult's senior reporter covering U.S. politics. Eli joined Morning Consult in 2016 from Roll Call, where he reported on House and Senate campaigns after five years of covering state-level politics in the Show Me State while studying at the University of Missouri in Columbia, including contributions to The New York Times, Politico and The Daily Beast. Follow him on Twitter @eyokley. Interested in connecting with Eli to discuss his analysis or for a media engagement or speaking opportunity? Email [email protected].
We want to hear from you. Reach out to this author or your Morning Consult team with any questions or comments.
Contact Us