Republicans Lead Senate Races in Alabama, Kentucky and Texas, With South Carolina Tied
Polling underscores roadblocks to a filibuster-proof majority for Democrats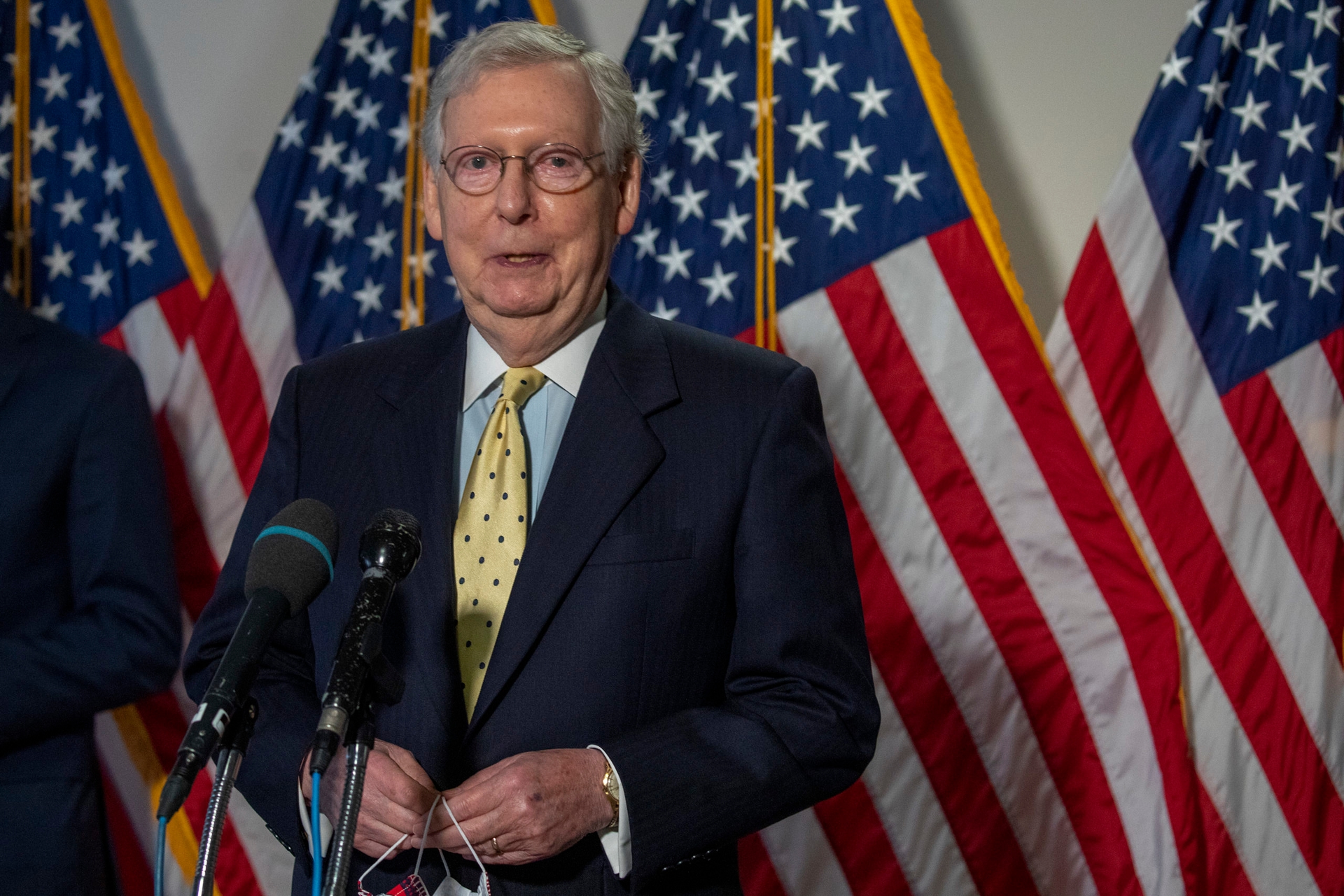 Key Takeaways
Senate Majority Leader Mitch McConnell (R-Ky.) leads Democrat Amy McGrath by 17 points, 53% to 36%.

Sen. Lindsey Graham (R-S.C.) and Democrat Jaime Harrison are statistically tied, 44% to 43%.

Vulnerable Sen. Doug Jones (D) trails Tommy Tuberville, 35% to 52%.
Democrats enter the peak of the campaign season with advantages that make their path to regaining control of the Senate easier for strategists and handicappers to envision alongside a Joe Biden victory, but new polling suggests that even a rout at the top of the ticket is unlikely to result in a filibuster-proof majority for the left in 2021. 
Senate Republicans are outperforming their well-funded Democratic rivals in Kentucky and Texas, while the chamber's most vulnerable Democrat, Doug Jones of Alabama, trails his Republican challenger, former Auburn football coach Tommy Tuberville, by double digits, according to the latest Morning Consult Political Intelligence polling of likely voters in four states conducted from July 24 through Aug. 2. In South Carolina, the data shows a virtually tied contest between Sen. Lindsey Graham (R-S.C.) -- one of President Donald Trump's top allies on Capitol Hill -- and Jaime Harrison, the former state Democratic Party chairman.
The four states are viewed as reaches for Senate Democrats this year, with handicappers rating them as less competitive than high-profile challenges against incumbent Republicans in places like Arizona, Colorado, Georgia, Iowa, Maine and North Carolina. Democrats need to win four seats held by Republicans, and retain all of their current seats, to take a clean majority, but would need much more to reach the 60-vote threshold that would enable them to push through a policy agenda without changing the chamber's rules and eliminating the filibuster for legislation.
No Senate candidate is running statistically ahead of his or her party's presumptive presidential nominee in the four states, mirroring Morning Consult findings from polls in three battleground states -- Georgia, Michigan and North Carolina -- released last week.
The biggest gap appears in Texas, where Biden and Trump are statistically tied, 47 percent to 46 percent.
MJ Hegar, an unsuccessful 2018 House candidate who recently emerged from a tough Democratic primary, underperforms Biden in the Lone Star State by 9 percentage points, with 38 percent support -- 6 points behind Republican Sen. John Cornyn, who roughly matches the president's vote share in the state with 44 percent support. That gap is driven by independents and Democrats, among each of whom Hager underperforms Biden by double digits.
In South Carolina, where the Senate race is effectively tied, Graham is experiencing a similar problem with his own base: The Senate Judiciary Committee chairman trails Trump among likely Republican voters by 11 points, 81 percent to 92 percent. By comparison, Harrison has support from 90 percent of likely Democratic voters, roughly matching Biden's 94 percent.
Polling in North Carolina, Michigan and Arizona reflected a similar trend, with Republicans nearly united behind the president but less certain about the down-ballot contests.
Senate Majority Leader Mitch McConnell (R-Ky.), who along with defending his 6-year Republican majority is looking to fend off a challenge from Democrat Amy McGrath, runs 7 points behind Trump in support from likely GOP voters, 84 percent to 91 percent. 
He is nonetheless on solid footing, despite his rival's highly lauded fundraising machine: Fifty-three percent of likely Kentucky voters said they'd back the majority leader if the election were held today, compared with 36 percent who planned to vote for McGrath, who also came up short against a Republican incumbent in a 2018 House race. That 17-point edge for McConnell is smaller than Trump's 24-point lead over Biden in the commonwealth.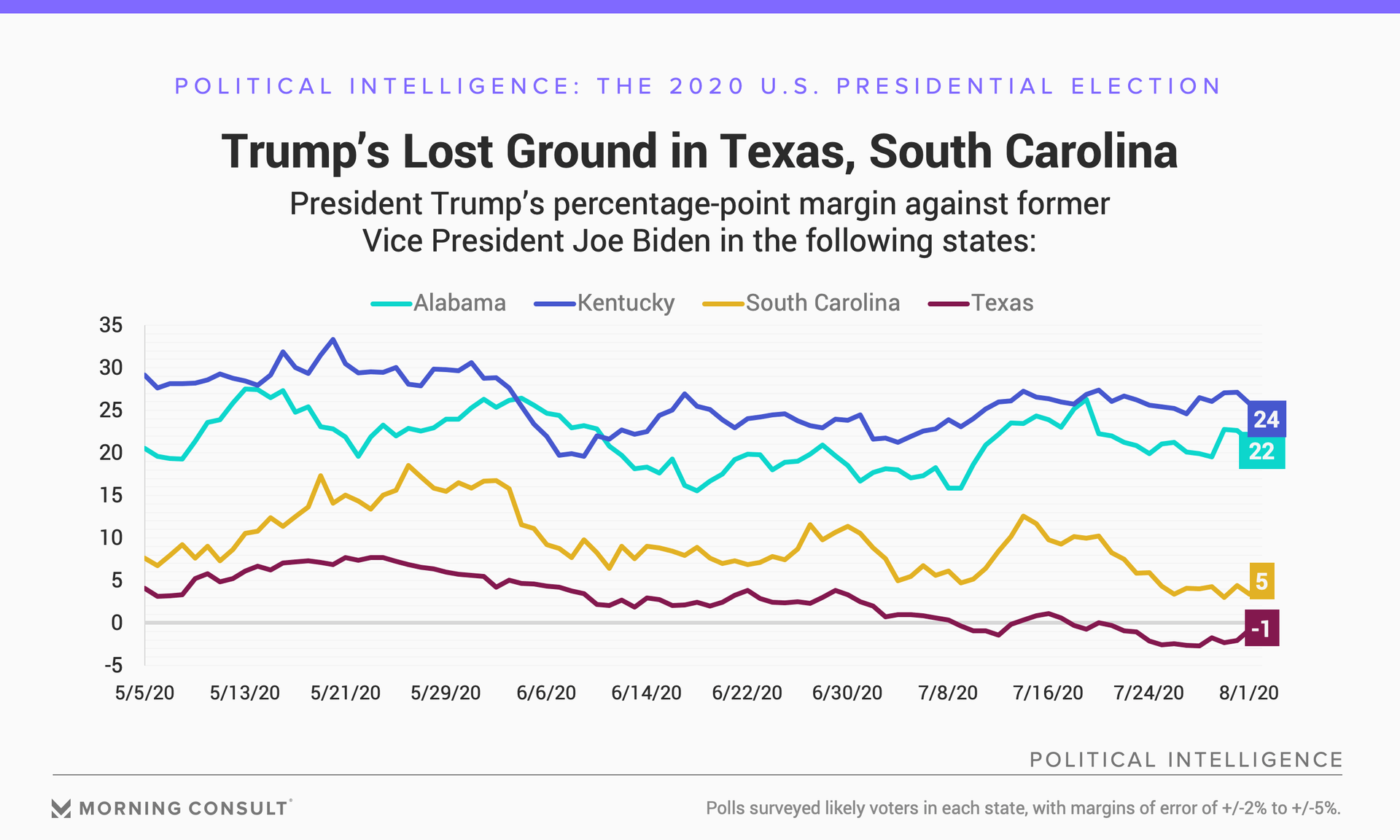 Trump's Kentucky margin is down from a 33-point high in mid-May, following a significant drop at the end of May. But it's improved in the weeks since -- as has his standing in Alabama, where he leads Biden by 22 points. The trend highlights the challenge for Democrats in securing victories in conservative places, particularly during a presidential election year with a polarizing contest atop the ticket: If Trump, who trailed Biden by 9 points nationally -- 42 percent to 51 percent -- in the latest tracking of the race, is able to close the gap with his challenger, that would further hamper Democrats' chances in South Carolina, Texas and other states at the edge of their prospective Senate map.
In the Yellowhammer State, Jones is facing a steep climb to re-election following his upset 2017 special-election victory over an embattled Republican rival, Roy Moore. Three years later, Jones trails Tuberville by 17 points, 35 percent to 52 percent, tracking similarly to Trump's advantage in the state. 
Tuberville -- who was endorsed by Trump in his Republican primary against former Attorney General Jeff Sessions -- is supported by 87 percent of Republicans, who dominate the state, while likely independent voters, who make up a smaller share of the electorate, are divided about the contest. 
Methodology
Morning Consult weighted responses in each state separately based on age by gender, race by education, home ownership, marital status, population density and presidential vote history.
Responses were collected among 609 likely voters in Alabama, with a 4-point margin of error; 793 likely voters in Kentucky, with a 3-point margin of error; 741 likely voters in South Carolina, with a 4-point margin of error; and 2,576 likely voters in Texas, with a 2-point margin of error.
Eli Yokley is Morning Consult's U.S. politics analyst. Prior to his current role, Eli was Morning Consult's senior reporter covering U.S. politics. Eli joined Morning Consult in 2016 from Roll Call, where he reported on House and Senate campaigns after five years of covering state-level politics in the Show Me State while studying at the University of Missouri in Columbia, including contributions to The New York Times, Politico and The Daily Beast. Follow him on Twitter @eyokley. Interested in connecting with Eli to discuss his analysis or for a media engagement or speaking opportunity? Email [email protected].
We want to hear from you. Reach out to this author or your Morning Consult team with any questions or comments.
Contact Us