Democrats Lead Senate Races in Arizona, Colorado, Michigan and North Carolina
Few candidates are running ahead of their party's respective standard-bearers
Key Takeaways
Mark Kelly of Arizona and Sen. Gary Peters of Michigan lead their Republican opponents by double digits among likely voters.

Sen. Thom Tillis (R) trails Cal Cunningham by 9 points in North Carolina, and is running far behind President Trump among likely GOP voters.

Sen. David Perdue (R-Ga.) leads Democratic challenger Jon Ossoff, 45% to 42%.
Morning Consult has launched its 2020 presidential election tracker providing a real-time, daily snapshot of the race between President Trump and Joe Biden among the country's likely voters. Check it out here.
Less than 100 days from Election Day, Democrats are leading in key races that will help decide who controls the Senate in January, with few candidates on either side of the aisle running ahead of the ticket-topping presidential contest.
That's the main finding from new Morning Consult Political Intelligence polling of likely voters in Arizona, Colorado, Georgia, Michigan and North Carolina conducted July 17-26. Democratic candidates lead in all of those races save for Georgia, where Republican Sen. David Perdue leads Democrat Jon Ossoff within the margin of error, with the incumbent running alongside President Donald Trump and his challenger polling behind former Vice President Joe Biden, the presumptive Democratic nominee. (See here for a broader look at how the candidates are performing in a dozen battleground states.)
Of the five Senate contests polled, Democrats are strongest in Arizona, where ex-astronaut Mark Kelly -- the fundraising dynamo and husband of former Rep. Gabby Giffords (D-Ariz.) -- leads Sen. Martha McSally (R-Ariz.) by 16 percentage points, 52 percent to 36 percent, with backing from 14 percent of Republicans. Kelly's advantage is 9 points larger than Biden's lead over Trump in the battleground state.
In Michigan, one of the Senate GOP's few offensive targets this year, Democratic Sen. Gary Peters leads Republican John James, a veteran and businessman, 49 percent to 35 percent. Peters' lead is roughly in line with Biden's 10-point edge in the Wolverine State, and comes as his challenger asks voters to look beyond the presidential contest in the Senate race.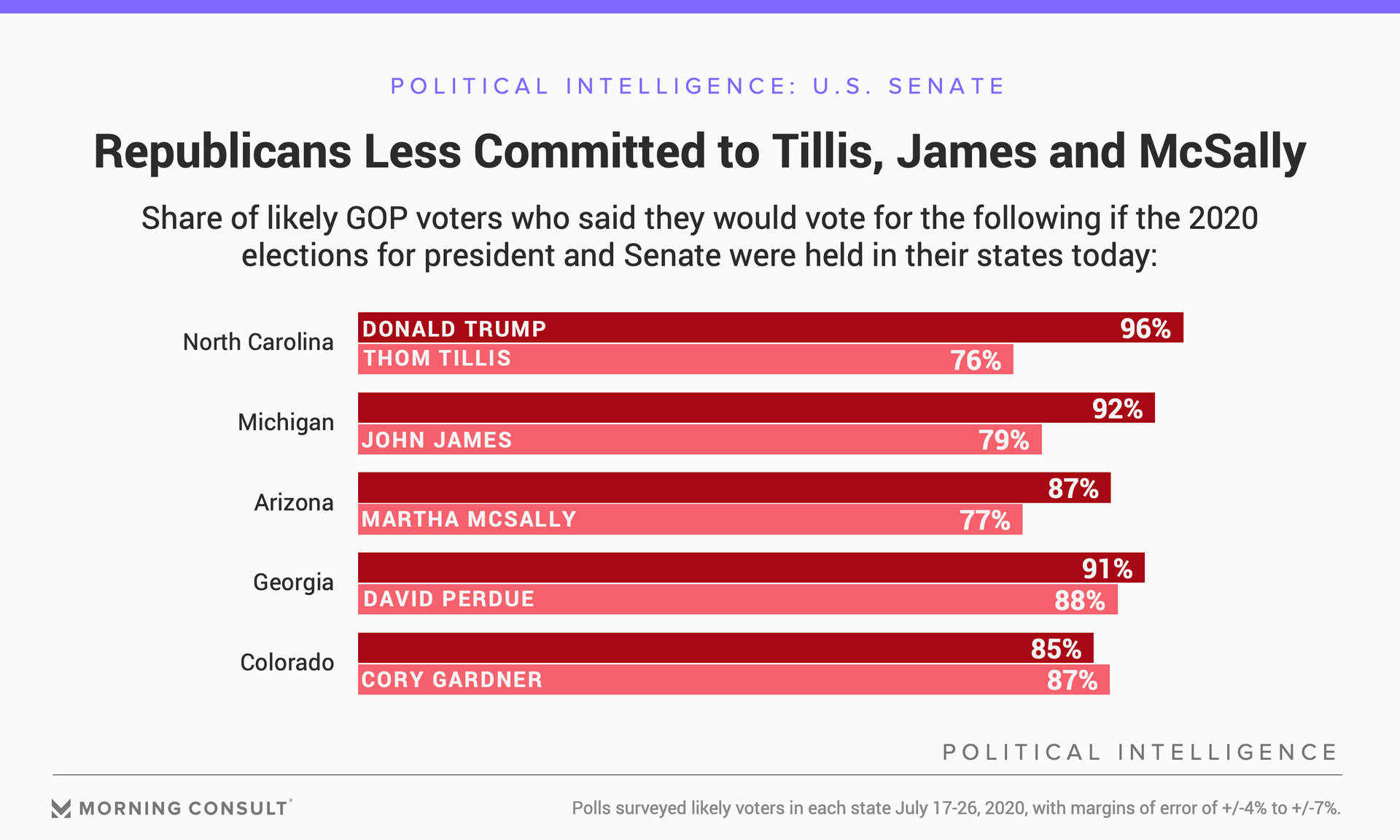 Both James and McSally underperform Trump's standing among likely GOP voters in their respective states: Trump's backed for re-election by 92 percent of Michigan Republicans compared with 79 percent who support James, and McSally is polling 10 points behind the president among Arizona Republicans, 77 percent to 87 percent.
The gap is even wider in North Carolina, where Republican Sen. Thom Tillis' issues with the GOP base cropped up in Morning Consult polling early last year. In a state where 96 percent of likely GOP voters back Trump for re-election, 76 percent say they'd vote for Tillis in November. And on the ballot with Trump, who's tied with Biden at 47 percent, Tillis trails his Democratic rival, former state Sen. Cal Cunningham, by 9 points, 37 percent to 46 percent.
With the exception of Georgia, Senate Democratic candidates in the five states tested have an advantage with likely independent voters, including a 20-point lead for Cunningham in North Carolina and a 25-point lead for Kelly in Arizona. 
In Colorado, former Gov. John Hickenlooper (D) leads Sen. Cory Gardner (R) by 13 points among the swing voting bloc, part of an overall 6-point lead over the incumbent, 48 percent to 42 percent. Unlike Tillis, James and McSally, Gardner -- who is running ahead of the president statewide -- is not lacking significant support from Republican likely voters. His vote share among the base matches Hickenlooper's with Democrats (87 percent) and is roughly the same as Trump's (85 percent) with Republicans. 
In Georgia, Perdue leads Ossoff, 45 percent to 42 percent, backed with support from 88 percent of likely Republican voters (compared to Trump's 91 percent), and a 9-point advantage over Ossoff with the state's likely independent voters (40 percent to 31 percent).
Methodology
Morning Consult weighted responses in each state separately based on age by gender, race by education, home ownership, marital status, population density and presidential vote history.
Responses were collected among 908 likely voters in Arizona, with a 3-point margin of error; 616 likely voters in Colorado, with a 4-point margin of error; 1,337 likely voters in Georgia, with a 3-point margin of error; 1,320 likely voters in Michigan, with a 3-point margin of error; and 1,504 likely voters in North Carolina, with a 3-point margin of error.
Eli Yokley is Morning Consult's U.S. politics analyst. Prior to his current role, Eli was Morning Consult's senior reporter covering U.S. politics. Eli joined Morning Consult in 2016 from Roll Call, where he reported on House and Senate campaigns after five years of covering state-level politics in the Show Me State while studying at the University of Missouri in Columbia, including contributions to The New York Times, Politico and The Daily Beast. Follow him on Twitter @eyokley. Interested in connecting with Eli to discuss his analysis or for a media engagement or speaking opportunity? Email [email protected].
We want to hear from you. Reach out to this author or your Morning Consult team with any questions or comments.
Contact Us