Steadfast Support Among U.S. Voters to Pursue Diplomatic Efforts With North Korea
Poll also shows fewer Americans back the sanctions approach to achieving denuclearization
Key Takeaways
80% of registered voters said they support further diplomatic efforts to get North Korea to suspend its nuclear weapons program.

A 46% plurality of respondents said President Donald Trump should meet with North Korean leader Kim Jong Un regardless of whether the country makes concessions on its nuclear weapons program beforehand.
Voters in the United States overwhelmingly support continued diplomatic efforts to get North Korea to suspend its nuclear weapons program, according to a new poll.
Eighty percent of respondents in a Morning Consult/Politico poll conducted May 23-29 said they support further U.S. diplomacy, the same share as in two previous polls conducted in May.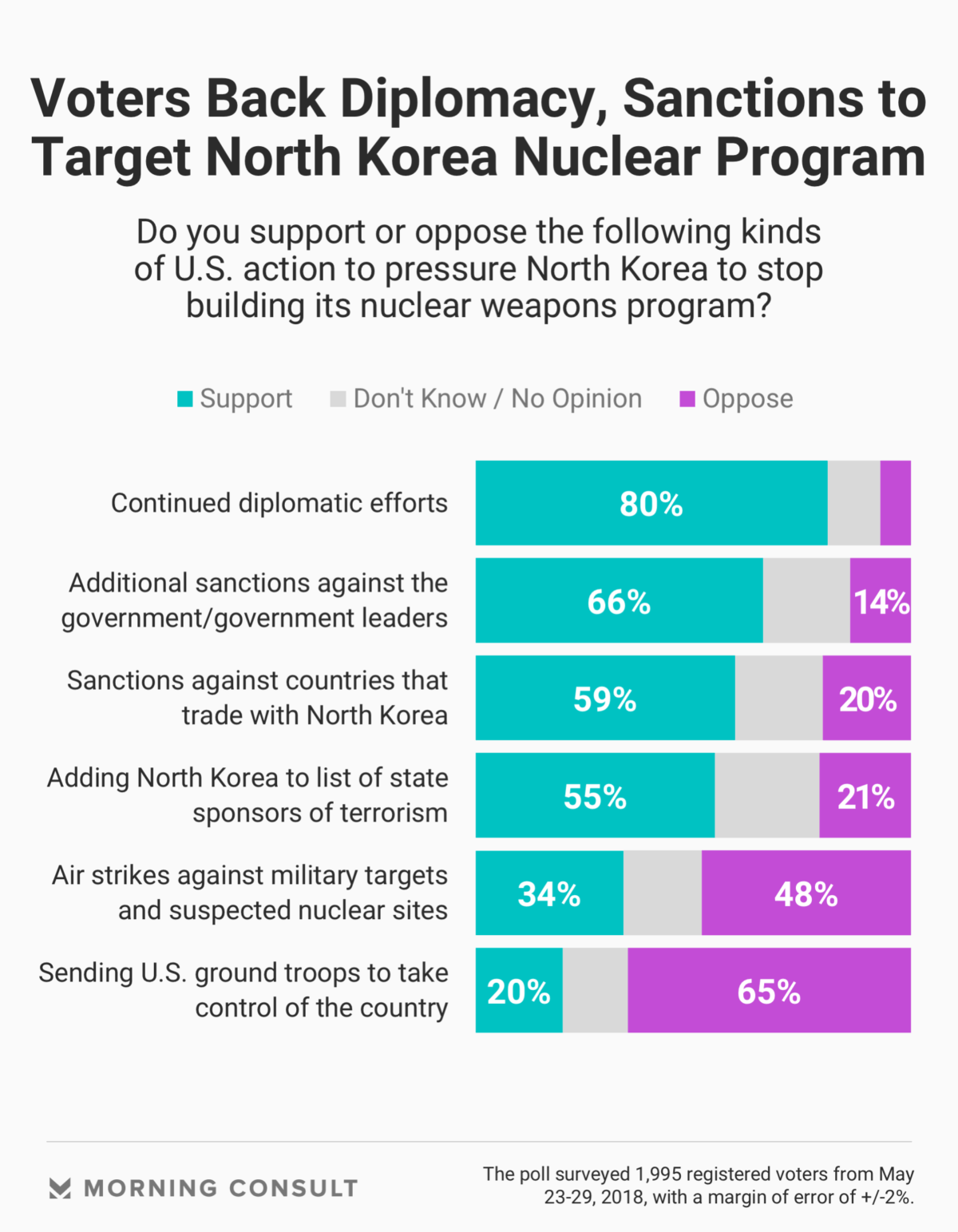 The survey of 1,995 registered voters comes amid a flurry of talks between the United States and North Korea, including Secretary of State Mike Pompeo's recent meetings in New York with senior North Korean official Kim Yong Chol.
Speaking with reporters after Thursday's meeting, Pompeo would not say if the previously planned June 12 summit between President Donald Trump and North Korean leader Kim Jong Un was back on schedule, but said the two countries face a "pivotal moment" in their relationship and that it could be "tragic" to let the opportunity "go to waste."
The poll, which has a margin of error of plus or minus 2 percentage points, also found that a 46 percent plurality of voters say Trump should meet with Kim Jong Un regardless of whether North Korea makes concessions on its nuclear weapons program beforehand, while 35 percent said the two should meet only if Pyongyang makes those concessions in the lead-up to a meeting.
Jenny Town, a research analyst at the Washington-based Stimson Center, said it's a good diplomatic sign that North Korea sent Kim Yong Chol to New York. But in order for diplomacy to lead to denuclearization, the United States will have to give assurances to North Korea on the Asian country's sovereignty, among other things, Town said in an interview Wednesday.
"It's not just about being bought off," said Town, in reference to the lifting of sanctions. "When they talk about U.S. hostile policy, for instance, U.S. hostile policy includes political, military and economic components. The sanctions are just the economic component."
Support for sanctions is down from a similar poll conducted in July amid North Korean missile tests. The latest survey shows 66 percent of voters support additional sanctions against the North Korean government and its leaders, down 9 percentage points from last year. Additionally, 59 percent of voters support sanctions against countries that trade with North Korea, down 13 points from July.
One problem with sanctions, Town said, is that North Korea has found ways to adapt. At the same time, "the more pressure you apply to North Korea, the more provocative they become," she said.
Bruce Klingner, a senior research fellow at the Heritage Foundation in Washington who served as the Central Intelligence Agency's deputy division chief for Korea from 1996 to 2001, said in a Tuesday interview that there are additional sanctions that can be applied to exert more pressure, particularly on the Chinese, but that the United States is holding off on doing so before the potential summit.
Trump "has thrown out the usual diplomatic playbook" ahead of the possible meeting with Kim, ditching the "months of careful preparation" from the bottom up in exchange for something more hastily arranged, Klingner noted. He said he hopes the position of the United States going into the summit is more traditional: affirming complete, verifiable and irreversible denuclearization.
"I think this is going to be a fly-by-the-seat-of-our-pants kind of summit, where Trump goes in as the negotiator-in-chief and everyone just sort of responds," Klingner said.
Eli Yokley is Morning Consult's U.S. politics analyst. Prior to his current role, Eli was Morning Consult's senior reporter covering U.S. politics. Eli joined Morning Consult in 2016 from Roll Call, where he reported on House and Senate campaigns after five years of covering state-level politics in the Show Me State while studying at the University of Missouri in Columbia, including contributions to The New York Times, Politico and The Daily Beast. Follow him on Twitter @eyokley. Interested in connecting with Eli to discuss his analysis or for a media engagement or speaking opportunity? Email [email protected].
We want to hear from you. Reach out to this author or your Morning Consult team with any questions or comments.
Contact Us