Supreme Court's Potency as 2020 Voter Issue Surges Among Democrats After Ginsburg's Death
60% of Democrats say the court is 'very important' to their vote, up 12 points in a week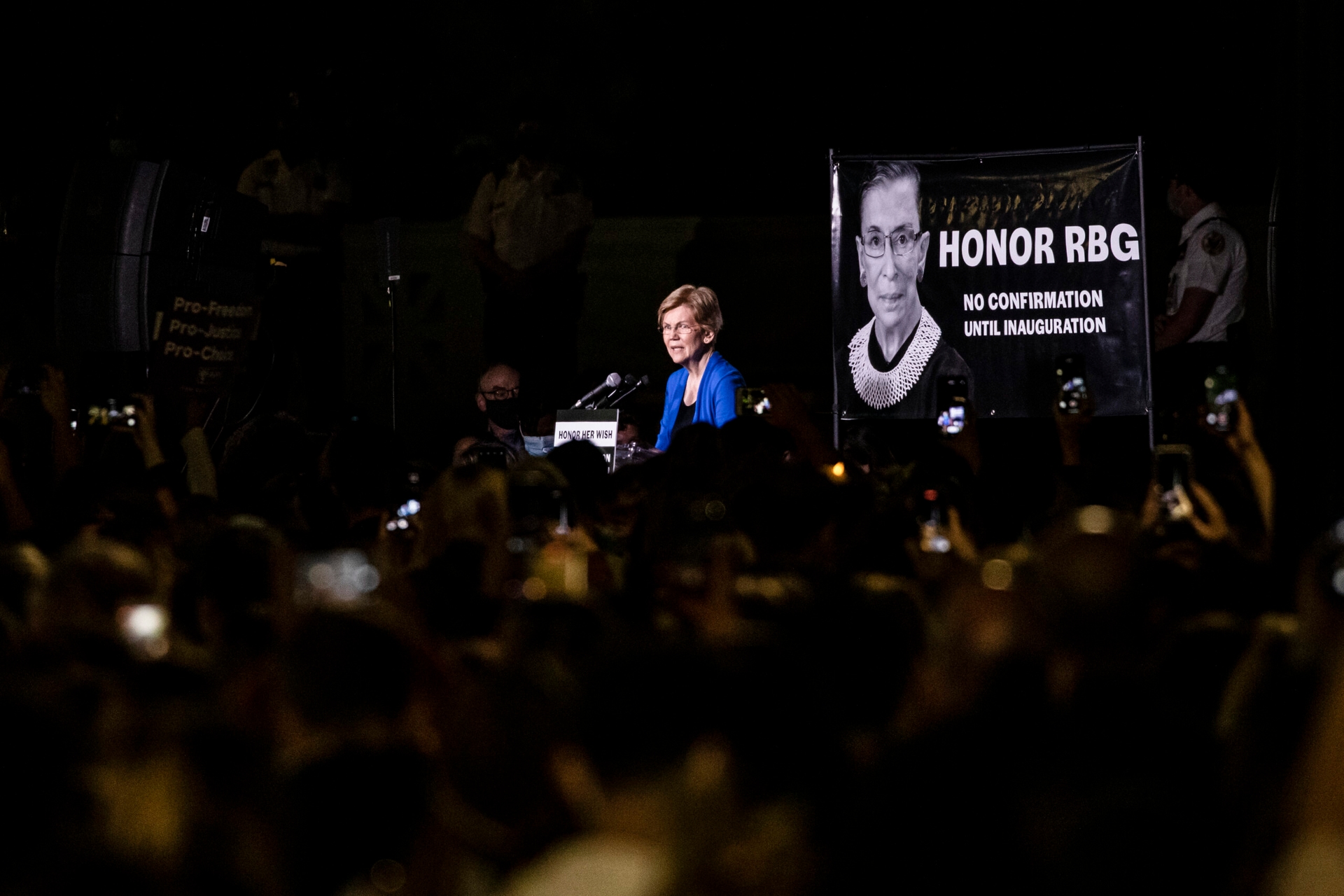 Key Takeaways
58% percent said they had seen, read or heard "a lot" about Justice Ruth Bader Ginsburg's death.

54% of Republicans and 51% of independents say the Supreme Court is "very important" to their vote, up a respective 4 and 9 points from last week.

37% said President Trump should pick Ginsburg's replacement regardless of who wins on Nov. 3, while 50% said the winner of the November election should make the pick.
The death of Supreme Court Justice Ruth Bader Ginsburg and the intensifying fight over her replacement has jolted the presidential race and the competitive battle for control of the Senate just six weeks before the election, prompting questions about whether Democratic or Republican voters will be more motivated by the issue. 
A Sept. 18-20 Morning Consult/Politico poll, conducted after Ginsburg's death on Friday, reveals a more energized response from the left than from the right, at least in the short term. Compared to a week ago, the share of Democratic voters who said the Supreme Court was "very important" in deciding whom to vote for in the November elections jumped 12 percentage points to 60 percent, while the share of Republicans who said the same increased marginally, from 50 percent to 54 percent, during the same time.
Those upticks, combined with a 9-point increase among independents, amounted to a 9-point jump in the Supreme Court's significance as a voting issue among the broader electorate since the previous survey, which was conducted Sept. 11-14. Fifty-six percent of all voters in the new survey said the court was very important to their vote, making it one of the five most potent topics -- along with the economy, health care, COVID-19 and national security -- facing voters ahead of Election Day. In last week's survey, the Supreme Court ranked near the bottom of voters' priority lists, alongside immigration, foreign policy and relations with China.
Each poll was conducted among roughly 2,000 registered voters and had a 2-point margin of error.
Among Democrats and Republicans, the court still ranks below the economy and health care, but is now considered about as important as the coronavirus pandemic by Republicans.
And as President Donald Trump pushes forward with plans this week to announce a Ginsburg replacement, whom he hopes Senate Republicans will confirm before Nov. 3, the poll found that a lion's share of voters believe he should have to win re-election in order to pick the liberal justice's successor. 
Fifty percent said the winner of the presidential election should fill the vacancy because of the proximity to Election Day, an argument being made by Democratic presidential nominee Joe Biden and other Democratic leaders, who point to Senate Majority Leader Mitch McConnell's stated rationale for refusing to consider President Barack Obama's nomination of Merrick Garland after conservative Justice Antonin Scalia died in February 2016. (Morning Consult polling at the time found voters more closely divided: 42 percent said Obama should nominate a justice, while 45 percent said the 2016 election winner should get to pick.)
Trump on Monday insisted on a pre-election vote as he told the hosts of Fox News' "Fox & Friends" he was considering five jurists for the post. 
"The bottom line is, we won the election," he said. "We have an obligation to do what's right and act as quickly as possible." 
So far, two Republican senators -- Susan Collins of Maine, who's facing a tough re-election fight, and Lisa Murkowski of Alaska -- have said they would not support a vote before the election, meaning McConnnell can afford to lose just one more vote if he wants to get a nominee across the finish line before Nov. 3 via a tie-breaking 51st vote from Vice President Mike Pence. 
Sen. David Perdue (R-Ga.), also facing a tough re-election campaign this fall, and retiring Sen. Lamar Alexander (R-Tenn.) have both expressed support for Trump's filling the vacancy, while the nation's most vulnerable Republican senator, Cory Gardner of Colorado, and Sen. Mitt Romney of Utah, the only Senate Republican to vote to remove Trump from office earlier this year, have not addressed the question.
The vacancy garnered sharp partisan opinions among voters, with 79 percent of Democrats backing a nomination delay and 71 percent of Republicans saying Trump should make the decision. Independent voters mirrored the overall electorate, with 49 percent saying the nominee should be made by the president who will be sworn in next January, while 31 percent said it should be up to the current occupant of the White House.
News of Ginsburg's passing quickly broke through to voters: 58 percent said they had seen, read or heard "a lot" about the 87-year-old jurist's death amid complications from pancreatic cancer, placing it in the top 10 news events of 2020. Similar shares of voters earlier this year reported hearing "a lot" about the World Health Organization's declaring the coronavirus a pandemic (57 percent) and the Senate's vote to acquit Trump in his impeachment trial (58 percent).
Eli Yokley is Morning Consult's U.S. politics analyst. Prior to his current role, Eli was Morning Consult's senior reporter covering U.S. politics. Eli joined Morning Consult in 2016 from Roll Call, where he reported on House and Senate campaigns after five years of covering state-level politics in the Show Me State while studying at the University of Missouri in Columbia, including contributions to The New York Times, Politico and The Daily Beast. Follow him on Twitter @eyokley. Interested in connecting with Eli to discuss his analysis or for a media engagement or speaking opportunity? Email [email protected].
We want to hear from you. Reach out to this author or your Morning Consult team with any questions or comments.
Contact Us