The Public Weighs In on the 'Tenet,' 'Mulan' Distribution Chaos
U.S. audiences aren't ready to return to movie theaters, but aren't sold on VOD releases either
Key Takeaways
74% of U.S. adults said they are unlikely to go to a movie theater in the next month, but 67% said they would not be interested in renting "Tenet" at home during its opening weekend.

One-fifth of respondents said they would prefer to see the live-action version of "Mulan" in movie theaters, while 26% said they would prefer to purchase the film on Disney+.

More than half (54%) of respondents who think film premieres should be delayed said that studios should hold off on new releases until sometime in 2021.
Warner Bros.' "Tenet" and Walt Disney Co.'s "Mulan" are both set to premiere Labor Day weekend in what will likely be the most-watched weekend at the box office this year, with "Tenet" set to premiere in select U.S. cities and "Mulan" debuting on Disney+ for $29.99 on Sept. 4. And while new polling shows that audiences aren't quite ready to return to theaters, they also aren't sold on VOD releases, which experts say adds to the confusion as studios try to navigate film premieres in the COVID-19 era. 
When it comes to deciding whether films will be released theatrically or via video-on-demand, "it really is on a case-by-case basis, not only for the studios, but for the consumers," according to Paul Dergarabedian, a senior media analyst with Comscore Inc.
"We put all this on the studio like it's all their decision, and it is, in the sense of they decide when and where a movie is going to be released," he said. "But the audience now has a lot of power in terms of how and where they're going to watch a movie." 
Morning Consult decided to poll the public on what they think of the "Mulan" and "Tenet" chaos, including how they prefer to see new films amid the pandemic and what they think studios should do with releases.
The Aug. 4-8 Morning Consult survey of 2,200 U.S. adults found that nearly three-quarters of respondents (74 percent) said they are unlikely to go to a traditional movie theater to see a new movie in the next month, while 3 in 5 said they were likely to watch a new film via a subscription streaming service during that time. 
This tracks with weekly polling Morning Consult has conducted on comfort levels: The latest comfort tracker for the week of Aug. 10 found that roughly 1 in 5 adults feel comfortable heading to a movie theater right now. 
A subscription streaming service was the most preferred option for watching a new film among both adults and frequent moviegoers (those who said they went to the movies at least once a month prior to the COVID-19 pandemic): 41 percent of each demographic said they would prefer to stream a new release on a subscription service.
Streaming use has skyrocketed as more folks stayed home due to social distancing and other coronavirus-related restrictions, with polling conducted near the start of the pandemic finding that 2 in 5 consumers were spending more time streaming TV shows and movies, while a separate survey showed that consumers across generations were increasing their spending on movie and TV streaming services.  
In the most recent poll, frequent moviegoers were slightly more likely to prefer seeing a new film in theaters (24 percent) compared to adults overall (15 percent). This year's domestic box office is down roughly 75 percent compared to 2019, according to Box Office Mojo.  
Since mid-March, studios have shuffled release dates and switched some films to video on-demand, but Warner Bros. has kept to its vow that "Tenet" will be released theatrically -- which Dergarabedian and Jeff Bock, senior box office analyst with Exhibitor Relations Co., said is likely a move aimed at appeasing Christopher Nolan, the film's director and a major proponent of the big screen theatrical experience. 
While roughly one-third of adults said they would prefer to watch "Tenet" via streaming, two-thirds of those surveyed said they would not be interested in renting the film at home during the weekend of its release.
But Bock said in an email that the public's reception of "Tenet" could inform Warner Bros.' decisions about the rest of its 2020 slate, which includes "Wonder Woman: 1984."  
"If 'Tenet' does disastrous business domestically, expect a PVOD release in North America sooner than later," he said.
Disney has gone the opposite direction with the live-action version of "Mulan," choosing to make the film available on Disney+ for an additional $29.99. One-fifth of adults said they would prefer to see the film in a traditional movie theater, but 26 percent said they would prefer to see it via Disney+. 
Dergarabedian attributed the slightly higher interest in a home release of "Mulan," rather than a theatrical release, to its family appeal. "Trolls World Tour," another family film released amid the pandemic, brought in nearly $100 million in rentals when it was released via video on-demand in April, according to the Wall Street Journal.
"If parents are reticent about having their kids go back to school, they may also be reticent about going back to the traditional way of viewing a movie," he said. 
According to Bock, the main advantage of releasing the film via Disney+ is that Disney gets to keep 100 percent of the profits, as opposed to the traditional model, where studios and movie theaters split theatrical and streaming profits.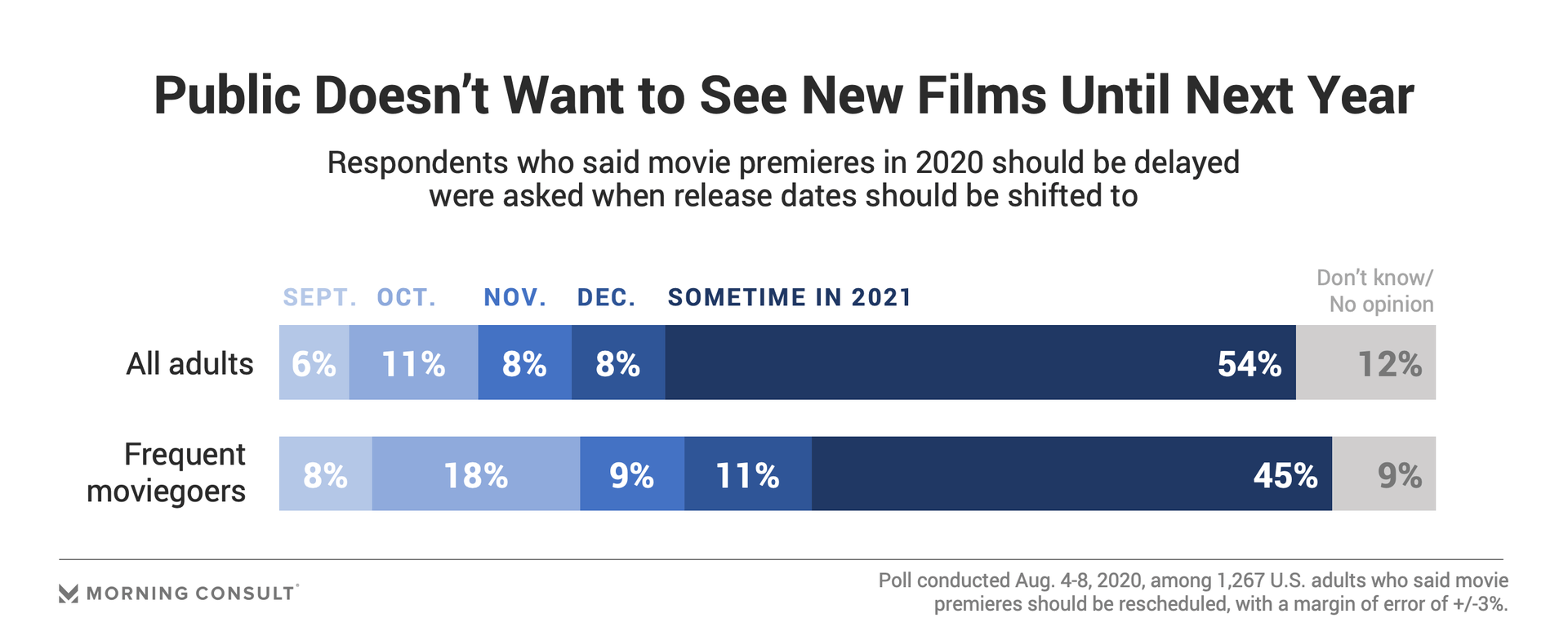 Half of those surveyed said that studios should probably or definitely delay films scheduled to premiere in August and 48 percent said the same of films slated to debut in September. More than 2 in 5 said studios should delay any films scheduled for the rest of 2020. While many studios still have major titles, including "Black Widow" and Pixar's "Soul," on the docket for this year, Dergarabedian said more shifting could happen as the pandemic continues. 
"The longer we go on, we're going to see more release date changes, moving films to further down the calendar as a sort of wait and see measure in a way to keep a placeholder on the movie theater coming back," he said. 
Among those who felt films should be delayed this year, more than half (54 percent) said they should be rescheduled for sometime in 2021. 
Bock said Labor Day weekend will be key in deciding what happens to the film and theatrical industry for the rest of the year. 
"That's usually the three-day weekend overlooked by the industry," he noted. "Now, it's arguably the most important weekend in the history of cinema."
Sarah Shevenock previously worked at Morning Consult as a reporter covering the business of entertainment.
We want to hear from you. Reach out to this author or your Morning Consult team with any questions or comments.
Contact Us