The Facebook Boycott Is Big News in the Ad Industry, but Few Consumers Know a Lot About It
54% of U.S. adults have heard little to nothing about the movement to pull ads from the social network this month
The #StopHateForProfit boycott of Facebook Inc. kicked off this month, with major brands such as Coca-Cola Co. and Unilever PLC pulling their ad spending on the platform for the month of July as part of an effort to force the social media giant to step up its moderation of hate speech. But for everyday Americans, the movement is largely obscure.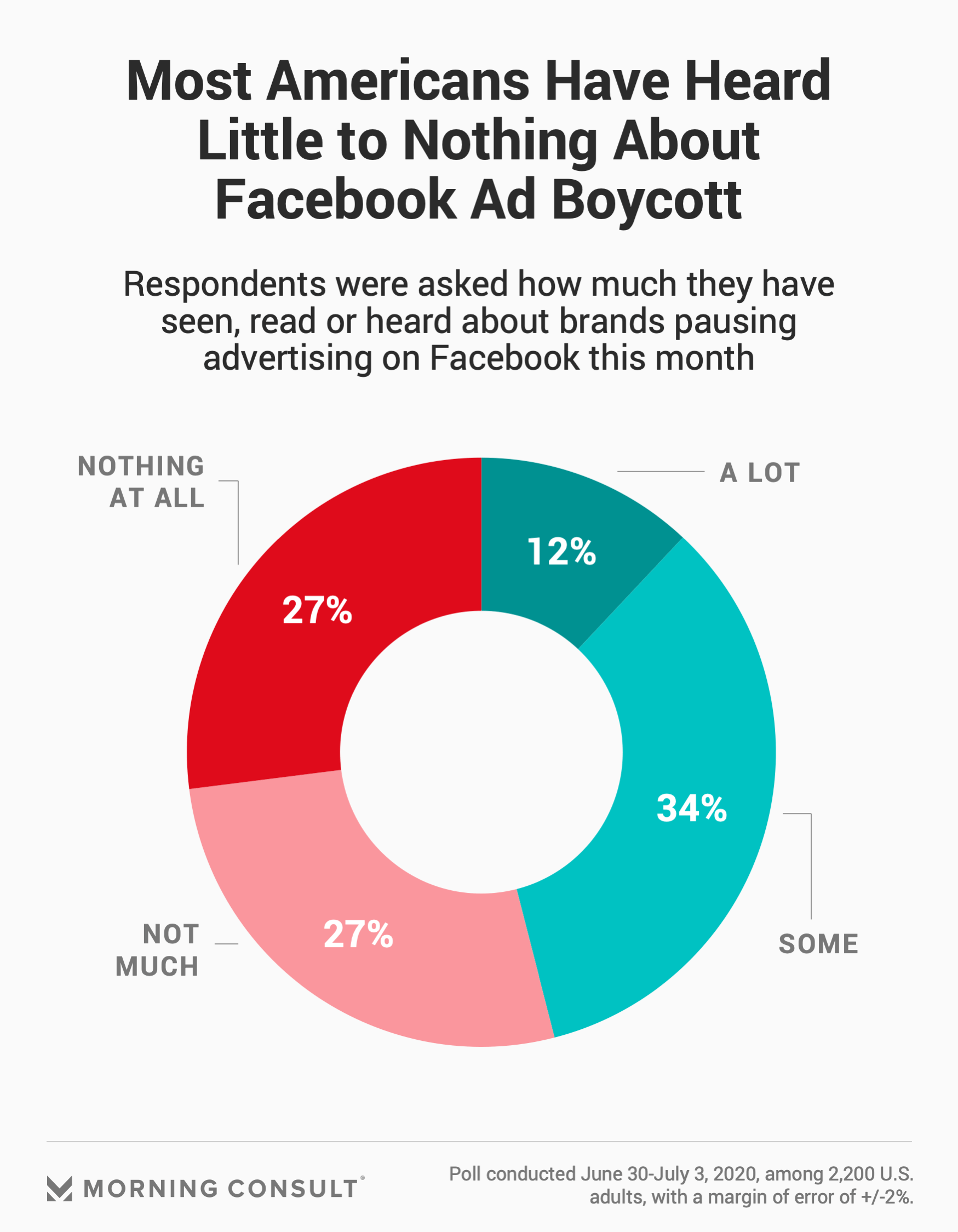 New Morning Consult polling found that a majority (54 percent) of U.S. adults said they have heard "not too much" or "nothing at all" about the boycott, which reportedly involves over 400 brands, while brand participation in the effort has little impact on purchasing intent and favorability. The survey was conducted June 30-July 3 among 2,200 U.S. adults and has a margin of error of 2 percentage points.
While advertisers have major stakes in Facebook's content moderation decisions — they don't want their ads to appear next to hate speech — average users are less likely to see or be impacted by that sort of negative content on the platform, said Nancy Smith, president and chief executive of the global marketing consultancy Analytic Partners.
Smith said some of her clients took a step back from Facebook due to brand safety concerns even before July, with many reallocating those funds to other social and digital channels, or even using them to help with other expenses, some incurred by the pandemic.
Consumers' views of companies that do choose to keep spending on Facebook are also unlikely to change much based on that decision alone.
Sixty-one percent of consumers said that brand participation in the boycott would not affect their perception of a company, including 41 percent who said it would have "no impact either way" and 20 percent who offered no opinion. A larger share (70 percent) said the same of their purchasing intent, reporting that participation in the Facebook boycott has no impact on their decisions to buy from one brand or another (49 percent) or provided no answer (21 percent).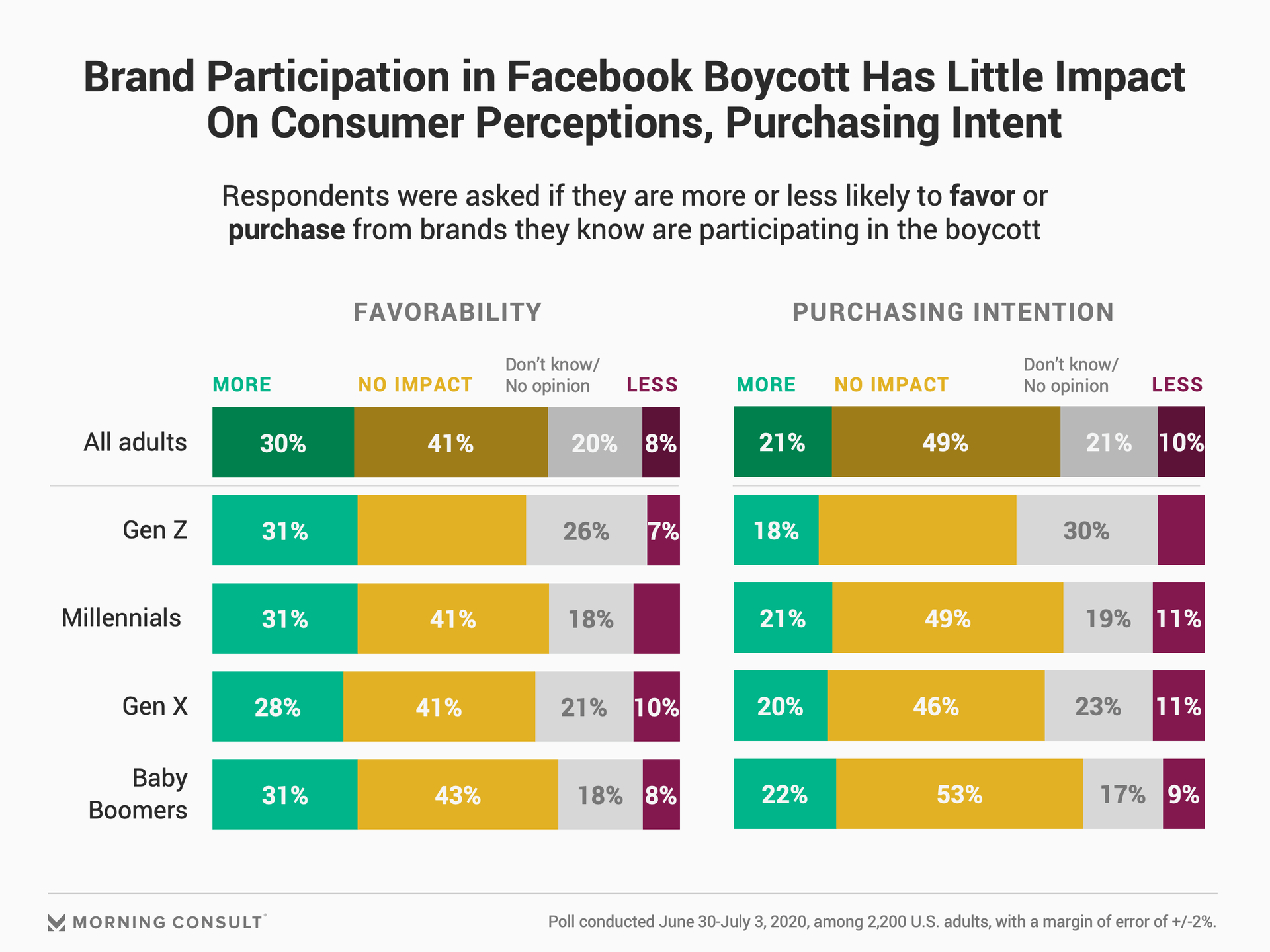 To be sure, 30 percent said they would see a brand in a more favorable light if they knew it was pausing its advertising on Facebook. And 21 percent of adults said they are more likely to purchase from a company that is boycotting the platform. There were no notable differences among generation or race.
Democrats are more likely than Republicans to change their views on brands based on boycott participation: 39 percent of Democrats said they would have a more favorable view of a boycotting company, compared with 23 percent of Republicans who said the same. And 26 percent of Democrats said they are more likely to purchase from a brand if they know it is not advertising on Facebook, compared with 19 percent of Republicans.
Members of the GOP, notably, are more likely to use Facebook overall compared to Democrats.
The campaign against Facebook has been largely centered in the United States, but Analytic Partners has also received requests to analyze business implications of pulling spending on the platform from clients overseas.
"We are doing those scenarios and simulations for clients around the globe," Smith said. "Many of our multinational clients are looking at this." 
Jason Roussos, senior vice president of strategy at the performance-based digital marketing firm Adlucent, said that while he would be surprised if the boycott has long-term financial impacts on Facebook, it could lead to increased competition from other social platforms such as TikTok. Ad loss estimates range from $150 million to $250 million, about 1 percent of Facebook's annual revenue in the first quarter alone.
Roussos has been advising clients to mix up their spending, but said that for many advertisers, it's also not wise to pull away from Facebook for too long. 
"Between Google, Facebook and Amazon, you're kind of forced to deal with them," he said. "The reality is, they're still the biggest players in the digital advertising ecosystem."
For those that are not publicizing their participation in the boycott, and even for those that are, Smith said the decision is likely one the brands make without much thought to consumer reaction.
"The decision to participate in the boycott or not participate in the boycott is less about serving a specific consumer and more about aligning with the principles and supporting the industry movement toward less systemic racism and hate speech," she said.
Alyssa Meyers previously worked at Morning Consult as a reporter covering brands and marketing.
We want to hear from you. Reach out to this author or your Morning Consult team with any questions or comments.
Contact Us