Trump's Job Approval Hits Unprecedented Low as Majority of Voters Say He Should Resign
37% approve, 60% disapprove of Trump's job performance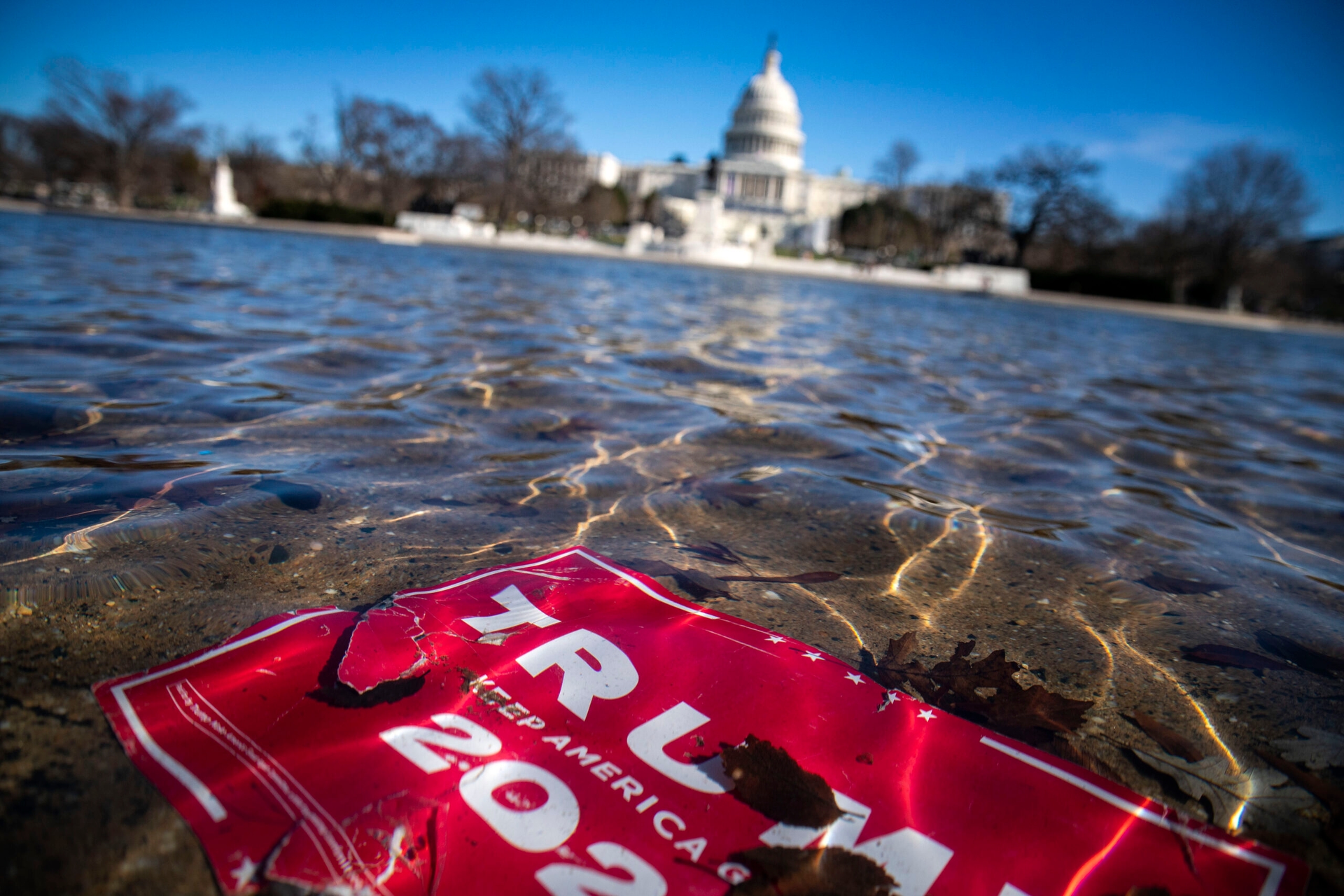 Key Takeaways
77% of GOP voters approve of Trump's job performance, down 8 points from before the Capitol riots.

53% say they'd back a House impeachment of Trump, and 54% would approve of his conviction and removal from office by the Senate.

55% of voters -- including 86% of Democrats, 50% of independents and 19% of Republicans -- said Trump should resign.
Few events during Donald Trump's presidency have drastically moved public perceptions about his job performance. But last week's riots on Capitol Hill -- incited by Trump's attacks on the democratic process -- have led to significant decline in sentiment about the outgoing leader as more voters join calls from lawmakers for his impeachment.
According to Morning Consult Political Intelligence tracking conducted Jan. 8-10, 37 percent of voters approve of Trump's job performance, down 5 percentage points since polling conducted Jan. 3-5 before the Jan. 6 acts of insurrection prompted by Congress' meeting to count the Electoral College votes and seal the deal on President-elect Joe Biden's victory. The share who disapproved of Trump increased 5 points, to 60 percent, over the same time period.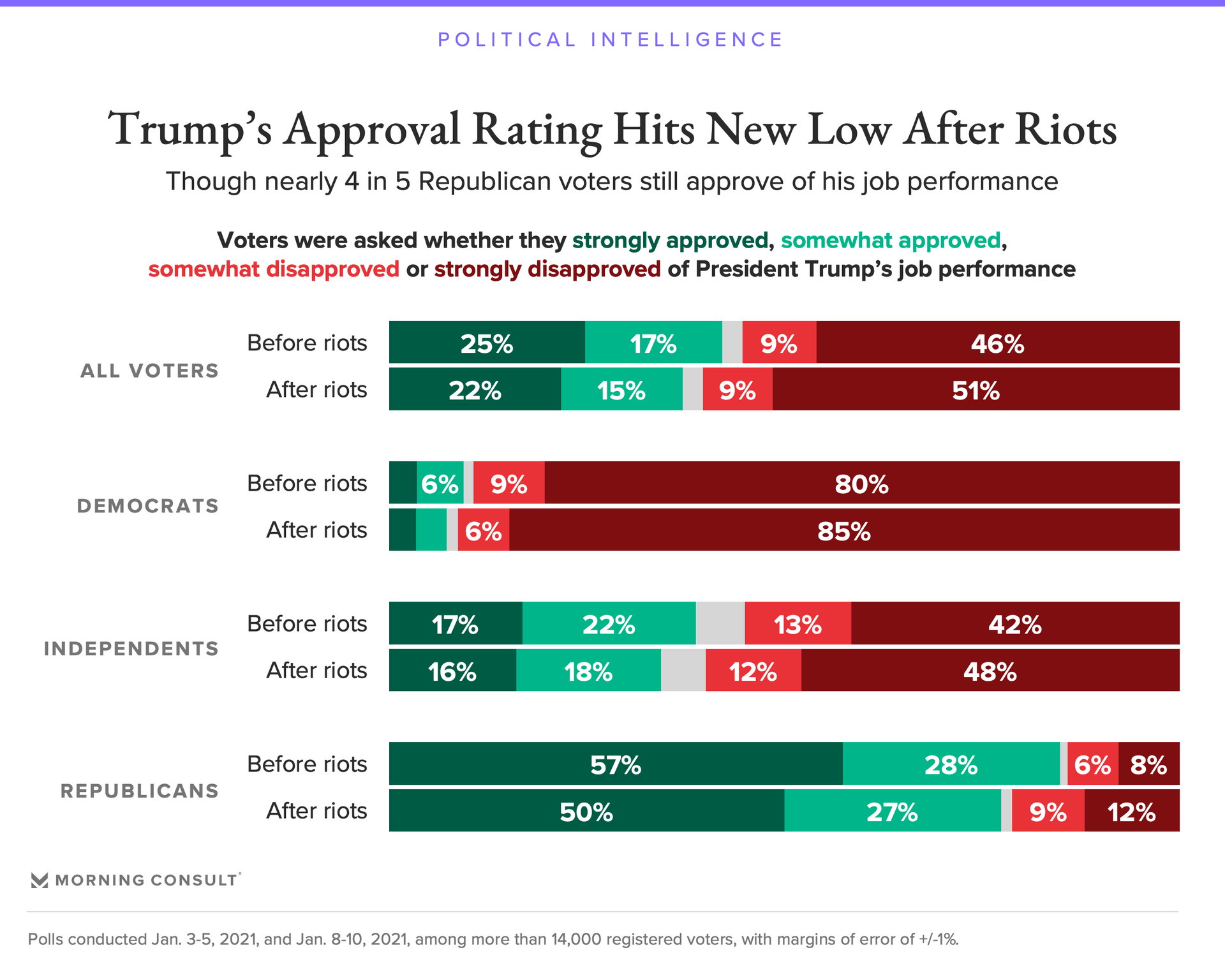 Trump's approval and disapproval ratings are record lows and highs, respectively, in Political Intelligence tracking among registered voters.
While perceptions about the president worsened among independents, the decline was largely driven by a 15-point drop in Trump's net approval rating -- the share who approve minus the share who disapprove -- among Republican voters, whose support for the president has been mostly unflinching over the course of his four years in office. 
Twenty-one percent of Republican voters said they disapprove of Trump's job performance, up 7 points, while 77 percent approve of how he's handling the job, including 50 percent who do so strongly. These numbers are some of Trump's worst among GOP voters since taking office, surpassed only by polling conducted in August 2017 amid the uproar over his response to the fatal clashes in Charlottesville, Va., and in the aftermath of Republicans' failure to repeal and replace the Affordable Care Act. 
The findings come amid almost complete radio silence from the president since remarks last week accepting his Electoral College loss to President-elect Joe Biden, enabling a void that might have been filled by missives from his now-banned Twitter account to be occupied by Trump's critics as calls have grown for his removal from office.
In a Morning Consult/Politico poll conducted Jan. 8-11, 53 percent of voters said they would approve if Congress voted to impeach Trump and 54 percent said they would back his conviction and removal by the Senate.
Support for the two actions fell largely along partisan lines: Roughly 9 in 10 Democrats, and pluralities of independent voters, support the moves, while more than 4 in 5 Republicans oppose Trump's impeachment as well as his conviction by the Senate as their party leaders stake out positions on the issue.
On Capitol Hill, House Speaker Nancy Pelosi (D-Calif.) has said the House will move forward with a vote on impeachment if Vice President Mike Pence and Trump's Cabinet do not relieve the president of his authority using provisions in the Constitution's 25th Amendment. But Trump's Cabinet is unlikely to turn on him, and the Senate is not expected to return to vote on his conviction and removal until the day before Biden's Jan. 20 inauguration, leaving resignation as the only other option on the table for Trump's ouster.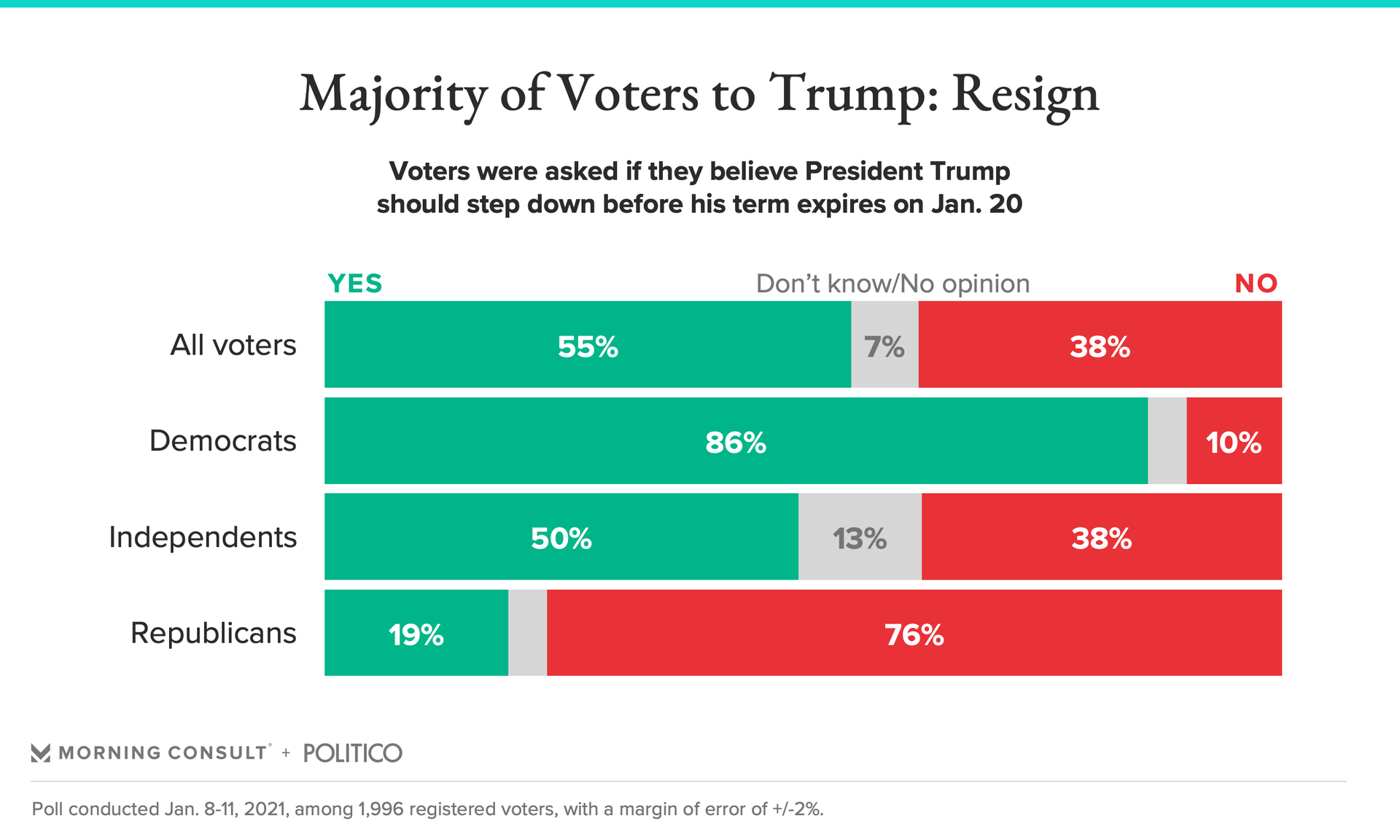 Fifty-five percent of voters said Trump should step down, including 86 percent of Democrats, 50 percent of independents and 19 percent of Republicans (larger than the share who support his impeachment and conviction). Roughly 2 in 5 voters oppose Trump's resignation.
Eli Yokley is Morning Consult's U.S. politics analyst. Eli joined Morning Consult in 2016 from Roll Call, where he reported on House and Senate campaigns after five years of covering state-level politics in the Show Me State while studying at the University of Missouri in Columbia, including contributions to The New York Times, Politico and The Daily Beast. Follow him on Twitter @eyokley. Interested in connecting with Eli to discuss his analysis or for a media engagement or speaking opportunity? Email [email protected].
We want to hear from you. Reach out to this author or your Morning Consult team with any questions or comments.
Contact Us