Trump's Popularity Declines Among GOP Voters After Brutal Week for the Country
Positive views about President Trump, Vice President Pence hit lowest point in post-election polling
A week that brought the final straw in President Donald Trump's crusade against President-elect Joe Biden's Electoral College victory and acts of insurrection on Capitol Hill by his supporters is ending with political pain for the outgoing president: A weakened standing with his loyal Republican base. 
According to Morning Consult Political Intelligence daily tracking conducted Tuesday before the melee at the Capitol and again in the aftermath on Thursday, Trump's approval rating fell 6 percentage points among Republican voters, to 78 percent, while the share who disapproved of his job performance rose 7 points, to 21 percent.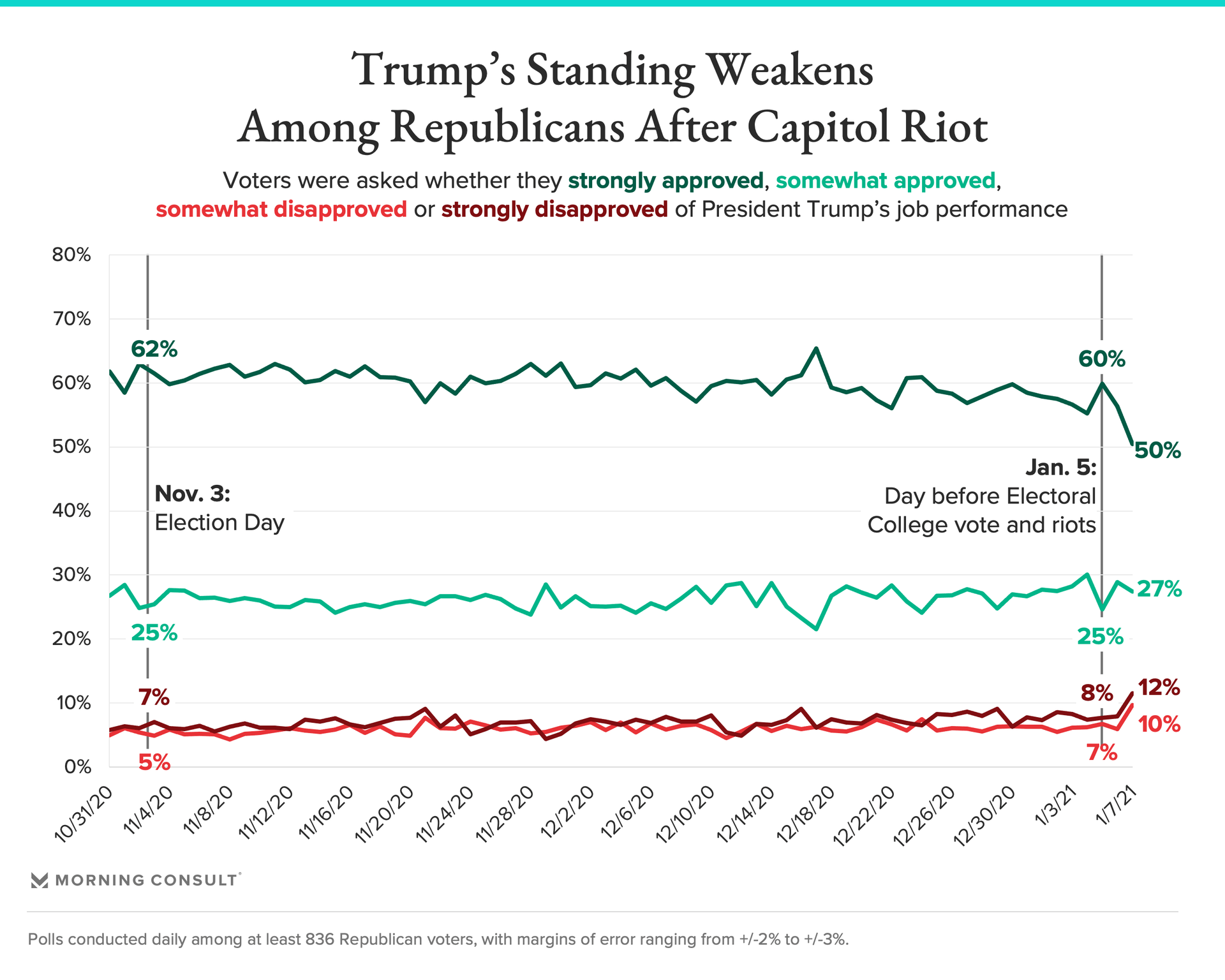 The double-digit drop in the president's net approval rating -- the share who approve minus the share who disapprove -- with voters in his own party came as the intensity of his support faded: Half of Republican voters approved of his job performance "strongly" in the Thursday poll, down 10 points from Tuesday.
The Jan. 5 and Jan. 7 polling was conducted among roughly 1,500 Republican voters nationwide, with margins of error ranging from 2 to 3 points.
The numbers mark the lowest ebb for Trump's backing within the GOP in Morning Consult polling conducted since the Nov. 3 election, and come as Republicans in Congress and in his administration reckon with their own support for the president amid bipartisan accusations that he was responsible for and failed to adequately respond to Wednesday's fracas.
Vice President Mike Pence also saw his standing decline among Republican voters. According to the Thursday data, 76 percent of Republican voters hold favorable views of the vice president, down 7 points from Tuesday, while the share who hold that view strongly (44 percent) fell 13 points, his worst numbers in tracking conducted since Election Day.
While Pence's standing in the party appears closely tied to that of the boss he loyally served, his public performance in the constitutional role of counting state Electoral College results appears to have led to an improvement in how Democrats view him: 1 in 5 Democrats said they have a favorable impression of Pence, up 8 points since Tuesday, while 72 percent view him unfavorably, down 9 points.
Overall, voters were largely unmoved in their perceptions of the two Republican leaders, but among a larger population of Americans, Wednesday's events preceded a notable drop in voter optimism. 
As of Friday, just 21 percent of voters said the country was headed in the right direction, down 6 points since Tuesday. That shift appears driven largely by Republicans, whose optimism about the country's path fell 12 points since Tuesday to 26 percent, its lowest point since Trump took office in January 2017. 
Eli Yokley is Morning Consult's U.S. politics analyst. Prior to his current role, Eli was Morning Consult's senior reporter covering U.S. politics. Eli joined Morning Consult in 2016 from Roll Call, where he reported on House and Senate campaigns after five years of covering state-level politics in the Show Me State while studying at the University of Missouri in Columbia, including contributions to The New York Times, Politico and The Daily Beast. Follow him on Twitter @eyokley. Interested in connecting with Eli to discuss his analysis or for a media engagement or speaking opportunity? Email [email protected].
We want to hear from you. Reach out to this author or your Morning Consult team with any questions or comments.
Contact Us