Most Voters Who Went Third Party in 2016 Are Backing Biden Over Trump This Year
Joe Biden leads the president by 32 points among likely voters who supported "someone else" in 2016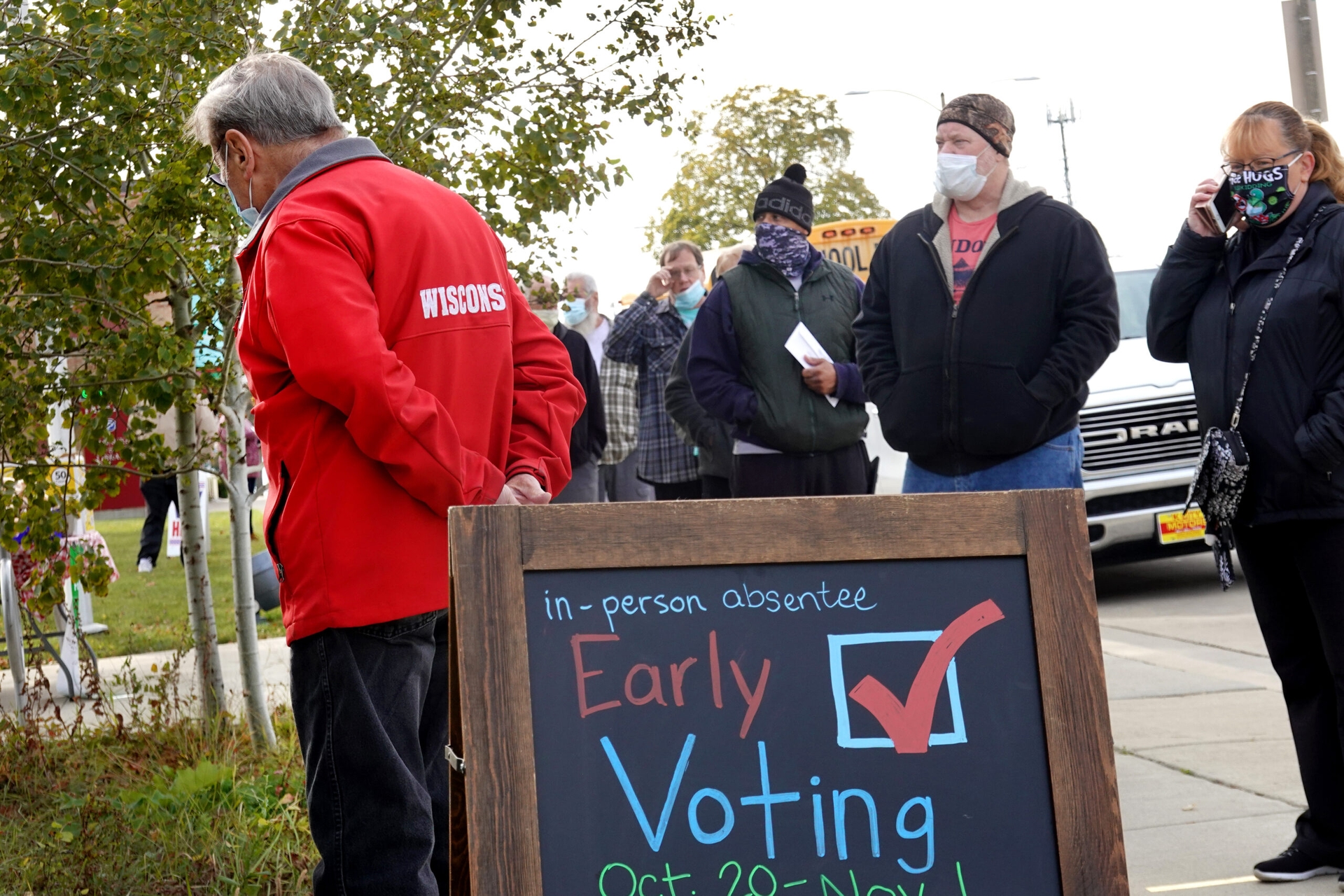 Key Takeaways
14% of 2016's third-party voters said they'll vote for someone else again, while 12% are still undecided.

Unlike Trump, Biden's share of support with the group has grown since May, along with upticks in popularity.

The 2% of voters who aren't backing Biden or Trump this year are more likely than their supporters to be politically unaffiliated and are disproportionately young.
A sizable share of Americans eschewed the major-party dichotomy and voted for third-party candidates in 2016, helping deliver the White House to President Donald Trump.
But four years later, almost all of the likely voters who opted against both the Republican and Democratic nominees last time around aren't planning to do so again, Morning Consult Political Intelligence tracking shows -- and a slim majority are siding with former Vice President Joe Biden. 
Daily tracking of likely voters conducted Oct. 16-18 found 53 percent of likely voters who opted for someone other than a major-party nominee in 2016 said they're backing Biden in this year's election, while 21 percent said they're supporting Trump. Another 14 percent said they would vote for a third-party candidate again, while 12 percent are still undecided. The data is based on surveys with 359 likely voters who backed someone other than Trump or Clinton in 2016, with a margin of error of 5 percentage points.
Biden's standing with the voting bloc has improved throughout the year, according to monthly averages of the daily polling, as fewer said they'll reject the major-party choices. From May to October, the share who said they'd back Biden rose 8 points, to 50 percent, while the share who backed Trump (roughly 1 in 5) has remained virtually unchanged during the same time.
Morning Consult polling conducted earlier this year found that those who voted for someone other than Clinton and Trump in 2016 accounted for 18 percent of the voters with unfavorable views of both of this year's presidential nominees, the so-called "haters" with whom Biden held a firm lead in July. Since that time, Biden's favorability has improved among 2016's third-party voters: In the latest poll, 49 percent expressed favorable views about him and 47 percent expressed unfavorable views.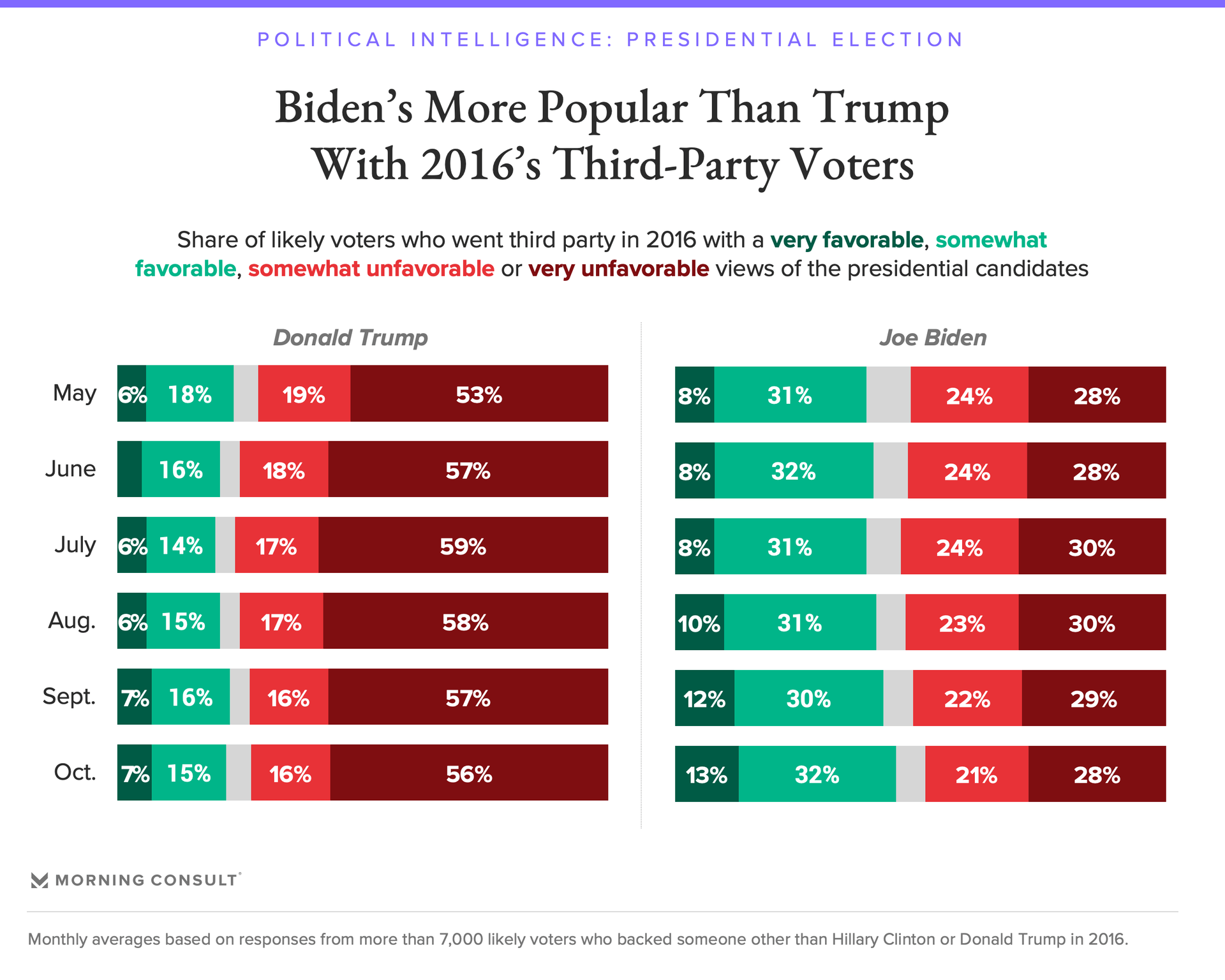 Over the same time period, Trump's popularity with those who voted for someone else four years ago went largely unmoved, with 24 percent viewing him positively and 73 percent viewing him negatively in the latest data.
Four years ago, 6 percent of voters pulled the lever for a third-party candidate, backing Libertarian Party nominee Gary Johnson, Green Party nominee Jill Stein, an assortment of write-in candidates or 29 other options across the country, according to a Federal Election Commission tally. The share of third-party votes was enough for Democrats to call Stein and Johnson Electoral College spoilers: Their combined vote share was larger than Trump's narrow margins of victory in Arizona, Florida, Wisconsin, Pennsylvania and Michigan.
This time around, very few voters in key battleground states are indicating their interest in voting third party, with Libertarian nominee Jo Jorgensen and Green Party nominee Howie Hawkins lacking the prominence of their 2016 predecessors, and Kanye West -- the well-known musician whose candidacy has been pushed by Republican operatives -- on the ballot in a handful of states and just two competitive battlegrounds (Iowa and Minnesota).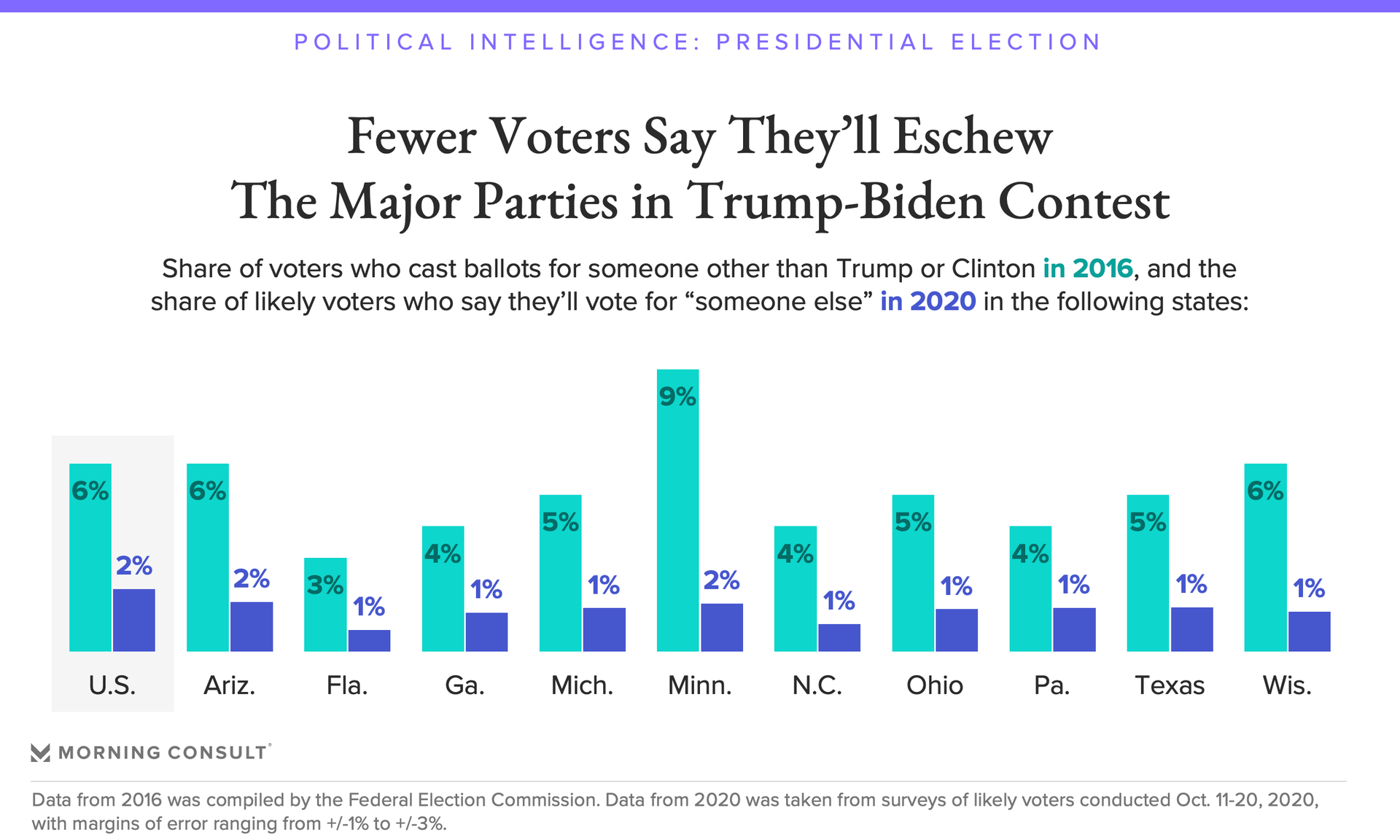 In Michigan, home to 2016's closest contest, 1 percent of voters said they'll vote for someone other than Biden or Trump in November, compared to 5 percent who voted for a third party four years ago. In Minnesota, a state Clinton won by less than 2 points after 9 percent of voters went third party, 2 percent said they'd back someone else, according to the Oct. 11-20 surveys.
Nationwide, just 2 percent of voters said they would vote for someone other than Trump or Biden this year, a 4-point drop from 2016's final tally. 
The 2 percent of voters with plans to eschew the major-party choice this year tend to be politically unaffiliated, and are disproportionately young: 41 percent of likely voters backing "someone else" are between the ages of 18 and 34, compared with 24 percent of Biden supporters and 17 percent of Trump supporters.
They're more likely to identify as moderate (36 percent) or liberal (37 percent) than conservative (28 percent), and the bulk of them (70 percent) are white, a larger proportion than Biden's supporters but smaller than Trump's. Nearly half of third-party voters report earning less than $50,000 a year, slightly larger than the shares of Biden or Trump supporters who say the same.
On the issues that are important to their votes, third-party voters are more likely than Biden supporters to prioritize the economy (35 percent to 26 percent) and more likely than Trump supporters to prioritize health care (19 percent to 10 percent). 
Eli Yokley is Morning Consult's U.S. politics analyst. Eli joined Morning Consult in 2016 from Roll Call, where he reported on House and Senate campaigns after five years of covering state-level politics in the Show Me State while studying at the University of Missouri in Columbia, including contributions to The New York Times, Politico and The Daily Beast. Follow him on Twitter @eyokley. Interested in connecting with Eli to discuss his analysis or for a media engagement or speaking opportunity? Email [email protected].
We want to hear from you. Reach out to this author or your Morning Consult team with any questions or comments.
Contact Us