Trump and Biden Look Set to Split the Few Remaining Undecided Voters of 2020
Nationwide, 3% of likely voters are undecided, compared to 11% at this point in 2016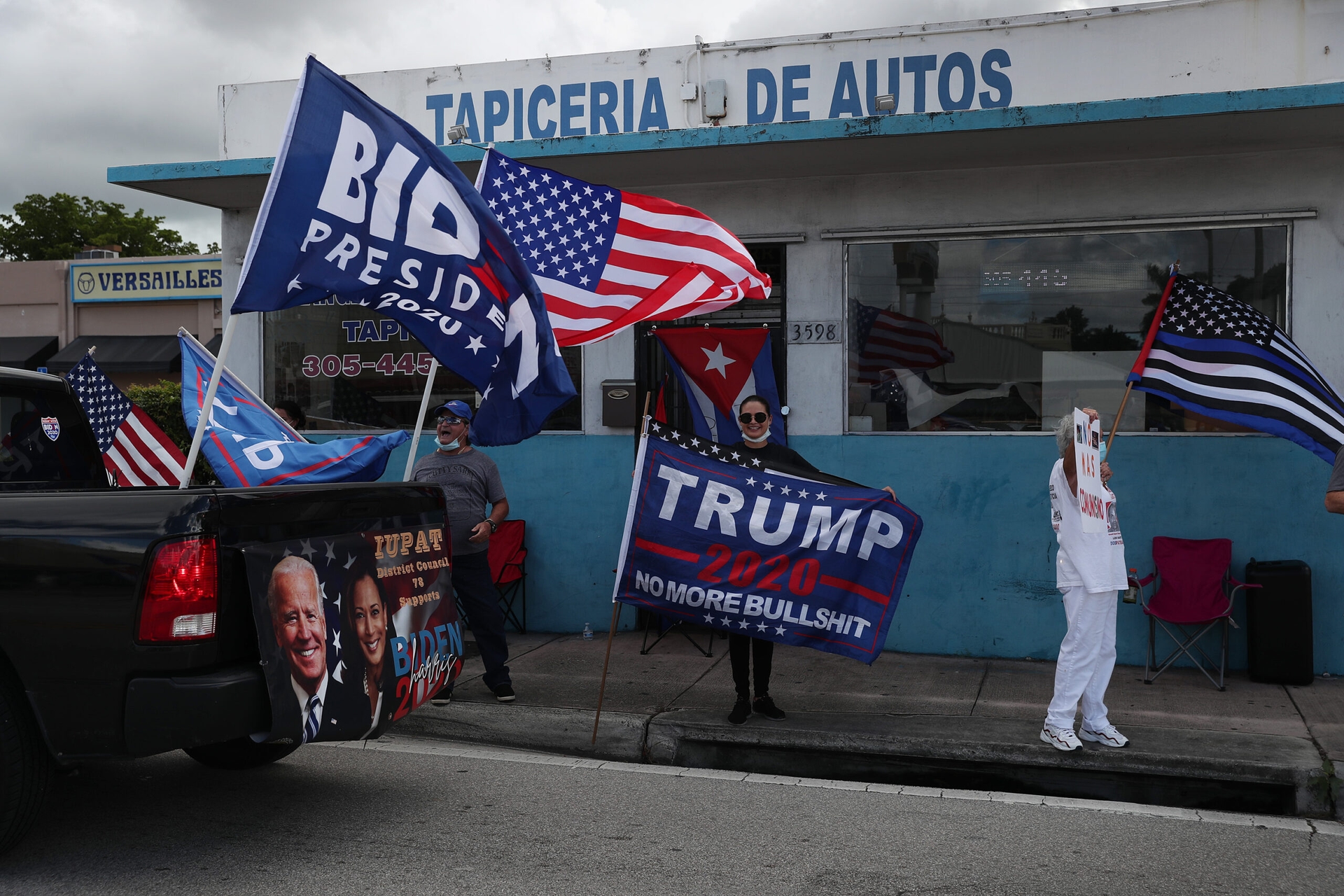 Key Takeaways
30% of undecided voters said they were leaning toward Joe Biden, while 28% said Trump and 43% were opting for a third party.

53% of undecided voters live in America's suburbs and 60% are women.

Undecided voters are 19 points less likely than Trump supporters to identify as white.
With one week to Election Day, President Donald Trump continues to trail Democratic nominee Joe Biden by a significant margin, and the voters still on the sidelines of the contest -- far fewer than there were at this juncture of the 2016 race -- are more likely to back someone other than either major-party candidate on this year's ballot.
According to Morning Consult's Political Intelligence tracking, which shows Biden leading Trump by 9 percentage points (52 percent to 43 percent), only 3 percent of likely voters say they don't know who they're backing in the presidential contest. 
When asked which way they were leaning, 30 percent said Biden and 28 percent said Trump, but the lion's share (43 percent) of undecideds said they were more likely to vote for someone else altogether.
The data, collected Oct. 23-25 among 15,509 likely voters with a 1-point margin of error, presents more than one problem for the Republican incumbent: Not only are most of the undecided voters in this race disinclined to vote for him, but there are far fewer of them to try to persuade than there were in 2016.
Morning Consult/Politico polling conducted a week before the election four years ago found that 11 percent of likely voters were undecided, providing Trump with a much larger pool of potential supporters to make up ground amid last-minute developments in the campaign, such as then-Federal Bureau of Investigation Director James Comey's letter to Congress about an additional review of emails related to an investigation of Democratic nominee Hillary Clinton.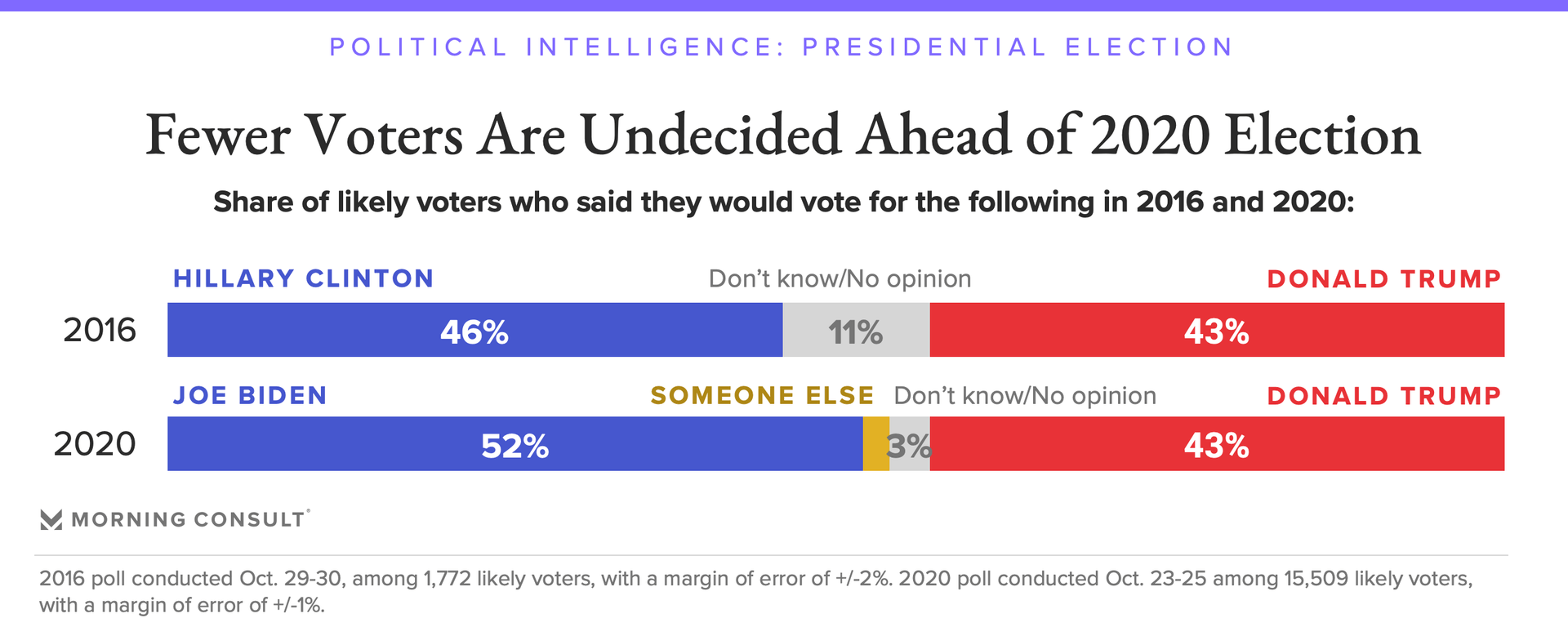 This time around, the surprises in October --  including the president's COVID-19 diagnosis and the conservative media blitz surrounding foreign business dealings by the Democratic nominee's son, Hunter Biden -- have not moved the needle with the overall electorate. 
Like the nation as a whole, few voters in key battleground states are undecided. In Florida, where Morning Consult's Oct. 11-20 polling shows Biden leads Trump, 52 percent to 45 percent, 2 percent of voters have yet to make up their minds. But they could have more influence in places where Biden and the president are tied, like Georgia (3 percent undecided) or Texas (4 percent undecided). 
The group's indecision appears driven by a dislike of both major-party candidates -- setting them apart from third-party voters, for example, who tend to view Biden more favorably than Trump. The latest survey found 56 percent of undecided voters had unfavorable views of Trump and 49 percent have unfavorable views of Biden. Another 26 percent view Trump favorably, compared with 28 percent who said the same of the former vice president.
The numbers have been mostly stable since tracking among likely voters began in late April, though unfavorable views of Biden ticked up in June and July.
While undecided voters are small in number, they look like the kinds of voters the campaigns are targeting in the final stretch of the campaign: Over half of the voting bloc (53 percent) lives in America's suburbs, and compared to their Biden and Trump-supporting peers, the group is disproportionately made up of women and political moderates.
Undecided voters are also more racially diverse than the Trump coalition, though they share similar levels of educational attainment, and are more likely to be among the country's lowest earners than either Biden or Trump supporters.
The voters whose minds aren't made up are increasingly driven by financial concerns, such as taxes, wages, jobs, unemployment and government spending. Since May, the share who said economic issues were their top election priority increased 4 points, to 39 percent, according to monthly averages, while 18 percent prioritize health care, 16 percent prioritize Medicare and Social Security, and 8 percent prioritize security issues such as terrorism, foreign policy and border security.
Eli Yokley is Morning Consult's U.S. politics analyst. Eli joined Morning Consult in 2016 from Roll Call, where he reported on House and Senate campaigns after five years of covering state-level politics in the Show Me State while studying at the University of Missouri in Columbia, including contributions to The New York Times, Politico and The Daily Beast. Follow him on Twitter @eyokley. Interested in connecting with Eli to discuss his analysis or for a media engagement or speaking opportunity? Email [email protected].
We want to hear from you. Reach out to this author or your Morning Consult team with any questions or comments.
Contact Us