Since Trump's COVID-19 Diagnosis, His Campaign Has Spent More Than $500,000 on Facebook Ads About It
Far outspending other political advertisers, Trump ads included videos containing misleading, questionable treatment information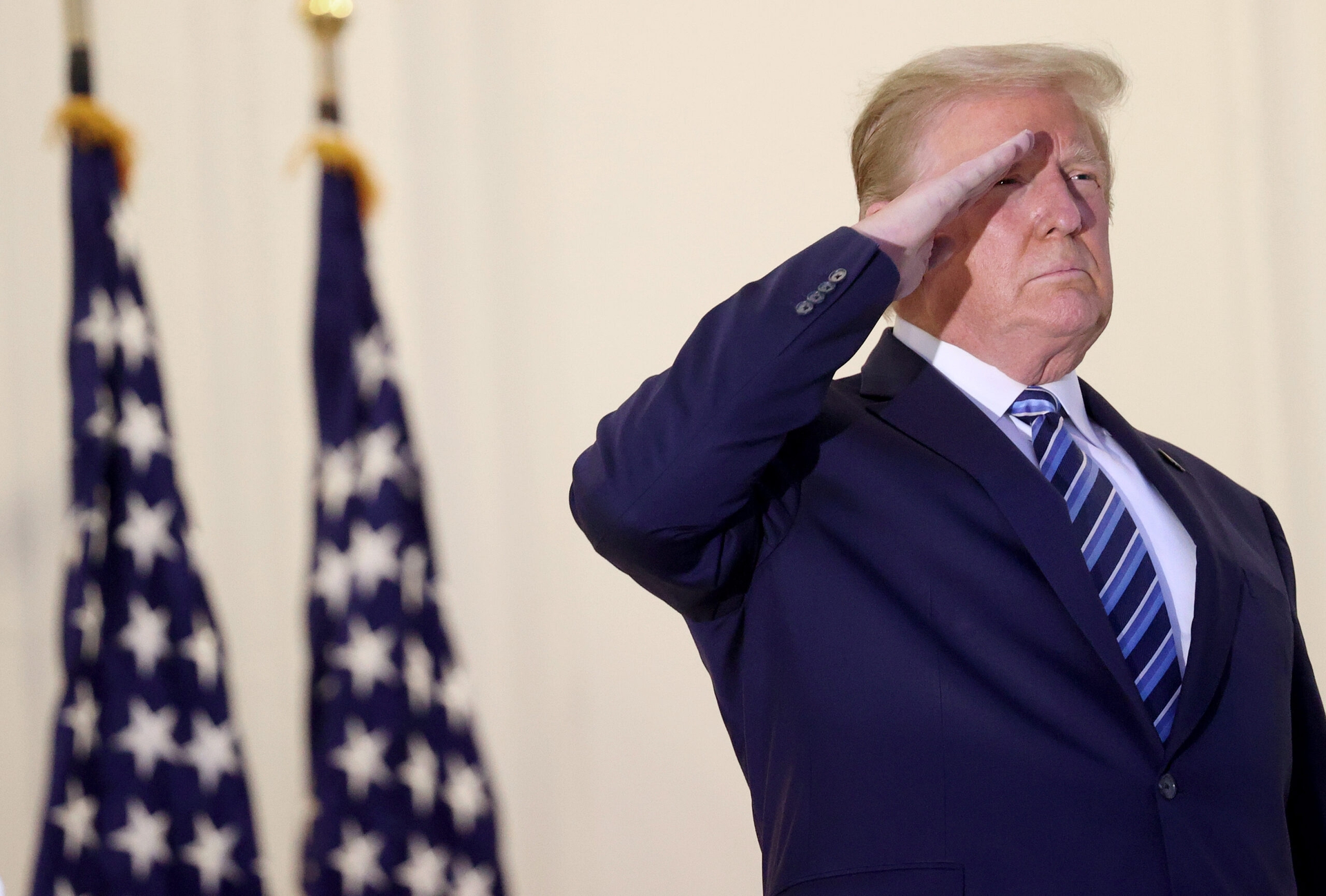 In the days following President Donald Trump's COVID-19 diagnosis last week, the president's campaign is estimated to have spent more than $500,000 on Facebook political advertisements discussing his health and treatment plans, far outpacing ad spends by other advocacy groups and campaigns about the same topic, according to data shared exclusively with Morning Consult by researchers at New York University's Tandon School of Engineering's Ad Observatory.
Trump's campaign has mostly relied on these Facebook political ads to promote administration videos, some of which have included misleading information about COVID-19 immunities, vaccines and other treatments, according to a Morning Consult analysis of the ads in Facebook's Ad Library.
For example, since Tuesday, after leaving Walter Reed National Military Medical Center a day earlier, Trump has run a political advertisement on Facebook featuring the video of him urging people to not let the coronavirus pandemic "dominate" them and saying, "Maybe I'm immune, I don't know," despite medical research offering conflicting accounts of COVID-19 immunity and its longevity. Facebook's data indicates that users who have seen the ad are based mostly in Florida, Texas and Pennsylvania, which are key election battleground states. 
Although the video was also shared on other social media platforms such as Twitter, the video's use in paid promotions raises ethical questions about how the president discusses his experience with the virus that, as of Friday, has killed more than 213,000 people in the United States, and how paid advertisements on social media play a role in the spread of such messaging. In total, Trump's advertisements about his COVID-19 diagnosis and treatment received between 16.3 million and 19.2 million Facebook impressions, or views.
Researchers at NYU's Ad Observatory, which monitors Facebook political and issue-based advertising, compiled the data based on a search of Facebook's Ad Library for advertisements after Oct. 1 that include any of the following keyword pairings: "Trump + Walter," "Trump + diagnosis" and "Trump + test."
The data also indicates that Trump, by far, had the largest number of total advertisements, at 664 between the official Donald J. Trump and Team Trump pages. Cost of Chaos, a progressive, anti-Trump Facebook page, had the second-largest spend and total ad count during the weeklong period, with researchers estimating it spent $36,029 across 42 advertisements.
While several progressive and Democratic groups are turning to Facebook to advertise around Trump's coronavirus diagnosis, none of the pages are associated with Democratic presidential nominee Joe Biden. The former vice president's campaign has been purchasing advertisements that more subtly discuss the diagnosis: On Monday, Biden's campaign started running an ad targeting voters in Wisconsin and pushing the idea that Biden "trusts the science," and on Thursday, the campaign started promoting its video of Biden slowly putting on a mask with the caption, "When it comes to Covid, Joe Biden will follow the science."
As Election Day inches closer, Facebook has made several changes to its political advertising policy, including a plan to suspend all such advertisements after the polls close on Nov. 3 in an effort to squash any confusion, misinformation and abuse about the outcome and legitimacy of the elections. And although Facebook rolled out a new tool in June to allow users to remove all political ads from their feeds, the company's refusal to remove or flag advertisements that include falsehoods has come under intense scrutiny. 
That's especially true given the platform's dominant position for political advertisements this election cycle since Twitter and TikTok banned all political advertisements from their sites last year and Google implemented restrictions on micro-targeted political ads at the beginning of the year.
Facebook declined to comment. In response to Morning Consult's questions about the ad spend data, the Trump campaign provided a statement touting the president's pandemic response "even when he contracted and fought off the coronavirus."
This story was updated after publication with a response from the Trump campaign.
Sam Sabin previously worked at Morning Consult as a reporter covering tech.
We want to hear from you. Reach out to this author or your Morning Consult team with any questions or comments.
Contact Us