56% of Voters Back Oversight Board's Decision to Uphold Trump's Facebook Suspension, but Fewer Say He Should Be Permanently Banned
49% of voters believe Trump should be permanently deplatformed by Facebook; 40% say his account should be restored
Key Takeaways
88% of Democrats agree with the board's decision to uphold Trump's suspension, while 76% of Republicans disagree.

48% of voters heard "a lot" or "some" about Trump's creation of his new social media website.

Half of GOP voters say they expect to at least somewhat engage with Trump's new communications platform.
A small majority of voters agree with a ruling by Facebook Inc.'s oversight board that the social media company was justified in suspending former President Donald Trump's account after the Jan. 6 insurrection at the U.S. Capitol, a new Morning Consult/Politico survey shows. Voters were slightly more split, however, on how Facebook should treat Trump's account going forward.
Fifty-six percent of voters said they agreed with the oversight board's May 5 decision to uphold Trump's suspension from Facebook, while 37 percent said they disagreed with the ruling. A strong majority of Democrats (88 percent) and half of independents agreed with the decision, while 3 in 4 Republicans opposed it.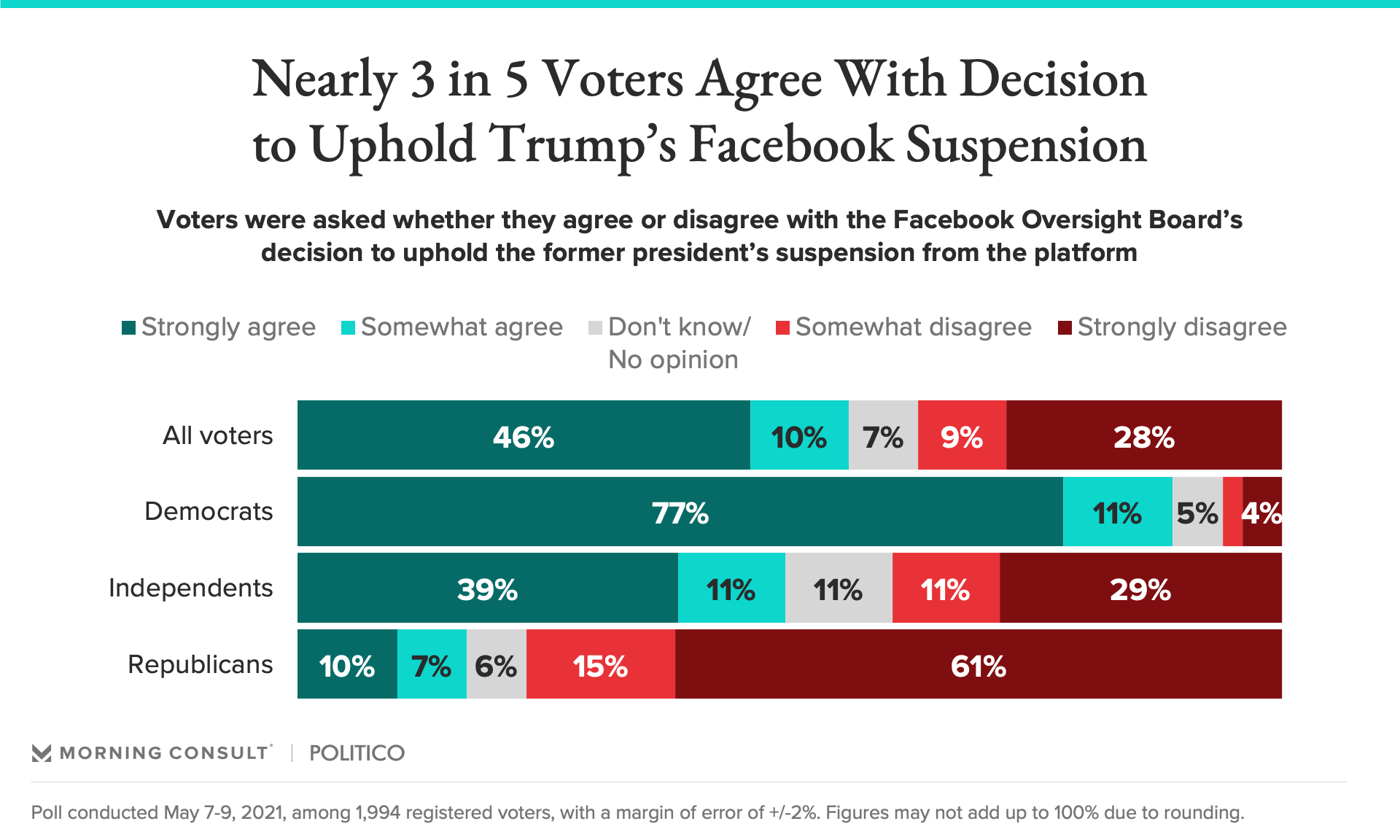 While the oversight board upheld Trump's suspension from the platform, it stopped short of issuing a final verdict on the fate of his account, instead telling Facebook that it has six months to decide whether Trump's account should be permanently banned, restored or suspended until a set date. 
The poll found that just under half of voters (49 percent) think Trump's ban should be permanent, while 40 percent say it should be lifted. Thoughts on the issue were divided along partisan lines, with 4 in 5 Democrats supporting a permanent ban and an almost equal share of GOP voters backing the restoration of Trump's account.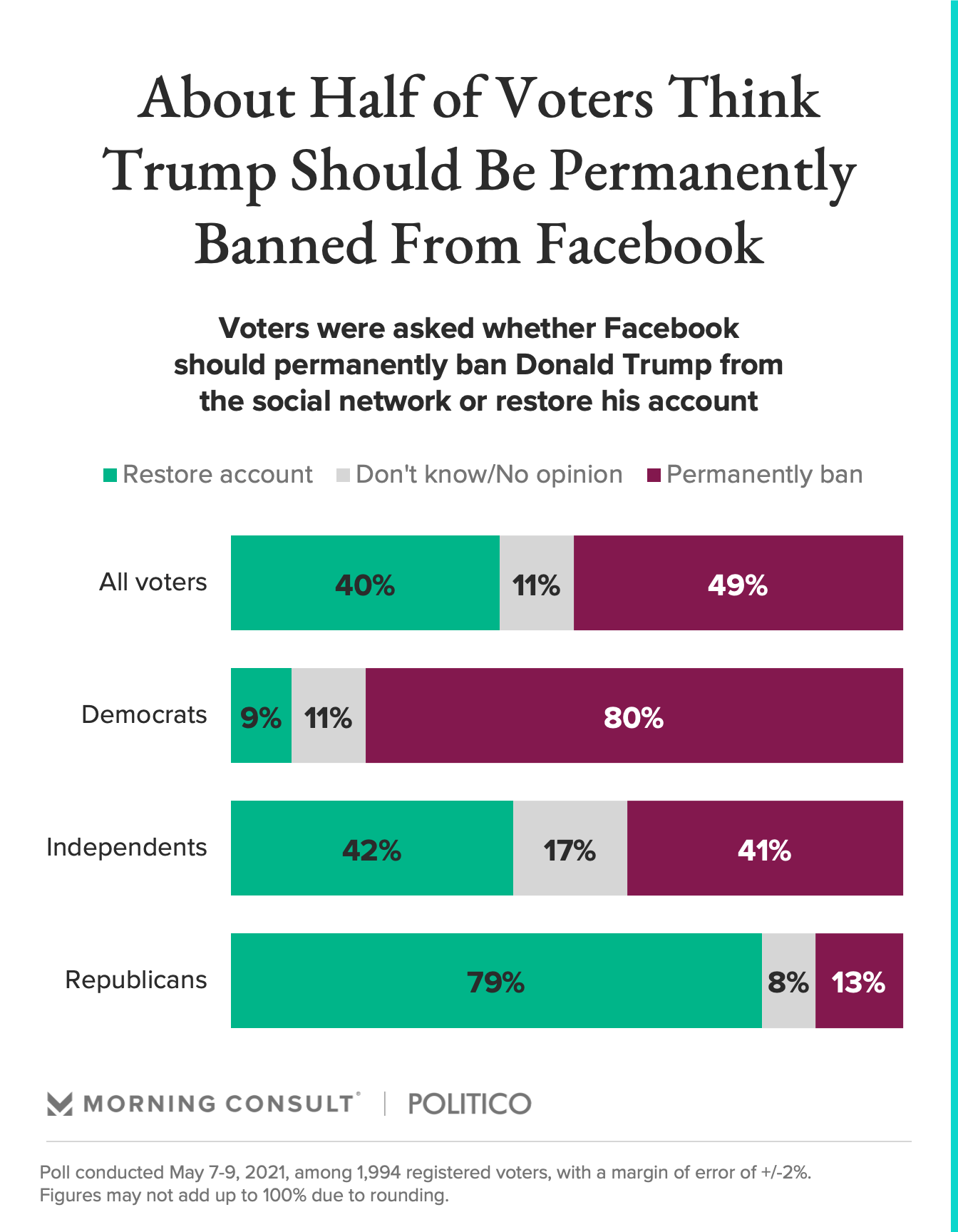 The survey was conducted May 7-9 among 1,994 registered voters and has a margin of error of 2 percentage points.
Just before Facebook's oversight board released its decision in the case, Trump debuted his own communications platform called "From the Desk of Donald J. Trump," where he posts his own messages that can then be shared on other social media platforms by the website's users, though they cannot comment on the posts at this time. 
The launch of the platform comes as more reports surface that Trump is heavily considering a new bid for the White House in 2024 and as he still faces suspensions on other social media sites and a permanent ban on Twitter, which served as the central hub for Trump's thoughts to his supporters as well as announcements about his administration's policies during his first term in office.
In the event that Facebook would reinstate Trump's account, a third of voters think that decision would have a major impact on Trump's potential for success in the 2024 election, while roughly a quarter said it would have a minor impact and a nearly equal share said it would have no impact. Democrats (44 percent) were more likely than Republicans (26 percent) to say the reinstatement of Trump's Facebook account would have a major impact on his chances if he were to run again.
Although Trump's new platform made waves in the media, including on Fox News, which first reported the creation of the website, the launch didn't appear to resonate with most voters. The survey showed that 15 percent of voters said they'd seen, read or heard "a lot" about the creation of the platform, while a third said they heard "some" about it. Roughly equal shares of Republicans heard the same amount of information. 
When voters were told about the creation of the website in the survey and asked how often they would engage with it, nearly 3 in 10 said they would frequent it at least somewhat, while 71 percent said they would not visit it much, if any. Democrats and independents were most likely to say they wouldn't use it often or at all, at 84 percent and 78 percent, respectively. 
Half of Republicans said they plan to use it, with 21 percent of that share saying they would visit it a lot. Among those who voted for Trump in the 2020 election, 54 percent said they would engage with Trump's website, including 22 percent who said they would do so a lot.
The creation of Trump's website coincides with growing accusations from Republican lawmakers that social media companies are biased against conservative opinions and are more likely to moderate or remove content reflecting those views. The poll shows that most GOP voters think the same way, with roughly 2 in 3 saying social media companies are biased against conservative views. 
A third of all voters held that view, compared with just 8 percent who said social media companies are biased against liberal beliefs. Another quarter said the companies aren't politically biased in any way, while 9 percent said they're biased against all political beliefs.
Brian Yermal is a research editor on the Industry Intelligence team, where he edits the team's email newsletters, written analysis and reports. Brian previously worked as a copy editor at the Altoona Mirror newspaper in central Pennsylvania. He graduated from Penn State University with a bachelor's degree in journalism.
We want to hear from you. Reach out to this author or your Morning Consult team with any questions or comments.
Contact Us