Trump's Business Image Loses Luster Among Voters in Wake of Reported Losses
Voters less likely to describe president as "successful" in business after learning of detailed $1.17 billion in losses
Key Takeaways
49% of voters said they back House Democrats' effort to obtain six years of President Donald Trump's tax returns.

48% said Trump's business experience helped the way he has handled his responsibilities as president.
As House Democrats continue to push for President Donald Trump's tax returns, polling shows recently unearthed details about past business losses can dampen voters' views about his successes in the private sector, revealing a potential liability for a man who has sold himself as a master businessman.
A new Morning Consult/Politico poll asked voters whether Trump was a successful or unsuccessful businessman, before and after presenting them with information about Trump's $1.17 billion in losses between 1985 and 1994, as reported last week by The New York Times.
It found that the share of voters who described Trump as a successful businessman dropped 11 percentage points – from 54 percent to 43 percent – after being told about his reported losses to the Internal Revenue Service over that decade. Democrats became 13 points less likely to view Trump as successful in his private ventures, from 30 percent to 17 percent, and Republicans registered an 11-point drop to 74 percent.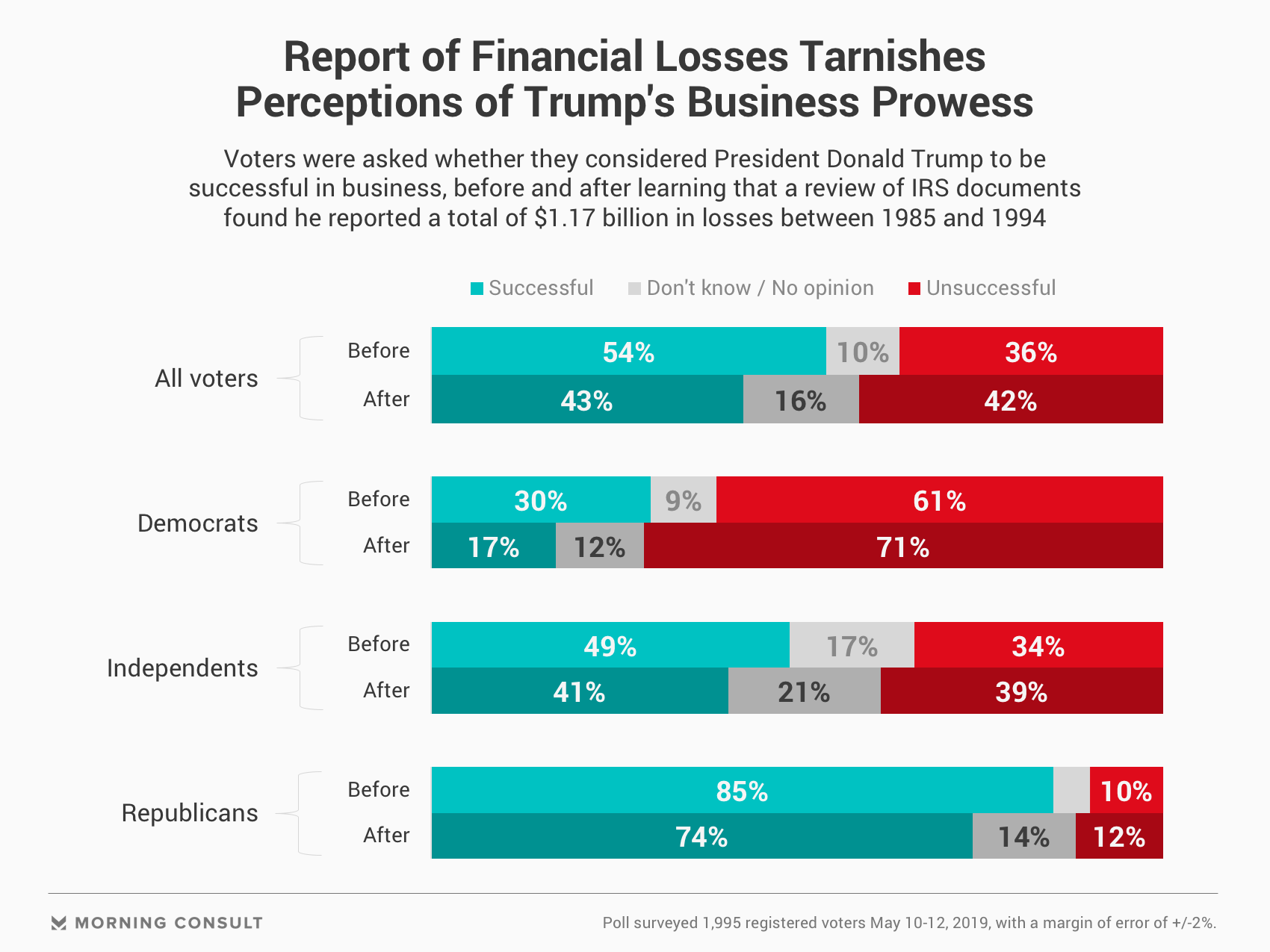 The survey did not mention that the details came from The New York Times, and a previous study by Morning Consult found that perceptions of a news item's accuracy shift by outlet and topic.
Trump defended himself on Twitter last week, saying real estate developers such as himself "were entitled to massive write offs and depreciation which would, if one was actively building, show losses and tax losses in almost all cases," and noting that "you always wanted to show losses for tax purposes."
But Trump has also previously mentioned experiencing tough times in business: In the intro to the first season of his hit NBC show, "The Apprentice," Trump talked about being "seriously in trouble" and "billions of dollars in debt," framing his struggles in the context of his comeback.
"If you're a Trump voter, one of the reasons you supported him was his claim that he knew the system better than anyone," said Doug Heye, a Republican strategist and former spokesman for the Republican National Committee. "This shows that it may be true. And if you oppose Trump, this is simply further proof of an emperor with no clothes."
But the Times' report may not be the only information to emerge about Trump's finances before next year's election. House Democrats are seeking six years of Trump's tax returns, and while the Treasury Department has rejected their request, the issue is expected to be fought out in court.
Public opinion backs Democrats as they seek the documents, which would reveal information about the totals and sources of Trump's income. Nearly half of voters (49 percent) support those efforts, while 36 percent oppose them, similar to polling from last month.
Heye said the Times' report "obviously" gives Democrats ammunition to use against Trump, but questioned whether such details would have much of an impact in the eyes of the public.
"Voters long ago made up their minds on whether they like or do not like Trump," Heye said in an email Tuesday. "Now he has a record to run on, which most voters will judge from the prism of the decision they made on Trump in 2016. The only question is what a small subset of voters in key states think, and it's not clear that these stories will have much of an influence."
Trump promised in his campaign to bring a new approach to politics with his business savvy, and nearly half (48 percent) said they believe that experience has helped him handle his presidential responsibilities. However, that acumen did not outweigh the challenges Trump has experienced in his move to the public sector: Fifty-nine percent said the president's lack of political experience has hurt the way he's handled his presidency.
Eli Yokley is Morning Consult's U.S. politics analyst. Prior to his current role, Eli was Morning Consult's senior reporter covering U.S. politics. Eli joined Morning Consult in 2016 from Roll Call, where he reported on House and Senate campaigns after five years of covering state-level politics in the Show Me State while studying at the University of Missouri in Columbia, including contributions to The New York Times, Politico and The Daily Beast. Follow him on Twitter @eyokley. Interested in connecting with Eli to discuss his analysis or for a media engagement or speaking opportunity? Email [email protected].
We want to hear from you. Reach out to this author or your Morning Consult team with any questions or comments.
Contact Us