Trump's Social Media Posts Could Face Different Moderation Rules Once He Leaves Office. Social Media Users Aren't Sure They Approve
53 percent said special policies should "definitely" or "probably" apply to elected official's posts even after they leave office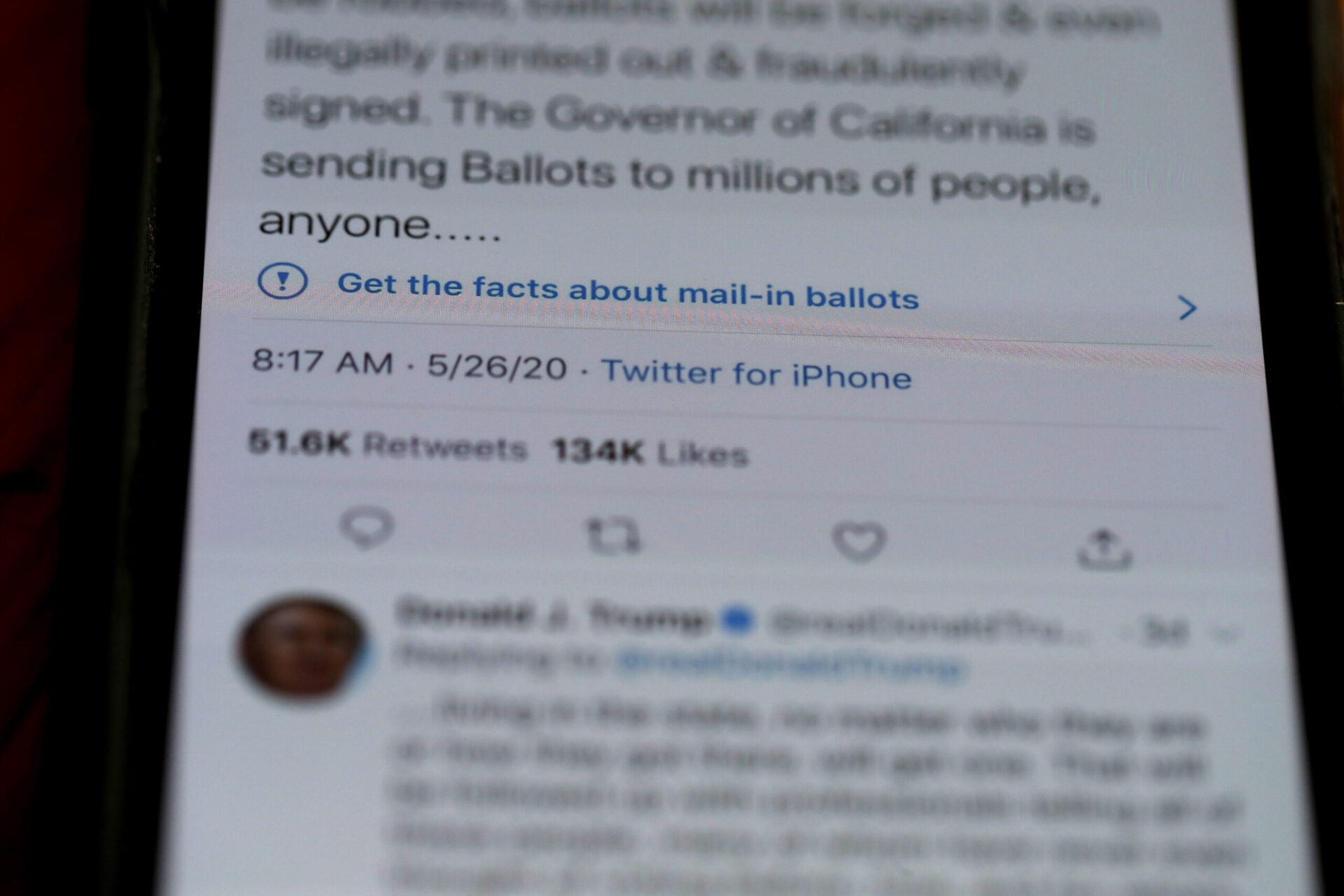 Key Takeaways
66% of Democrats said the special rules should "definitely" or "probably" be applied to leaders after they leave office, compared to 46% of Republicans.

34% of social media users said Trump should be banned from platforms whenever he shares disinformation about the election results -- the highest share among the list of figures included in the survey.
Come Inauguration Day on Jan. 20, President Donald Trump's social media posts could be treated like those from any other user, with the potential that his account could be suspended or banned from the platform whenever he routinely violates a company's moderation rules, instead of receiving a warning label or other more lenient treatments like his posts do now. 
A new Morning Consult survey suggests, however, that most social media users don't appear to have a strong appetite for seeing a former head of state's accounts treated like any other.
According to the survey conducted Nov. 10-12 among 2,079 social media users, 53 percent said special policies for moderating social media posts from elected officials, such as the sitting president or other heads of state, should "definitely" or "probably" apply to those same accounts once the official leaves office. Another 25 percent said they were unsure or didn't have an opinion. 
Given how the posting policies would impact Trump, Democrats, perhaps surprisingly, appeared more inclined to say that the special rules should "definitely" or "probably" be applied after elected officials leave office, with 66 percent saying so compared to 46 percent of Republicans.
The survey has a margin of error of 2 percentage points.
During testimony before the Senate Judiciary Committee on Tuesday, Twitter Inc. Chief Executive Jack Dorsey confirmed in a question from Sen. Cory Booker (D-N.J.) that his platform will no longer apply its "public interest" policies to Trump's tweets, which typically protects the president from being banned or suspended after multiple rule violations. On the other hand, Facebook Inc. CEO Mark Zuckerberg said Trump's posts will continue to be treated as they are, and a company spokesperson said following the hearing that like all other former candidates and elected officials, Trump's posts will continue to be eligible for fact-checking by the company's third-party fact-checking partners.
Since Trump arrived on the political stage in 2015, his use of the major social media platforms -- especially Facebook, Twitter and Google's YouTube -- have prompted the companies to examine how politicians factor into their content moderation policies, including those targeting false or misleading information, harassment and offensive content. 
Over the years, their approaches have varied: Twitter arguably has had the strictest approach, which mostly relies on placing the content behind a warning label that users have to click through. And executives at Facebook and YouTube long argued that exempting Trump's posts that violate their platforms' rules from punishment was necessary because of their news value. Both companies have started placing more labels on the president's posts, especially about the coronavirus pandemic and the 2020 elections.
Despite that, Trump's posts have continued to be a strong source for misinformation about the elections, specifically. A New York Times analysis published Monday indicates that Trump included unsubstantiated falsehoods about voter fraud in over 300 tweets since election night on Nov. 3. And an October report from Harvard University's Berkman Klein Center for Internet and Society concluded that Trump's personal Twitter account was one of the top sources for disinformation about mail-in voter fraud in this year's elections. The study analyzed more than 55,000 online media stories, 5 million tweets and 75,000 posts on public Facebook pages.
And while social media users aren't so sure that platforms should start moderating the president's posts like any other, they do appear to have a stronger appetite for seeing enforcement actions against Trump's posts that spread false or misleading information about the 2020 U.S. election results.
In the poll, 34 percent of social media users said the president should be banned from social media platforms when he posts disinformation about the election results -- the highest share among the list of public figures included in the survey. Thirty percent said Trump's account should be temporarily suspended for spreading such false or misleading election information.
For comparison, 28 percent of social media users said President-elect Joe Biden's account should be banned if he were to share misleading or false information about the election results, and 35 percent said he should be suspended.
Shannon McGregor, senior researcher at the University of North Carolina's Center for Information, Technology, and Public Life, said overall, the general sentiments that social media users have about banning or suspending the president appears to align with the platforms' existing approaches. 
"There's some, but not necessarily overwhelming, appetite for political leaders to be banned, or even suspended," McGregor said. "It seems as if people might not understand quite the impact that political elites and public figures have on public discourse."
Sam Sabin previously worked at Morning Consult as a reporter covering tech.
We want to hear from you. Reach out to this author or your Morning Consult team with any questions or comments.
Contact Us