After Twitter Hack, Most Social Media Users Less Confident That Platforms Can Keep 2020 Elections Safe
The hack compromised accounts belonging to Joe Biden, Barack Obama and Bill Gates, among others
Key Takeaways
56 percent of social media users have less confidence in social media companies' ability to combat 2020 election foreign interference and disinformation campaigns.

About half of all social media users -- including 61 percent of Twitter users -- saw, read or heard at least some about last week's Twitter hack.
Following last week's hack of several high-profile Twitter accounts, including those belonging to Joe Biden, Barack Obama, Elon Musk and Kanye West, the majority of social media users (56 percent) say they have less confidence in the platforms' abilities to fight foreign interference and disinformation campaigns related to the upcoming 2020 elections, according to a new poll.
And about half of both social media users and the 818 Twitter users surveyed said they're more concerned about the security of social media platforms after learning that hackers gained access to the compromised accounts by obtaining company employees' login credentials. 
The July 17-19 survey, conducted among 2,046 self-identified social media users, has a margin of error of 2 percentage points.
On Wednesday, hackers took over 45 of the 130 accounts they targeted, enabling them to reset the passwords and post from these profiles, as well as view the personal information of each account holder, including email address and phone numbers. Twitter confirmed in a blog post over the weekend that the hackers gained access after obtaining the login credentials of "a small number of employees" who were "successfully manipulated." The attackers also downloaded the account information, including private messages, of up to eight unverified accounts.
The Federal Bureau of Investigation and the New York attorney general's office have both opened inquiries into the attack, while several lawmakers and regulators raised concerns about both the consumer privacy ramifications of the event and the impact such vulnerabilities could have on the security of the 2020 elections. And Bloomberg reported that the Federal Trade Commission is looking into whether Twitter violated a 2010 settlement that requires the company to have an independent auditor assess its security practices annually for 10 years and appoint an employee to be responsible for information security.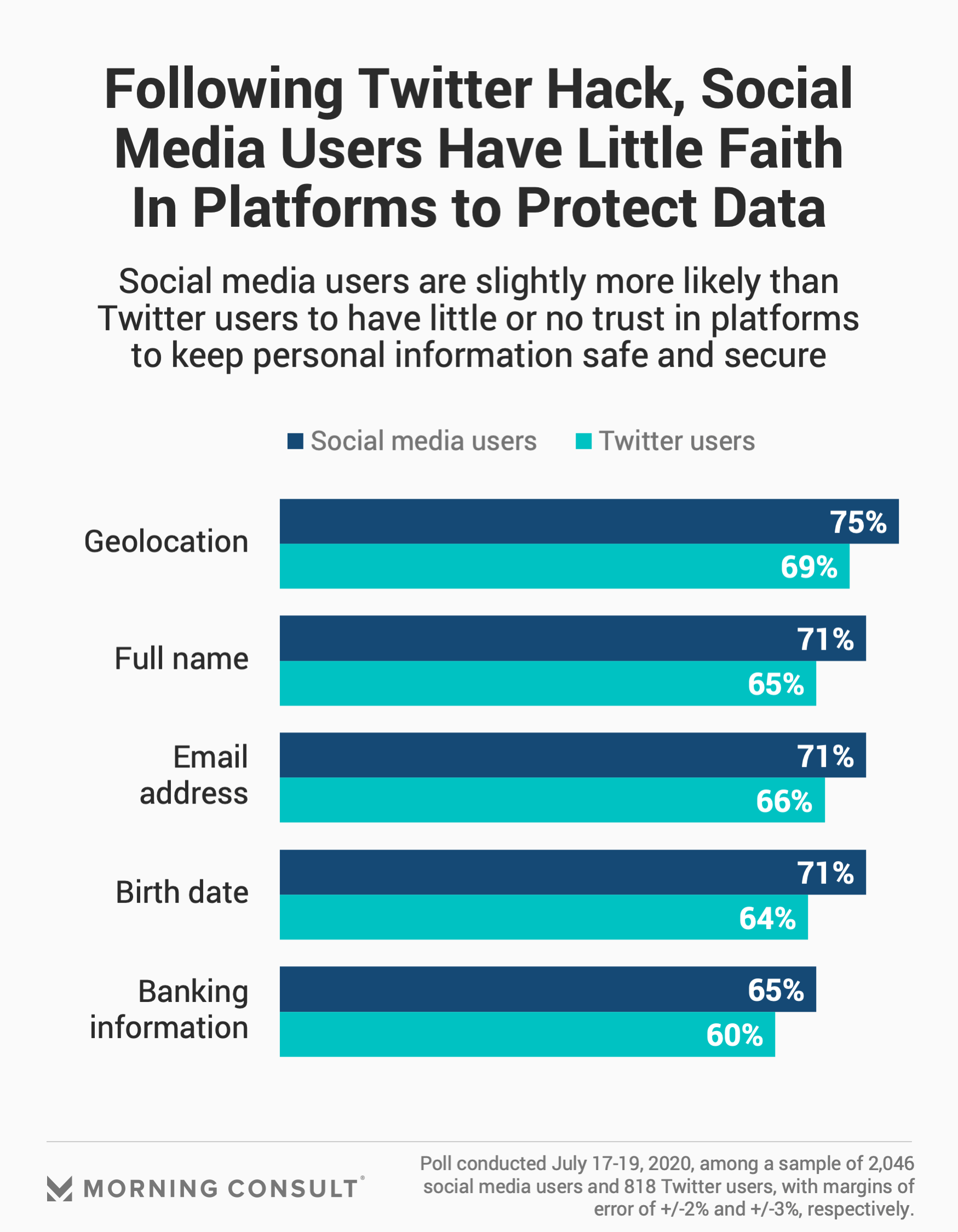 For both social media users and Twitter users, the event has shaken their trust in providing any social media platform even their most basic personal information: 71 percent of social media users and 66 percent of Twitter users in the survey said they had little or no trust in social media companies' ability to keep their email address safe and secure, while similar shares said the same about their birth date. 
The hack, which is unprecedented in the sheer number of high-profile accounts compromised at once, also renewed questions about the security of private, direct messages on social media. Sen. Ron Wyden (D-Ore.), as well as privacy rights groups like the Electronic Frontier Foundation, have been asking Twitter for years to provide end-to-end encryption for all private messages on the site, which would make its content inaccessible to anyone not in the chat. 
According to the survey, 53 percent of Twitter users thought their private messages on social media sites were at least somewhat secure -- before they were asked questions about the hack itself. When respondents were asked the question again later in the survey, following a series of questions referencing the hack, less than a third (31 percent) said they thought their direct messages were secure, and 70 percent said they were concerned about their private messages being hacked. 
Sam Sabin previously worked at Morning Consult as a reporter covering tech.
We want to hear from you. Reach out to this author or your Morning Consult team with any questions or comments.
Contact Us