Many Vaccinated Americans Are Still Uncomfortable Returning to Public Activities. The U.S. Economy Needs Them
Adults who have received at least one dose are less likely to eat in a restaurant, travel abroad or go to the gym than their unvaccinated peers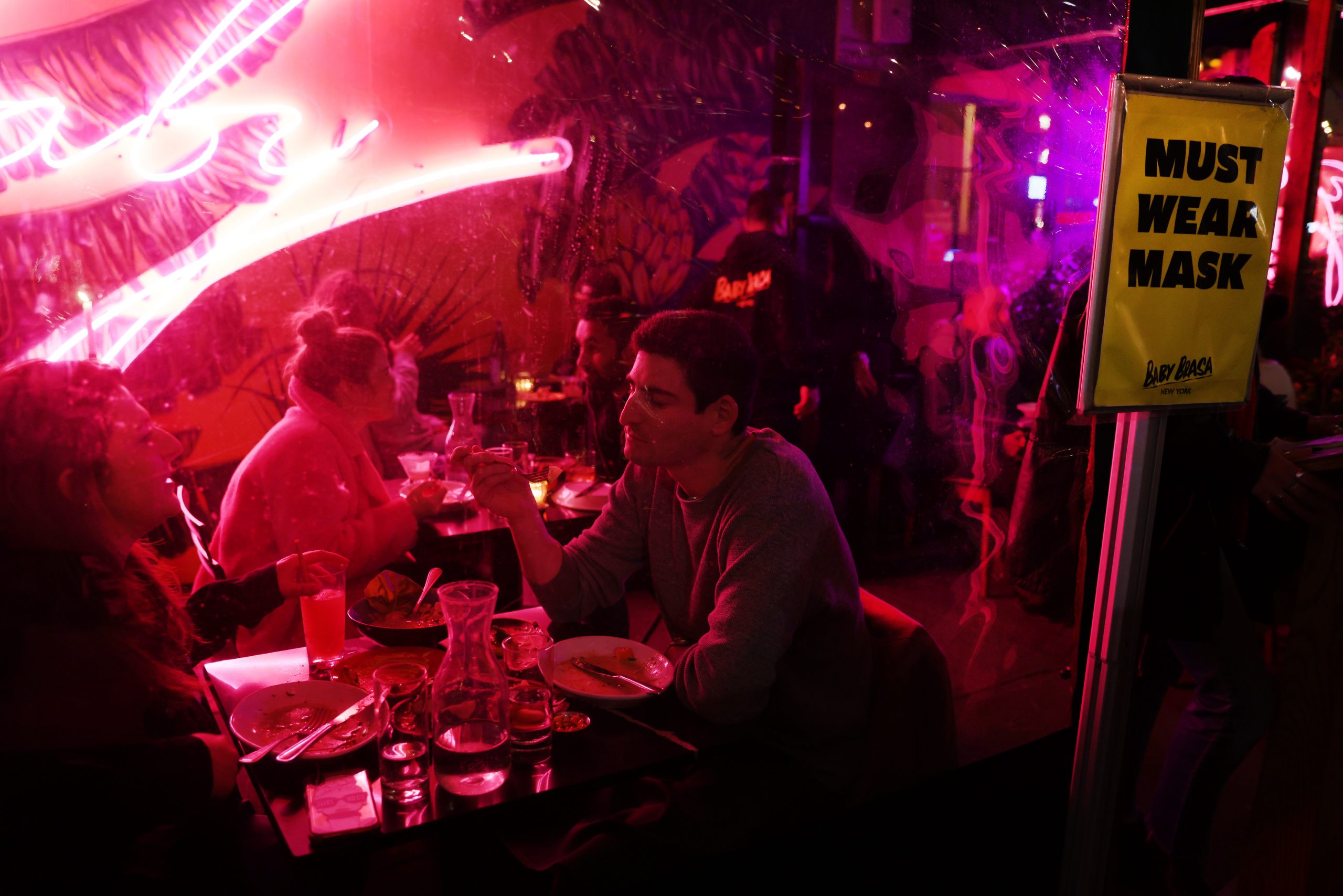 Key Takeaways
Health policy expert says nuanced guidance about risks associated with various activities would help vaccinated individuals make informed decisions.

Morning Consult economist says even a moderate increase in comfort among vaccinated Americans could "have an outsized impact on economic activity" due to their higher income, urban concentration.
Being vaccinated against COVID-19 has given some Americans the confidence to return to many aspects of their pre-pandemic lives. But with less than half of U.S. adults fully inoculated, many of those who have received a vaccine are still reluctant to engage in a wide range of public activities.
In fact, Morning Consult's Return to Normal weekly trend data indicates that U.S. adults who have received at least one dose of a COVID-19 vaccine are less likely to feel comfortable doing a wide range of public activities -- from attending a concert to dining in a restaurant -- than their unvaccinated peers.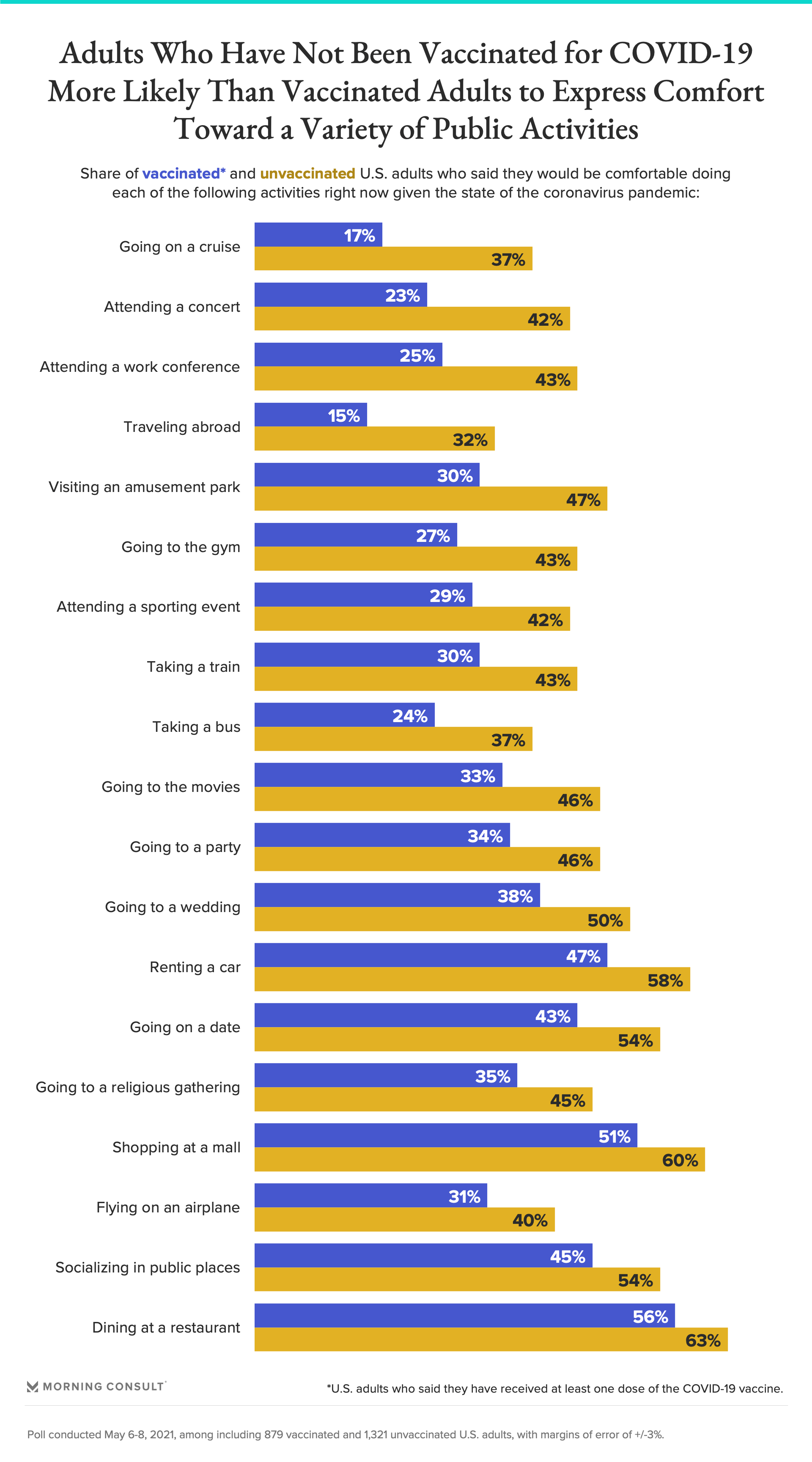 Unvaccinated respondents in the latest Return to Normal poll, for example, were more than twice as likely as vaccinated people to feel comfortable traveling abroad or going on a cruise given the state of the pandemic. Other activities that unvaccinated people were significantly more open to included dating, attending a work conference, going to a gym or exercise class, riding on a train or bus and visiting an amusement park.
President Joe Biden on Tuesday said his administration plans to relax the Centers for Disease Control and Prevention's guidance for vaccinated individuals to convey that it is safe for vaccinated Americans to partake in more activities and, in turn, encourage more people to get their shots. 
"You're going to see a more aggressive effort on our part to lay out that once vaccinated, it's not only you can hug your grandchildren, you can do a lot more," Biden said during a meeting with a bipartisan group of governors.
John Leer, an economist at Morning Consult who has been closely tracking the pandemic's impact on consumer behavior, noted that even prior to the distribution of vaccines, there were strong differences in Americans' willingness to engage in many activities "based on age, political party, income and some other demographic factors." 
Individuals who have taken it upon themselves to get vaccinated are more likely than their unvaccinated peers to fall into the demographic categories that were most concerned about the coronavirus to begin with: Democratic, older, more educated and higher-income individuals. By contrast, those who haven't yet sought out a vaccine were less likely to be uncomfortable doing public activities to begin with.
Roopa Kalyanaraman Marcello, a New York-based public health policy expert, said vaccinated people are aware that their unvaccinated peers are more likely to be out in crowded public places and, therefore, are reluctant to occupy those spaces with them.
"There is a concern among vaccinated people that a lot of folks who are unvaccinated will be attending these events because they view them as very low risk or they're not concerned about their own personal risk," Kalyanaraman Marcello said.
Some facilities have looked to ease these concerns by creating sections exclusively for vaccinated individuals. 
According to the CDC, 44.7 percent of U.S. adults were fully vaccinated against COVID-19 as of Tuesday at 6 a.m., while 58.5 percent had received at least one dose. Five states -- Vermont, Massachusetts, Hawaii, Connecticut and New Hampshire -- had inoculated at least 70 percent of adult residents with at least one dose.
In the May 6-8 survey, 88 percent of vaccinated individuals said the coronavirus poses a "severe" or "moderate" health risk in the United States, compared with 70 percent of unvaccinated respondents. The survey polled 879 vaccinated adults and 1,321 unvaccinated adults, with a margin of error of 3 percentage points for responses from each group.
Kalyanaraman Marcello said that it is important that public health guidance distinguishes between the risks associated with various activities so that vaccinated Americans can make informed decisions about what they are comfortable doing.
"These are all safer to do if you're vaccinated, but there still is some risk involved -- it might be 5 percent, it might be 20 percent," she said. "People need to choose the level that they're comfortable with, but right now they're sort of all getting lumped into the same category."
Leer said that the pace at which vaccinated people return to normal activity will dictate how quickly the U.S. economy recovers.
"Because these people tend to be higher-income urban folks, I do think that even a moderate increase in their willingness to engage in these activities will have an outsized impact on economic activity," he said. "That's where economic activity is concentrated."
Alex Silverman previously worked at Morning Consult as a reporter covering the business of sports.
We want to hear from you. Reach out to this author or your Morning Consult team with any questions or comments.
Contact Us