Views on Automation's U.S. Workforce Impact Highlight Demographic Divide
More anxiety among lower-skilled Americans, but workers overall don't seem worried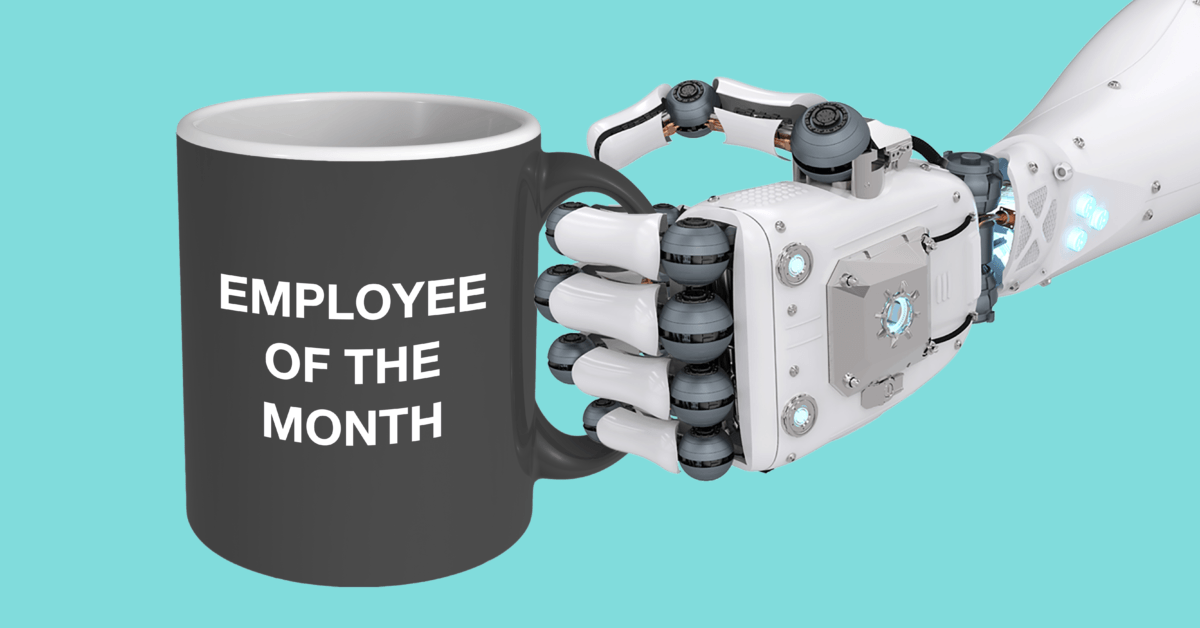 Younger Americans, those who are less educated and those with smaller incomes are more concerned than older, more affluent and more educated adults about how automation will affect their jobs, according to a new poll.
The Morning Consult survey, conducted May 18-21 among a national sample of 2,204 U.S. adults, found that 59 percent of respondents believe automation and associated technologies -- artificial intelligence, driverless cars and robots -- will decrease their U.S. job opportunities, while 20 percent said automation will increase the number of available jobs.
Wealthier Americans were less likely to be pessimistic about job retention as a result of technological advances. Higher-skilled, more training-intensive occupations are less easily replaced through automation.
Younger adults, especially those under the age of 30, were more likely to say they could lose their jobs as a result of increased automation, though majorities of all age groups said such job losses are unlikely.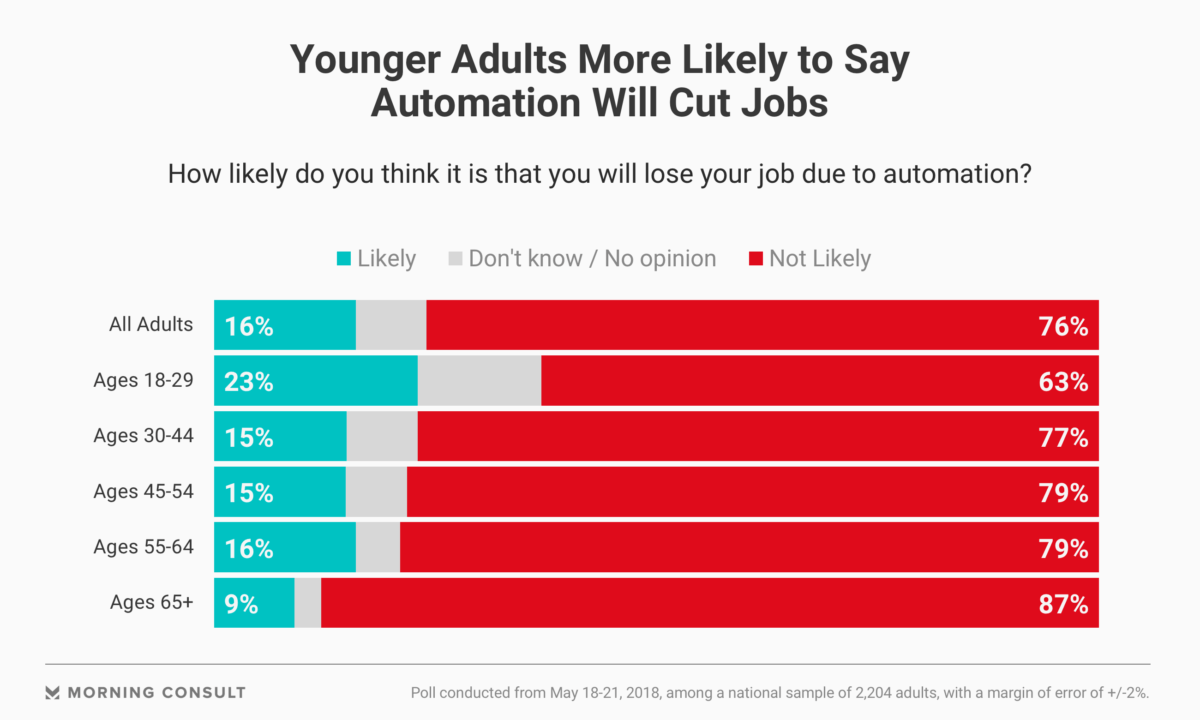 Broad-based adoption of automation is expected to take place in the coming decades, according to industry experts and academics.
Adults with a postgraduate degree were more likely to say increased automation has helped U.S. workers, although a plurality of all respondents said tech advancements have been more harmful than beneficial.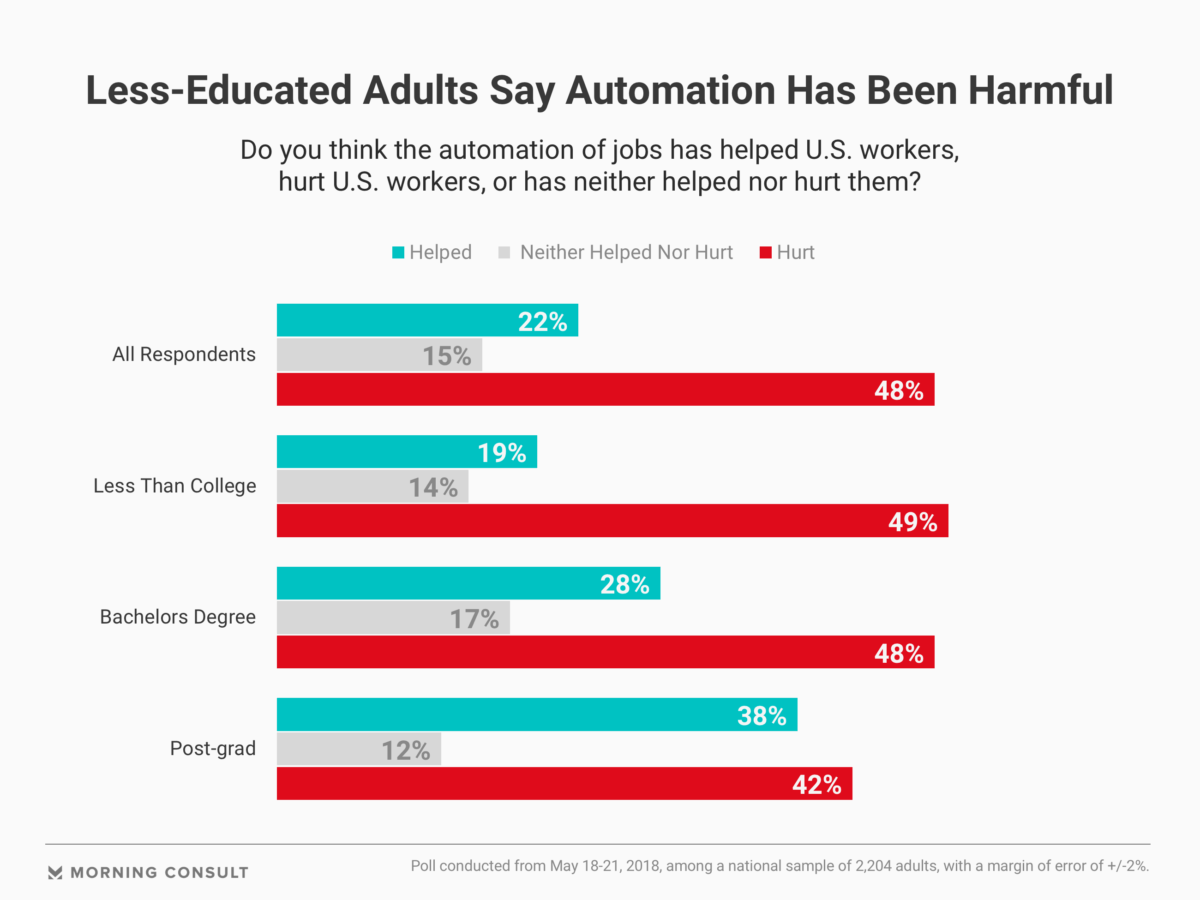 Over the previous five decades, automation has helped improve total employment in the United States, according to a March study published by the Washington-based Brookings Institution. Researchers found that tech advances have resulted in laborers taking home a smaller percentage of a growing economy.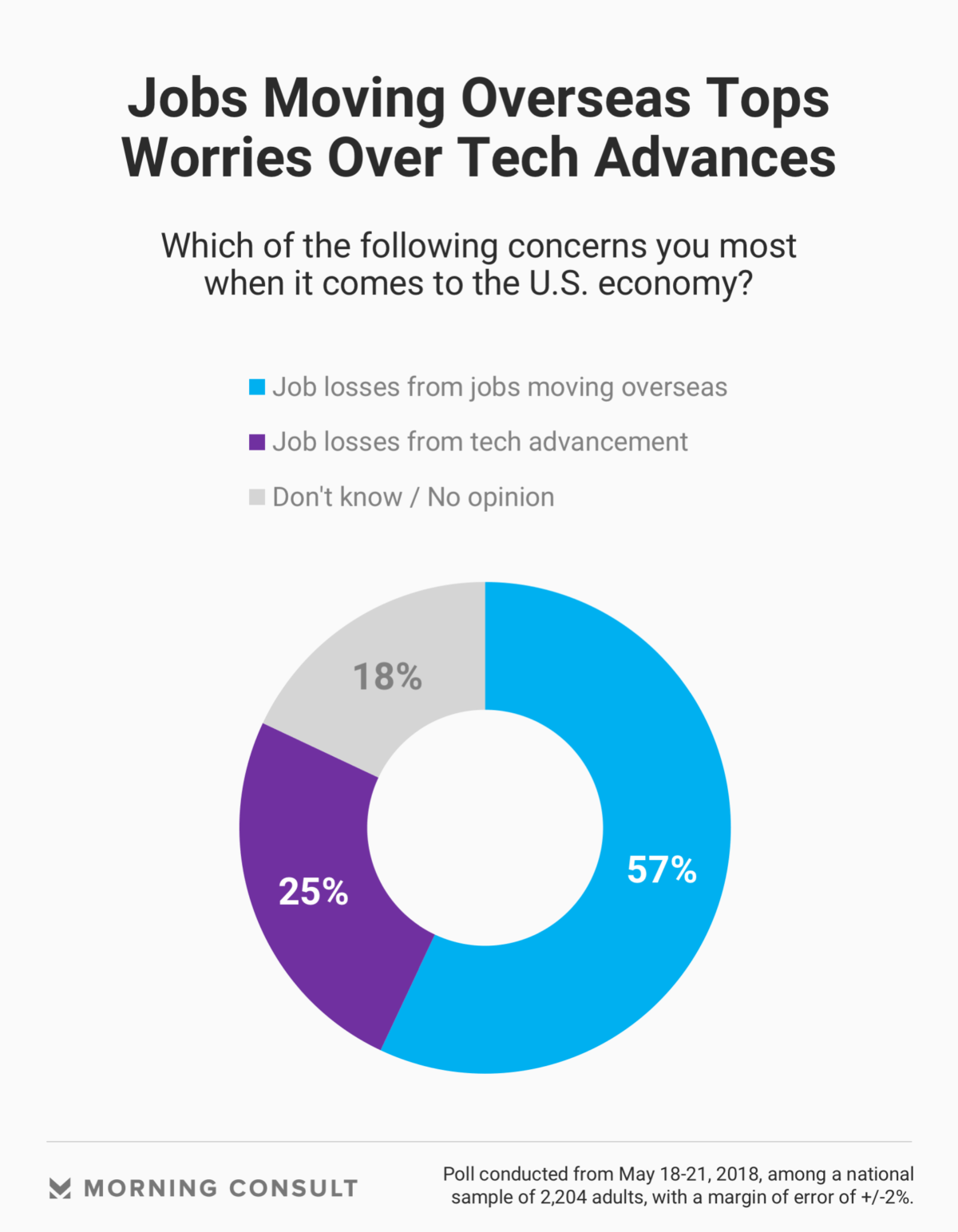 Americans are less immediately concerned about automation's impact on the U.S. economy.
A Morning Consult poll conducted in October 2017 found that 64 percent of U.S. adults were concerned about jobs being moved overseas, while 22 percent were more concerned about job losses due to tech advancements.
This month's poll found an increase in worries about jobs being lost as a result of technology, although the majority of respondents expressed concerns about companies outsourcing their positions.
Industries that employ lower-skilled workers, such as hospitality, manufacturing and retail, are at an increased risk of job losses resulting from automation. Occupations that require skills such as managing others and applying decision-making expertise are less susceptible to automation-related job loss than positions defined by technically feasible activities such as repetitive or predictable physical work and data processing and collection, according to a study published in the July 2016 issue of McKinsey Quarterly.
Edward Graham previously worked at Morning Consult as a reporter covering tech.
We want to hear from you. Reach out to this author or your Morning Consult team with any questions or comments.
Contact Us