Virginia Voters Quickly Sour on Northam Amid Blackface Scandal
Democrat sees 41-point drop in net approval after yearbook photo emerges
Key Takeaways
Northam is now 19 points underwater in the commonwealth, with 48% disapproving.

50% of Democrats approve of his job performance, compared with 70% last month.
Voters in Virginia have soured on Gov. Ralph Northam (D-Va.) in the immediate aftermath of the blackface scandal that has many leaders, including top Democrats, calling for him to resign.
Morning Consult tracking found a 41-percentage-point drop in Northam's net approval rating -- the share of voters who approve of his job performance minus the share of those who don't -- in the two days after a page surfaced from the governor's 1984 medical school yearbook showing a picture of one person in blackface and another dressed as a member of the Ku Klux Klan.
The polling of 291 Virginia voters, which was conducted Feb. 2-3 and has a 6-point margin of error, found 48 percent disapproving of his job performance, up 22 points from a Jan. 1-31 survey of 4,326 Virginia voters that had a 1-point margin of error. His approval in the latest poll was 29 percent, down 19 points from the prior survey.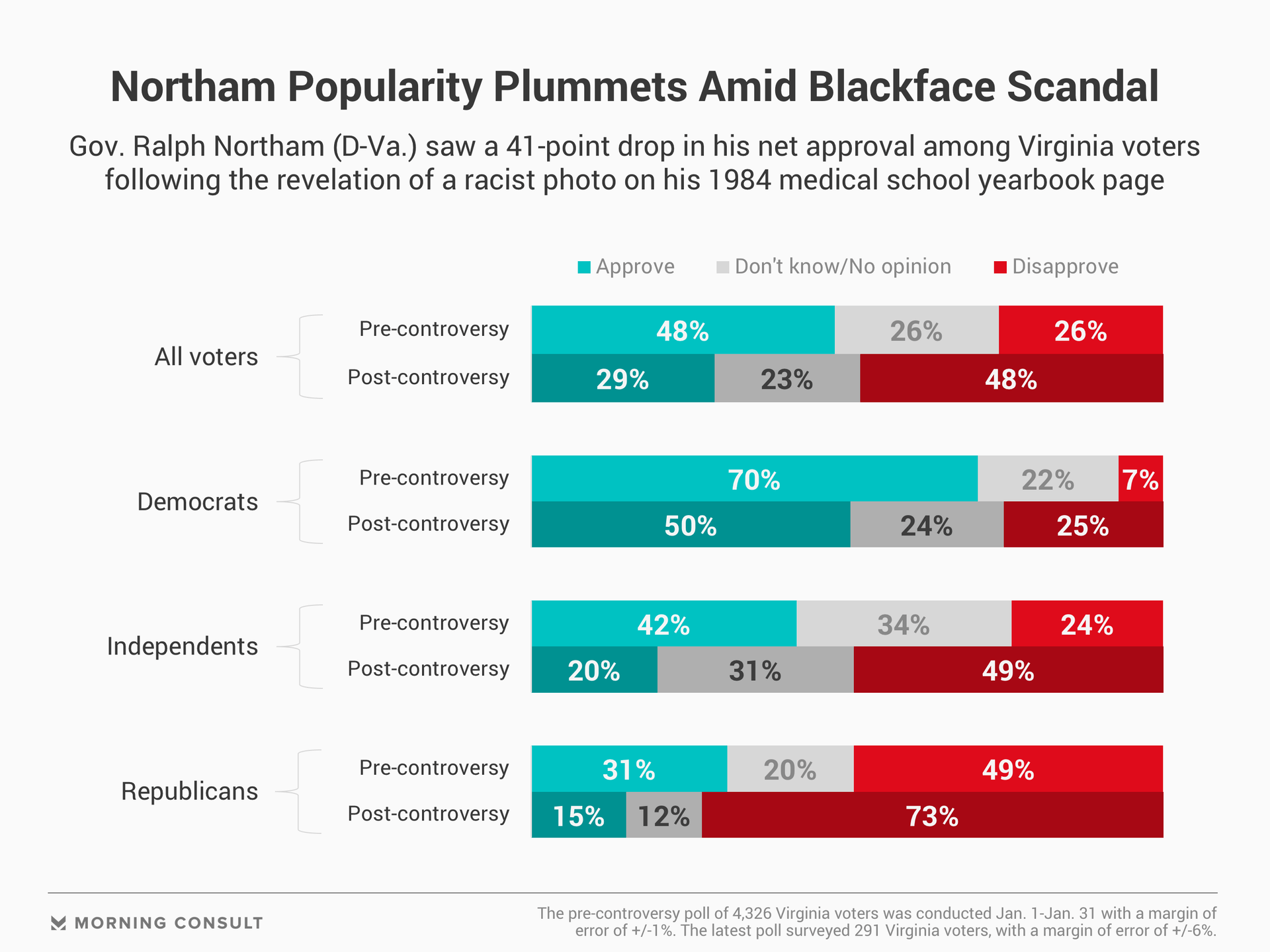 The shift was enough to move Northam from the top third of all U.S. governors in popularity -- near Democrat Tim Walz of Minnesota or Eric Holcomb of Indiana -- toward the bottom of the list, coming in around the 48th spot near Kentucky Republican Matt Bevin.
Despite calls for his resignation from leading Virginia Democrats such as Sens. Mark Warner and Tim Kaine -- both former governors -- as well as Rep. Bobby Scott and former Gov. Terry McAuliffe, Northam has said he intends to remain in the job. He told reporters Saturday that it was not him in the photo, but admitted to darkening his face on another occasion to resemble the performer Michael Jackson during a 1984 dance competition.
Northam, a former pediatric surgeon and Army doctor, was elected in 2017 with 54 percent of the vote, beating Republican lobbyist Ed Gillespie by 9 points and outperforming President Donald Trump's 2016 vote share by roughly 10 points.
In the latest survey, Trump outperformed Northam among Virginians, with 43 percent approving and 52 percent disapproving of his job performance.
Among Virginia Democrats – who nominated the then-lieutenant governor in a competitive 2017 primary over former Rep. Tom Perriello by 12 points, 56 percent to 44 percent – Northam saw his net approval drop 38 points. Fifty percent approved in the latest survey, down 20 points from January, and his disapproval rose 18 points to 25 percent.
The governor suffered a steeper, 47-point drop in net approval among independents, with just 20 percent approving and 49 percent disapproving in the latest survey.
The subgroups have a large margin of error – plus or minus 10 points for Democrats and independents – but do reflect the downward trend demonstrated in the overall poll.
Northam is somewhat insulated from political pressure due to Virginia's election laws, which bar governors from serving consecutive terms in office. However, Kyle Kondik, managing editor of Sabato's Crystal Ball at the University of Virginia Center for Politics, said unpopular chief executives typically have a negative effect on the party.
"This is an unusual situation, with Northam quickly becoming a pariah in his own party," he noted in a Monday email. Asked of future implications for Virginia Democrats, he said, "It's just so hard to say – the gubernatorial situation is very fluid and the state elections are still many months away."
Correction: A previous version of this article misstated the date that the January survey concluded.
Eli Yokley is Morning Consult's U.S. politics analyst. Prior to his current role, Eli was Morning Consult's senior reporter covering U.S. politics. Eli joined Morning Consult in 2016 from Roll Call, where he reported on House and Senate campaigns after five years of covering state-level politics in the Show Me State while studying at the University of Missouri in Columbia, including contributions to The New York Times, Politico and The Daily Beast. Follow him on Twitter @eyokley. Interested in connecting with Eli to discuss his analysis or for a media engagement or speaking opportunity? Email [email protected].
We want to hear from you. Reach out to this author or your Morning Consult team with any questions or comments.
Contact Us