Now That Face-to-Face Interactions Come With Risk, Retailers Taking Closer Look at Voice AI Technology
Obstacles include cost, consumers' discomfort with using the technology outside of the home
For many Americans, "Hey, Siri, type a text," or "Alexa, turn up the volume" have become common phrases as voice assistants and smart speakers have become more popular. Now, artificial intelligence and voice tech experts predict that consumers will be issuing similar commands in retail spaces if doing so helps reduce the spread of the coronavirus.
"We've definitely seen a pretty significant uptick in interest from companies looking to reduce contact," said Darin Clark, director of business development for the audio tech company SoundHound Inc. The company's typical clientele of automotive brands such as Hyundai Motor Co., Kia Motors Co. and Honda Motor Co. has recently expanded to industries such as retail and restaurants. 
These clients can use SoundHound's white-label development platform to add voice user interfaces to technology from cars to ovens and work with the company to create experiences that allow customers to shop and place orders without touching screens or interacting directly with employees.
Retailers have primarily been recently interested in allowing people to use voice to search their brand catalogues for products in stores, Clark said, while restaurants are working to integrate voice into their drive-through and in-store experiences to allow customers to place complex orders without touching buttons. 
Consumer interaction with AI platforms, such as Amazon.com Inc.'s Alexa and Google Assistant, in stores and restaurants will likely be similar to requesting that Alexa play a song or Apple Inc.'s Siri check the weather, said Tinglong Dai, an associate professor of operations management and business analytics at the Johns Hopkins Carey Business School, who has been studying human-AI interaction during the pandemic.
Voice technology can also give shoppers directions around stores, recommend brands, create shopping lists, place orders, execute checkouts and more, potentially reducing the need for human interaction in retail as the pandemic continues to keep safety concerns at the top of the minds of many consumers.
"People are very familiar with this in a consumer setting, but the application for businesses remains limited," he said. "There is a catalyst to supercharge this development, which is COVID-19." 
One potential obstacle to widespread usage of this technology in businesses, however, lies in consumers' discomfort with using the technology while shopping.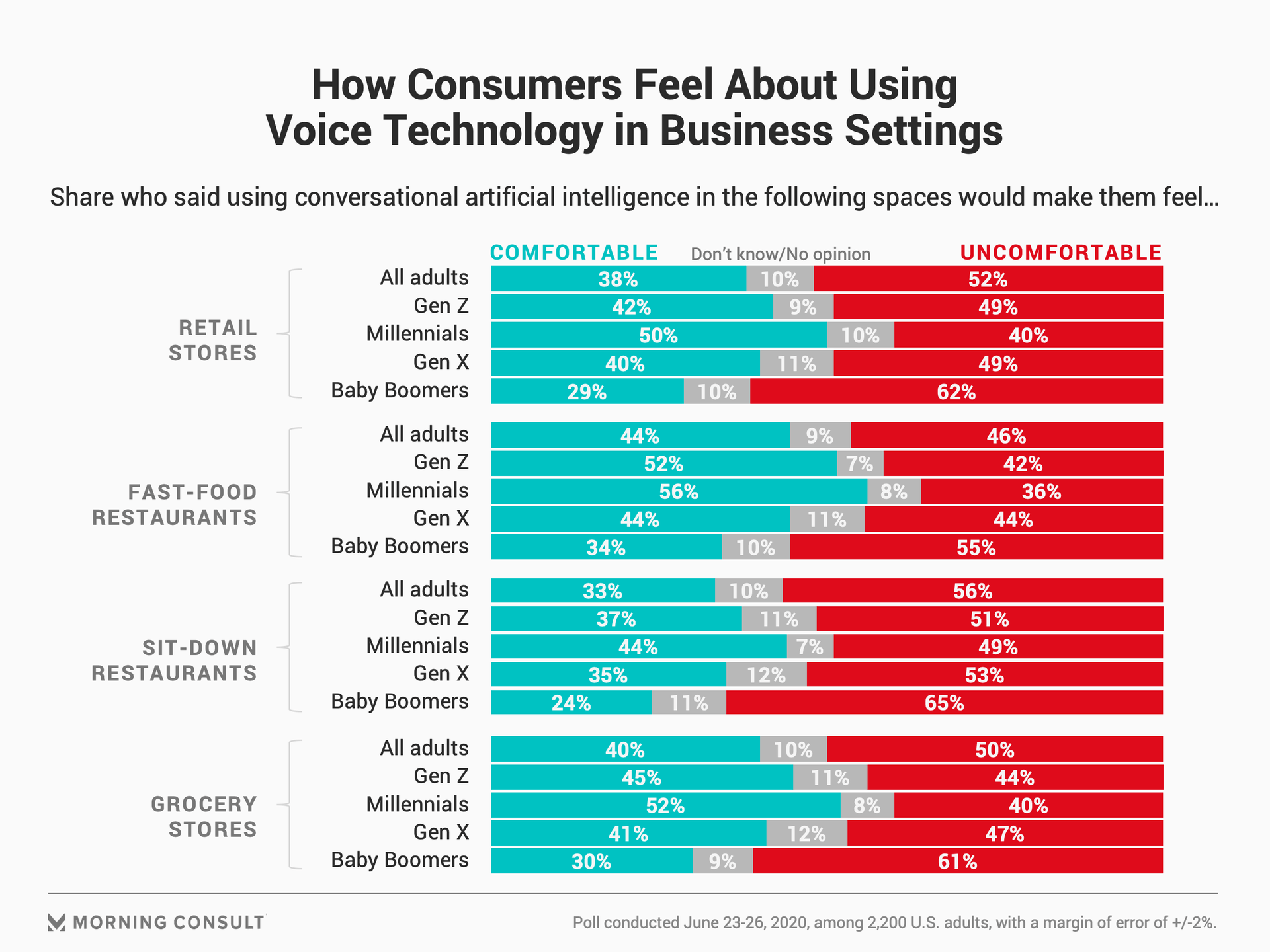 New polling from Morning Consult found that, while at least one-third of U.S. adults said they would be comfortable speaking with a voice assistant in a range of business settings, roughly half (52 percent) on average said they would be uncomfortable doing so.
People are most comfortable with the idea of using voice tech in fast-food restaurants and grocery stores: 44 percent said they would be comfortable with conversational AI at a fast-food restaurant, while 40 percent said the same of grocery stores. But nearly equal shares of consumers said they would feel uncomfortable using AI in these spaces.
Asked about whether they would rather get help from a voice system or a human being in a variety of scenarios, an average of 16 percent of consumers said they would prefer to be assisted by a voice system, while 71 percent on average said the same of human help. 
But among those who expressed any preference for an AI voice assistant to human assistance, almost three-quarters (73 percent) said the pandemic is a factor in the voice assistant's appeal.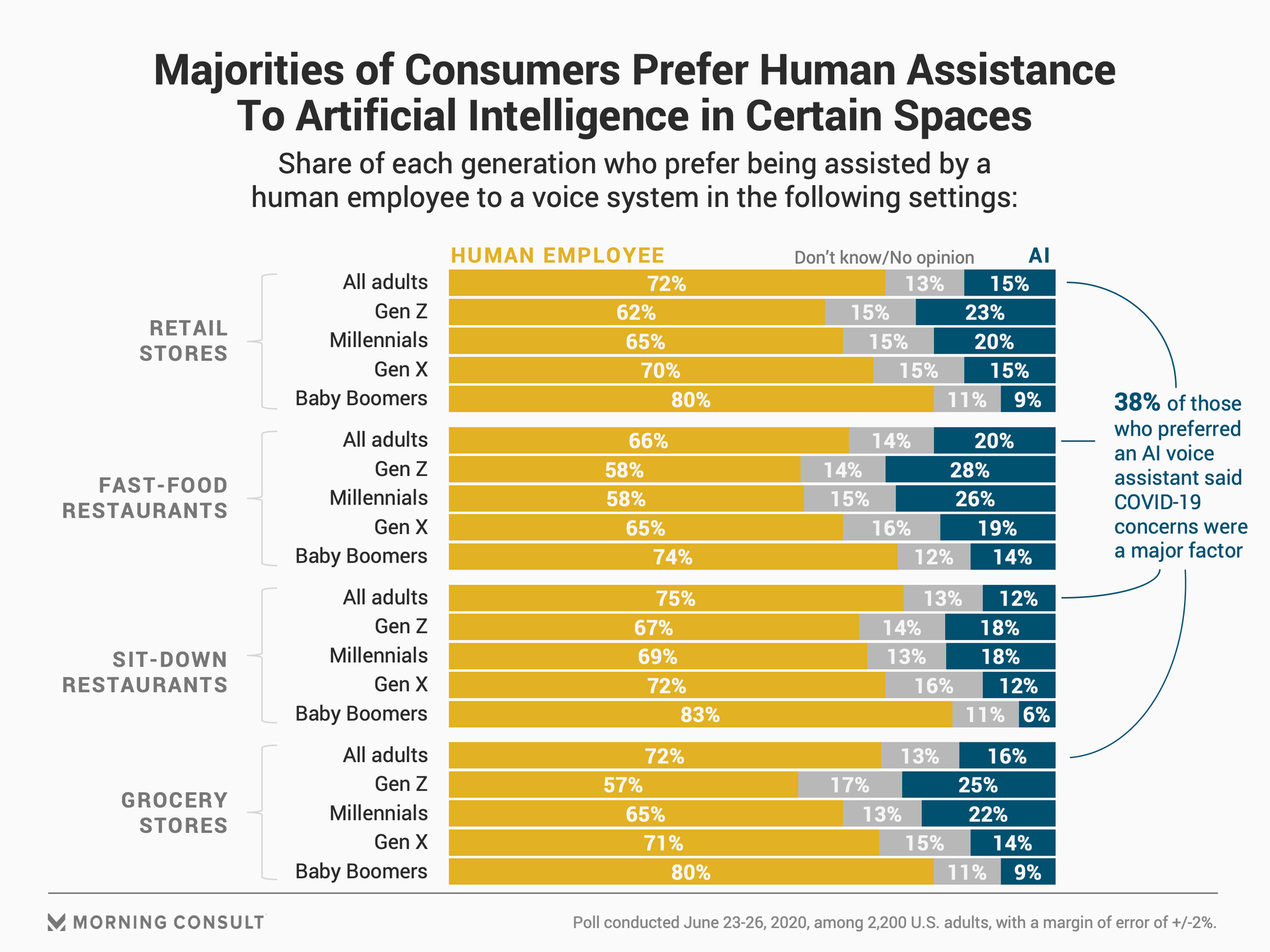 Younger generations have generally embraced smart speakers and conversational AI more widely than their older peers, and Morning Consult data shows that the same is likely to be true of voice tech in consumer settings.
Millennials and Generation Z adults report higher comfort levels with the idea of interacting with voice assistants than Generation X and Baby Boomers in all consumer settings Morning Consult polled, although the margins are also thin for these younger generations. 
Provided with the choice of a human employee or an AI to communicate with in a number of retail settings, majorities of members of each generation prefer a fellow human being.
Of those who said they preferred a machine, a plurality (38 percent) said that concerns over the coronavirus pandemic were a major factor in that decision. An additional 35 percent said their health concerns were a minor factor. Generation X members were the most likely to say COVID-19 was a major reason for favoring AI.
In addition to the prospect of safer shopping experiences via limited person-to-person contact, the increasing adoption of voice tech and conversational AI in homes across the country could help pave the way for voice technology use in retail settings.
National Public Radio and Edison Research found in a report released in January that nearly a quarter of U.S. adults, or 60 million people, own at least one smart speaker in December 2019, compared 7 percent in January 2017. In addition, 54 percent said they have used some sort of voice-command technology. 
The pandemic has also helped to spur on at-home adoption of voice tech. Morning Consult polling from March 31-April 1 found that 34 percent of U.S. adults who own smart speakers said they were using the devices more often than usual in the month of March.
An April report from NPR and Edison shows similar findings: 52 percent of users said they use voice tech several times a day or almost every day, up from 46 percent who said the same before the coronavirus crisis.
For those who don't own smart speakers — and even among those who do — there's an educational barrier to adoption: People didn't always understand how to use conversational AI efficiently, said Dylan Zwick, the co-founder and chief product officer at Pulse Labs, which has specialized in testing and measurement in the voice space since its launch as part of the Alexa Accelerator program in July 2017.
Similarly to the way people hone Google searches with specific phrasing, voice tech users also need to learn how to properly state their questions in order to produce the best results. But voice app developers and other players interested in promoting voice tech face challenges in educating users, especially considering the medium does not allow for visuals. 
Marketers should be willing to lend a hand to these efforts, said Bob Stolzberg, the founder and chief executive of voice-focused software-as-a-service company VoiceXP Inc., which has built voice skills for companies including Hallmark Cards Inc. and Schnuck Markets Inc. Some voice use cases present opportunities for advertising, he said, so marketers stand to benefit from increased adoption. 
For instance, VoiceXP has developed Alexa skills and Google actions for a retail client allowing customers to ask voice assistants where to find certain products in stores. Although tech companies including Amazon and Google have yet to allow ads to be placed directly on their smart speakers, brands have found workarounds by advertising within the skills they build. If a customer asks a voice assistant about where to find ketchup in a store, the assistant can be programmed to suggest a specific brand.
"Consumers are already habituated to voice tech," Stolzberg said. "But marketers have not given people the instruction manual on what to do to engage this technology."
Zwick said it could be another year or so before major retailers begin publicly leading the charge for adoption, with smaller companies to follow.
"I think they'll try to do this by the end of 2020, certainly by the end of 2021," he said. "Eventually, if it works in the big stores, then what is learned there and the tools that will be built as a result will make it a lot easier for smaller stores to use it within the same framework."
Both SoundHound and VoiceXP said they are working with retailers and restaurants to integrate voice tech into the customer experience but could not disclose the names of the companies due to the terms of their contracts.
Another reason widespread adoption by companies likely won't be entirely seamless or immediate is the cost of investing in the technology. 
"This will be unlikely to be a one-size fits all pricing chart," said Dai of Johns Hopkins. "My view about this is that overall, for national chains and with a long-term perspective, it's going to be worthwhile. The cost of digital transformation is mostly one-time and fixed." But for smaller companies, he said, it's not likely they will ultimately benefit from such an investment. 
Stolzberg said smaller businesses with less specific requirements can use VoiceXP's platform to make their own voice skills with no coding experience required, using the same technology available to the big retailers. Pricing can range from $100 per month to $1,000 per month, depending on factors such as level of customizations and support required.
Brands looking to invest in voice are best off partnering with tech companies that have already developed voice assistants, such as Amazon, Google, Apple and Samsung Electronics Co., Dai said. These partnerships could be mutually beneficial, as tech companies need users to interact with their assistants in order to build up data to improve them, and retailers could provide that sort of scale.
However, not every business can afford to strike a deal with these tech giants, which do not share their consumer data, so retail partners could risk losing access to valuable information, even if they do have the budget for voice.
Despite the hurdles, for those who can find a way to adopt voice tech early, they could stand to make major gains in the long run, SoundHound's Clark said.
"Every company should have some sort of voice strategy, and companies that move quickly with that have the potential to create tremendous value for the brand and their products," he said. "It's something that will become a critical business component, much like mobile is today."
Alyssa Meyers previously worked at Morning Consult as a reporter covering brands and marketing.
We want to hear from you. Reach out to this author or your Morning Consult team with any questions or comments.
Contact Us