Voters Increasingly Link Trump to Republicans in Washington
Being closely tied to Trump could cause issues for GOP in November
Key Takeaways
By a net 20 point margin, voters are more likely to say Trump represents the majority viewpoint of D.C. Republicans compared with almost eight months ago.

Some lawmakers are cautioning GOP candidates who are tying themselves closely to Trump in their primary contests.
President Donald Trump leaned heavily on his outsider status during the 2016 campaign, criticizing various opponents as career politicians who had failed to get the job done for the American people.
Polling shows that during his presidency, the distinction between himself and other Republicans in Washington has softened. That poses risks for GOP lawmakers seeking another term in office in the midterm elections, which have historically been a referendum on the popularity of the sitting president.
In a nationwide Morning Consult/Politico survey conducted online April 12-17 among 1,917 registered voters, 43 percent of respondents said Trump represents the majority viewpoint of Republicans in Washington, compared with 37 percent who said he does not. That's a net swing of 20 points from a Morning Consult/Politico poll conducted in August, when 47 percent said Trump did not represent the viewpoint of most D.C. Republicans, and 33 percent said he did.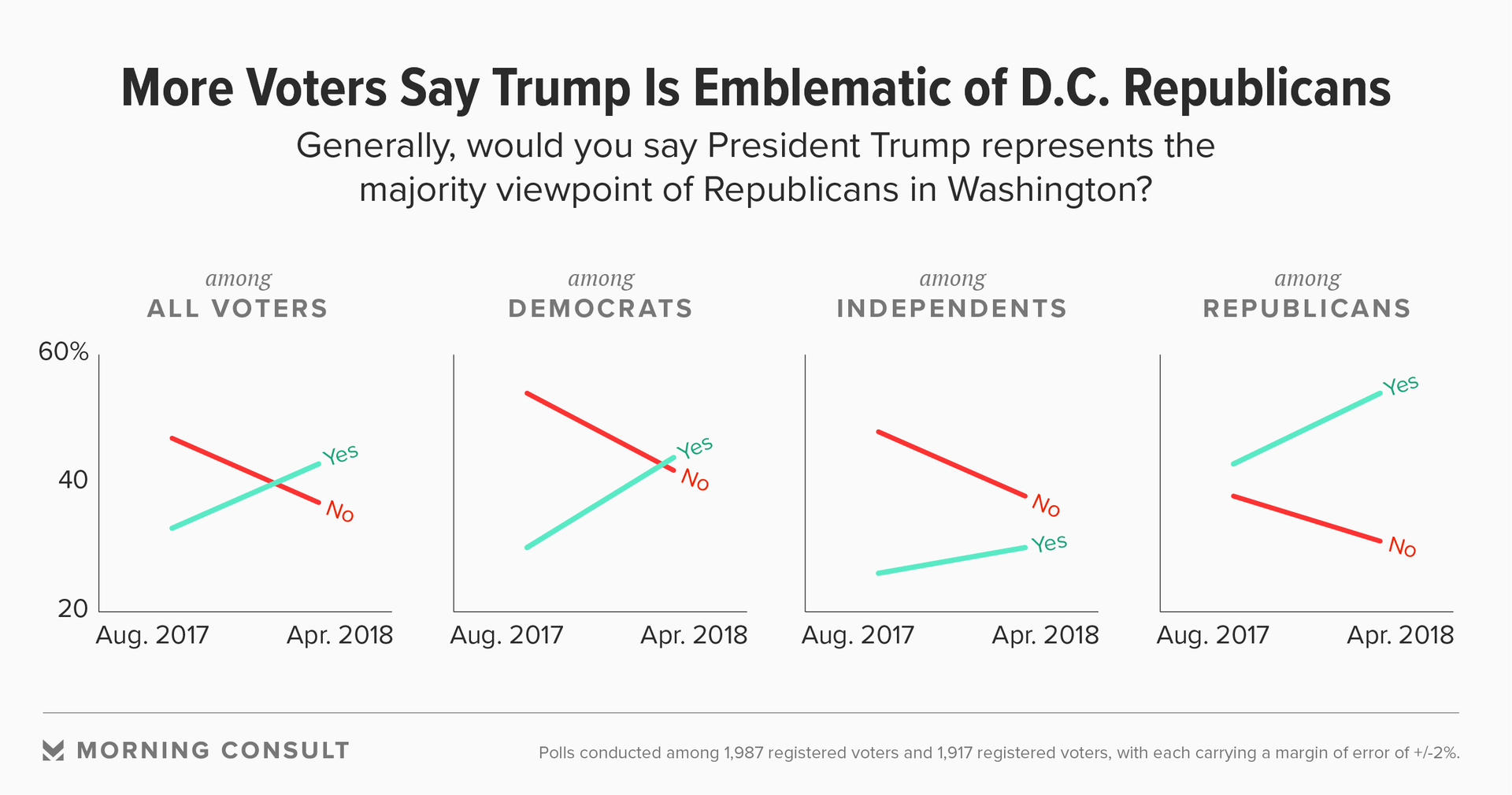 "The poll findings provide empirical evidence that, whether or not lawmakers in D.C. are actually embracing Trumpism in their hearts, the public perception is that they have," said Eric Ostermeier, a research fellow at the University of Minnesota's Humphrey School of Public Affairs, in a Wednesday email.
For the month of March, Trump's approval rating was 13 points underwater: 41 percent approve versus 54 percent disapprove -- the lowest point of his presidency.
Republican lawmakers interviewed Wednesday at the Capitol expressed concern about the party's chances in November, with one suggesting recent salacious stories about the president's previous alleged romantic encounters with adult film star Stormy Daniels and former Playboy playmate Karen McDougal could turn off swing voters and dilute the enthusiasm among the base.
"The more negative information that comes out, I don't think it's helpful," said Rep. Walter Jones (N.C.). "I think for my party it presents a problem that might be hard to overcome, especially as we get into the general election."
The shift toward linking Trump to Republicans in Washington hasn't had much of a partisan bent. Democrats and Republicans were 26 and 18 net percentage points, respectively, more likely to link Trump's views with those of the Washington GOP in the recent poll than in August. Independents shifted in that direction by a 14 point margin.
Trump has remained popular among his GOP base, with support from at least 80 percent of Republican voters since he took office, according to Morning Consult's monthly approval data. As a result, Republicans engaged in primary contests have touted their relationships with and backing for the president.
"People who are running tell me that voters on the Republican side are tribal," said Sen. Bob Corker of Tennessee, who is retiring at the end of the year. He noted he's also heard from GOP colleagues that "people don't care anymore about policies, they care about whether you support Trump."
"So, many candidates – it's interesting to watch – are cozying up," he said.
That approach was on display this week in the GOP primary race in North Carolina's 9th District, which covers much of Charlotte and its suburbs, and is represented by Rep. Robert Pittenger (R). Trump won the district by 11.6 points in 2016, according to Daily Kos, and in an ad released Monday, Pittenger tries to paint his challenger, former pastor Mark Harris, as insufficiently supportive of the president.
When asked Wednesday whether he was concerned about angering the general electorate by embracing Trump so closely, Pittenger said "not at all." But some of his colleagues disagree.
"I don't care what district you're running in, your voters never expect you to sell yourself as a rubber stamp," said Rep. Charlie Dent (Pa.), who is resigning next month after announcing in September that he would not seek re-election. "And so I would argue to many members running this cycle – particularly those in swing and marginal districts, but even some in districts Trump won by 20 points – to put some distance between yourself."
"You have to be able to show you're different, because I don't think voters in either party want rubber stamps," he said.
Cameron Easley is Morning Consult's lead analyst for U.S. politics. Prior to moving into his current role, he led Morning Consult's editorial coverage of U.S. politics and elections from 2016 through 2022. Cameron joined Morning Consult from Roll Call, where he was managing editor. He graduated from the University of North Carolina at Chapel Hill. Follow him on Twitter @cameron_easley. Interested in connecting with Cameron to discuss his analysis or for a media engagement or speaking opportunity? Email [email protected].
We want to hear from you. Reach out to this author or your Morning Consult team with any questions or comments.
Contact Us