Voters' Interest in Trump's Tax Returns Little Changed Since Before Inauguration
48% in poll said they care that Trump has not released his tax returns; 45% said the same before he took office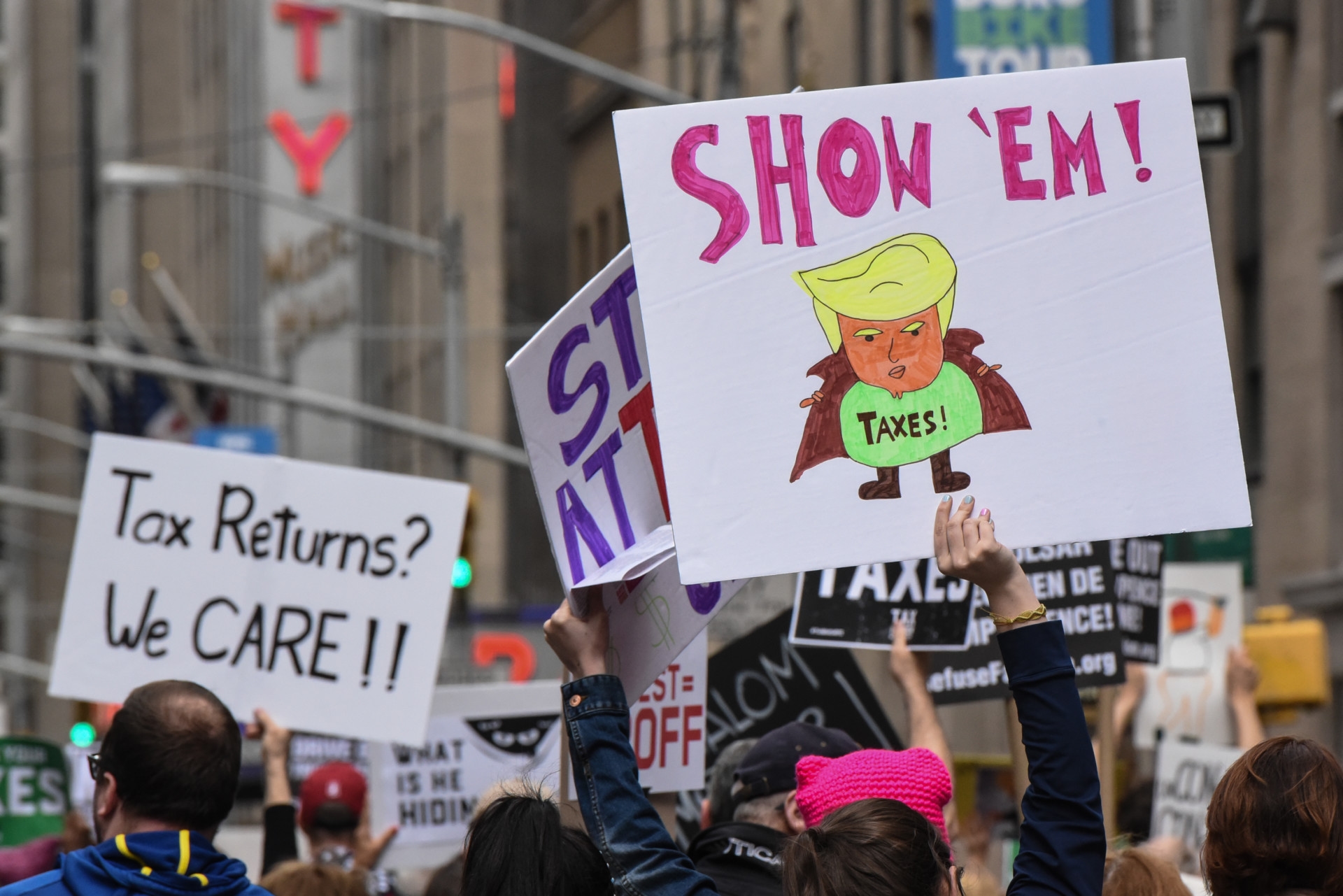 Key Takeaways
28% said they had seen, read or heard "a lot" about The New York Times report on the Trump family's tax maneuvers.

By comparison, 68% said the same regarding the news about Supreme Court Justice Brett Kavanaugh's nomination fight.
Many voters still care that President Donald Trump has not fulfilled a campaign promise to release his tax returns, but opinions on the matter have hardly changed since just before he took office, according to a Morning Consult/Politico poll that was conducted after The New York Times reported that the Trump family participated in dubious tax maneuvers over decades.
The Oct. 7 poll shows that 48 percent of voters said they care that the former New York City businessman did not release his tax returns, in a break with presidential campaign precedent. The national, online survey of 2,189 registered voters found 43 percent of voters said they do not care.
In polling conducted Jan. 12-13, 2017, before Trump's inauguration, voters were slightly more divided, 45 percent to 44 percent. Both polls have a margin of error of 2 percentage points.
Shripal Shah, vice president at American Bridge, a progressive super PAC that helps Democratic candidates with opposition research, said any negative news about Trump helps to further energize Democratic voters ahead of the midterms.
"Do you think that they missed this? Hell, no," he said. "Every piece of negative information about Trump, taxes, Russia, health care or any scandal you can pick out on any given day fits into the larger argument against him."
Views hardened among Democrats, rising a modest 5 points, to 76 percent who said they care about Trump's tax returns, while the share of independents who expressed the same sentiment rose 9 points, to 50 percent. Views among Republicans stayed within the margin of error, with 18 percent now saying they care and 71 percent saying they don't care.
White House press secretary Sarah Huckabee Sanders, repeating previous statements by Trump, told reporters the Internal Revenue Service is auditing his tax returns so he won't release them. Sanders called the Times' report "very boring," and said "there was no fraud or tax evasion by anyone."
The Times' story, which was amplified by other news outlets, appears to have been crowded out by coverage of Supreme Court Justice Brett Kavanaugh's nomination fight, the poll showed.
Twenty-eight percent of voters said they had seen, read or heard "a lot" about the Trump tax story, compared to 68 percent who said the same about Kavanaugh's nomination. By comparison, 25 percent said they heard "a lot" about the new trade deal among the United States, Canada and Mexico.
Still, with the possibility of Democrats taking control of the House for the 116th Congress and the party's nominating contest for the 2020 presidential election on the horizon, the fact that Trump's tax returns have not been released is starting to feature as part of Democrats' pitch to hold the president accountable for breaking promises.
House Minority Leader Nancy Pelosi (D-Calif.) told the San Francisco Chronicle's editorial board Wednesday that demanding Trump's tax returns "is one of the first things we'd do" if Democrats take back the House, putting them in a position to perform rigorous oversight via committee gavels.
In the Senate, Ron Wyden (D-Ore.), the top Democrat on the Finance Committee, sent a letter last week to Internal Revenue Service Commissioner Charles Rettig calling on his agency to "fully investigate" the Times' claims and "prosecute any violations to the fullest extent of the law."
And Senate Minority Leader Chuck Schumer (D-N.Y.) told reporters Wednesday: "Any legal effort to make those public should be accomplished."  
In a Wednesday interview with The Associated Press, Senate Majority Leader Mitch McConnell (R-Ky.), warned that Democrats would risk angering the public by making the president's personal finances and interests a centerpiece of their congressional responsibilities, drawing a comparison with the GOP's own experience in the 1990s, when Republicans experienced disappointing election losses in 1998 amid their threats to impeach President Bill Clinton.
"This business of presidential harassment may or may not quite be the winner they think it is," he said.
Eli Yokley is Morning Consult's U.S. politics analyst. Prior to his current role, Eli was Morning Consult's senior reporter covering U.S. politics. Eli joined Morning Consult in 2016 from Roll Call, where he reported on House and Senate campaigns after five years of covering state-level politics in the Show Me State while studying at the University of Missouri in Columbia, including contributions to The New York Times, Politico and The Daily Beast. Follow him on Twitter @eyokley. Interested in connecting with Eli to discuss his analysis or for a media engagement or speaking opportunity? Email [email protected].
We want to hear from you. Reach out to this author or your Morning Consult team with any questions or comments.
Contact Us