What Groups Should the Government Protect from Discrimination?
Democrats more enthusiastic than Republicans about government protection for most groups
Key Takeaways
Democrats were more than three times as likely as Republicans to say LGBTQ people should be protected, 35% vs. 11%.

Partisans agreed in their concern for veterans: 37% of Democrats and 38% of Republicans said the group should be federally protected.

Among partisans' "top 10" groups that they said deserve protections, 28% of Republicans on average said groups should be protected versus 37% of Democrats.
When Attorney General Jeff Sessions announced the Justice Department's Religious Liberty Task Force last month -- a move to implement the religious liberty guidance President Donald Trump ordered last year -- he said its intention was to "accommodate people of faith" and "ensure that their rights are being protected."
But critics say this new initiative was created with only Christians in mind, a group that makes up approximately 71 percent of the country and 91 percent of Congress, per Pew Research Center data.
The creation of the new task force prompted the question: Who deserves to be protected? The topic drives differing views among Republicans and Democrats, according to a Morning Consult survey of 2,201 U.S. adults.
Democratic and Republican poll respondents agree that people with a disability or a mental disorder, veterans, the elderly and children should be protected from discrimination. But when it comes to groups that are at the heart of the country's social and political debates, there are wide partisan differences.
And on average, Democrats are more likely than Republicans to say the federal government should offer "legal protections" to certain groups, according to the July 19-23 poll.
Conservatives tend to believe "that protecting one group means discriminating against another group -- and that's a dichotomy we don't see on the left," Dan Cassino, associate professor of political science at Fairleigh Dickinson University in New Jersey, said in an interview this month.
The poll first asked respondents whether they thought various categories of people were already a "protected class," i.e., a group that qualifies for special protection under federal law. It then asked whether those people should be offered legal protections by the federal government, without providing additional details on what "protection" meant or where it would apply.
The U.S. government protects some classes from discrimination on the basis of race, color, religion, sex, national origin and status as a veteran, among other anti-discrimination hiring and employment policies.
The groups that accrued the most support to be a "protected class" are remarkably similar between Democrats and Republicans, though veterans were the only group that garnered nearly identical support, with 37 percent of Democrats and 38 percent of Republicans saying they should be federally protected.
Overall, Democrats were more likely than Republicans to say groups should have federal protections. Among the top 10 groups Democrats said qualified for protection, 37 percent agreed with the need for protections; for Republicans, that share was 28 percent.
Republicans' preference for smaller government explains the group's subdued enthusiasm, experts said.
"Republicans' orthodoxy tends to elevate the individual above the group," Andra Gillespie, associate professor of political science at Emory University, said in an interview this month -- meaning group-based solutions aren't necessarily seen as the answer to discrimination.
Even if conservatives believe they are facing discrimination, they are more likely to want individuals, private groups or the market to fix such issues, not the government, said Fairleigh Dickinson University's Cassino.
For example, Republicans, a group that is 73 percent white Christian according to nonpartisan research group PRRI, are more likely to say that Christians face discrimination than they are to say members of the LGBT community do (37 percent versus 26 percent), according to a June poll from Morning Consult. In contrast, Democrats are more than four times as likely to say LGBT people face discrimination than they are to say Christians do.
But among GOP adults, belief in discrimination does not translate into a widespread desire for federal protections: Fourteen percent of Republicans believe Christians should be protected by the government, compared with 35 percent of Democrats who think LGBTQ people should be.
Cassino, who conducts research on political psychology, said conservatives feel as though the discrimination comes from the government.
"That's what the distinction comes down to: They don't want protection because that's where they think the discrimination comes from in the first place," he said.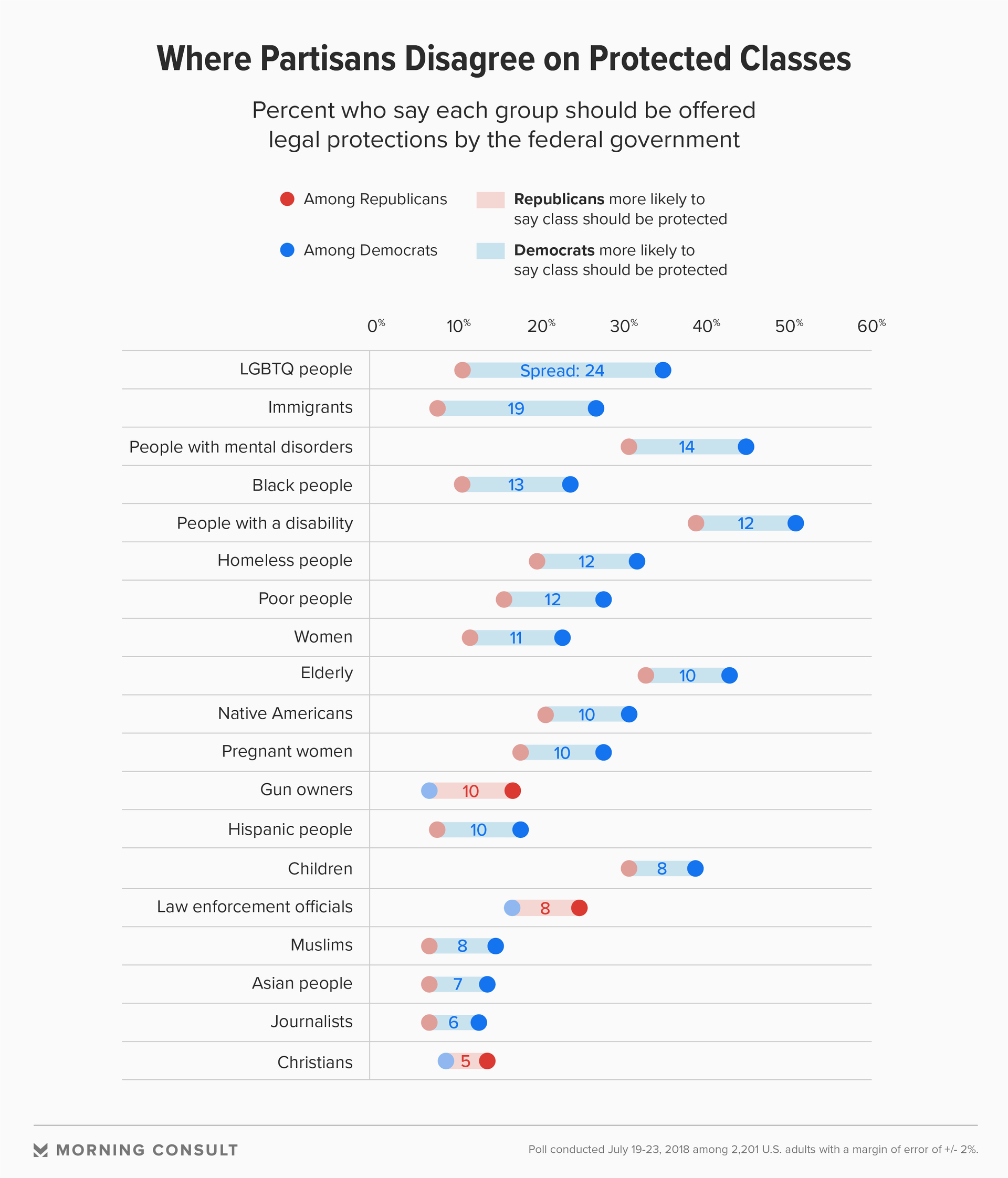 The largest difference between the two parties was over shielding LGBTQ people, a group that has been trying to become a federally protected class amid an assortment of regulations across the states.
A fifth of respondents in the survey said they believed there were federal protections for the LGBTQ adults, including 24 percent of Republicans and 19 percent of Democrats -- despite there being no overarching U.S. government policy.
Democrats were more than three times as likely as Republicans to say LGBTQ people should be protected, 35 percent to 11 percent.
"Some of the people who think this is against the law are right because they live in states where there are protections" for LGBTQ people, said David Stacy, government affairs director at the Human Rights Campaign, which advocates for rights for the community.
For example, California, the nation's most populous state, offers protections to people for sexual orientation, gender identity and gender expression, while Texas, the country's second-largest state, offers no such protections, according to the National Conference of State Legislatures.
It's a hot mess as far as where the legal protections stand.
David Stacy, government affairs director at the Human Rights Campaign
Ryan Anderson, a Heritage Foundation senior research fellow whose work has focused on marriage and religious liberty, said policy action has largely stalled on LGBTQ protections in recent years. Utah is an exception, having enacted a law in 2015 that protects LGBTQ people from employment and housing discrimination, but does not include public accommodations and provides religious exemptions.
"Most people agree that LGBT people shouldn't be discriminated against, but all of the debate happens around what constitutes discrimination," he said in an interview this month, adding that ridding the law of ambiguity around the issue is difficult.
On the federal level, lawmakers have introduced legislation such as H.R. 2282, sponsored by Rep. David Cicilline (D-R.I.), that would expand the protections under the Civil Rights Act of 1964 to include sexual orientation and gender identity. But with no hearing currently scheduled, more than a year after the measure was introduced, there's no clear path forward for the bill.
For now, Stacy said in an interview this month, the U.S. Equal Employment Opportunity Commission, which enforces federal discrimination laws for most employers with at least 15 employees, has made a practice of interpreting protections against sex discrimination to apply on the basis of sexual orientation and gender identity.
On the judicial front, the federal courts haven't come to a conclusion, though some federal judges have already interpreted the language of Title VII of the Civil Rights Act -- which prohibits discrimination based on race, color, religion, sex or national origin -- to cover such groups.
"It's a hot mess as far as where the legal protections stand," Stacy said.
Eli Yokley is Morning Consult's U.S. politics analyst. Prior to his current role, Eli was Morning Consult's senior reporter covering U.S. politics. Eli joined Morning Consult in 2016 from Roll Call, where he reported on House and Senate campaigns after five years of covering state-level politics in the Show Me State while studying at the University of Missouri in Columbia, including contributions to The New York Times, Politico and The Daily Beast. Follow him on Twitter @eyokley. Interested in connecting with Eli to discuss his analysis or for a media engagement or speaking opportunity? Email [email protected].
Joanna Piacenza leads Industry Analysis at Morning Consult. Prior to joining Morning Consult, she was an editor at the Public Religion Research Institute, conducting research at the intersection of religion, culture and public policy. Joanna graduated from the University of Wisconsin-Madison with a bachelor's degree in journalism and mass communications and holds a master's degree in religious studies from the University of Colorado Boulder. For speaking opportunities and booking requests, please email [email protected].
We want to hear from you. Reach out to this author or your Morning Consult team with any questions or comments.
Contact Us