Why We're Still Not Spending Enough on Mother's Day
We spend more on Mother's Day than Father's Day, but moms still perform bigger share of child care
Every May, Americans shell out billions of dollars on flower bouquets and spa gift cards to make Mom feel special, nearly $8 billion more than what they spend on Father's Day, according to estimates.
But extra spending on mothers during the holiday, which is traditionally meant to thank mothers for their domestic roles, could not be enough to make up mothers' even greater burden compared to fathers when it comes to unpaid domestic labor such as child care.
Seventy-seven percent of Americans are expected to celebrate Father's Day this Sunday, according to a survey from the National Retail Federation. But that's fewer people, with less economic enthusiasm, than the millions who were forecast to commemorate Mother's Day five weeks prior.
The 86 percent of the public who were estimated to celebrate Mother's Day this year were expected to spend $23.1 billion on the holiday, 51 percent more than spending forecasts for Father's Day this Sunday ($15.3 billion), according to the NRF, a retail trade association. That's a ratio that's stayed fairly constant since 2007.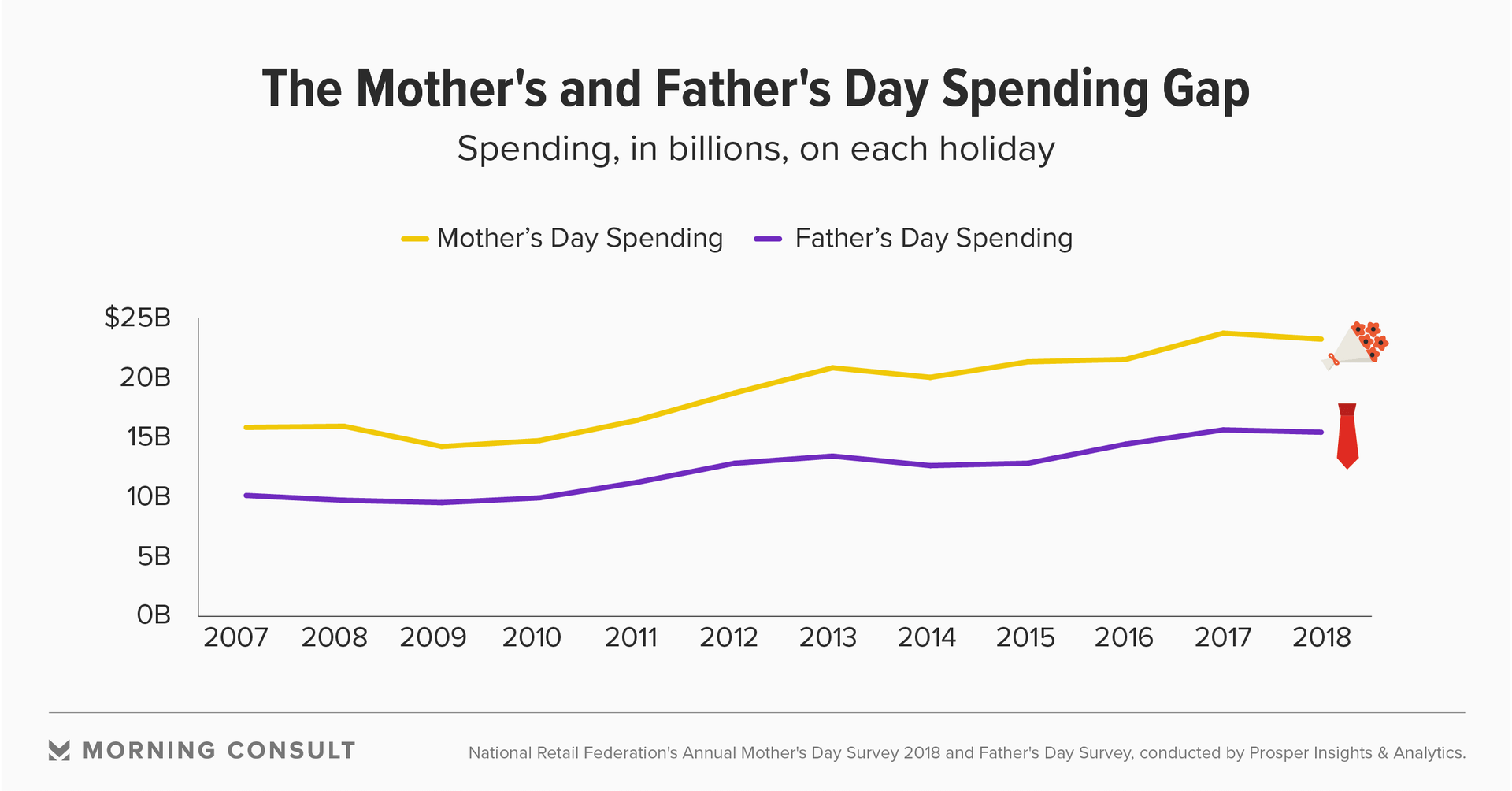 Mother's Day was created in 1908 to honor mothers and to thank them for work "as the center of the domestic sphere," among their other contributions, said Katharine Antolini, an associate professor and department chair of West Virginia Wesleyan College's history and international studies department, in interviews this month.
Yet if Americans really want to honor mothers' domestic contributions, perhaps they should be spending even more on mothers compared to fathers.
Mothers with children age 18 years or younger say they spend an average 1.76 hours each day caring for and helping those children, 80 percent more than what men say they spend doing such work, according to 2016 data from the U.S. Bureau of Labor Statistics' American Time Use Survey.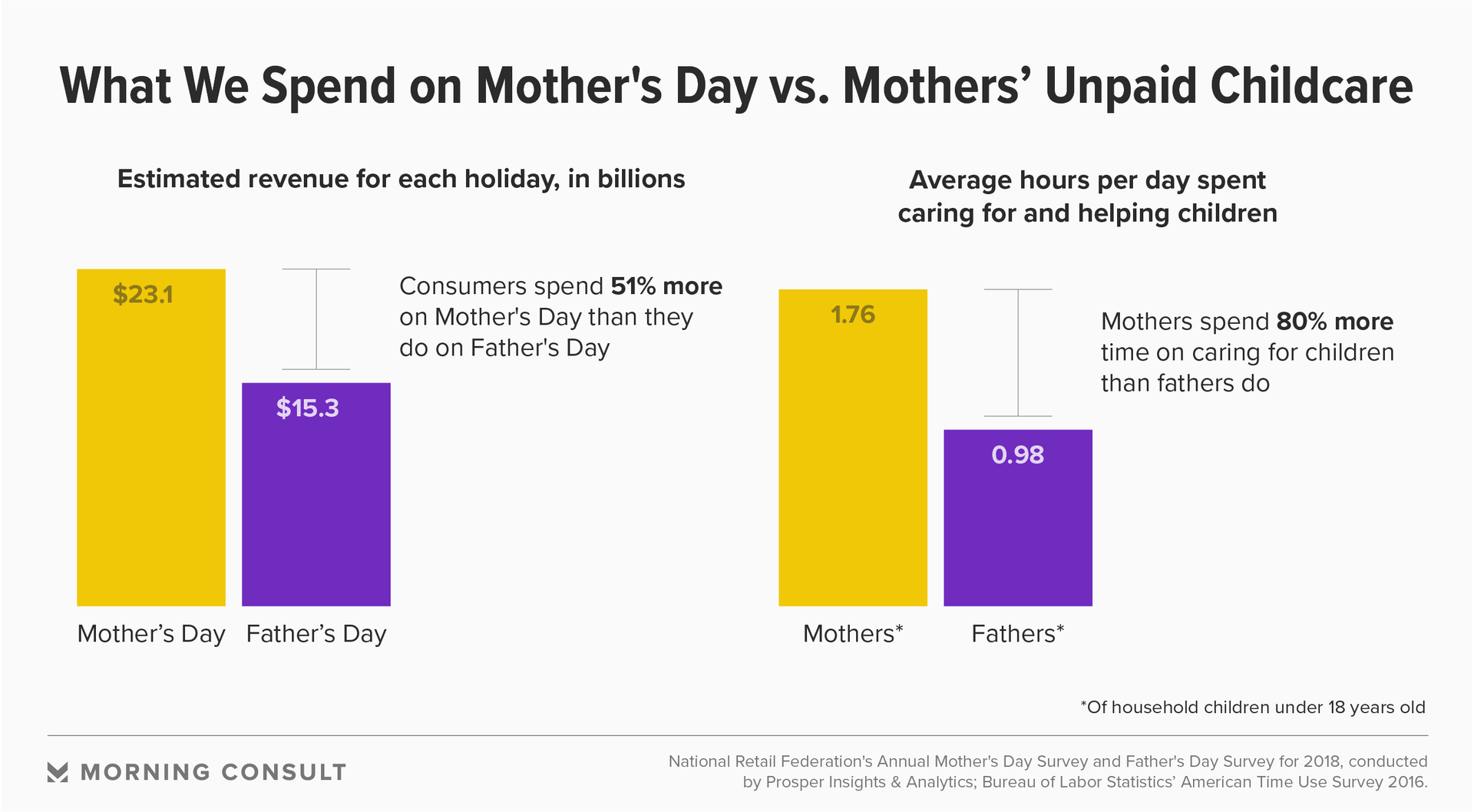 The public would need to spend $4.44 billion more on Mother's Day than on Father's Day if it hoped to match the ratio of holiday spending with that of child care. That's $49 more for each mom.
Of course, consumers' higher spending on Mother's Day reflects other elements, including sheer multitude: Biological mothers outnumber fathers in the United States by 24 percent, 89.5 million to 72.2 million, according to the U.S. Census Bureau's count in 2014.
But that takes care of just some of the discrepancy in spending.
"We have an understanding, in our heads, of what a father is and what a mother is — and we don't celebrate them the same," said Antolini.
Mothers are more likely than fathers to be the primary caretaker. The vast majority of children under age 18 who live with one parent live with their mother (84 percent) as opposed to their father (16 percent) -- though that figure has grown from 12.5 percent in 2007.
Stay-at-home mothers also outnumber stay-at-home fathers, 23 percent to 1.3 percent, according to 2017 data on families with children under age 15 from the U.S. Census.
Even within the LGBT community, lesbian couples are more likely than gay couples to have children, 22 percent versus 9.2 percent, according to 2016 Census data.
While both holidays were conceived within about two years from each other -- although there's some dispute about the first official celebrations -- Father's Day took 56 years to earn a presidential proclamation, as opposed to Mother's Day's short six-year tenure before being officially proclaimed.
Celebrating parenthood also means more to moms than it means to dads, according to a new Morning Consult survey: 82 percent of mothers said celebrating Mother's Day is important to them, while 70 percent of fathers said the same of their holiday.
In fact, fathers are more likely to say celebrating Mother's Day is more important to them than celebrating their own day.
The survey was conducted June 9-10 among 2,200 U.S. adults with a margin of error of 2 percentage points.
Retail experts also credit the celebration disparity to simple marketing mechanics.
"Mother's Day is calendared. It's a holiday that you build and run promotions around," Neil Stern, a senior partner at the retail consulting firm McMillanDoolittle LLP, said in an interview on June 11.
That's not necessarily the case with Father's Day, he said.
Mother's Day also has fewer family-oriented holidays or events to compete with in the month of May. Father's Day shares June with graduation, inspiring the nickname "grads and dads" for the first month of summer, watering down the day's importance for retailers, Stern said.
But that's not stopping companies from seeking to expand Father's Day revenue, experts said.
Michelle Skupin, a senior director at the digital savings site RetailMeNot Inc., sees retail industries that offer sales during Father's Day expanding from traditional categories such as home improvement and automotive as fathers' domestic roles become more elevated.
"It's another opportunity for retailers to reach consumers and drive sales," Skupin said of Father's Day, in an interview on June 12.
Joanna Piacenza leads Industry Analysis at Morning Consult. Prior to joining Morning Consult, she was an editor at the Public Religion Research Institute, conducting research at the intersection of religion, culture and public policy. Joanna graduated from the University of Wisconsin-Madison with a bachelor's degree in journalism and mass communications and holds a master's degree in religious studies from the University of Colorado Boulder. For speaking opportunities and booking requests, please email [email protected].
We want to hear from you. Reach out to this author or your Morning Consult team with any questions or comments.
Contact Us