Young, White Evangelicals Differ from Group on LGBTQ Issues
White evangelicals ages 18-29 are nearly 20 points more likely to support a candidate who backs LGBTQ groups than their older counterparts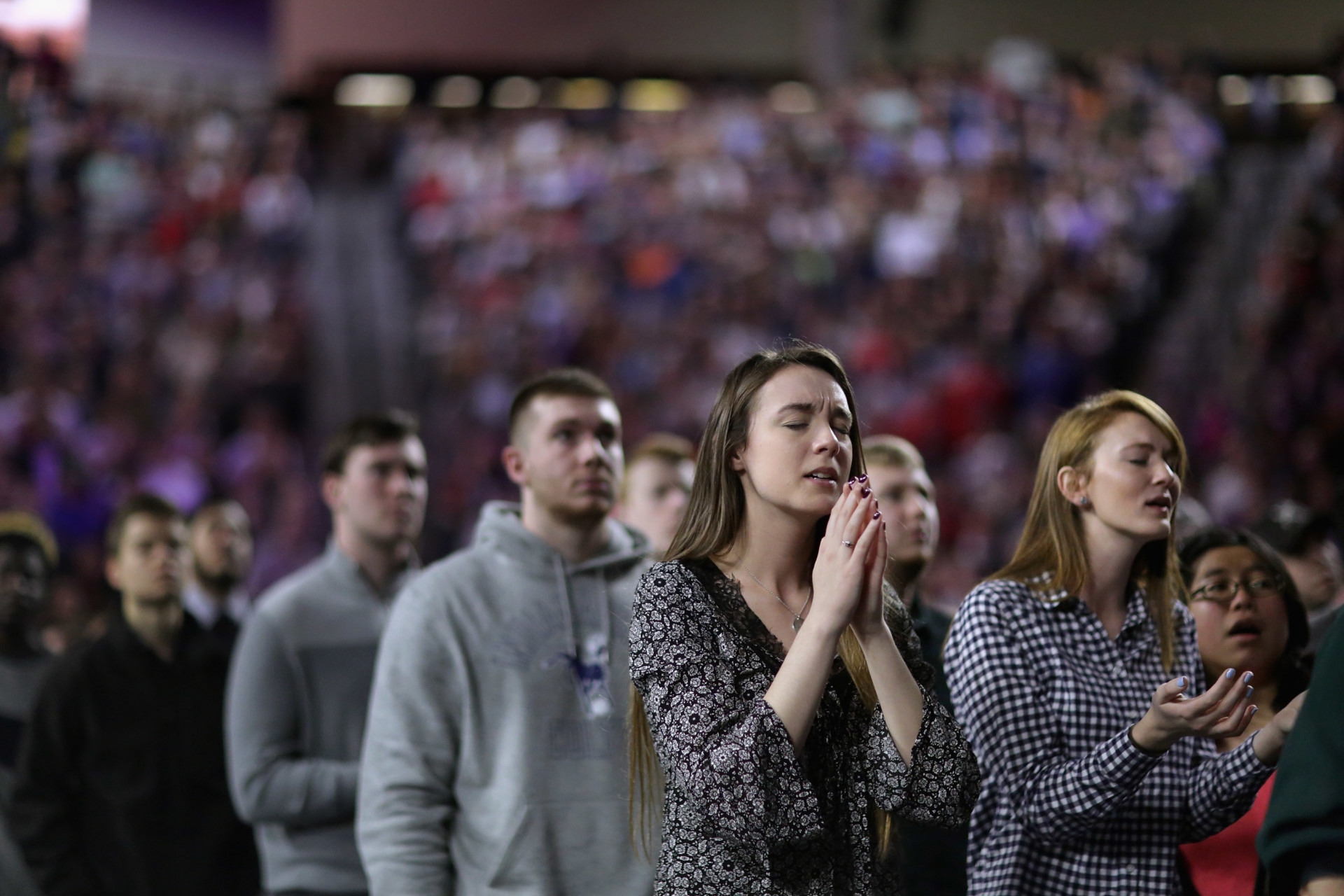 Key Takeaways
41% of young white evangelicals said they're more likely to support a candidate that backs LGBTQ rights, compared to 23% of all white evangelicals.

Young white evangelicals are also twice as likely to back a candidate who has supported more immigrants coming into the country — 36% vs. 18% — than the rest of their religious cohort.
White evangelicals' political preferences are evolving -- and the religious group's youngest members are leading the charge.
The group's attitudes are important because of its high level of political engagement: White evangelicals make up 17 percent of the population, but they constituted 26 percent of voters in the 2016 election, according to the nonpartisan research organization PRRI and exit polls.
Evangelical leaders, collectively, also have the ear of President Donald Trump, frequently meeting with him as an unofficial advisory group called the Executive Evangelical Advisory Board.
Prominent evangelical leaders have been criticized not only for their condoning or muted responses to the president's rumored marital infidelities but also their theological interpretations on issues such as immigration reform. For example, Pastor Paula White, a faith adviser to Trump, called the prisons holding separated children "phenomenal" while Pastor Robert Jeffress defended the president's use of the term "shithole countries" when referring to immigrants from certain African and Latin American countries.
But Morning Consult data shows a more progressive identity -- one that is more accepting of LGBTQ issues -- could be emerging among the youngest members in the evangelical bloc.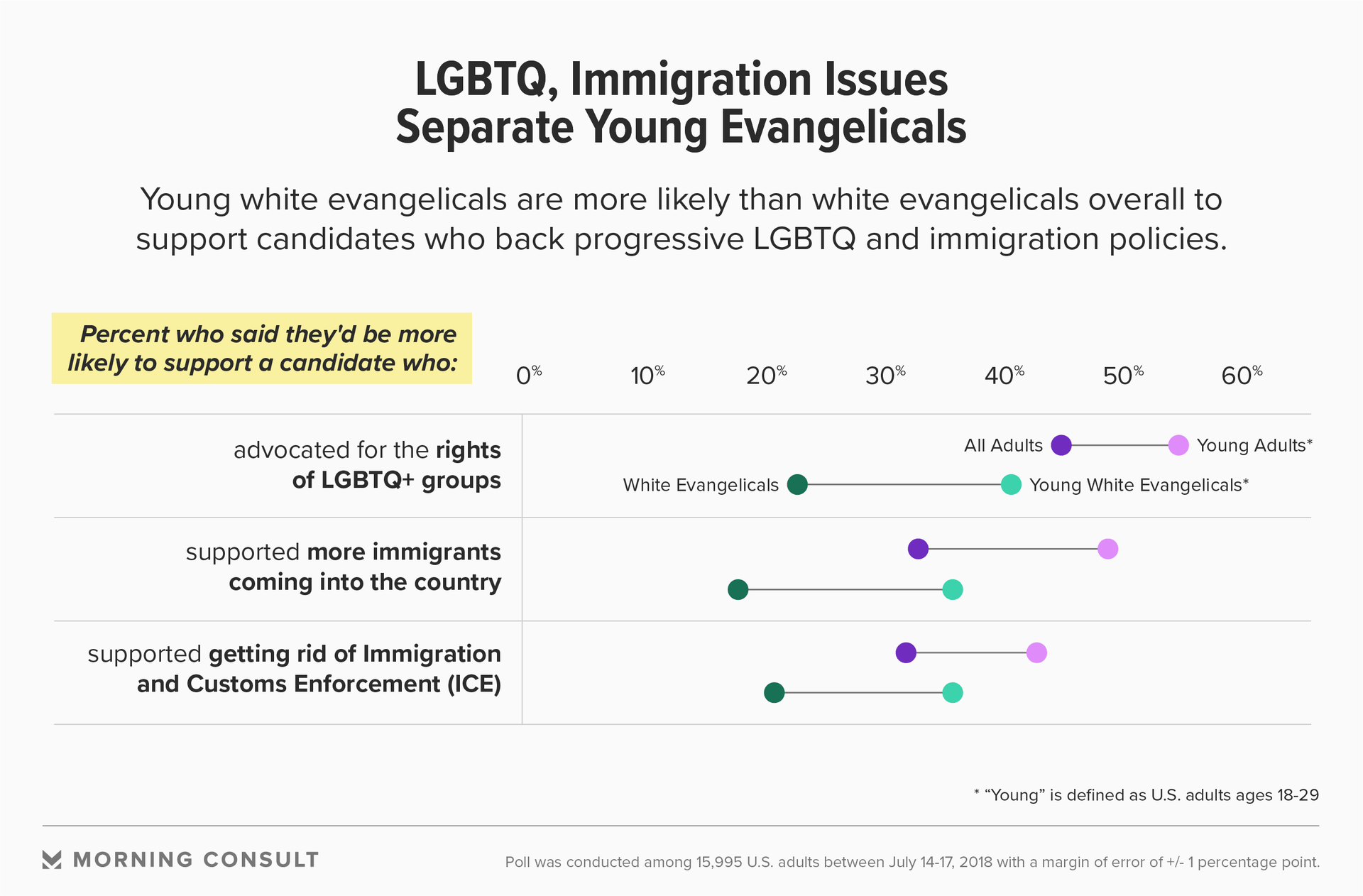 Those ages 18-29 tend to be more progressive compared to the overall population when considering candidates' stances on a number of issues -- and that pattern continues with white evangelicals.
But, compared to the ratio between young adults and all adults, young white evangelicals are actually more likely to back a candidate who backs LGBTQ rights than the rest of their religious group. That's according to a July 14-17 survey that polled 15,995 Americans, including 3,082 white evangelicals.
Young adults are 10 percentage points more likely than all adults to support a candidate who's advocated for the rights of LGBTQ groups, 55 percent to 45 percent. Young white evangelicals, at 41 percent, are 18 points more likely to do so than white evangelicals overall (23 percent).
As subgroups, white evangelicals and young white evangelicals have 1.6 and 5 point margins of error, respectively.
LGBTQ issues were also the most divisive partisan issue when Americans were asked which group deserved federal protections from discrimination: Democrats were more than three times as likely as Republicans to say they should be protected.
Young white evangelicals are also twice as likely as the rest of their religious group to say they're more likely to back a candidate who supported more immigrants coming into the country (36 percent vs. 18 percent). That's in line with the third of all U.S. adults who would support such a candidate.
A majority (52 percent) of young white evangelicals still plan on voting for a Republican candidate.
Young white evangelicals make up a small sliver of their diminishing cohort. While 22 percent of the country overall is 18-29 years old, that number falls to 12 percent among white evangelicals, according to the Morning Consult survey.
Joanna Piacenza leads Industry Analysis at Morning Consult. Prior to joining Morning Consult, she was an editor at the Public Religion Research Institute, conducting research at the intersection of religion, culture and public policy. Joanna graduated from the University of Wisconsin-Madison with a bachelor's degree in journalism and mass communications and holds a master's degree in religious studies from the University of Colorado Boulder. For speaking opportunities and booking requests, please email [email protected].
We want to hear from you. Reach out to this author or your Morning Consult team with any questions or comments.
Contact Us