Biden Doesn't Loom Over This Year's Midterms Like Trump Did 4 Years Ago
33% of voters are thinking "a lot" about Biden when it comes to their vote next month, compared with 51% who said the same of Trump at a similar point in 2018
An unpopular Republican president was top of mind for voters in 2018, helping to fuel the blue wave that delivered House control to the Democrats last midterm cycle. Four years later, fewer voters say they're thinking "a lot" about President Joe Biden when it comes to their 2022 vote, another sign that this year's election is less of a referendum on the president than is typical.
The 2022 Midterms Are Much Less About the President Than in 2018
Shares of voters reporting they are thinking "a lot" about the president heading into the current and previous midterm elections:
Surveys conducted Oct. 30-Nov. 2, 2018, and Oct. 13-15, 2022, among representative samples of roughly 2,000 registered voters each, with unweighted margins of error of +/-2 percentage points.
Voters are focusing less on the president this midterm cycle
One-third of voters are thinking a lot about Biden as they consider their vote in the midterms, according to a recent Morning Consult survey, similar to the 30% who said the same of former President Donald Trump. Both figures are far less than the 51% of voters who said Trump was top of mind four years ago.
Just 15% of voters are thinking a lot about House Speaker Nancy Pelosi (D-Calif.), the perennial Democratic boogeyman who continues to feature in Republican campaign messaging, similar to the 13% who said the same in 2018.
Around 1 in 10 voters said they are thinking a lot about Senate Democratic leader Chuck Schumer of New York (11%) and Senate Republican leader Mitch McConnell of Kentucky (9%), similar to figures from 2018. House Republican leader Kevin McCarthy of California, whom Morning Consult did not ask about in 2018, is top of mind for 10% of voters.
What voters are focused on instead
The 2022 cycle has stood out for the disparity between Democrats' standing on the generic ballot, Democratic senators' own approval ratings and Biden's consistent unpopularity. Throughout much of the year, a critical mass of voters have indicated that they're willing to back a Democratic candidate even though they disapprove of Biden's job performance.
That dynamic suggests views of the president don't matter as much in 2022 as they did in 2018, with major issues hanging over the current contest rather than personalities. More than Biden, Trump or any of the other political figures whose names are being thrown around this fall, the vast majority of voters (63%) said they are thinking a lot about the economy as they mull over their 2022 vote, with another 46% giving similar weight to crime and 41% elevating abortion.
So how does the president fit into this? Another way of considering the data is that voters are about as likely to be thinking of Biden as they are his predecessor. By this metric, both Biden and Trump could be drags on their parties — though it may be a wash in many of the contested states on the Senate map this year.
Biden Is as Unpopular as Trump in Most Key 2022 States
Net favorability* for President Joe Biden and former President Donald Trump in the following states: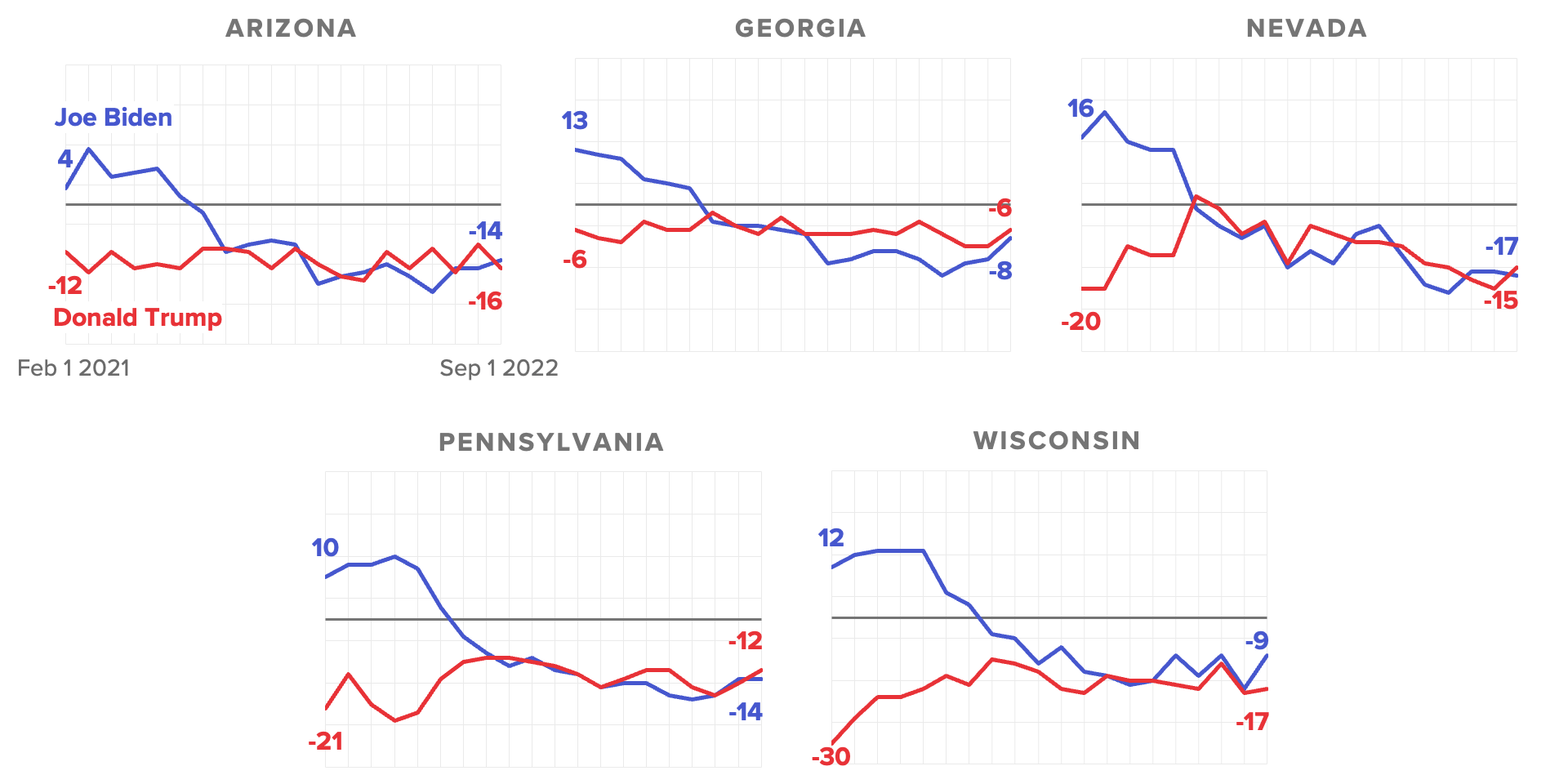 *Net favorability is the share of voters with a favorable view minus the share with an unfavorable view.
Monthly surveys conducted in 2021 and 2022 among representative samples of at least 646 registered voters in each state, with unweighted margins of error +/-2 to +/-4 percentage points.
Comparing Biden's and Trump's popularity in key states
Among registered voters in Arizona, Georgia, Nevada and Pennsylvania, Biden and Trump are similarly unpopular.
Since leaving office, Trump has seen a notable improvement in his standing in Pennsylvania, where 43% of voters now view him favorably and 55% view him unfavorably, bringing him roughly in line with Biden's standing.
Similarly to Pennsylvania, Trump's standing has also improved in Wisconsin, though Biden remains more popular there.
The latest Morning Consult survey was conducted Oct. 13-15, 2022, among a representative sample of 2,006 registered voters, with an unweighted margin of error of plus or minus 2 percentage points.
Eli Yokley is Morning Consult's U.S. politics analyst. Prior to his current role, Eli was Morning Consult's senior reporter covering U.S. politics. Eli joined Morning Consult in 2016 from Roll Call, where he reported on House and Senate campaigns after five years of covering state-level politics in the Show Me State while studying at the University of Missouri in Columbia, including contributions to The New York Times, Politico and The Daily Beast. Follow him on Twitter @eyokley. Interested in connecting with Eli to discuss his analysis or for a media engagement or speaking opportunity? Email [email protected].
We want to hear from you. Reach out to this author or your Morning Consult team with any questions or comments.
Contact Us