After Fall of Roe v. Wade, Most Americans Say Government Should Step In to Help Family Finances
Roughly 3 in 5 adults say government is responsible for financial assistance, paid family leave in light of Supreme Court ruling, while tax credits, child care subsidies and universal pre-K are seen as helpful policies regardless of party
In the wake of the Supreme Court's ruling to overturn Roe v. Wade, more than half of U.S. adults say the federal government has a responsibility to implement policies that financially support families with children, a new Morning Consult survey found. 
After Fall of Roe v. Wade, Most of the Public Thinks Government Is Responsible for Various Financial Assistance Measures to Families
Respondents were asked whether the federal government is responsible for providing the following to families in the aftermath of the Supreme Court's ruling to overturn Roe v. Wade: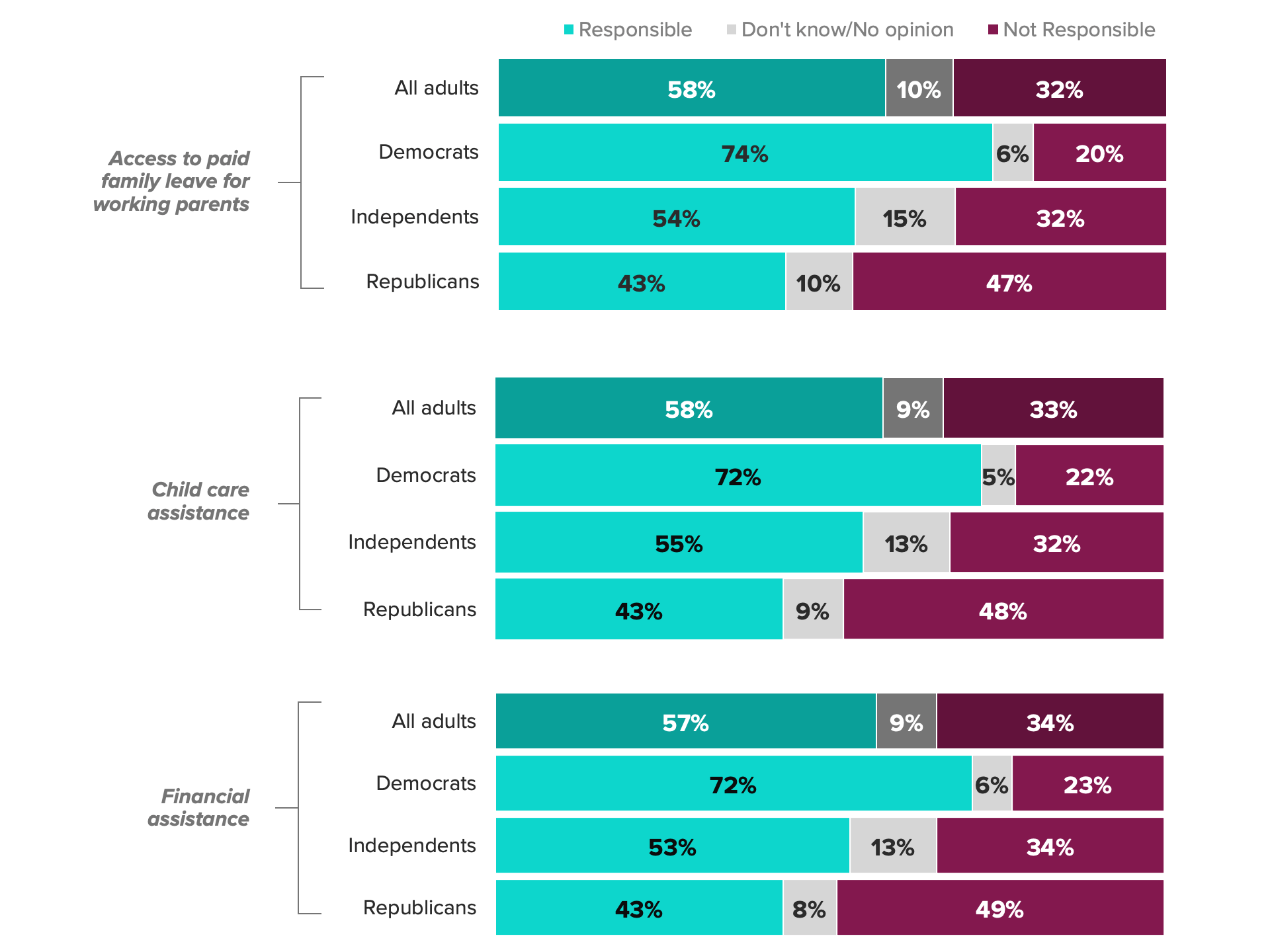 Survey conducted July 19-20, 2022, among a representative sample of 2,210 U.S. adults, with an unweighted margin of error of +/-2 percentage points. Figures may not add up to 100% due to rounding.
Most Democrats, many Republicans think government has responsibility to provide various types of financial assistance to families following Roe's fall
Nearly equal shares of adults (about 3 in 5) said given the high court's reversal on the constitutional right to abortion, the federal government should be responsible for providing financial and child care assistance to families, as well as access to paid family leave for working parents. 
Respondents were also asked about providing child care and financial assistance specifically to lower-income families. The share of adults who said the government bears responsibility for doing so on both fronts climbed to 63%, including 77% of Democrats and roughly half of Republicans. 
Men and women with the same political affiliation mostly shared views when it came to the government's responsibility for supporting families following the fall of Roe. For instance, 74% of Democratic men said the government is responsible for providing financial assistance to families, while 70% of Democratic women shared that view. Among Republicans, 40% of men and 46% of women said the government should provide financial support.
The survey comes amid some GOP efforts to answer claims that anti-abortion lawmakers turn their backs on families and children after birth. Paid family leave is one area in particular that some Republicans have expressed openness toward.
Nearly 4 in 5 Adults Say Child Tax Credits Would Be Helpful in Supporting American Families
At least 7 in 10 U.S. adults back tax credits for families with kids, access to paid leave, subsidies for child care, universal pre-K
Respondents were asked how helpful or unhelpful the following policies would be in supporting American families:
Survey conducted July 19-20, 2022, among a representative sample of 1,120 U.S. adults, with an unweighted margin of error of +/-3 percentage points. Don't know/No opinion responses are not shown.
Americans view a variety of financial policies to support families as helpful
The survey also asked respondents whether various financial policies for families — some of which were casualties of President Joe Biden's original Build Back Better plan — would be helpful or unhelpful. Most of the public (78%) said tax credits for families with children would be "very" or "somewhat" helpful. Tax breaks were seen as helpful among the majority of Democratic (89%) and Republican (74%) respondents.
A plan to allow parents to pull from Social Security to pay for child care was the least popular proposal in the survey, with 41% of respondents saying the idea was "not too helpful" or "not helpful at all." A June proposal from Sen. Marco Rubio (R-Fla.) would allow new parents to pull three months of Social Security benefits to finance their parental leave. 
Proposals to fund universal pre-kindergarten were also victims in earlier iterations of the Build Back Better package, but the idea has enjoyed bipartisan support in various states as far back as the Obama administration. The new survey found that adults across party lines still view the plan favorably, with 87% of Democrats and 58% of Republicans saying universal pre-kindergarten would be helpful. 
The July 19-20, 2022, survey was conducted among a representative sample of 2,210 U.S. adults, with an unweighted margin of error of plus or minus 2 percentage points.
Amanda Jacobson Snyder previously worked at Morning Consult as a data reporter covering finance.
We want to hear from you. Reach out to this author or your Morning Consult team with any questions or comments.
Contact Us