Gen Z Trusts Social Media Brands Despite Reckoning Over Online Safety
Snapchat, TikTok and Instagram are among the brands the cohort trusts most relative to the general public, according to new Morning Consult data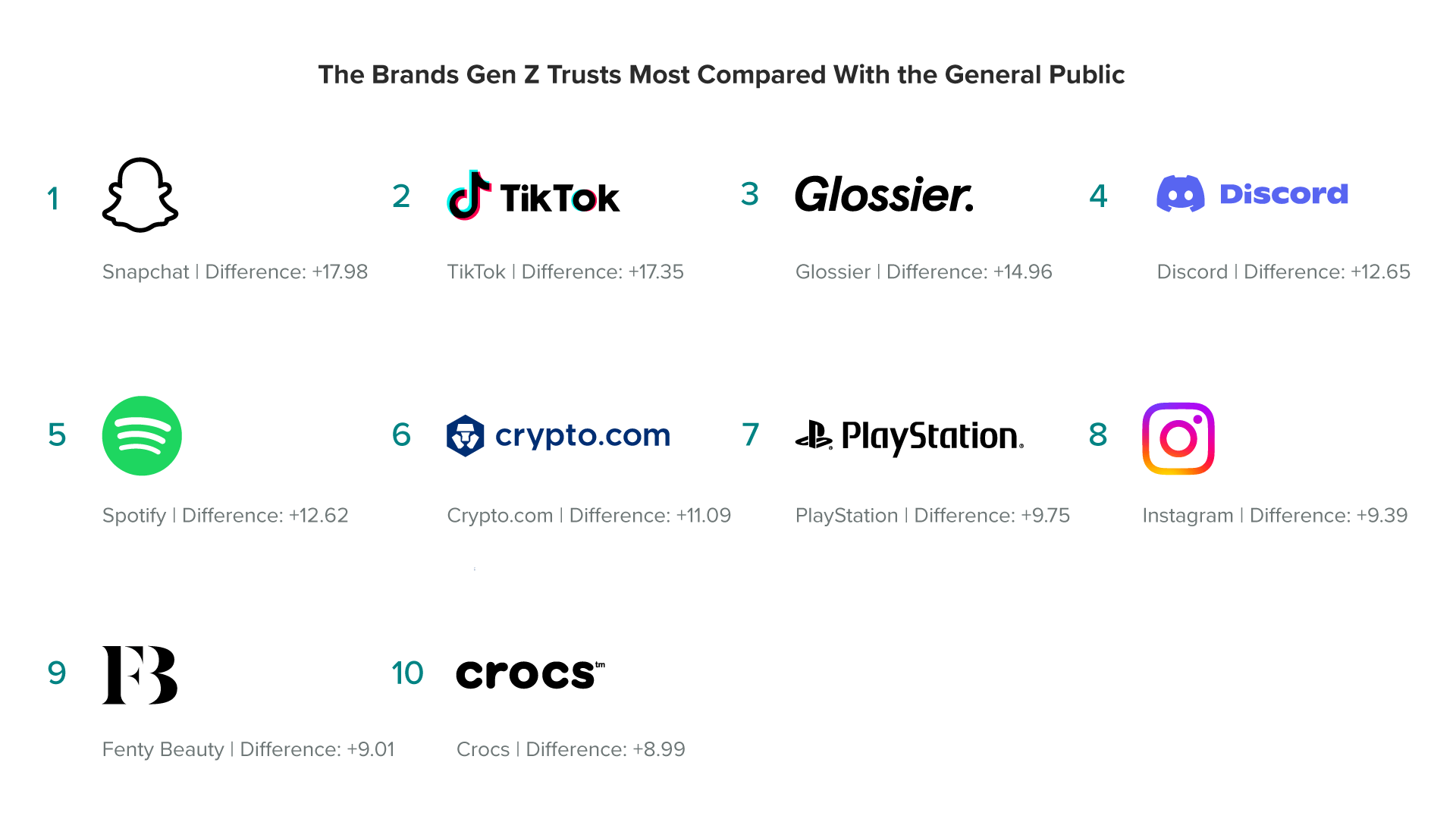 Net trust is the share of respondents who said they trust each brand to do the right thing "a lot" or "some" minus the share who said "not much" or "not at all."
This article pulls from our Most Trusted Brands 2023 report, our yearly effort highlighting the brands that have secured consumer trust around the world. Download the report.
Amid a wave of state and federal legislation aimed at curbing the influence of social media, new Morning Consult research suggests that Gen Z adults don't necessarily share in the broader public's growing concerns over the impact of major platforms on everything from mental health to data privacy. In fact, Gen Zers largely trust them to do what's right. 
Half of the top 10 brands that the generation views as most trustworthy relative to all U.S adults are social media companies, according to data from Morning Consult's 2023 Most Trusted Brands report. Rankings are determined by taking the difference in net trust between Gen Z adults and all U.S. adults. (Net trust is the share of respondents who said they trust each brand to do the right thing "a lot" or "some" minus the share who said "not much" or "not at all.")
Snap Inc.'s Snapchat is the brand with the biggest differential (+17.98) between the two groups, followed closely by ByteDance Ltd.'s TikTok (+17.35). Cosmetics retailer Glossier Inc. (+14.96), Discord Inc. (+12.65) and Spotify Technology SA (+12.62) rounded out the top five.
The survey results corroborate two traits that have combined to form the generation's identity in the public consciousness: Relative to older groups, they're extremely online and obsessed with aesthetics. Recent legislation — like Montana's total TikTok ban — will likely be met with resistance from the cohort that very much still trusts the brands under scrutiny.
Beauty and gaming also have Gen Z's trust
Beauty brands Glossier and Kendo Holdings Inc.'s Fenty Beauty, the company founded by pop star Rihanna, both ranked among the top 10 over-indexing brands. Previous Morning Consult research found that more than a third of Gen Z adults are interested in purchasing products from celebrity-founded beauty companies. Gen Zers' fascination with "get ready with me" videos (where a creator talks to the camera while applying makeup or getting dressed for an event) may be another factor in their outsized trust in cosmetics brands.
Two of the featured brands, voice-chat app Discord and Sony Interactive Entertainment LLC's PlayStation, are major brands in the video game community, which is increasingly made up of Gen Zers. 
The lone Top 10 brand that's neither digital nor beauty-focused is Crocs Inc. — though it's not a total outlier. The Colorado-based shoemaker was one of last year's fastest growing brands, while Morning Consult Brand Intelligence data shows the company's purchasing consideration is historically highest among Gen Zers, who gravitate toward Crocs' chunky profile and customizability. Crocs is frequently recognized for its prowess in creating viral content on TikTok, where its brand account boasts nearly 1 million followers and more than 8 billion total views. 
Time spent equals trust
A 2022 Morning Consult survey found that more than half of Gen Zers (54%) spend at least four hours per day using social media, and nearly 2 in 5 (38%) spend even more time than that. 
The same survey revealed that at least two-thirds of Gen Zers use Instagram, Snapchat and TikTok specifically. Gen Zers are also significantly more amenable to receiving targeted ads on social media than are all U.S. adults. 
This level of engagement places social media right alongside traditional consumer staples, like food and beverages or personal care products, in the day-to-day lives of Gen Z. In the 2022 survey, Gen Zers said they interact with their peers on social media significantly more than they do at school or work.
Teams overseeing content moderation at social media companies have been among the hardest hit during ongoing mass layoffs across the technology industry, further raising questions about major platforms' ability to ensure a safe online experience, especially for younger users. 
Mike Polner, vice president of marketing at Discord, said via email that keeping the platform "a place where Gen Z feels safe and welcome" is central to its mission. Approximately 15% of Discord employees are "dedicated to working on safety," Polner added. 
Methodology: The data behind Morning Consult's Most Trusted Brands 2023 project was gathered March 3-April 3, 2023.
Most Trusted Brands U.S. – Representative samples of 799 to 8,434 U.S. adults were gathered in the United States with an unweighted margin of error of up to +/-3 percentage points. For the United States, brands in the aerospace and defense, chemicals, energy, health, medical devices, military, nonprofit, pharmaceutical and semiconductor sectors were excluded from the analysis; service-based children brands were also excluded. For the purposes of this article, alcohol and drug-based brands were excluded as well.
Ellyn Briggs is a brands analyst on the Industry Intelligence team, where she conducts research, authors analyst notes and advises brand and marketing leaders on how to apply insights to make better business decisions. Prior to joining Morning Consult, Ellyn worked as a market researcher and brand strategist in both agency and in-house settings. She graduated from American University with a bachelor's degree in finance. For speaking opportunities and booking requests, please email [email protected].
We want to hear from you. Reach out to this author or your Morning Consult team with any questions or comments.
Contact Us