Anger Helped Democrats Flip the House in 2018, but Ahead of the 2022 Midterms, Both Sides Are Equally Enraged
42% of Democratic voters are "angry" about the midterms, compared with 41% of Republicans
Anger helped fuel the blue wave that secured the House for Democrats in the 2018 midterm elections. Four years later, the latest edition of Morning Consult's annual State of the Parties survey shows Republicans hold no such advantage over their Democratic rivals on this key metric about the electorate's mood.
Ahead of the Midterms, Republicans Are No Angrier Than Democrats
Share of voters who said the following emotions described their feelings about the 2022 midterm elections for Congress "very" or "somewhat" well: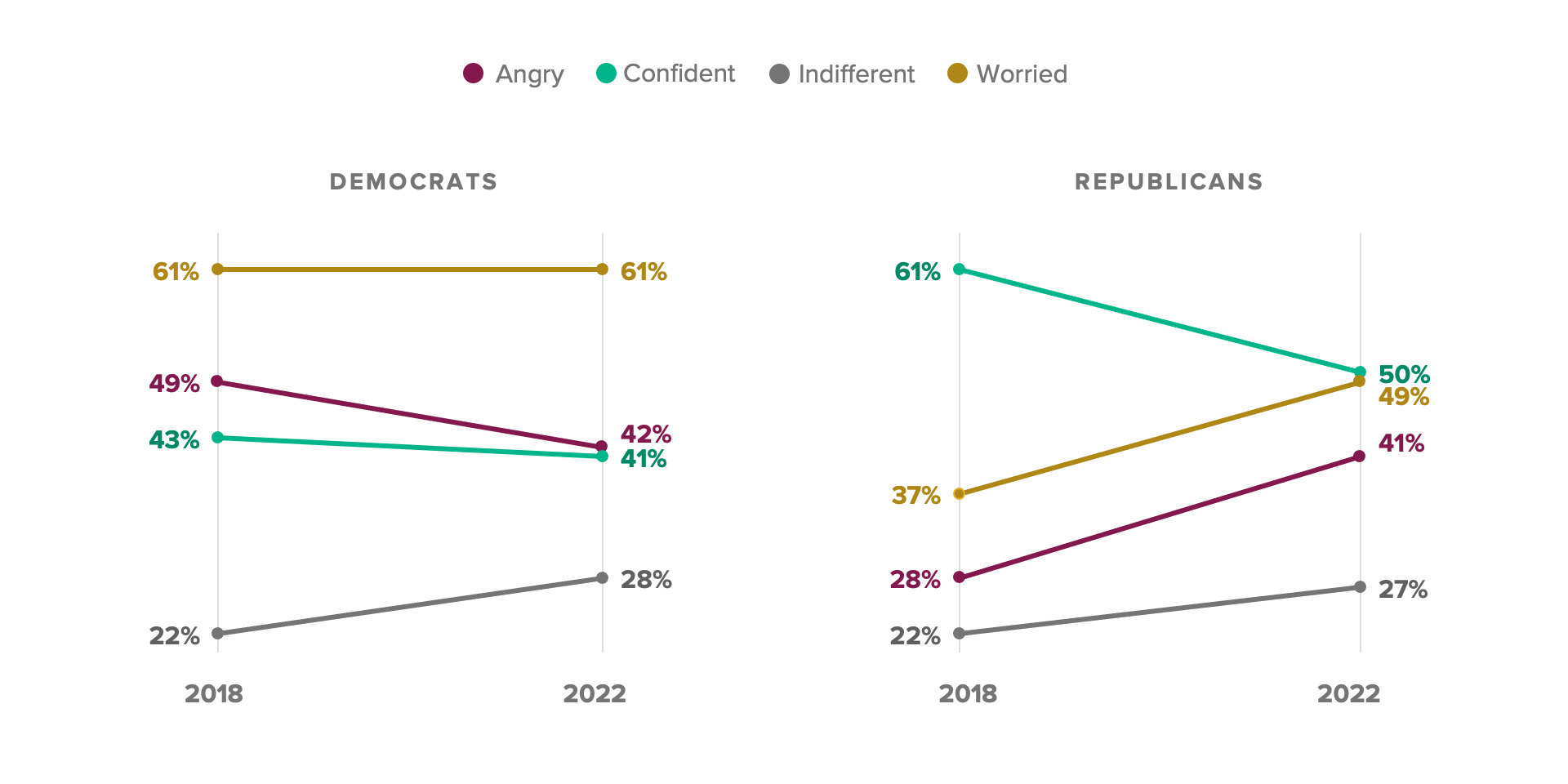 Surveys conducted June 19-29, 2018, and Aug. 3-4, 2022, among national samples of at least 806 Democratic voters and 697 Republican voters, with margins of error of +/-3-4 percentage points.
Comparing voters' emotions from 2018 to 2022
Heading into election season, Democratic voters (42%) are just as likely as Republican voters (41%) to say the word "angry" describes how they feel about the midterms "very" or "somewhat" well. 
Far fewer Democrats express hope about the midterms than Republicans did four years ago (56% to 74%), likely reflecting the fact voters on the left often appear more self-critical and responsive to real-world circumstances than their GOP counterparts — with President Joe Biden's weak intraparty job approval rating a key example of the dynamic.
Across both parties' bases, apathy is running at similarly elevated levels this year: 28% of Democrats and 27% of Republicans say they're indifferent about the 2022 midterm elections, both up from 22% in the summer before the 2018 midterms.
Anger is a motivator for voters
Political science research has found that anger is a proven motivator to get voters to show up at the polls — even more so than other gauges of anxiety or motivation — and the 2018 figures provided just another proof point. The Democrats 1-percentage-point advantage on this metric as the party in power in the latest data compares with a 21-point anger deficit that Republicans faced in 2018, when they went on to lose the House by a large margin.
But this year, Democrats are experiencing a number of counterintuitive signals from the electorate ahead of the November contests. While historical precedent indicates the president's party should expect to take a hammering, Democratic voters are holding their own in terms of enthusiasm and the congressional generic ballot, and the party's vulnerable Senate incumbents continue to overperform Biden's dismal approval rating.
Some of this can likely be attributed to the Supreme Court's decision to overturn federal abortion protections, which helped heighten Democratic anger this year. 
Democrats Have Been More Angry About the Midterms Since Late April
Share of voters who said they were very or somewhat angry about the 2022 midterm elections for Congress
Surveys conducted in 2022, among national samples of at least 727 Democratic voters and at least 667 Republican voters, with margins of error ranging from +/-3-4 percentage points.
How anger ebbed and flowed in 2022
Democratic voters were generally less likely to say they felt angry about the midterm elections until May. Weekly tracking surveys suggest voters on the left were jolted by the leaked draft of opinion on May 2 that suggested the Supreme Court would overturn the landmark Roe v. Wade abortion opinion.
Since that ruling became official on June 24, and as former President Donald Trump's behavior surrounding the Jan. 6 Capitol attack featured prominently in the headlines, Democratic voters have maintained an anger advantage over Republicans (albeit a small one).
The post-Roe enthusiasm advantage for Democrats does appear to be leveling off, and there's a good chance new events could enrage conservatives with three months still left until the midterms — most notably the outcomes of recent congressional, civil and criminal probes involving Trump. But the 45th president's insistence on injecting himself into the midterms might also add fuel to fire burning in Democrats' bellies.
The latest survey gauging voters' emotions about the midterms was conducted Aug. 3-4, 2022, among a national sample of 806 Democratic voters and 697 Republican voters, with unweighted margins of error of plus or minus 4 percentage points.
Eli Yokley is Morning Consult's U.S. politics analyst. Prior to his current role, Eli was Morning Consult's senior reporter covering U.S. politics. Eli joined Morning Consult in 2016 from Roll Call, where he reported on House and Senate campaigns after five years of covering state-level politics in the Show Me State while studying at the University of Missouri in Columbia, including contributions to The New York Times, Politico and The Daily Beast. Follow him on Twitter @eyokley. Interested in connecting with Eli to discuss his analysis or for a media engagement or speaking opportunity? Email [email protected].
We want to hear from you. Reach out to this author or your Morning Consult team with any questions or comments.
Contact Us