Vulnerable Senate Democrats Aren't as Toxic With Voters as Biden. But That Might Not Save Them in November
While senators maintain popularity, Biden's job approval rating is underwater in Arizona, Colorado, Georgia, Nevada and New Hampshire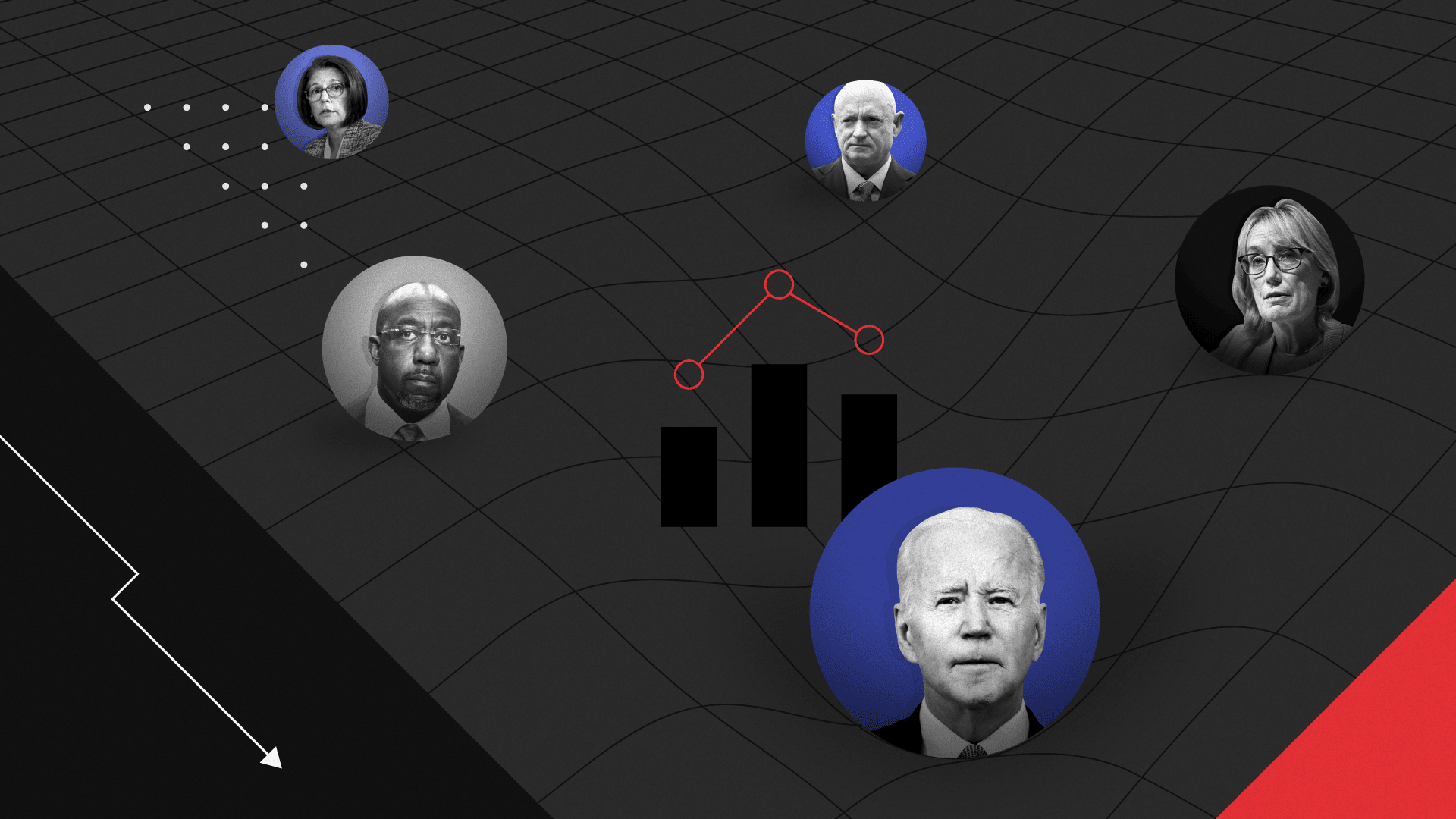 Key Takeaways
More voters than not approve of the job performance of Democratic Sens. Mark Kelly of Arizona, Michael Bennet of Colorado, Raphael Warnock of Georgia, Catherine Cortez Masto of Nevada and Maggie Hassan of New Hampshire.

But since he took office, Biden's seen his net approval rating fall underwater by just over 20 points in each of the Democratic-held Senate races to watch this year.

In 2018, former President Donald Trump's state-level approval rating closely reflected the Republican Senate candidates' vote share.
The good news for Senate Democrats facing potentially tough re-election bids this fall is that they're largely maintaining their popularity among the voters who elected them, according to Morning Consult Political Intelligence tracking. 
The bad news is that President Joe Biden's image has worsened dramatically in their states, threatening to weigh down the Democratic Party's brand and give Republicans a big opening ahead of the midterm elections.
"In today's political environment, it will be very tough for Democrat senators to separate themselves from their party, and Joe Biden is the Democrat Party," said Ward Baker, the former executive director of the National Republican Senatorial Committee. 
According to quarterly surveys conducted throughout Biden's term, the president has seen his net approval rating — the share of voters who approve of his job performance minus the share who disapprove — fall underwater by just over 20 percentage points across the range of Democratic-held Senate races to watch this year, from the Arizona, Georgia and Nevada contests rated "toss up" by The Cook Political Report to the potential battlegrounds of New Hampshire and Colorado. 
Biden's decline in standing has not been mirrored by the incumbent Democrats who represent those states, such as Michael Bennet of Colorado, Raphael Warnock of Georgia, Catherine Cortez Masto of Nevada and Maggie Hassan of New Hampshire. The exception to the trend is Mark Kelly of Arizona: The ex-astronaut's disapproval rating has increased as more voters formed opinions about him over the course of the year.
Vulnerable Democratic incumbents in Arizona, Georgia, Nevada and New Hampshire have higher approval ratings than the Democratic president, while Biden and Bennet each share a 47% approval rating. In all five states, there are double-digit gaps between the shares of voters who disapprove of Biden and the incumbent Democrat running for re-election this fall.
"What your data shows is one of the underlying dynamics of Senate races this cycle, which is that our incumbent Senate Democrats have strong brands, they have their own coalitions and they're able to bring a broad and diverse group of voters behind their campaign," said David Bergstein, a spokesman for the Democratic Senatorial Campaign Committee. "While of course the presidential approval plays a very important element in the atmospherics of races, incumbent Senate Democrats are successfully creating their own weather right now."
What Democratic senators' resilience means for the midterms
Martha McKenna, a former official at the Democratic Senatorial Campaign Committee, said the senators' ability to shirk the negative views haunting Biden is a bright spot for her party as it fights to hold a narrow 50-50 Senate majority, where every contest is a referendum on who will control the chamber come next January. 
"Everybody wants to write — and the Republicans are saying — we're dead because Biden is struggling," the strategist said. "But these senators, in particular, have created their own profiles in their states. They have the money, energy and record to run on. They've been able to define themselves separate from the party in a way that is holding up." 
But even that might not be enough.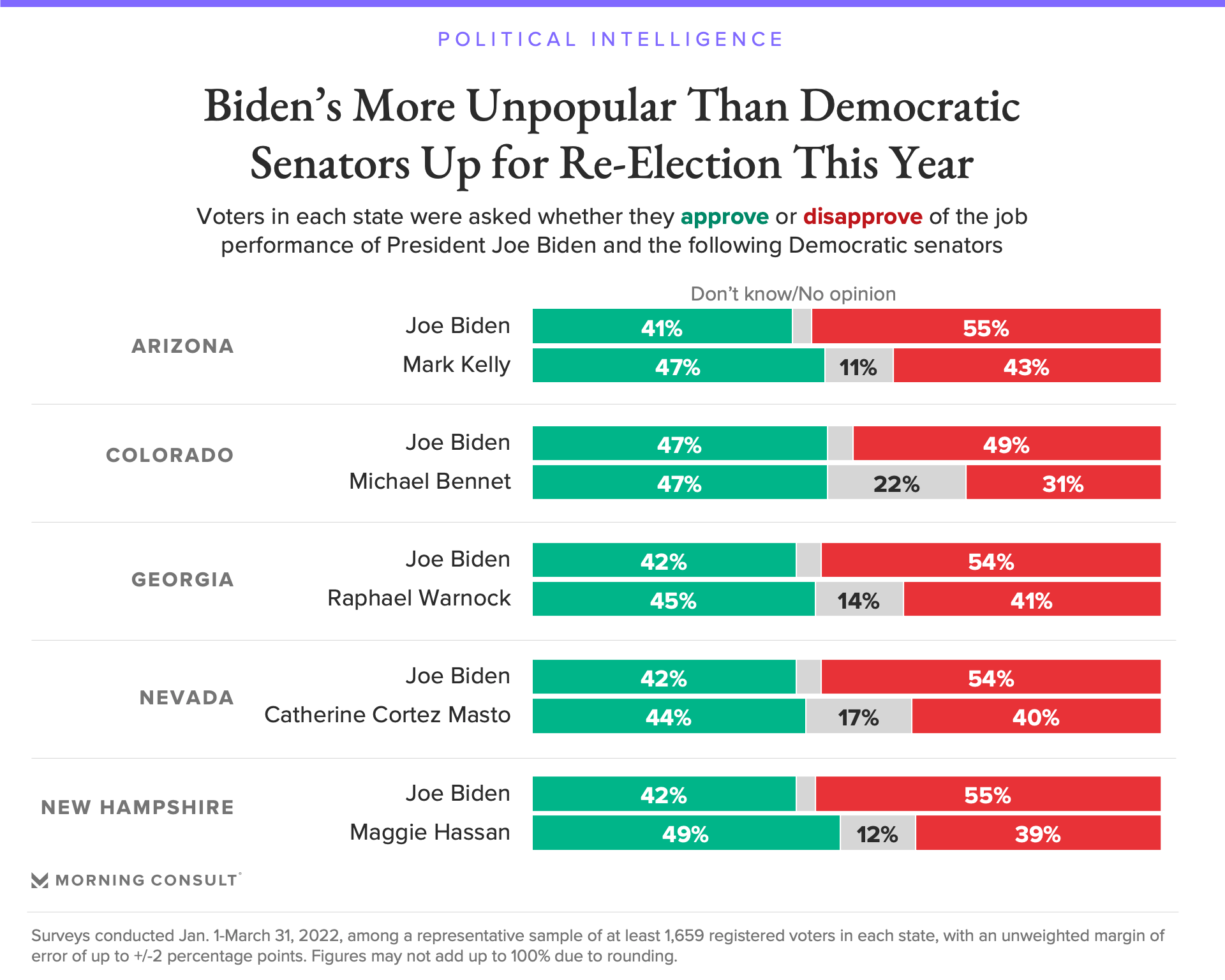 Jeff Roe, a strategist working for Republican Senate candidates across the map this year, said the nationalization of American politics over time has largely eliminated the distance between a president's job approval rating and the vote share received by his party's candidates in competitive races.
"If you look at 2018 as an example, every Republican in a competitive seat ran within 3 points of President Trump's approval rating. That's bananas," he said. "That number has shrunk over time, and you still have a few outliers, but the outliers are really becoming pronounced." 
Looking to November, one of those outliers could be Colorado, where Republicans face uncertain prospects for getting a strong candidate to challenge Bennet. 
State Rep. Ron Hanks has earned the support of Colorado's GOP assembly, but his focus on baseless claims about the 2020 presidential election and meager campaign fundraising is concerning to party strategists. Ahead of a June 28 primary, they see businessman Joe O'Dea as a better bet to try to put the Colorado race on the map. Hanks didn't respond to a request for comment.
In New Hampshire, Republicans will hold a Sept. 13 primary to nominate a challenger to Hassan. There is a wide field of candidates after the state's popular Republican governor, Chris Sununu, decided not to run. Potentially messy primaries — especially New Hampshire's late contest — could help to insulate Democratic campaigns from Biden's decline. 
"With the amount of incoming in these Republican primaries, and the amount of vulnerabilities with swing voters these Republican candidates are going to carry in, I think it's entirely possible that these Republican candidates are less popular than Biden come Election Day," McKenna said.
In Georgia, where Sen. Raphael Warnock is facing re-election, Democrats are already focusing their attacks on Herschel Walker, the Heisman Trophy winner and Republican primary candidate with former President Donald Trump's backing. They're doing the same in Nevada to try to erode the image of former state Attorney General Adam Laxalt, the leading Republican contender, in advance of the fall contest against Democratic Sen. Catherine Cortez Masto. 
And in Arizona, the Republicans seeking the party's nod to take on Kelly in November are in a heated contest that has featured attacks from Trump on the apparent front-runner, state Attorney General Mark Brnovich.
Defining the opposition
Matt Gorman, a former official at the National Republican Congressional Committee, said the key for Republicans to take back the Senate will be elevating good candidates who can keep the focus on their Democratic rivals and their records rather than on themselves.
"Warnock, Kelly, and even Cortez Masto are fairly undefined, while Hassan, as a former governor, is pretty defined. Both paths have advantages we can use," he said. "We need to make sure we have good candidates who can do that."
For now, Democrats are working to define themselves in a way that appeals to voters. In some cases that means leaning into the party's successes at the federal level on infrastructure and other local projects. In others, it means trying to draw a contrast with the administration's unpopular initiatives, such as its scheduled repeal of the Title 42 public health emergency order at the U.S.-Mexico border.
Democratic strategist Shripal Shah, who's held senior roles across the party's campaign landscape, said in a midterm election year, Senate races are the biggest show in town, giving incumbents a chance to build up a brand and identity independent of the national party.
"Of course the national environment comes into play, no one is suggesting it doesn't," he said. "But on the Senate side, Democrats have some structural advantages that can help incumbents navigate a challenging environment that might not be afforded to other officials who are on the ballot. There are always exceptions though."
For Morning Consult's state-level survey data, weights are applied to each state separately based on age, gender, education, race, home ownership, marital status, presidential voting history and — for a subset of states — race by education as well as an age-by-gender interaction.
Margins of error for responses from all voters in each state range from 1 to 5 points. For more detailed information, you can download the 50-state dataset for senators' approval ratings among all voters here.
Eli Yokley is Morning Consult's U.S. politics analyst. Eli joined Morning Consult in 2016 from Roll Call, where he reported on House and Senate campaigns after five years of covering state-level politics in the Show Me State while studying at the University of Missouri in Columbia, including contributions to The New York Times, Politico and The Daily Beast. Follow him on Twitter @eyokley. Interested in connecting with Eli to discuss his analysis or for a media engagement or speaking opportunity? Email [email protected].
We want to hear from you. Reach out to this author or your Morning Consult team with any questions or comments.
Contact Us