How the Sci-Fi RPG 'Starfield' Grew Xbox's Buzz
The early June "Starfield" gameplay showcase helped generate conversation among Xbox's gamer base for months, writes media & entertainment analyst Kevin Tran
Total buzz for Xbox during each week: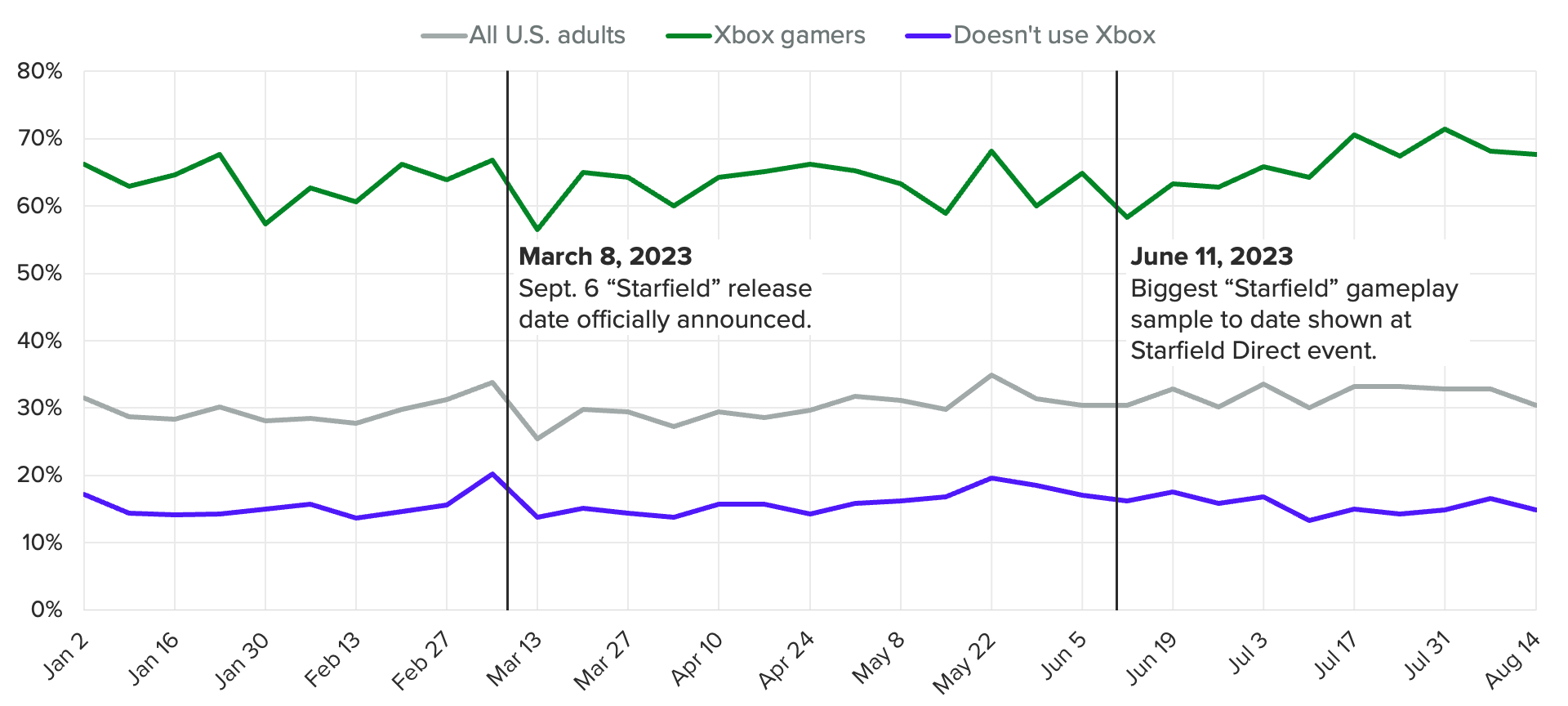 Total buzz is the share of consumers who have seen, read or heard something about Xbox in the past two weeks. Xbox gamers are those who said they played an Xbox at at any level of regularity.
For Xbox, this week's early access release of the "Starfield'' role-playing game is a big deal. Another of the Microsoft-owned company's most anticipated 2023 releases, "Redfall," months ago, by company admission, "was a miss" in a year when Xbox previously admitted it has "lost the console wars." This helps explain why some have referred to "Starfield" — a Bethesda Game Studios release that is exclusive to Xbox for console players — as the gaming system's most notable release in years.  
Fortunately for Xbox, the "Starfield" hype has been real. The June 11 event, which showcased a comprehensive sneak peek at "Starfield," was Xbox's most-ever viewed show. However, the event — which marked the first time details about upcoming Xbox Game Studios and Bethesda titles were unveiled together at one gathering — also ended up paying dividends for Xbox in the weeks more removed from early June.
Between the weeks of June 12 and Aug. 14, Morning Consult data shows that the total buzz for Xbox increased among Xbox gamers by 10 percentage points. The jump suggests that the Starfield Direct event effectively increased the number of Xbox owners who were excited to play "Starfield" over the past several months. This ultimately bodes well for sales of the game: "Starfield" is currently the most wishlisted game on video game distribution platform Steam, after all. 
Meanwhile, a jump in total buzz for Xbox was not observed among all U.S. adults and those who said they don't use Xbox consoles at all. While a goal of "Starfield" is to drive purchases of consoles, even company chief Phil Spencer has said the forthcoming Bethesda title won't convert Sony Playstation loyalists to Xbox fans. 
Still, Xbox's June event should be chalked up as a win for the buzz it did drive. The takeaway for Microsoft and Xbox is the value in creating fewer but bigger marquee events. 
While the combination of the Starfield Direct event and Xbox Games Showcase may not have come to fruition if the Electronic Entertainment Expo (E3) had not been canceled this year, it does suggest how important the element of novelty is in driving interest, and ultimately viewership, of a game-unveiling event. Curiosity surrounding the first-ever double feature showcase likely caused some to tune in who otherwise wouldn't have, hinting at opportunities for Xbox to stage more events that feature "first-evers" in the coming years. These events would be best suited for Xbox's exclusive, most high-profile releases, such as any additions to the "Halo" franchise.
This memo utilizes data from Morning Consult Brand Intelligence, our flagship platform that every day asks thousands of consumers about core metrics for over 4,000 brands and products around the world. MCBI subscribers can further explore the data here. To learn more about MCBI, request a demo here.
Kevin Tran is the senior media & entertainment analyst on the Industry Intelligence team, where he conducts research, authors analyst notes and advises leaders in the media & entertainment industry on how to apply insights to make better business decisions. Prior to Morning Consult, Kevin was a media analyst at Variety Intelligence Platform, Variety's premium subscription service. Kevin graduated from the Haas School of Business undergraduate program at the University of California, Berkeley. @ktran223
For speaking opportunities and booking requests, please email [email protected].
We want to hear from you. Reach out to this author or your Morning Consult team with any questions or comments.
Contact Us