Trump's GOP Primary Support Has Ebbed Ahead of Potential 2024 Announcement
New survey reveals the kinds of messages Trump — and his dissenters — can lean on to lure voters not backing him or DeSantis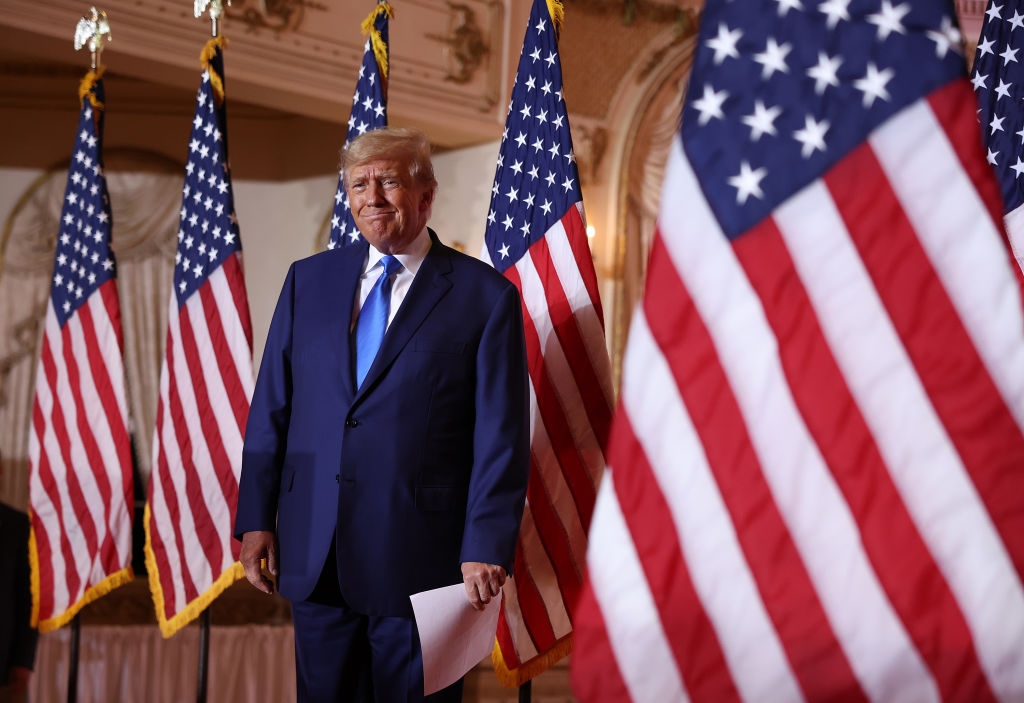 Former President Donald Trump is poised to launch his third presidential bid with the bulk of the Republican Party's electorate behind him, boosted by his handling of the economy and illegal immigration and his pugilistic posture toward the Democrats. 
However, the most recent Morning Consult surveys show signs of erosion in that support, and with Florida Gov. Ron DeSantis waiting in the wings with his own potential campaign, a new experiment testing candidate traits suggests the former president's age, obsession with social media and behavior following his 2020 loss are weighing on potential primary voters who aren't currently planning to back him or DeSantis.
How Trump's faring in the 2024 primary
The latest survey found Trump is backed by 48% of potential Republican primary voters, down from a 57% high reached in August after he was in the spotlight for the House's Jan. 6 investigation and the Federal Bureau of Investigation's raid of his Mar-a-Lago home — an energizing event for GOP voters.
Trump's 2024 Support Has Dipped in Recent Months
Share of voters who would support the following if the 2024 Republican primary were held today: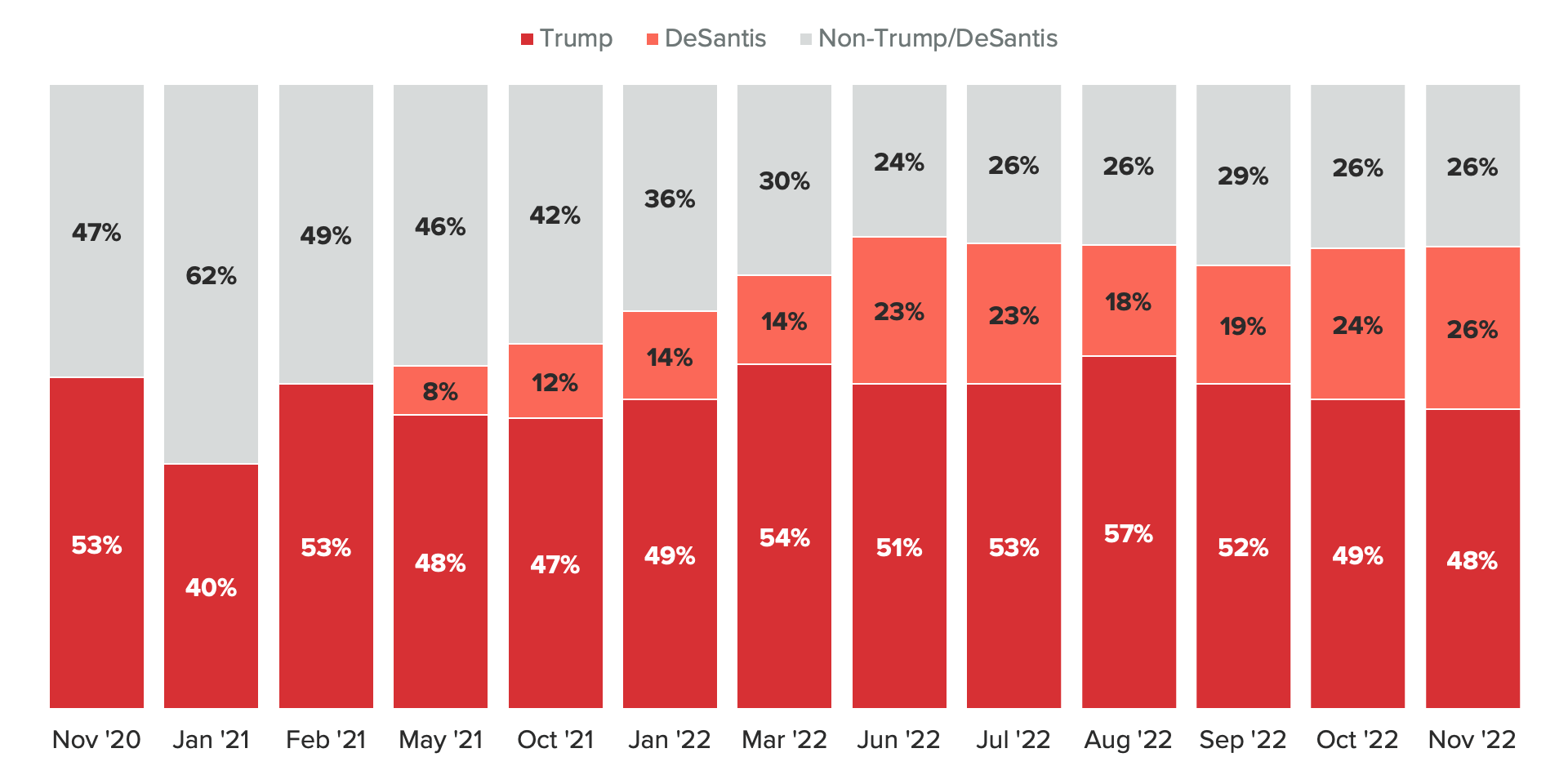 The first three surveys did not include DeSantis. The non-Trump/DeSantis category includes more than a dozen other candidates, as well as the small share of the potential primary electorate who said they would not vote.
Surveys conducted in 2020, 2021 and 2022 among at least 390 potential Republican primary voters, with unweighted margins of error of +/-3 to 5 percentage points.
The 9-percentage-point decline in support for the former president among potential GOP primary voters appears to be benefiting DeSantis, the Florida Republican who has emulated much of Trump's political style and looks to be his biggest threat to another nomination. Since the August survey, DeSantis' first-choice support among the GOP electorate has increased, from an 18% low to a 26% high in the latest survey. 
Despite the seemingly inverse fortunes of the two men, should they decide to run against each other, Trump and his potential heir apparent are pulling from slightly different parts of the Republican primary electorate. For example, the average Trump-supporting potential primary voter is slightly more likely to be a woman, a person of color or lack a college education, while the average DeSantis backer is more likely to hail from the suburbs, live in a higher-income household and be of retirement age.
Non-Trump Backers Are More Educated and Likely to Live in the Suburbs
Demographic profiles of potential Republican primary voters who are supporting former President Donald Trump, Florida Gov. Ron DeSantis or someone else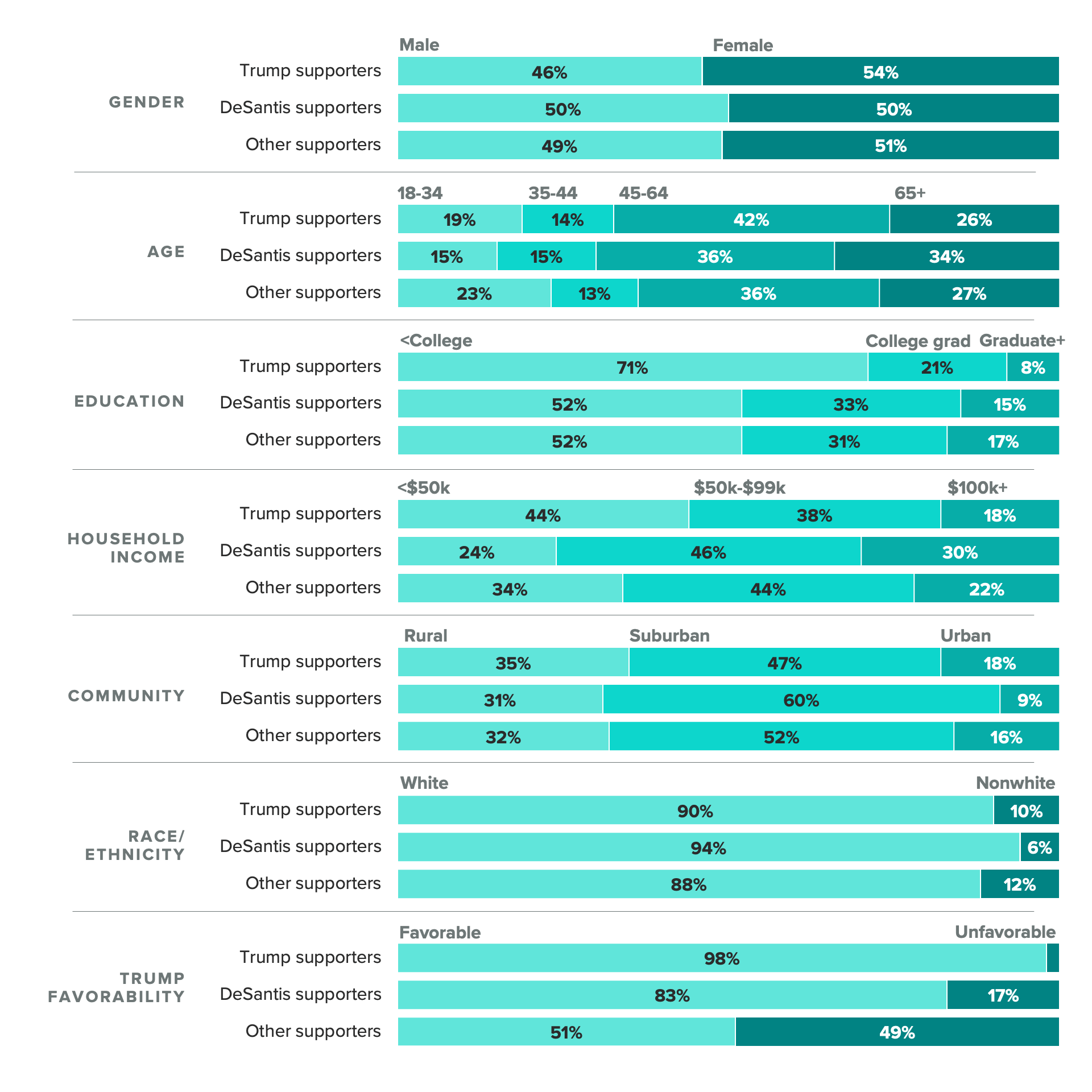 Survey conducted Nov. 2-7, 2022, among 1,691 potential Republican primary voters, with an unweighted margin of error of +/-3 percentage points.
And then there's the 26% of the Republican electorate that isn't backing either of them at this early stage. This group of voters — a third of whom no longer want Trump to play a role in the party — shares a similar gender and educational makeup to the DeSantis base, while their age, household income, community and racial identity aligns more closely with the average Trump supporter, suggesting they may eventually split their allegiances, which could work to Trump's advantage.
How voters who don't back DeSantis or Trump see things
The latest figures — collected more than a year before the first primary votes will be cast in the GOP's 2024 contest — could obviously change: The Nov. 2-7 survey was conducted before Trump used an election eve appearance on the campaign trail in Ohio to tease plans for a "very big" Nov. 15 announcement, and before Republicans underperformed high expectations in the midterm elections on the same day DeSantis ran well ahead of Trump's margins in his state.
But at this early point, and even before the results of the 2022 elections came into view, potential 2024 GOP primary voters who aren't supporting Trump or DeSantis ascribed conflicting sentiments toward the former president while appearing less certain about the Florida governor. 
While roughly 2 in 3 potential primary voters who aren't backing Trump or DeSantis described the former as conservative, effective and having good policy ideas, the largest share (68%) view him as a man who "does what's best for himself," far more than the 26% who say the same of DeSantis. 
Compared with DeSantis, these voters are more than twice as likely to say Trump is divisive and almost three times as likely to say he is a fraud, with a similar spread when asked if he is "bad for America." 
GOP primary voters whose backing might be up for grabs expressed a similar sentiment when presented with a list of 20 arguments for or against Trump's candidacy for the Republican nomination. 
Roughly 2 in 5 of these voters said Trump's accusations of voter fraud in the 2020 presidential election or his actions on Jan. 6, 2021, were reasons not to back another presidential bid, similar to the 45% who cited his social media habit and his age (40%) as more negative than positive. 
GOP Voters Who Aren't Backing Trump or DeSantis See Trump as More Selfish and Effective
Share of voters who aren't supporting Trump or DeSantis who said the following traits describe each "very" or "somewhat" well:
Survey conducted Nov. 2-7, 2022, among 363 potential Republican primary voters who do not support Trump or DeSantis, with an unweighted margin of error of +/-5 percentage points.
When it comes to DeSantis, none of the 20 messages tested in the survey did more to hurt than to help him, likely a reflection of his lower name recognition. Similar shares of potential primary voters who are not yet backing him or Trump see the way he fights Democrats and the media as reasons to support him, matching their posture toward Trump on the question, while his experience as governor or his stance on immigration — flexed before the world when he flew a group of migrants to Martha's Vineyard this year — appear to have the best potential to move voters toward his camp. 
Despite their concerns with Trump, and, to a lesser extent DeSantis, the bulk of these voters aren't RINOs, the pejorative term for "Republicans In Name Only." They are, however, about twice as likely as supporters of Trump or DeSantis to say they'd prefer to vote for a presidential candidate that has the best character and personality for the job even if they don't agree with them on all of the issues.
Still, roughly 3 in 5 said they would back both DeSantis and Trump in a hypothetical contest against Joe Biden, though they're more likely to say they'd support the Democratic president with Trump in the mix than DeSantis (19% to 14%), suggesting the potential for a higher level of attrition if the GOP elevates Trump in 2024. 
Former Vice President Mike Pence is the most popular candidate with these votes: 32% would back him in a primary, and 7 in 10 said they would show up for him in the general election. 
On the other hand, just 7% of potential GOP primary voters who don't support Trump or DeSantis would support outgoing Rep. Liz Cheney (R-Wyo.) in a nomination fight.
The latest survey was conducted Nov. 2-7, 2022, among 1,691 potential Republican primary voters, with an unweighted margin of error of +/-3 percentage points.
Eli Yokley is Morning Consult's U.S. politics analyst. Prior to his current role, Eli was Morning Consult's senior reporter covering U.S. politics. Eli joined Morning Consult in 2016 from Roll Call, where he reported on House and Senate campaigns after five years of covering state-level politics in the Show Me State while studying at the University of Missouri in Columbia, including contributions to The New York Times, Politico and The Daily Beast. Follow him on Twitter @eyokley. Interested in connecting with Eli to discuss his analysis or for a media engagement or speaking opportunity? Email [email protected].
We want to hear from you. Reach out to this author or your Morning Consult team with any questions or comments.
Contact Us