For Harry Styles, TMI Is a Four-Letter Word -- and Gen Z Influencers Should Take Note
Not everyone can be as influential as Styles, but his online habits, data show 'less is more' strategy can reach Gen Z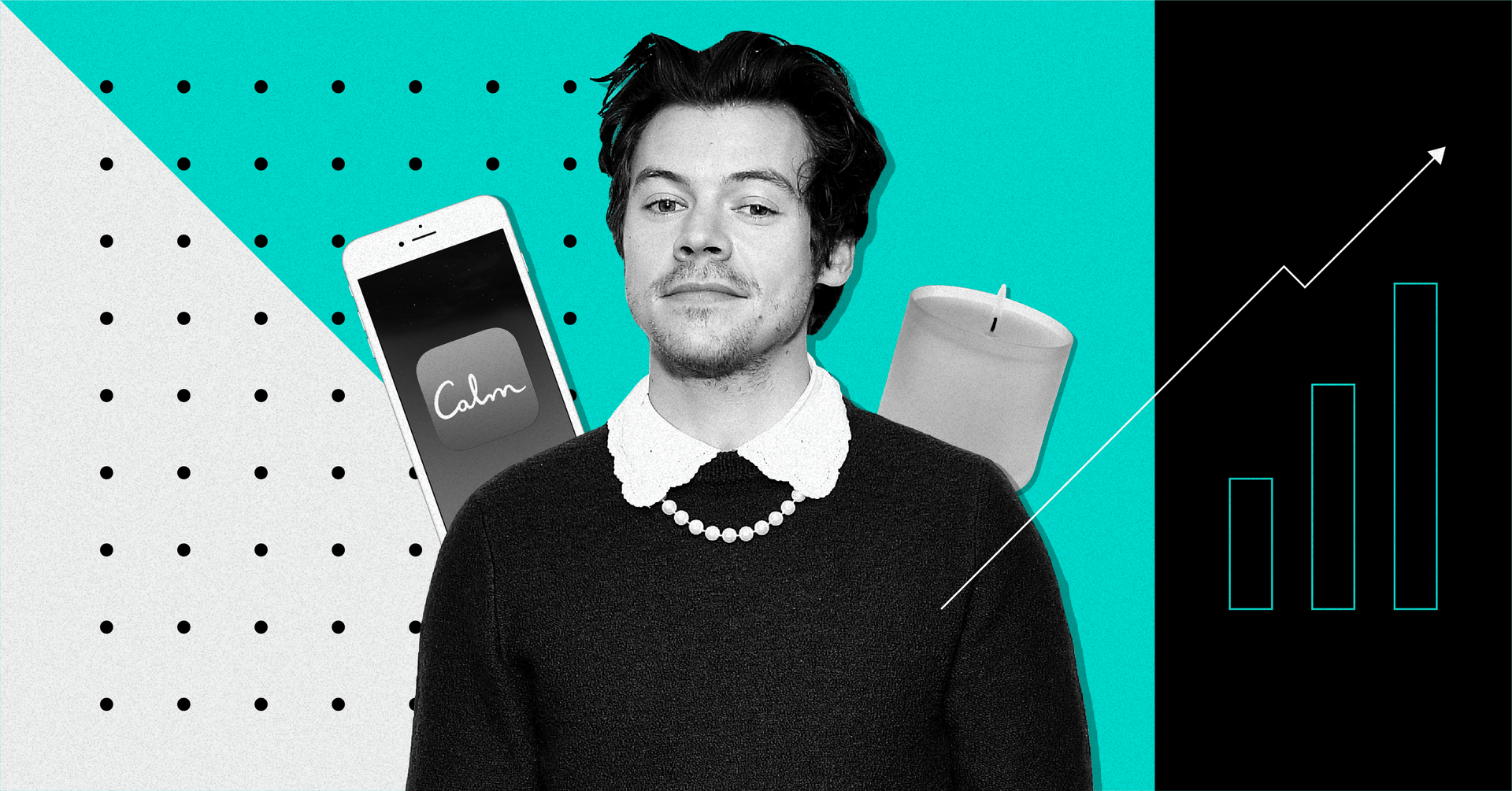 Key Takeaways
Among Gen Z respondents, 31% said celebrities who share too little on social media seem distant and disconnected while 42% disagreed.

64% said it's OK for a celebrity to decide to become more private on social media; 11% said celebrities should continue to share if they have always done so.

52% said they share memes or information about celebrities online often or sometimes.
In early May, a plain, vanilla-scented white candle from Target sold out online. A quick glance at product reviews can tell you why: It smells like Harry Styles. 
Or so the buyers say. The 26-year-old singer and actor has never said anything about the item, but his teen fans on TikTok claimed that the candle, then priced at $6.99, smells like a fragrance Styles is known to have used, Tom Ford's Tobacco Vanille, which costs $155 for 1 ounce. Those claims were enough to have the candle fly off Target's shelves.
Styles also has never talked about the JW Anderson cardigan he wore before an appearance on NBC's "Today" show in February, but that didn't stop it from becoming a viral sensation, with TikTok users teaching themselves how to knit to make the patchwork cardigan. 
Unlike other social media stars beloved by Generation Z, Styles doesn't use the hashtags #ad or #sponsored. In fact, Styles doesn't promote anything on social media beyond his albums, tours and music videos, and yet he wields an outsize influence over his 81 million-plus followers on Facebook, Instagram and Twitter. Notably, he does not have an official account on TikTok, the social media platform favored by Gen Zers. 
The former One Direction star's detachment from social media, which is also characteristic of other celebrity darlings of Gen Z like singer-actress Zendaya and singer Billie Eilish, breaks the usual rules for influencer marketing, but it has only increased Styles' appeal to a generation that is always online, marketing experts said.  
"He's really been able to expand beyond the music industry and become this cultural icon," said Kristin Breakell, a content strategist with Trendalytics, a New York City-based data insights platform.  "He's transcended celebrity status and become a representation of today's culture," she said, able to generate buzz among cultural influencers even when he's silent on social media. 
Emulating his social media use won't work for everyone, as it's Styles' offline persona -- his embrace of gender-bending fashion, his openness about mental health issues and his support of social justice causes -- that drives his enormous appeal to Gen Z. Styles has also been building his fan base since he was 16, when he joined the boy band One Direction, and has collected more fans as he has ventured into fashion and acting.
But new Morning Consult data provides some insight into what can contribute to the success of a "less is more" Gen Z influencer strategy. As it turns out, Harry Styles' Gen Z fans and Gen Z members are looking for the same things in their influencers. 
Gen Z clearly wants its favorite stars to have a presence online
A Morning Consult survey of 1,000 Gen Zers, which includes those ages 13-23, found that two-thirds said celebrities should use social media platforms to connect and interact with fans, while just over half (53 percent) said they feel more connected with celebrities who share details about their lives on social media. 
Among the Gen Z subsample of 421 self-described Styles fans, 69 percent agreed that celebrities should connect with fans via social media, while 61 percent said they felt more connected to celebrities who share personal details on social media. (The survey has a margin of error of 3 percentage points, while the Styles fan subsample has a 5-point margin of error.)
Sarah Barnes, a content marketing manager with Trendalytics, said Gen Z's desire to see its favorite stars online can lead young people to cling to any scrap of information about those stars they can get. Styles' "holding back on his Instagram is what keeps that interest so strong," she said. 
"This desire for connection is what's truly driving consumers to gravitate towards sharing stories and memes about Harry," said Barnes. "They're looking for anything because he's not posting that much."
Instead of sharing his inner life with everyone, Styles engages in more selective fan encounters, such as urging one fan via Twitter not to skip therapy and getting help for an audience member who had a panic attack at one of his shows. These actions create more genuine moments both online and off, something that keeps his fans engaged, hoping they will be the next one he interacts with.
Stacy Jones, the CEO of Hollywood Branded, a California entertainment marketing agency, said this desire for connection is instrumental in driving interest around the candle and the cardigan, as fans clamor for these physical objects as a way of feeling closer to Styles. 
Gen Zers are looking for more authentic endorsements
In the Aug. 21-23 survey, one-third said they felt less of a connection when celebrities post about products they have been paid to endorse, while 13 percent said they felt more connected to celebrities when they make sponsored posts.
The biggest group of respondents, however, are the 39 percent who said they feel more connected when celebrities post about products they have not been paid to endorse.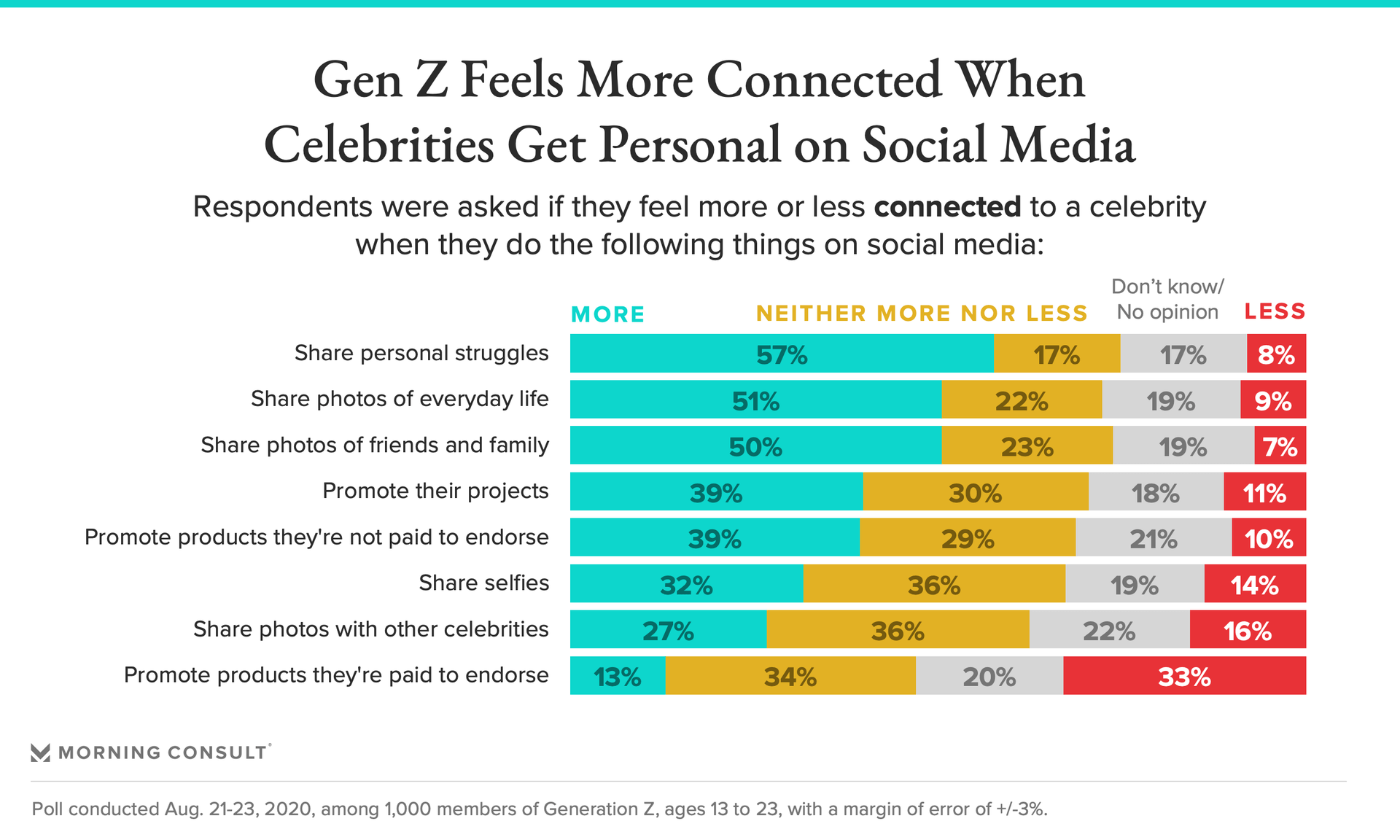 Styles' shunning of sponsored posts creates trust among his fans, according to Rita Tateel, president of The Celebrity Source, a celebrity booking agency based in New York and Los Angeles.
"By turning down lucrative deals he's not organically interested in, he's demonstrating that it's not about the money for him," she said 
Breakell said this shunning of social media as a space of selfies and product placement is one reason that Gen Z has connected with Styles and other celebrities with a similar social media strategy. 
"This younger generation -- who's looking more for value, looking more for authenticity, looking more for meaningful connections and social responsibility and value systems and things like that -- they're finding that there's a difference between being a salesperson and being an influencer," Breakell said. 
Celebrities and influencers don't need to be active online to create a social media buzz among Generation Z
Fifty-two percent of Gen Zers said they share memes or information about celebrities online often or sometimes, while 49 percent said they go on social media to discuss a celebrity's projects at the same frequency. One-third said they follow fan accounts for celebrities. 
This means "a lot of A-list celebrities don't need to talk to their audience; they can talk through their audience," Breakell said.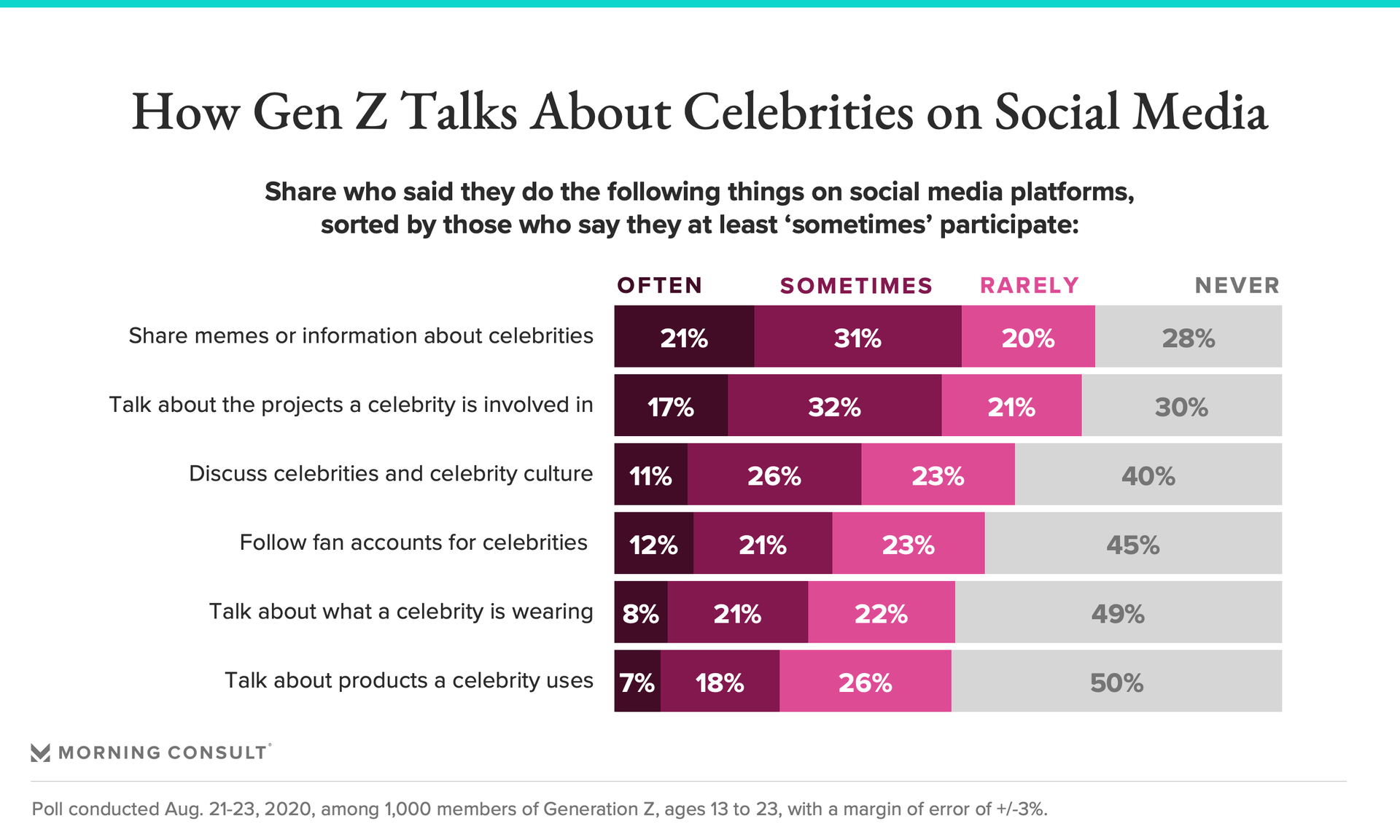 By sharing memes and engaging with each other online, fans can build their own communities to share information about stars, without relying directly on the celebrities themselves. "If it's the people in younger generations' social circles posting about it, then that's what matters to them," she said. 
In the case of Styles, there are social media accounts that break down his latest fashion choices, share old clips from his concerts, create themed photo sets of him ("Harry with Kids" is a popular topic) and analyze his music videos and songs. These Styles fans are on the lookout for any new sightings of the singer, and they are ready to spring into action when new developments emerge. For example, the phrase "HIS HAIR" became a worldwide trending topic on Twitter in mid-September when a user uploaded a photo of Styles sporting what fans described as a new, darker hairstyle.
Gen Z will embrace a detached online persona if it's truly part of an influencer's brand
As much as members of this generation crave online connections, they are also respectful of their celebrities' desire for privacy. The survey found that 64 percent of Gen Zers and 68 percent of Styles fans said it was OK if a celebrity they've followed for a long time decided to share less of their private life, while 11 percent of Gen Z overall and 14 percent of Styles fans said celebrities should continue to share private moments if they have always done so.
Additionally, 31 percent of Gen Z and 35 percent of Styles fans said stars who share too little on social platforms seem distant and disconnected, but 42 percent of Gen Z overall disagreed, as did an equal share of Styles fans. 
Pulling back from social media may not work for all celebrities, but Tateel said it's something to consider as long as what does get posted fits a celebrity's brand and is designed to connect with followers. "Sometimes it's a matter of quality, not quantity," she said. "That's important." 
Tateel said she has noticed that the COVID-19 pandemic has also accelerated celebrities' step back from social media because the glamorous world that they had put on display stands in stark contrast to the hardships many are facing. 
For example, in March, Gal Gadot and other celebrities were chastised on social media for appearing out of touch with the realities of the coronavirus after they sang a cover of the song "Imagine," which featured famous faces such as Zoë Kravitz and Natalie Portman crooning the John Lennon tune from the comfort of their homes.   
"The pandemic has changed the world of celebrity forever," she said. "Before the pandemic, people really had a thirst to want to see how celebrities live. But since it began, the fact that so many people are suffering and hurting and in pain financially, they want to see the opposite."
With no end in sight for the pandemic, Styles' toned-down social media style may be the next trend he starts.  
Sarah Shevenock previously worked at Morning Consult as a reporter covering the business of entertainment.
We want to hear from you. Reach out to this author or your Morning Consult team with any questions or comments.
Contact Us