Japan's Kishida Sees Approval Rebound Amid National Security Pivot
The Japanese leader's approval rating is up after months of work to prepare for the G-7 summit, where Japan may have an aggrandized role in geopolitics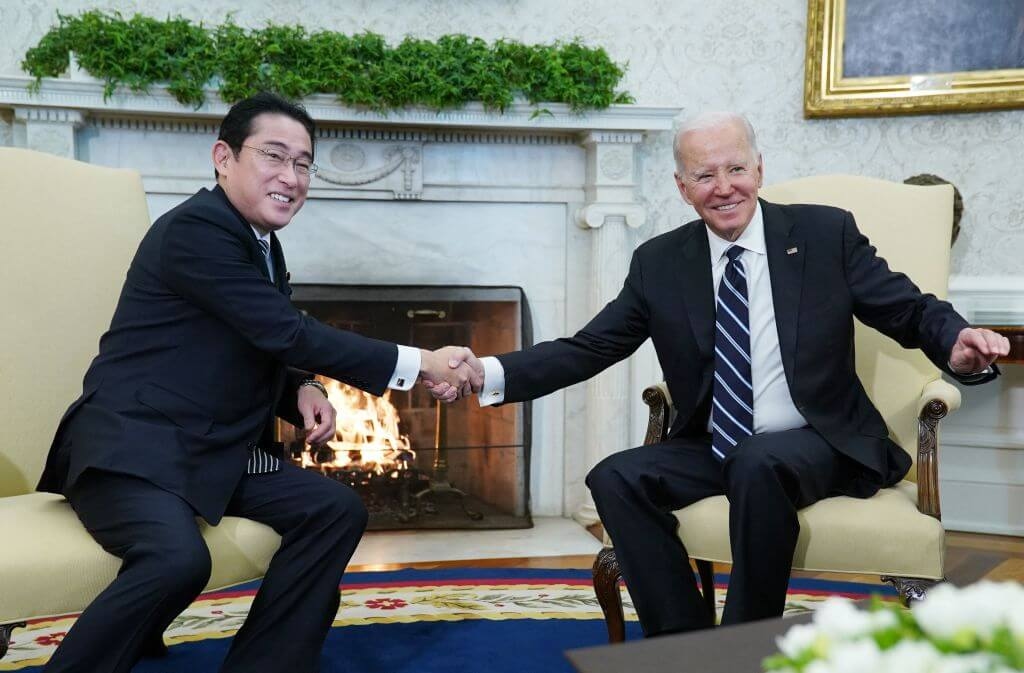 Key Takeaways
Kishida's approval has climbed 13 percentage points since early February, as he jetted around the globe to meet with allies and pushed a new national security strategy.

The rebound comes as Kishida prepares to welcome G-7 leaders in Hiroshima.
Sign up to get the latest news and analysis on how business, politics and economics intersect around the world delivered to your inbox every morning.
Japanese Prime Minister Fumio Kishida's job approval rating has improved significantly since reaching a low in February as he's adopted a more aggressive military posture and shored up support among Japan's allies.
Kishida's Approval Rating Ticks Up During Military Buildup, Diplomacy Blitz
Share of Japanese adults who approve or disapprove of Prime Minister Fumio Kishida's job performance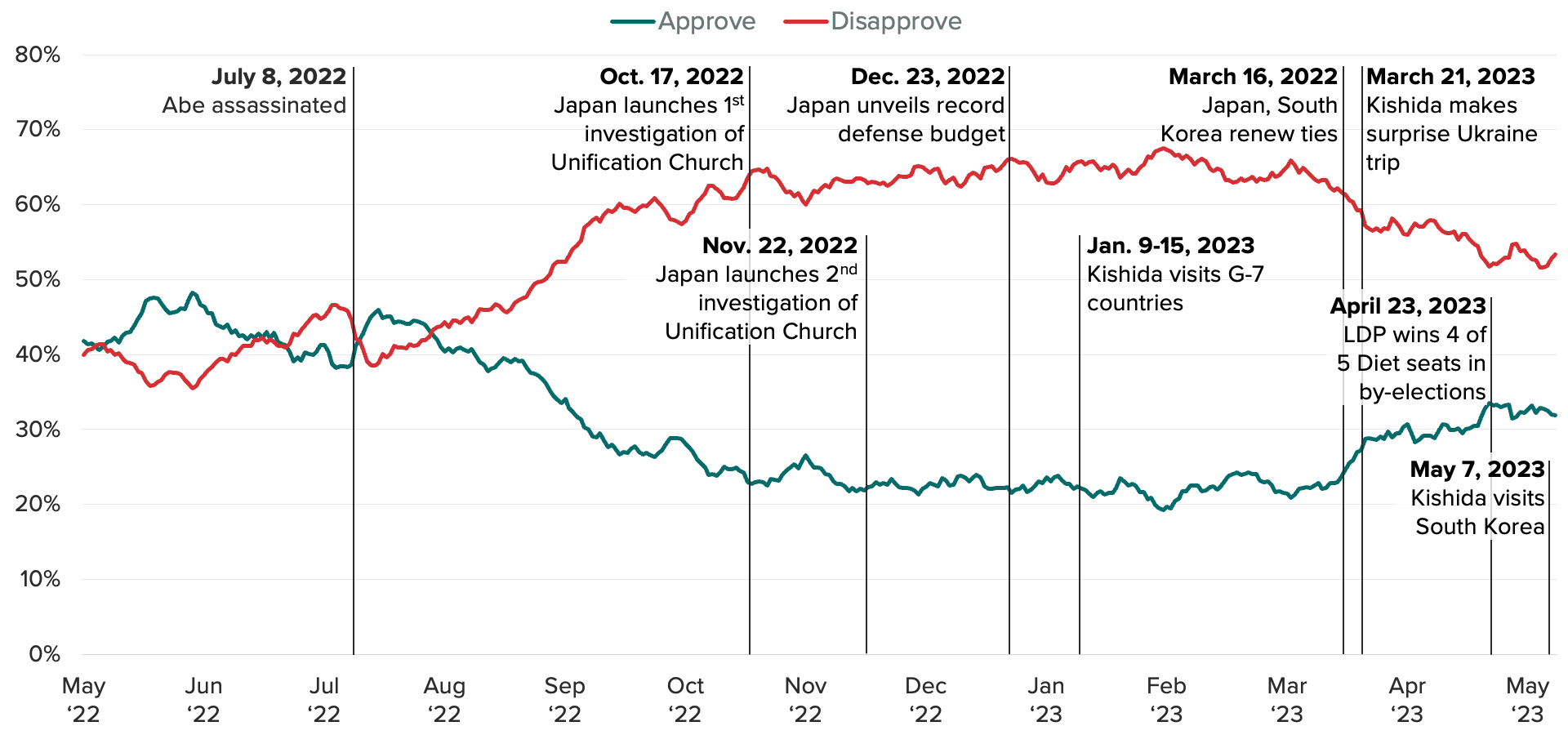 Data points reflect seven-day moving averages of representative samples of at least 2,575 adults in Japan, with an unweighted margin of error of +/-2 percentage points. "Don't know/no opinion" responses not shown.
The improvement comes after Kishida's approval rating suffered a severe blow following the assassination of his revered predecessor Shinzo Abe in July 2022 by an assassin who was enraged over the Unification Church, a controversial South Korean syncretic religious movement. Subsequent revelations of extensive contacts between Kishida's Liberal Democratic Party and the church deeply shook public confidence in the prime minister.
While Kishida's approval rating is nowhere near where it was pre-assassination, it has increased 13 percentage points to 32% since reaching a low of 19% on Feb. 3. His disapproval rating fell 15 points during that period, from 68% to 53%.
Experts say the improvement can be traced to his new national security strategy and defense buildup program unveiled in December aimed at countering China and North Korea. It also comes as Kishida has mended ties with South Korea despite serious historical grievances in the face of those national security threats.
China's close relations with Russia and Japan's strong support for Ukraine have underscored to Japanese voters the importance of having strong relations with the United States and other allies, said Ken Moriyasu, a diplomatic correspondent at Nikkei Asia.
"Japanese voters are looking at Xi's aggressive actions and finding they trust Kishida's strategy because it is very much in line with the United States," he said.
Allied governments praised Japan's new national security strategy, which set up Kishida well for visits to the United States and other G-7 countries in January as the group's president for the year. Kishida also made a surprise visit to Ukraine in March — a trip that occurred at the same time that Chinese President Xi Jinping visited Moscow.
"He's been very steady, very articulate, very strongly focused on the war in Ukraine and what it means for systemic stability around the world," said Sheila Smith, a senior fellow at the Council on Foreign Relations who focuses on Japan. "That's a position that the Japanese public have been consistently in support of, and there's been a real appreciation for Kishida the statesman."
Taiwan at top of the agenda at G-7 summit 
This weekend's summit provides a marquee opportunity for Kishida to reinforce his foreign policy approach by focusing on East Asia's most dangerous political fault line: Taiwan.
"Taiwan is the most important topic of the upcoming G-7," said Moriyasu, noting that a communique from a G-7 foreign ministers' meeting held last month ahead of the summit called peace and stability across the Taiwan Strait "an indispensable element in security and prosperity in the international community."
"When historians look back at the Hiroshima summit, they will remember it as the time when the G-7 made it unequivocally clear that the Taiwan Strait is not a domestic Chinese issue, but a matter of international concern," said Moriyasu.
Recasting Chinese aggression toward Taiwan as the same sort of fundamental challenge to the international liberal order as Russia's invasion of Ukraine helps align European and Japanese interests and signal mutual commitment to preserving the global system.
Japanese View G-7 Countries, Taiwan Favorably
Share of Japanese adults who have favorable or unfavorable impressions of the following countries and institutions:
Surveys conducted May 1-16, 2023, among representative samples of at least 381 Japanese adults, with unweighted margins of error between +/-2 and +/-5 percentage points. Figures may not add up to 100% due to rounding.
What's more, a strong position on Taiwan is likely to play well with the Japanese public. Japanese adults have more favorable views of the island nation than of any of their G-7 or regional allies. China, on the other hand, attracts overwhelming opprobrium, as do Russia and North Korea.  
Indeed, recent surveys show Taiwan is quite popular with many of its neighbors, according to Scott Moskowitz, Morning Consult's senior analyst for the Asia-Pacific region.
"Japan and South Korea have complex historical relationships with Taiwan, and some ASEAN nations even have competing territorial claims, but they all are in this love fest right now, because China has created an oppositional order against themselves," he said. "People in the region realize that Taiwan's fight is their fight." 
French and British adults, on the other hand, are about as likely to have no opinion on Taiwan as they are to have favorable views, and Germans are not overwhelmingly pro-Taiwan either.
"Europeans are a bit more wishy-washy, and there's some sense that explicit commitment to Taiwan will put them in Chinese crosshairs and weaken them while they're dealing with Russia's invasion of Ukraine," said Moskowitz. "Kishida sees an opportunity to push back on that view at the G-7."
The G-7's growing clout is a major opportunity for Kishida
Russia's invasion of Ukraine has elevated the geopolitical importance of the G-7, as Russia's and China's sway in other bodies such as the United Nations diminishes their effectiveness, Smith said. That bodes well for Japan, which has a key seat at the table at the G-7. 
"The United Nations is no longer the place where the international order can be discussed," she said. "Russia's invasion of Ukraine has made the G-7 the vortex of the geopolitical conversation."
Japan's political and economic situation after World War II naturally precluded any consideration of its inclusion as a permanent, veto-wielding member of the U.N. Security Council. Similarly, at other major fora like the G-20, Japan holds few exclusive positions.
The G-7 is a different story. Japan is the only Asian member, the largest economy in the bloc after the United States and holds the rotating presidency every seven years. It can wield considerable influence over the agenda, the guest list and the outcomes of each summit. That's a great position for Japan to be in as the forum's influence grows and countries such as India, Australia and South Korea become regular attendees, Moriyasu said.
Matthew Kendrick previously worked at Morning Consult as a data reporter covering geopolitics and foreign affairs.
We want to hear from you. Reach out to this author or your Morning Consult team with any questions or comments.
Contact Us