Gen Zers Still Really Want to Be Influencers
The young cohort's desire to become social media tastemakers hasn't changed since 2019, despite increased scrutiny of the influencer marketing space, writes brands analyst Ellyn Briggs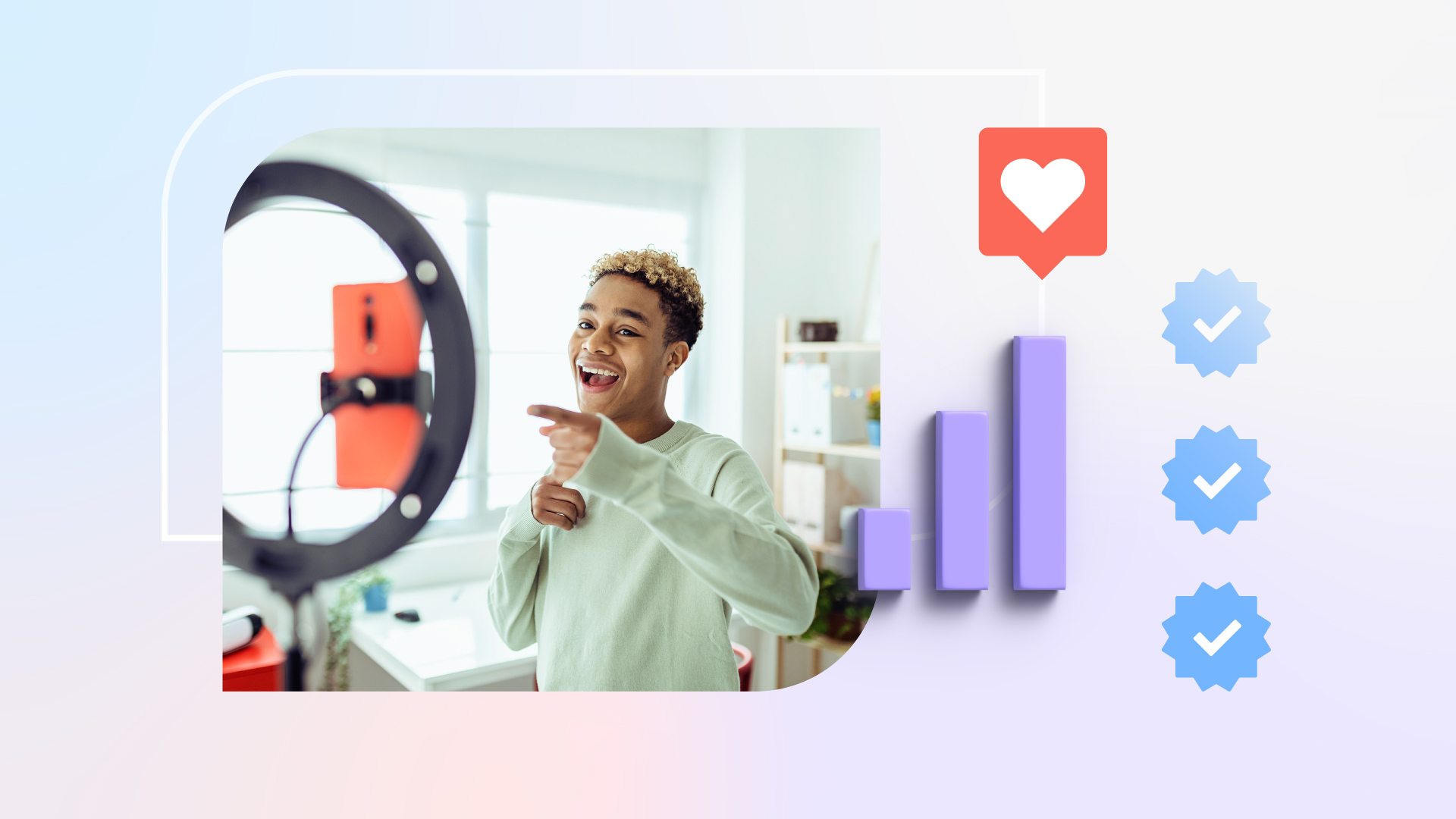 Key Takeaways
The share of Gen Zers who said they would become an influencer if given the opportunity is roughly the same in 2023 (57%) as it was in 2019 (59%).

This fixation with influencing is largely equal across gender, race and income bands — though those who follow influencers on social media reported slightly higher levels of interest in the pursuit (63%).

The top reasons influencing is attractive to Gen Zers — money, flexibility and fun — also ranked highly four years ago.
For the latest insights on how Gen Z engages with influencers, download the 2023 Influencer Playbook.
Much has been written about the ever-increasing speed at which cultural trends move thanks to social media. But even in an extremely online world, some preferences endure.
Roughly 3 in 5 Gen Zers ages 13 to 26 (57%) said they would become an influencer if given the opportunity, which is largely unchanged from the 59% of 13- to 22-year-olds who said the same in 2019, according to research from Morning Consult's latest influencer playbook. 
Specific demographics at scale: Surveying thousands of consumers around the world every day powers our ability to examine and analyze perceptions and habits of more specific demographics at scale, like those featured here.
Why it matters: Leaders need a better understanding of their audiences when making key decisions. Our comprehensive approach to understanding audience profiles complements the "who" of demographics and the "what" of behavioral data with critical insights and analysis on the "why."
That being an online influencer is still very appealing to Gen Z — even amid a seemingly unending stream of content creator controversies and press about the negative impacts of social media on mental health — is significant. And it contrasts starkly with the state of the traditional corporate career, which more and more young people continue to sour on, often citing a lack of engagement or a desire for more autonomy.
The spoils of influencing — from getting to try new brands to setting one's own hours — are so well aligned with Gen Zers' existing interests that it's highly unlikely the cohort will ever be dissuaded from the gig en masse. 
Gen Z is itching to influence
As the first fully digitally native generation, Gen Z has grown up in a world where influencing is just as run-of-the-mill as any other job. And though women represent the lion's share of online influencers today, roughly equal shares of Gen Z men and women reported a desire to become one in both 2019 and 2023. No major demographic group substantially over- or underindexed on this figure in either year, suggesting that the appeal of being an influencer isn't limited to a particular subset of Gen Zers.
One driver of the generation's consistent penchant for influencing is undoubtedly the extent to which social media is ingrained in their everyday lives. A November 2022 Morning Consult survey found that more than half of the cohort spends at least four hours a day on social media, and almost 2 in 5 (38%) spend even more time than that. 
This exposure may be translating to a feeling of accessibility, as more than half of Gen Zers in the 2023 survey said they believe people can easily make a career out of being an influencer on social media. In a separate question, 28% of respondents said they personally know someone who is an influencer, and 15% identified themselves as influencers. 
Influencing Is a Sought-After Career Among Gen Zers
Share of Gen Zers who agree with the following statements:
Survey conducted June 21-July 6, 2023, among 1,000 U.S. Gen Zers between the ages of 13 and 26 who use social media, with an unweighted margin of error of +/-3 percentage points.
TikTok's rise to the forefront of the influencing ecosystem over the last four years has also likely contributed to Gen Z's ongoing affinity for the pursuit. The platform — used overwhelmingly by young people — has popularized a candid, unpolished posting style, which has lowered the barrier of entry to becoming an influencer in many ways. When asked what a person needs to do to be considered a social media influencer, Gen Zers were more likely to name broad behaviors such as sharing ideas or creating entertaining content rather than specific vanity traits like follower counts or paid partnerships.
Perhaps most striking, however, is Gen Z's acute eagerness on the matter: More than half (53%) said they would quit their current job to be an influencer if it supported their lifestyle, and nearly a third (30%) said they would pay for the opportunity to influence. If they were to become influencers, Gen Zers named gaming, beauty and comedy as the top three content areas they would explore most often. 
Gen Z finds joy in social media sharing 
The opportunity to earn money via brand deals or affiliate links was a top driver of Gen Z's interest in influencing in 2019, and that holds true four years later. But this year, Gen Zers rated the potential for extra income on par with the ability to work a flexible schedule and the fact that, well, being an influencer seems fun. 
Influencing's Enduring Appeal Comes From Its Fun and Flexibility
Share of Gen Zers who said the following are reasons why they would want to be an influencer on social media:
Surveys conducted June 21-July 6, 2023, among 1,000 U.S. Gen Zers between the ages of 13 and 26 who use social media, and Sept. 27-30, 2019, among 908 U.S. Gen Zers between the ages of 13 and 22 who use social media, both with unweighted margins of error of +/-3 percentage points.
Many Gen Zers already naturally behave like influencers on social media — not necessarily with the explicit goal of becoming a full-time or professional one, but simply because it's something they like to do.
Fifty-seven percent of Gen Zers said they're likely to share videos of themselves online, up 7 percentage points from 2019. The share of Gen Zers who said they're likely to post on social media about brands or products they like also saw a notable jump from 54% to 64% during the same period. These movements are again likely tied to the ascent of TikTok, where videos in which creators detail their personal care routines — including "get ready with me" or "day in the life" videos — are generally well liked.
As questions over Gen Z's attitudes toward corporate culture continue, employers with sizable Gen Z workforces should consider using this information to guide Gen Z engagement. Morning Consult's 2023 State of Workers report found that Gen Zers are among the least engaged and most burned-out employees. To mitigate these feelings, companies with very young employees may consider encouraging them to tap into their tendency for influencer-like behavior via activities such as capturing their days on film (where appropriate) or serving as brand representatives during on-campus recruiting trips. After all, the #worktok hashtag currently has 2 billion views on TikTok, suggesting that there is plenty of curiosity about workers' day-to-day lives.
Gen Z's interest in influencing likely won't dissipate 
Gen Z is an extremely online generation, and external factors — like the NCAA's 2021 decision to lift its restriction on college athletes' ability to profit off of their name, image and likeness — are only further cementing the value of social media reach to young people. 
In addition to their steady interest in becoming influencers, Gen Zers' trust in them is growing: 55% said in 2019 that they trust influencers to give good advice about the brands or products they promote, while 67% said the same this year. This movement suggests that, despite frequent discourse around the ethics of the pursuit, young people still very much view influencers as reputable arbiters of consumer culture.
Whether Gen Z's lasting desire to become influencers will impact their participation in the traditional job market remains to be seen. But brands should expect that members of Gen Z will want to engage in influencer marketing well into adulthood, with the array of products they are willing to promote likely getting wider and wider. For this reason, brands should also expect influencer marketing budgets to continue growing.
Ellyn Briggs is a brands analyst on the Industry Intelligence team, where she conducts research, authors analyst notes and advises brand and marketing leaders on how to apply insights to make better business decisions. Prior to joining Morning Consult, Ellyn worked as a market researcher and brand strategist in both agency and in-house settings. She graduated from American University with a bachelor's degree in finance. For speaking opportunities and booking requests, please email [email protected].
We want to hear from you. Reach out to this author or your Morning Consult team with any questions or comments.
Contact Us