Consumers Without Financial Anxiety Are Helping Drive BNPL, New Credit Card Holiday Growth
Shoppers who are worried about finances lead overall interest in alternative funding options such as BNPL, but they aren't driving growth in the service, writes Morning Consult financial services analyst Charlotte Principato
This analyst memo is part of a new series exploring "buy now, pay later" services, their growth over the last year and how consumers plan to use them during the holidays. Read the other memos in this series covering how shoppers plan to use BNPL in their holiday shopping and how BNPL users' purchases and budgets differ. 
Holiday purchases made with "buy now, pay later" services or on new credit cards will likely make up a larger share of all gifts compared to last year, as consumers without financial anxiety — and those who plan to spend more — make up a larger share of those interested in the services. The change is a testament to BNPL providers' growth and evidence that the payment method is becoming mainstream.
Americans' holiday celebrations may look different this year, but one thing will be the same for many: financial worries about the gift-giving season. While anxious shoppers make up the majority of those interested in new credit cards and "buy now, pay later" services, financially unconcerned shoppers are coming around to such services and plan to spend more than their worried counterparts.
For over half of Americans, financial stress is as much a hallmark of the holidays as gift giving and gathering with loved ones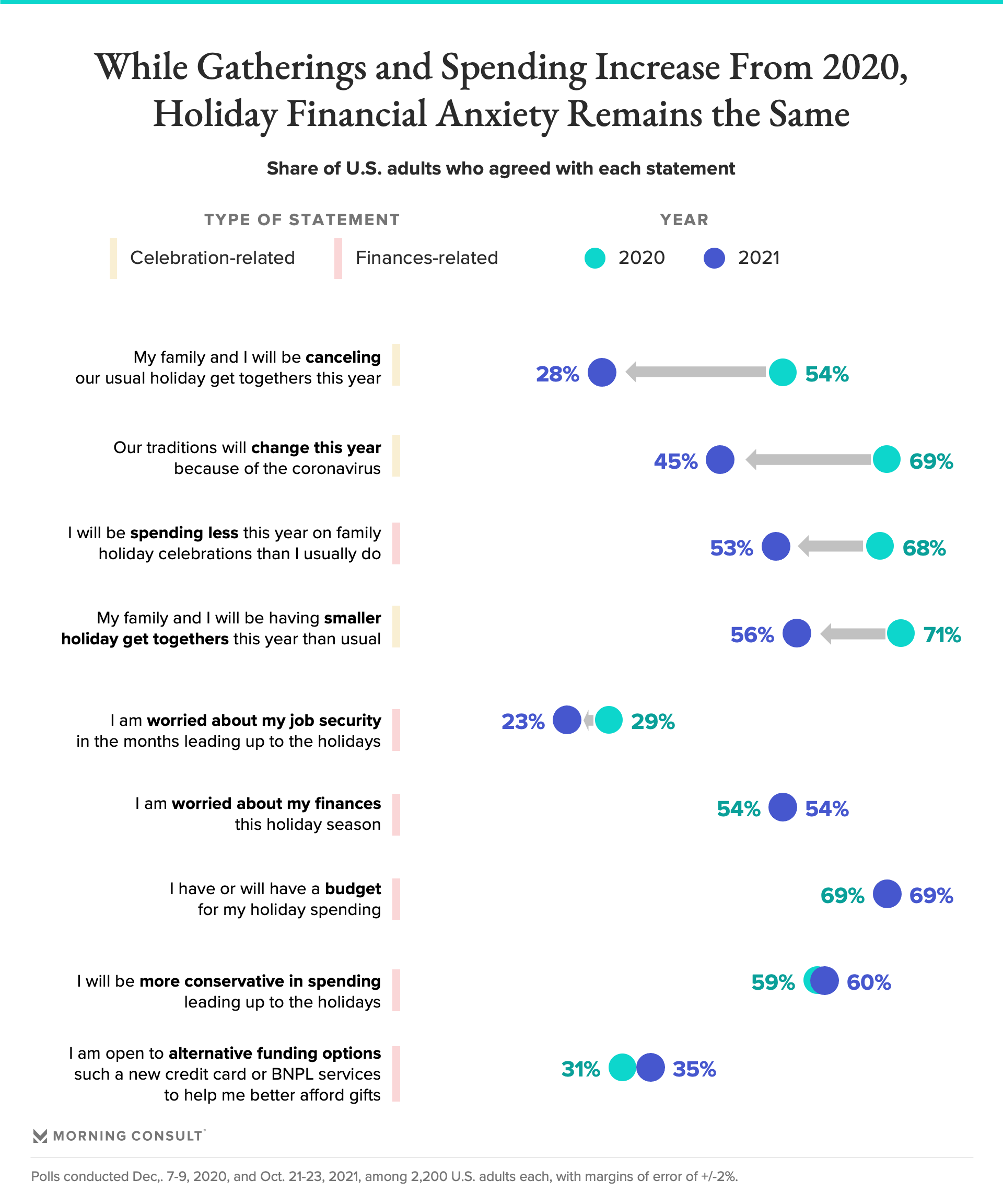 Fifty-four percent of adults say they are worried about their holiday finances, equal to the share that said the same last year. And it's not just the coronavirus driving these worries: Another 52 percent of U.S. adults say the holidays in general are the most financially stressful time of year for them.
Forty-five percent of adults say the coronavirus is impacting their holiday plans this year, down from 69 percent in 2020. That means fewer canceled holiday plans — compared to 2020, people are 26 percentage points less likely to say they're scrapping their celebrations — which, in turn, equates to more spending on those celebrations. And more spending means more ways to spend.
Along with increased holiday gatherings, more U.S. adults are interested in alternative funding options 
The share of those who are receptive to opening a new credit card or using BNPL has grown 13 percent year over year (from 31 to 35 percent).
That may seem like a small increase given all the buzz around BNPL, especially over the last year, but an analysis of those interested in alternative funding options reveals something surprising: Although anxious adults are more likely to be open to alternative funding in general, it's the unconcerned adults who are driving growth of BNPL.
Alternative Funding Growth Comes From Adults Who Aren't Worried About Holiday Finances
Share of U.S. adults who agreed with the statement: "I am open to alternative funding options such as opening a new credit card or using companies like Affirm, Afterpay, or Klarna to help me better afford holiday gifts"
Polls conducted Dec. 7-9, 2020, and Oct. 21-23, 2021, among 2,200 U.S. adults each, with margins of error of +/-2%.
The share of financially worried adults who are interested in opening a new credit card or using BNPL companies such as Affirm, Afterpay or Klarna has not changed over the last year, but interest from the 46 percent of adults who aren't worried about their holiday finances this year has risen by 72 percent during that time. 
This growth speaks to the increasingly ubiquitous marketing of BNPL companies and their efforts to target everyday shoppers instead of just those in a financial pinch. In addition to a higher volume of purchases made using these services this year, as consumers plan to shop more, these companies can expect more expensive purchases.
Shoppers who are not worried about their finances plan to spend more this holiday season than their worried counterparts
Anxiety about finances dampens holiday spending. Respondents who are worried about their finances this holiday season are twice as likely to limit their holiday spending to $200 or less as they are to spend more than $500. Meanwhile, roughly a third of unworried shoppers plan to spend over $500. 
Unconcerned Shoppers Nearly Twice as Likely as Worried Shoppers to Spend More Than $500 This Year on Gifts
Self-reported expected holiday gift spending for 2021
Poll conducted Oct. 21-23, 2021, among 2,200 U.S. adults, with a margin of error of +/-2%.
With a broader interested customer pool this holiday season, BNPL companies especially have an opportunity to form new shopping habits among customers who are planning to spend more, and to therefore cement BNPL as a payment method in the unworried customers' arsenal into the new year. 
Charlotte Principato previously worked at Morning Consult as a lead financial services analyst covering trends in the industry.
We want to hear from you. Reach out to this author or your Morning Consult team with any questions or comments.
Contact Us