How BNPL Fits Into Shoppers' Payment Plans This Holiday Season
Credit and debit cards still dominate, but interest in and usage of "buy now, pay later" services continue to grow among younger generations, writes Morning Consult financial services analyst Charlotte Principato, with no signs of slowing down before the holiday season
This analyst memo is part of a new series exploring "buy now, pay later" services, their growth over the last year and how consumers plan to use them during the holidays. Read the other memos in this series covering how financial anxiety impacts BNPL use and how BNPL users' purchases and budgets differ. 
Consumers plan to make most of their holiday purchases using credit or debit cards, but the growth of "buy now, pay later" brands over the last year shouldn't be overlooked. Millennials are the most likely to use the service, and are subsequently driving much of its growth.
Holiday shoppers are most likely to reach for their credit or debit card this year at the checkout line, but a healthy share of adults plan to use "buy now, pay later" methods to cover at least some purchases.
Consumers plan to make most of their holiday purchases this year using credit or debit cards 
Payment habits take a long time to change, being reliant on customers' willingness to use a new form of payment and merchants' ability to accept them. The dominance of credit and debit cards is the result of almost 70 years of marketing and infrastructure building. While the status quo won't soon be upended, an emerging group of consumers are looking for new ways to pay.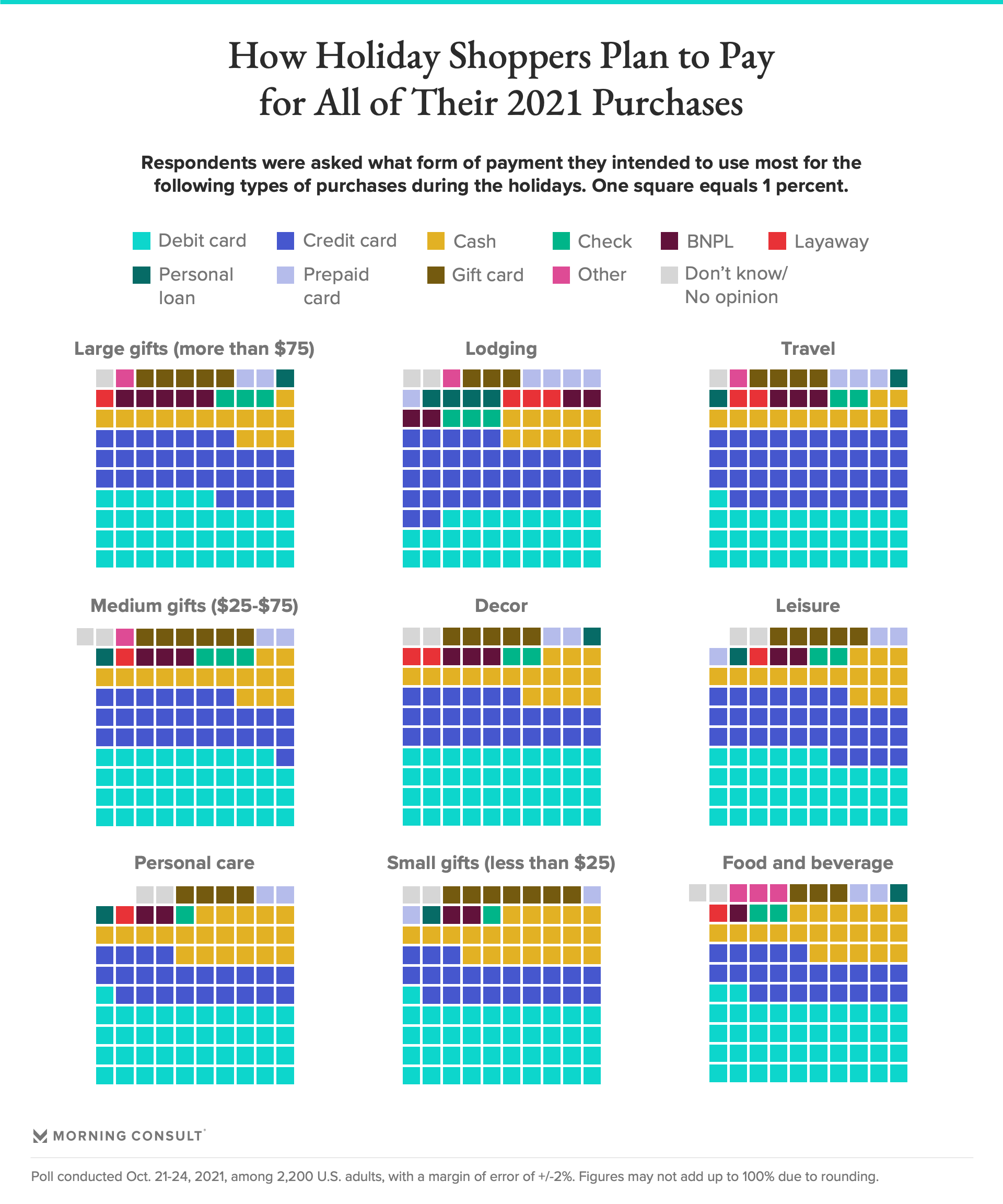 For a non-trivial share of adults, cash, credit and debit aren't the preferred method for purchasing — up to 23 percent of consumers plan to use another method most often to make their holiday purchases, such as layaway, gift cards or prepaid debit cards. Five percent of adults plan to use BNPL to cover most of their large gift purchases this year — the highest share across any category. A much higher share, however, plans to use BNPL to make at least some purchases.
One in 5 adults plan to use BNPL this holiday season, and another 16% are undecided
Millennials lead planned usage of BNPL for holiday purchases, at 38 percent. And while 21 percent of Gen Z adults say they are planning to use BNPL this holiday season, over a quarter are still undecided on how they'll pay.
Roughly One-Fifth of Adults Plan to Use BNPL to Fund Holiday Purchase
Respondents were asked whether they plan to make holiday-related purchases using a Buy Now, Pay Later option or company this year
Poll conducted Oct. 26-28, 2021, among 2,200 U.S. adults, with a margin of error of +/-2%.
Gen Xers are a toss-up: slightly more likely than Gen Z to plan to use BNPL, but also more likely to have decided against it. Boomers are the least interested in BNPL, with roughly 4 in 5 cemented in their decision not to use the payment method for holiday shopping. For each generation, planned holiday usage of BNPL is in keeping with their posture toward the service over the last 18 months.
BNPL providers have consistently grown their customer base
The growth of BNPL players over the last year and a half has made many payments providers either invest in the space or develop their own similar offerings, but many other companies look at BNPL as a passing fad. Brands such as Affirm, Afterpay and Klarna, however, can attribute their continued success to committed millennials and Gen Z as they look for new ways to manage their finances that differ from older generations.
Millennials Drive BNPL Awareness and Consideration, Tied With Gen Z for Usage
Share who are aware of, use or are considering using Affirm, Afterpay or Klarna
Morning Consult Brand Intelligence
This data is pulled from Morning Consult Brand Intelligence, the company's flagship platform that tracks thousands of brands in 15 countries. 
BNPL providers will be marketing fervently to those still undecided on BNPL in hopes of turning a holiday shopping payment method into a more frequent habit. Now that millennials have passed the 50-percent mark for awareness of major BNPL players, and Gen Z is close behind, it will likely be only a matter of time before BNPL is cemented as a common payment method for younger generations, earning pride of place in customers' wallets.
Charlotte Principato previously worked at Morning Consult as a lead financial services analyst covering trends in the industry.
We want to hear from you. Reach out to this author or your Morning Consult team with any questions or comments.
Contact Us