A Poll of Polls: What Do Americans Trust?
The public is more likely to trust polls that are bad for liberals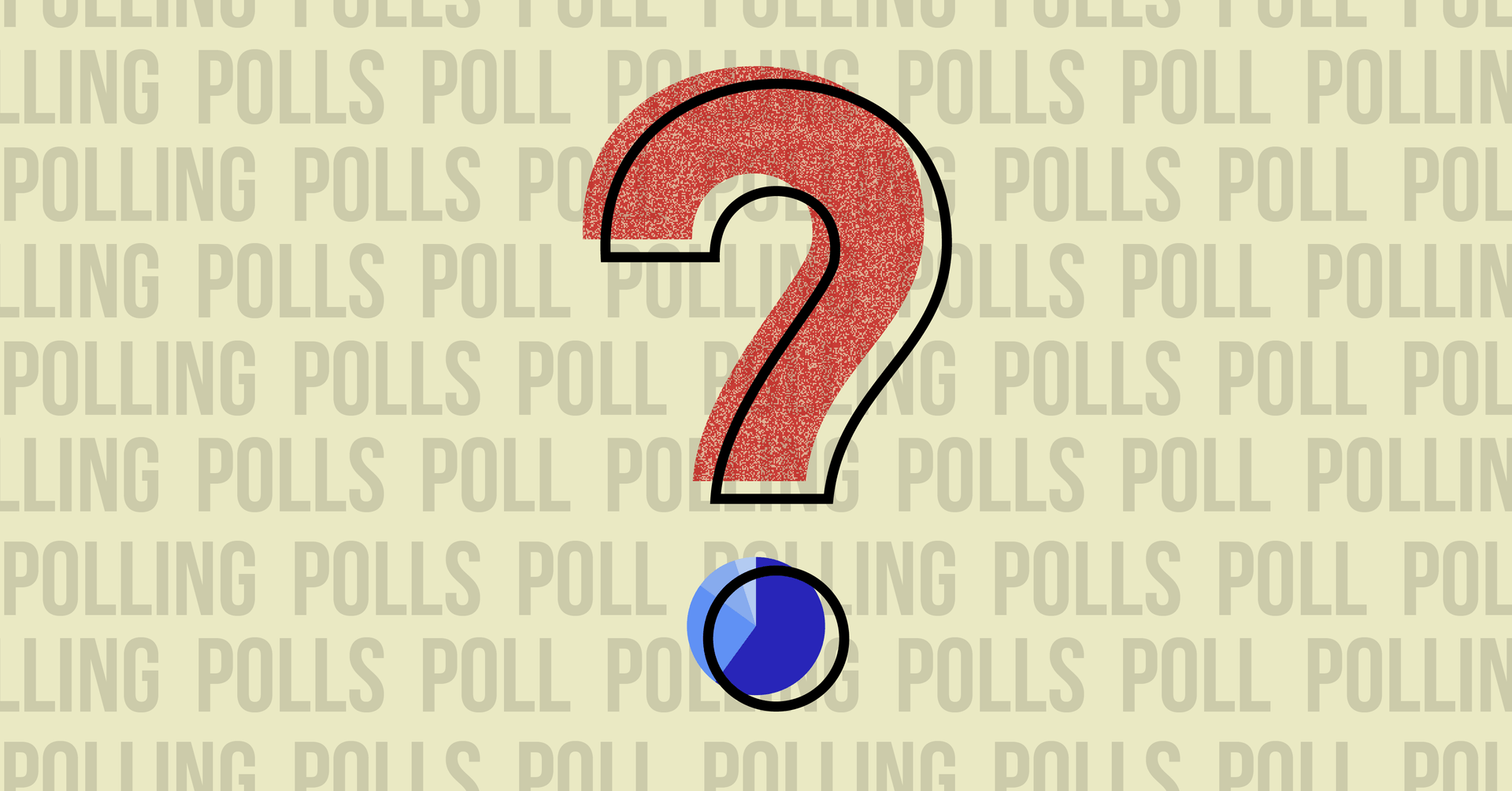 When President Donald Trump opines about the latest poll, he often judges whether the survey is "fake news" based on his own political leanings. And it appears the rest of the country is doing the same, according to a Morning Consult poll.
The July survey of 2,200 adults gauged attitudes toward four hypothetical poll results and found that people's views on polls shift according to their partisan leanings.
Democrats were more likely to trust the accuracy of the polls than Republicans, 49 percent to 43 percent.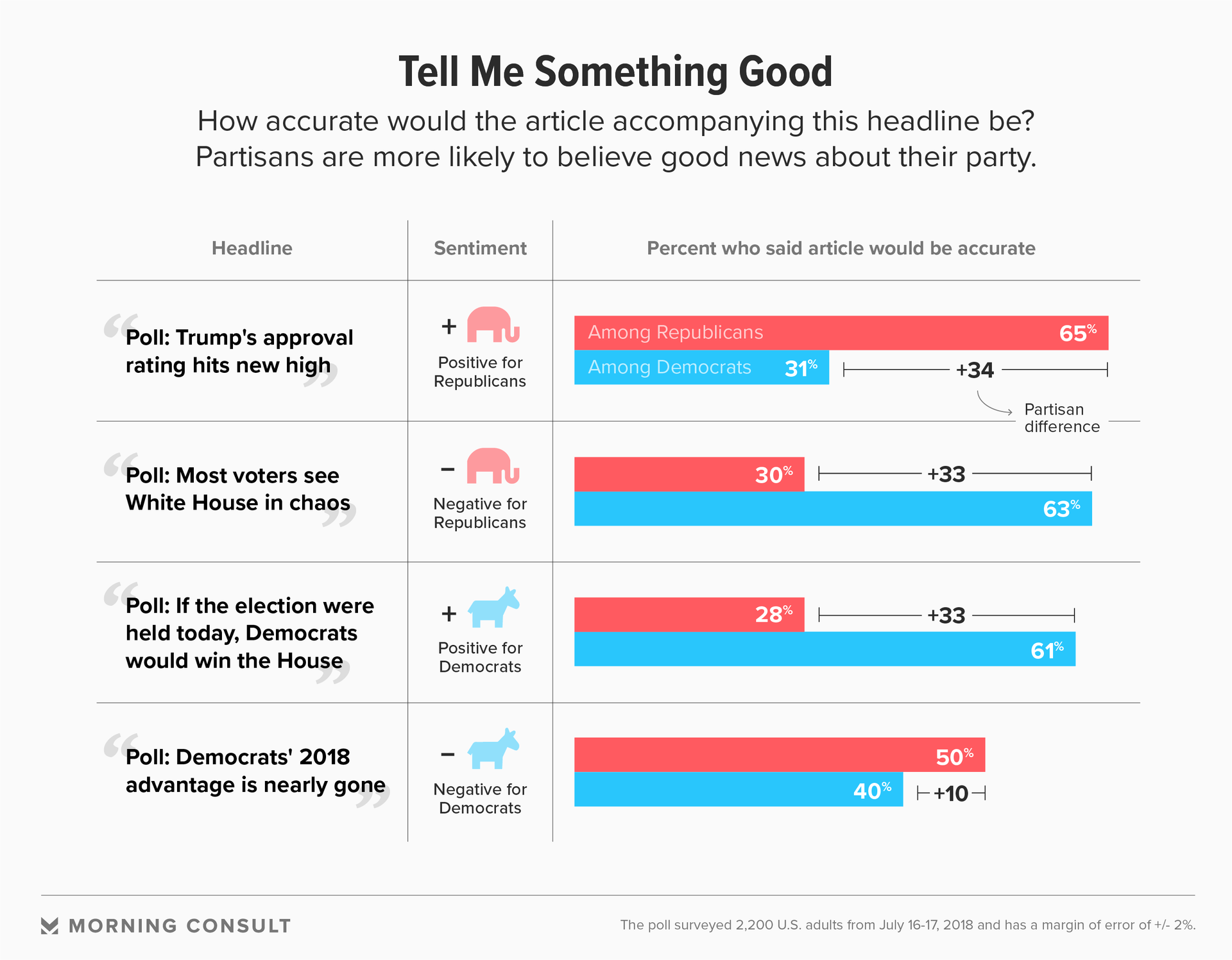 The survey found that a poll that reported negative results for Democrats was the least politically divisive: Half of Republicans and 40 percent of Democrats said the polling headline "Poll: Democrats' 2018 advantage is nearly gone" was accurate.
The other three survey headlines, which reported positive news for liberals, positive news for conservatives and negative news for conservatives, respectively, resulted in greater partisan splits.
Republicans were more than twice as likely as Democrats to say the article accompanying the headline "Poll: Trump's approval rating hits new high" would be accurate, 65 percent vs. 31 percent.
The headline "Poll: If the election were held today, Democrats would win the House" created a similar divide: Democrats were more than twice as likely as Republicans to say the article would be accurate, at 61 percent to 28 percent.
Michael Traugott, a research professor at the University of Michigan's Center for Political Studies, said in an interview last week that the results are consistent with the theory of motivated reasoning.
Taking in new information that challenges one's viewpoint is hard work, Traugott said; it's much easier to ignore it and simply trust information that already fits within one's existing reasoning.
Traugott also said the headline "Democrats' 2018 advantage is nearly gone" isn't necessarily as clear as the other polling headlines, as it implies a change in value but doesn't say what that change is.
People's views on polling may have been impacted by the debate over results from the 2016 presidential elections, when most pollsters predicted a higher chance of Hillary Clinton winning. Comparing partisans' views against each other can help decipher how attitudes on the same poll shift as party affiliation does.
There were partisan differences when each of the polling headlines were placed under three different logos and stylized navigation bars that represented CNN, Fox News and a neutral, unnamed outlet.
CNN's polls resulted in more political division than those from Fox News: Democrats were 17 points more likely than Republicans to trust surveys from CNN (56 percent vs. 39 percent), while Republicans were 9 points more likely than Democrats to trust polls from Fox News (51 percent vs. 40 percent).
Partisans were also divided on the neutral outlet, with Democrats 10 points more likely to believe its accuracy than Republicans (50 percent vs. 40 percent).
Joanna Piacenza leads Industry Analysis at Morning Consult. Prior to joining Morning Consult, she was an editor at the Public Religion Research Institute, conducting research at the intersection of religion, culture and public policy. Joanna graduated from the University of Wisconsin-Madison with a bachelor's degree in journalism and mass communications and holds a master's degree in religious studies from the University of Colorado Boulder. For speaking opportunities and booking requests, please email [email protected].
We want to hear from you. Reach out to this author or your Morning Consult team with any questions or comments.
Contact Us