America Can Stomach Rotten Tomatoes
One-third check the review site pre-screening, but no connection between film's score, box office returns
Key Takeaways
One-third of U.S. adults check Rotten Tomatoes before seeing a film, and 63% of those have opted not to see a film due to its scoring on the site.

No correlation exists between the highest-grossing films of 2017 and their Rotten Tomatoes scores.

Half of adults say it is not important for film critics to be diverse, while 34% say it is.
Moviegoers could choose from a record 740 film releases last year, according to Box Office Mojo, more than three times as many films compared to three decades ago. And that doesn't include films released exclusively on streaming devices, which have boomed since Netflix Inc. began producing its own films in 2015.
With so much choice, consumers are hungry for direction on how to spend their valuable time and money.
That's where Rotten Tomatoes aims to help. The review-aggregation website for film and television has seen its vine rise over the past few years, but with this new attention has come increased opprobrium of the site's substance and impact. But how much influence does Rotten Tomatoes actually have?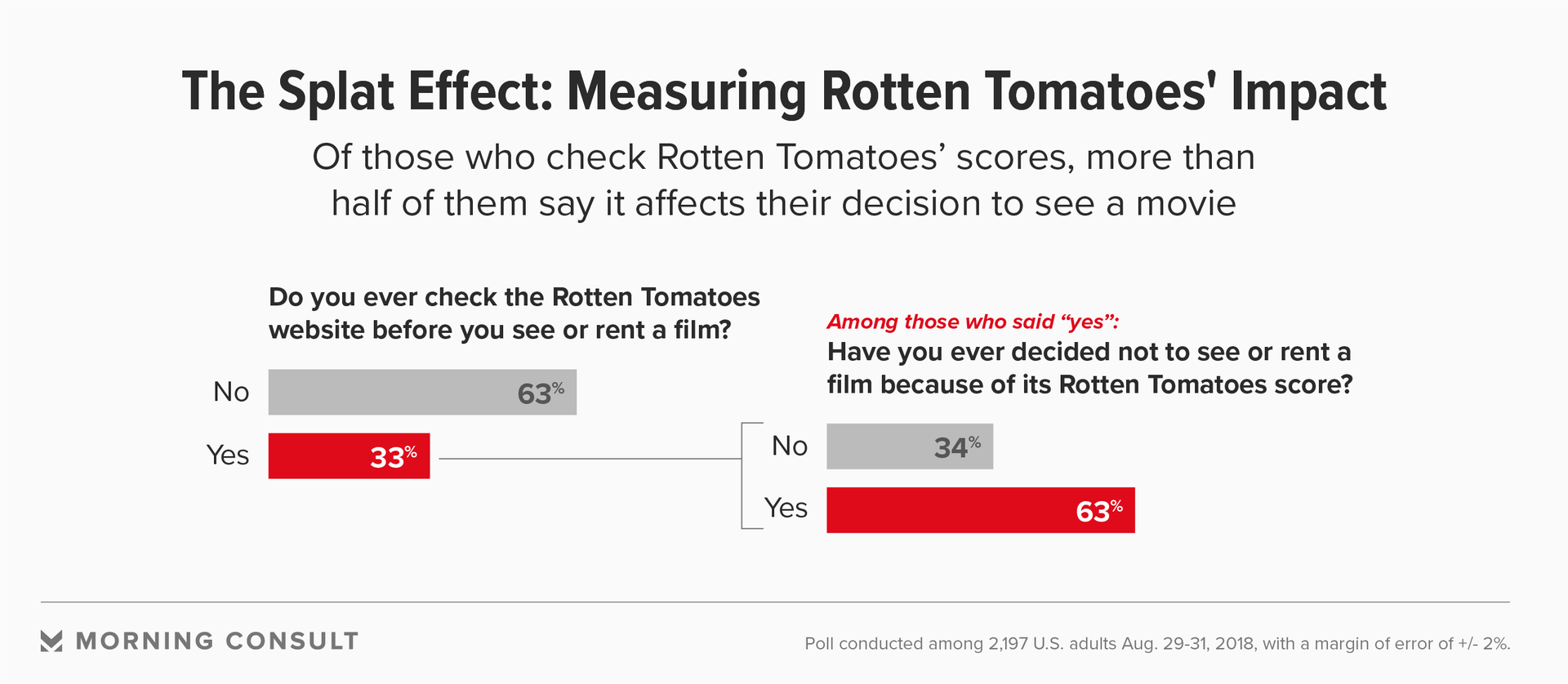 New data shows nearly a third of the public consult Rotten Tomatoes before seeing a film. That's according to an Aug. 29-31 survey of 2,197 U.S. adults.
But experts, while noting the site's importance in the industry, deflate any ideas that Rotten Tomatoes makes or breaks films. The site has also faced backlash for its largely male and white critic pool.
"The decision to go see a film is made far in advance of when Rotten Tomatoes scores start appearing," said Yves Bergquist, director of the Project on AI and Neuroscience in Media at the University of Southern California's Entertainment Technology Center.
Rotten Tomatoes was created in 1998 by Senh Duong, who came up empty-handed after scouring the internet for reviews of Jackie Chan films. Social movie site Flixster Inc. bought Rotten Tomatoes in 2010, and ticketing company Fandango purchased Flixster and Rotten Tomatoes in 2016 -- a move that significantly increased the rating site's profile.
The site tries to cut through the noise by offering a quick assessment of a potential movie outing: Certified Fresh, Fresh or Rotten, depending on whether the film receives more or less than 60 percent positive reviews, how many critics reviewed the film and who those critics are.
As its reach has expanded, Rotten Tomatoes has also been blamed for crippling film's revenue with its low review scores, such as "Pirates of the Caribbean: Dead Men Tell No Tales" and "Baywatch." The films respectively earned 29 percent and 17 percent ratings on Rotten Tomatoes and grossed less domestically than their production budgets.
Legendary Hollywood director Martin Scorsese has even opined on this topic, writing in a 2017 Hollywood Reporter guest column that review aggregation sites like Rotten Tomatoes have "absolutely nothing to do with real film criticism."
Film critics, among others, have also slammed the site for oversimplifying review scoring.
Most U.S. adults (58 percent) report checking consumer reviews before renting or seeing a film, a higher number than those who reported that they glance at expert reviews (42 percent). The August 24-26 survey was conducted among 2,201 U.S. adults with a margin of error of 2 percentage points.
But experts cautioned that people could easily conflate the two. Rotten Tomatoes' expert score, not its audience score, earns important real estate on the site's homepage and the Fandango site.
One-third said they have specifically checked the Rotten Tomatoes site before deciding to rent or go to a film. Of that third, 63 percent said they opted not to see a film because of its score. Some insiders called that number high, while others said it was low.
Experts did say Rotten Tomatoes' ratings may have even more weight than the survey reflects, with the company's tomato logo and review percentage appearing next to films for rent in the Apple TV iTunes Store and commonly appearing in advertisements for films.
The poll also shows that as a Rotten Tomatoes score increases in 10 percent intervals, the percent of people who say they'd go see the film increases by roughly the same margin.
But box office returns don't necessarily show that higher scores drive more viewings.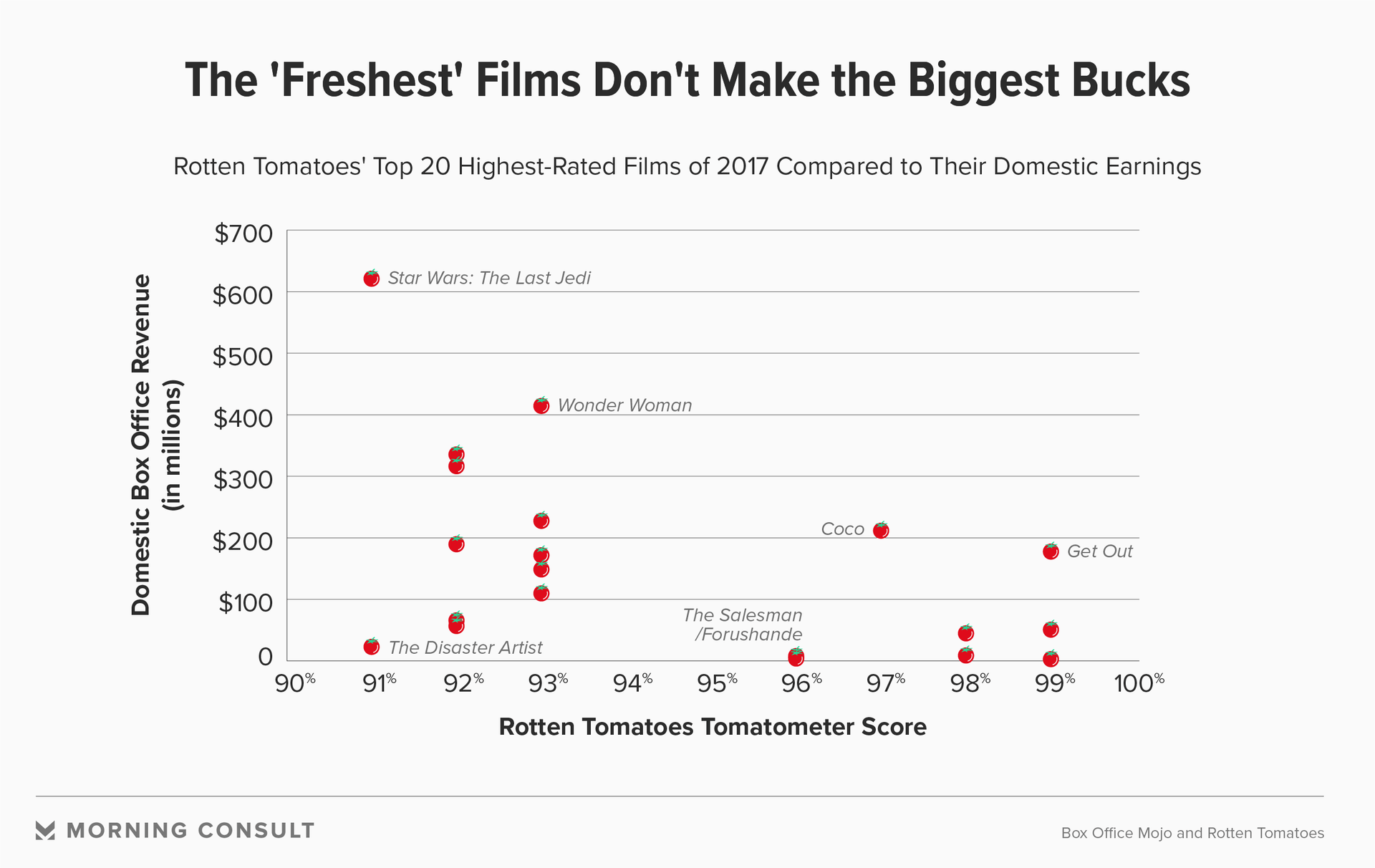 Last year's 20 highest-grossing films in the United States have Rotten Tomatoes critic scores ranging from 29 percent (for "Pirates of the Caribbean: Dead Men Tell No Tales") to 99 percent (for "Get Out").
To be sure, high Rotten Tomatoes scores can help boost sales for independent films. Last year's Oscar-nominee "Lady Bird" earned a near perfect critic score on Rotten Tomatoes (99 percent) and brought in roughly $49 million domestically.
USC's Bergquist analyzed 150 films released last year that grossed more than $1 million. He found no correlation between their Rotten Tomatoes scores and box office returns.
An array of other signals, such as viewing the trailer, chatting with family and friends or noticing which outlets write about the film, creates a better predictive model for a film's success than a Rotten Tomatoes score, Bergquist said.
In deciding when to see a film, respondents ranked the importance of expert (4 percent) and consumer reviews (7 percent) relatively low compared to the actors appearing in the movie (25 percent), the quality of the trailer (27 percent) and what family and friends say (34 percent).
Sites like Rotten Tomatoes are used more as a confirmation of consumers' decision to see or not see a film, Bergquist said.
Bergquist also found that expert and audience scores were correlated.
"When Hollywood executives complain about Rotten Tomatoes scores, they're really complaining about their audiences' tastes, because it's basically the same thing," he said.
Rotten Tomatoes has also faced criticism after a June report from USC revealed its homogeneous group of critics, whose ratings decide the highly publicized "Tomatometer."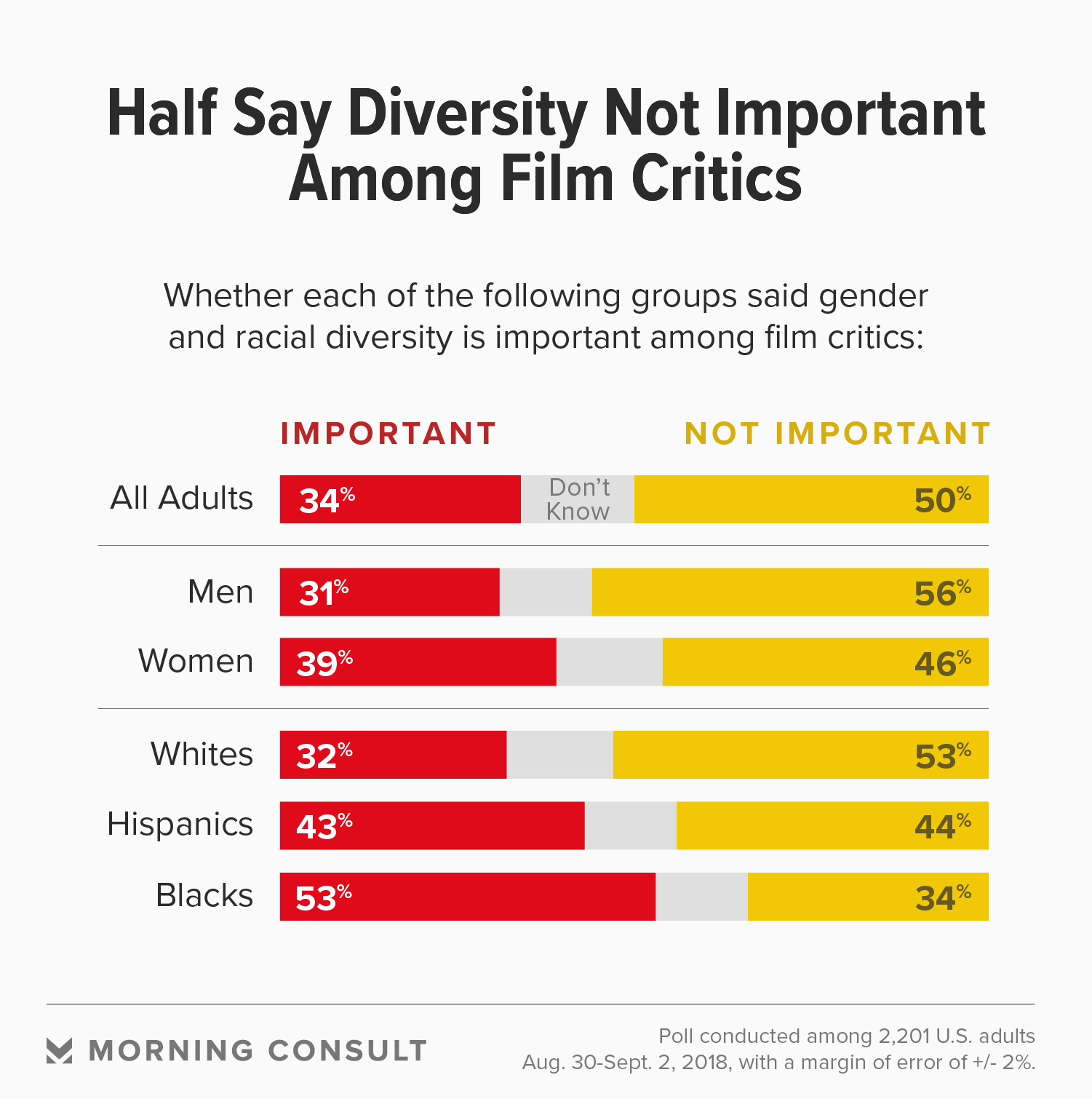 More than three-quarters (78 percent) of reviewers of the top 100 films last year were men, according to the study from USC's Annenberg Inclusion Initiative, with white men making up the lion's share (64 percent) of reviewers. Fewer than one-quarter (22 percent) were women, and minority women made up 4 percent of critics compared to 22 percent of the population as a whole.
Put another way, Rotten Tomatoes critics are nearly 16 times more likely to be a white man than a woman from a racial minority.
New Morning Consult polling shows the public is more likely to say gender and racial diversity among film critics is not important (50 percent) than to say it is (34 percent).
Yet in the same poll, conducted Aug. 30-Sept. 2 among 2,201 U.S. adults, respondents were more likely to say that critics' gender and race impact their movie reviews than they were to say there was little or no impact. The poll has a margin of error of 2 percentage points.
"The major reason that Hollywood has considered white guys to be the 'default audience,' and everyone else to be a niche audience, has been that's who the critics are," Alissa Wilkinson, an associate professor at The King's College in New York City and Vox.com's film critic, said.
She said it doesn't make sense to call a film "niche" when it's aimed at 50 percent of the public, as female-led films often are.
And the market may agree with her.
The female-led "Wonder Woman" was last year's third-highest grossing film in the country, according to Box Office Mojo, bringing in $412.6 million. And Marvel Studio LLC's first black-led film, "Black Panther," released in February, is so far the highest-grossing domestic film this year. And "Crazy Rich Asians" maintained its No. 1 box office slot for three weekends in a row after its Aug. 15 release.
Two months after the release of the USC report, Rotten Tomatoes announced it would be diversifying its group of professional reviews. Of course, it's unclear if that will change movie's reviews: A June analysis by The Washington Post showed men and women tend to have roughly similar tastes in films, at least when it comes to the films they see as best and worst.
"Criticism is part of the ecosystem," Wilkinson said. "And it's important that it reflect the whole audience and not just people who historically have made movies."
Joanna Piacenza leads Industry Analysis at Morning Consult. Prior to joining Morning Consult, she was an editor at the Public Religion Research Institute, conducting research at the intersection of religion, culture and public policy. Joanna graduated from the University of Wisconsin-Madison with a bachelor's degree in journalism and mass communications and holds a master's degree in religious studies from the University of Colorado Boulder. For speaking opportunities and booking requests, please email [email protected].
We want to hear from you. Reach out to this author or your Morning Consult team with any questions or comments.
Contact Us