Trump Emerges From Impeachment Trial With Sturdy Backing From GOP Voters
54% would support him in a hypothetical 2024 primary, a return to pre-riot numbers
Key Takeaways
59% of GOP voters said Trump should play a "major role" in the Republican Party going forward, up 18 points since a Jan. 6-7 survey.

The share of Republicans who said Trump is at least somewhat responsible for the events of Jan. 6 is down 14 points, to 27%, from early January.

Overall, 51% of voters disapproved of Trump's acquittal by the Senate.
Former President Donald Trump has emerged from his second impeachment trial relatively unscathed with Republican voters in yet another sign of his continued strength with the party's base.
According to a Morning Consult/Politico poll conducted at the conclusion of the Senate's weeklong trial, a majority of Republican voters (54 percent) said they would support Trump in a hypothetical 2024 presidential primary election – matching the share who said the same in late November, before his standing dipped in a survey conducted shortly after the deadly Jan. 6 riot at the Capitol.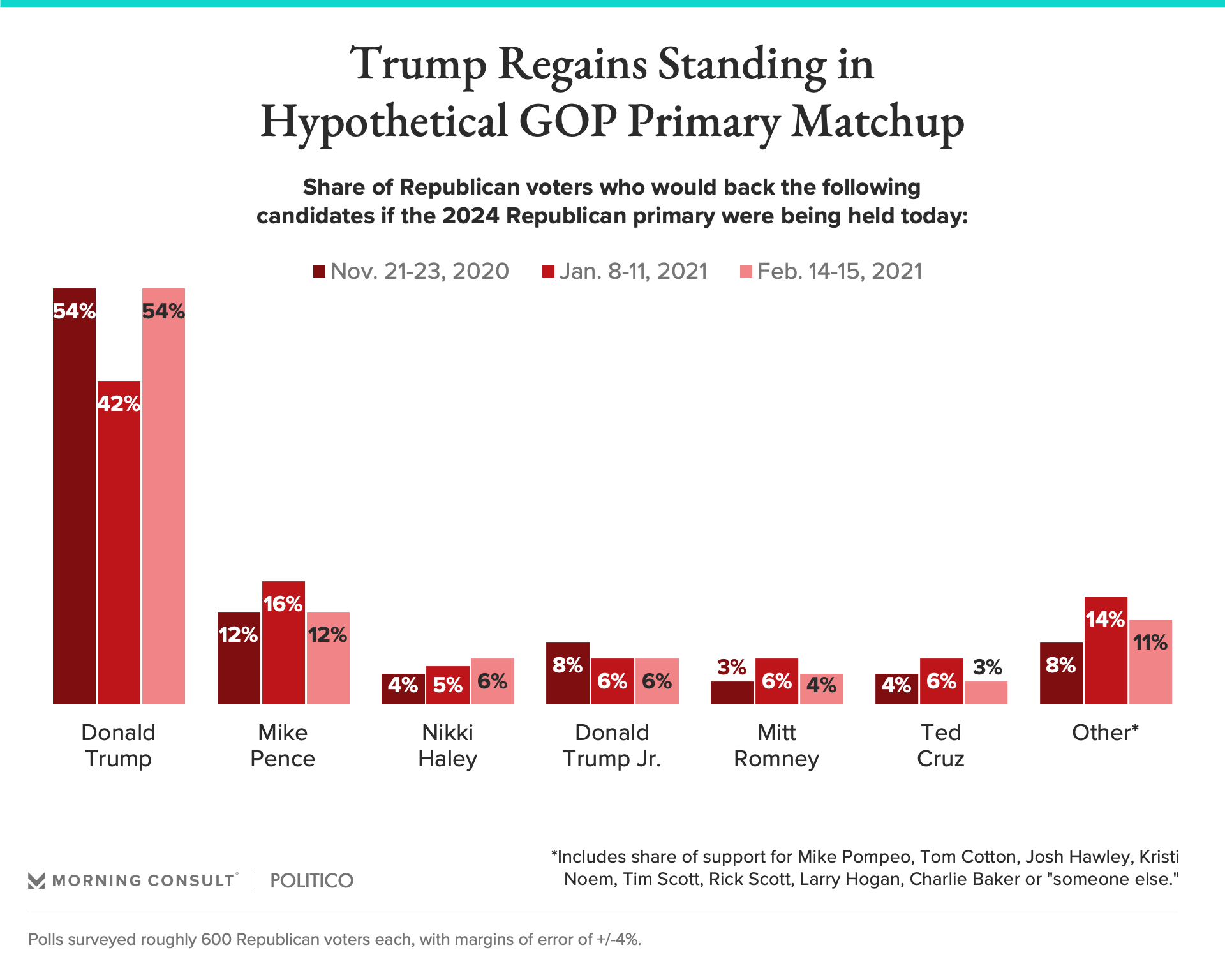 Trump has not said whether he will take another shot at a second term, but suggestions that the trial and fallout from the insurrection would doom the former president's comeback chances are not borne out by trend data among Republican voters.
Compared with another survey conducted immediately after the Jan. 6 events, the share of GOP voters who said Trump should play a "major role" in the Republican Party has increased 18 percentage points, to 59 percent, continuing an upward trend that started before the Senate trial began. By comparison, just 17 percent said he should play no role at all, at odds with the expectations of some Republican officials, such as Sen. Lisa Murkowski (R-Alaska), that the trial would spell the end for Trump.
The base's increased appetite for the former president's continued presence on the political stage came as Republican voters became less likely to blame Trump for the events that led to the riot. 
Compared with the Jan. 6-7 survey, the share of Republicans who said Trump is very or somewhat responsible for the events fell 14 points, to 27 percent. Over the same time period, the share of GOP voters who blamed President Joe Biden for the riot increased 4 points (to 46 percent) while the share who blamed congressional Democrats increased 10 points (to 58 percent). 
Republicans' views on responsibility for the Capitol insurrection stand in sharp contrast to the broader electorate: 64 percent of voters overall said Trump is at least partly responsible -- as the House impeachment managers argued, pointing to his inflammatory and false rhetoric alleging the 2020 presidential election was stolen. The number is virtually unchanged from the initial post-riot survey. 
Similarly, most minds appear to be made up when voters were asked whether they approved of the House's vote to impeach Trump, though the fact that a solid majority of voters backed the move illustrates why some Republican officials may be eager for the party to move past No. 45.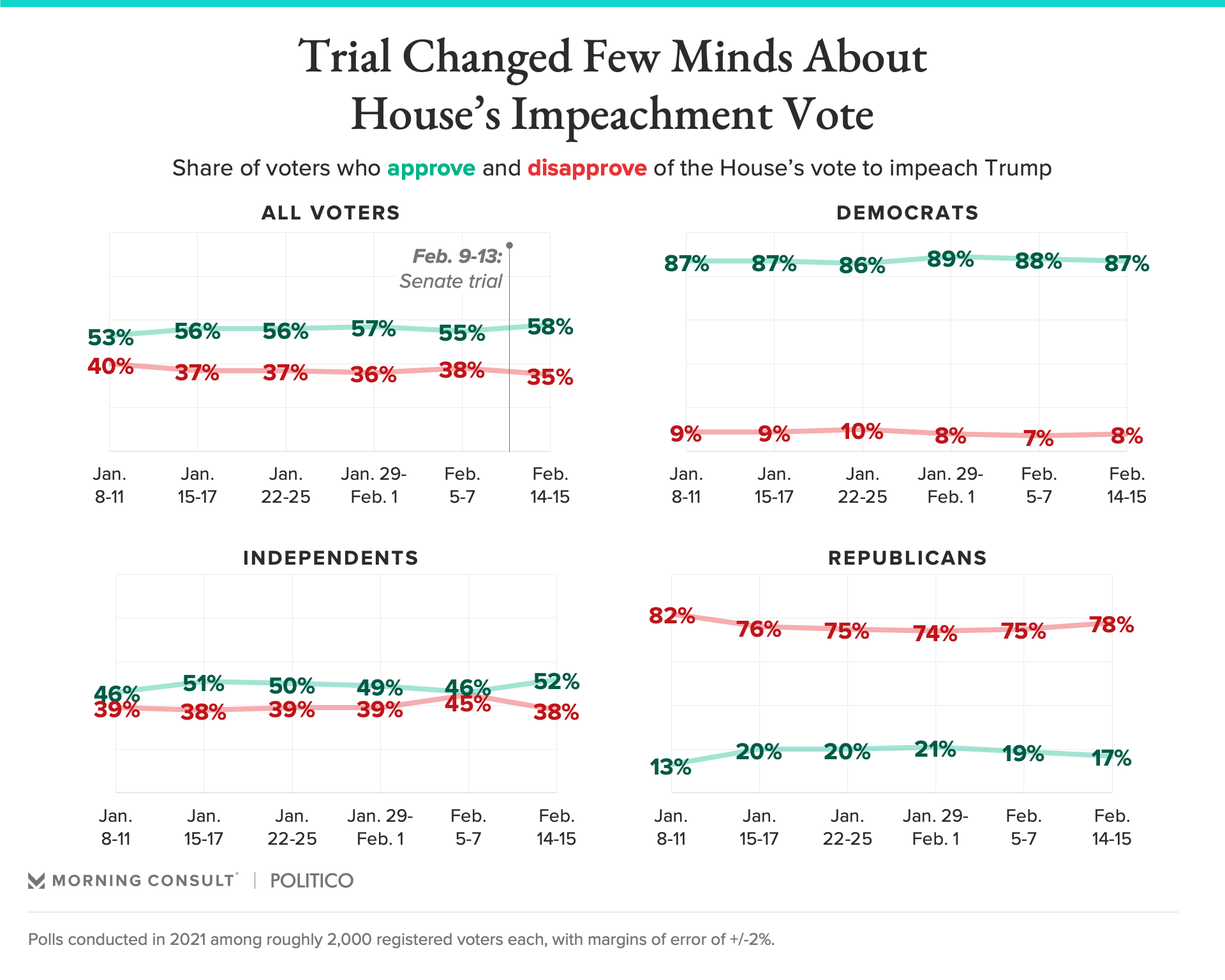 Fifty-eight percent of voters -- including 52 percent of independents and nearly 1 in 5 Republicans -- said they approve of Trump's impeachment, roughly matching the share who said the same after the House's Jan. 13 vote.
Additionally, 51 percent of voters, including 76 percent of Democrats and nearly half of independents, said they disapproved of the Senate's acquittal of Trump. Seventy-nine percent of Republican voters approve of the Senate's acquittal.
Republican senators who supported Trump's conviction, such as retiring Sen. Richard Burr of North Carolina and Sen. Bill Cassidy of Louisiana, who was just re-elected in November, have faced fierce criticism from their state parties for their votes, echoing the Wyoming Republican Party's move to censure Republican Rep. Liz Cheney after she voted for Trump's impeachment.
Amid Republican lawmakers' attempts at distancing themselves from Trump and the general bad news for the Republican Party in recent weeks, the share of its voters who said the GOP is heading in the right direction has fallen 5 points since immediately after the Capitol riot, to 46 percent. 
Eli Yokley is Morning Consult's U.S. politics analyst. Prior to his current role, Eli was Morning Consult's senior reporter covering U.S. politics. Eli joined Morning Consult in 2016 from Roll Call, where he reported on House and Senate campaigns after five years of covering state-level politics in the Show Me State while studying at the University of Missouri in Columbia, including contributions to The New York Times, Politico and The Daily Beast. Follow him on Twitter @eyokley. Interested in connecting with Eli to discuss his analysis or for a media engagement or speaking opportunity? Email [email protected].
We want to hear from you. Reach out to this author or your Morning Consult team with any questions or comments.
Contact Us