For Consumers, Brands' Care for Staff Amid Pandemic as Important as Stocked Items
New report shows most are more likely to buy from companies that show flexibility, empathy toward employees
Key Takeaways
90% of consumers said it is important to them that brands take care of their employees and treat them well, even in tough times.

90% also said it is important that brands have products they want in stock.

49% said they consider whether or not companies take care of their employees as one of their top five purchasing considerations.
To lessen the financial blow of the coronavirus, many companies across the country are resorting to employee pay cuts, furloughs, layoffs and other measures. But a new report from Morning Consult serves as a warning sign for executives leading these actions, as consumers are more likely to buy from brands that treat their employees with care amid the pandemic.
That factor was as important to respondents as product availability, as many stores are still grappling with empty shelves.
Victoria Sakal, managing director of Brand Intelligence at Morning Consult and the author of the report, said consumers tend to think first about their own needs when considering where to make purchases, but they are becoming more cognizant of factors such as employee health, especially considering the coronavirus crisis.
"Companies exist in some way to serve consumers, but consumers are now increasingly taking a 360-degree view of things," Sakal said "And drivers of choice are increasingly going to be related to other factors outside of what a company is offering."
The March 27-29 polling shows that even as companies scramble to stay afloat and consumers change their spending habits, employee treatment impacts brand favorability. Ninety percent of respondents said it is important to them that brands take care of their employees and treat them well, even in tough times. That's equal to the share who said having products they need in stock was important.
In addition to brand image, a company's treatment of employees also impacts purchasing intent. Almost half of respondents said that they regard the ways companies treat their team members to be one of the top five most important considerations when deciding to purchase a product or service. That was second to having items that respondents needed available, which was their No. 1 consideration.
Eighty-four percent of respondents said they are more likely to buy from companies that treat their workers with flexibility and empathy. Consumers take note of paid sick leave policies, for instance: 78 percent said they are more likely to buy from a company that offers paid sick leave.
Consumers are also beginning to pay more attention to other ways companies promote health and hygiene among their employees, such as providing personal protective equipment and clean work environments.
"We think this is part of a larger trend toward the importance of hygiene," said Sana Carlton, group senior vice president and a brand guidance leader at Kantar, which has also been researching consumer behavior amid the coronavirus crisis.
Layoffs and pay cuts also impact the way consumers think of the brands they interact with. Sixty percent said they have a less favorable view of companies that lay off employees due to the pandemic, while 82 percent said that if executives take pay cuts to prevent layoffs, it gives them a more favorable view of a company.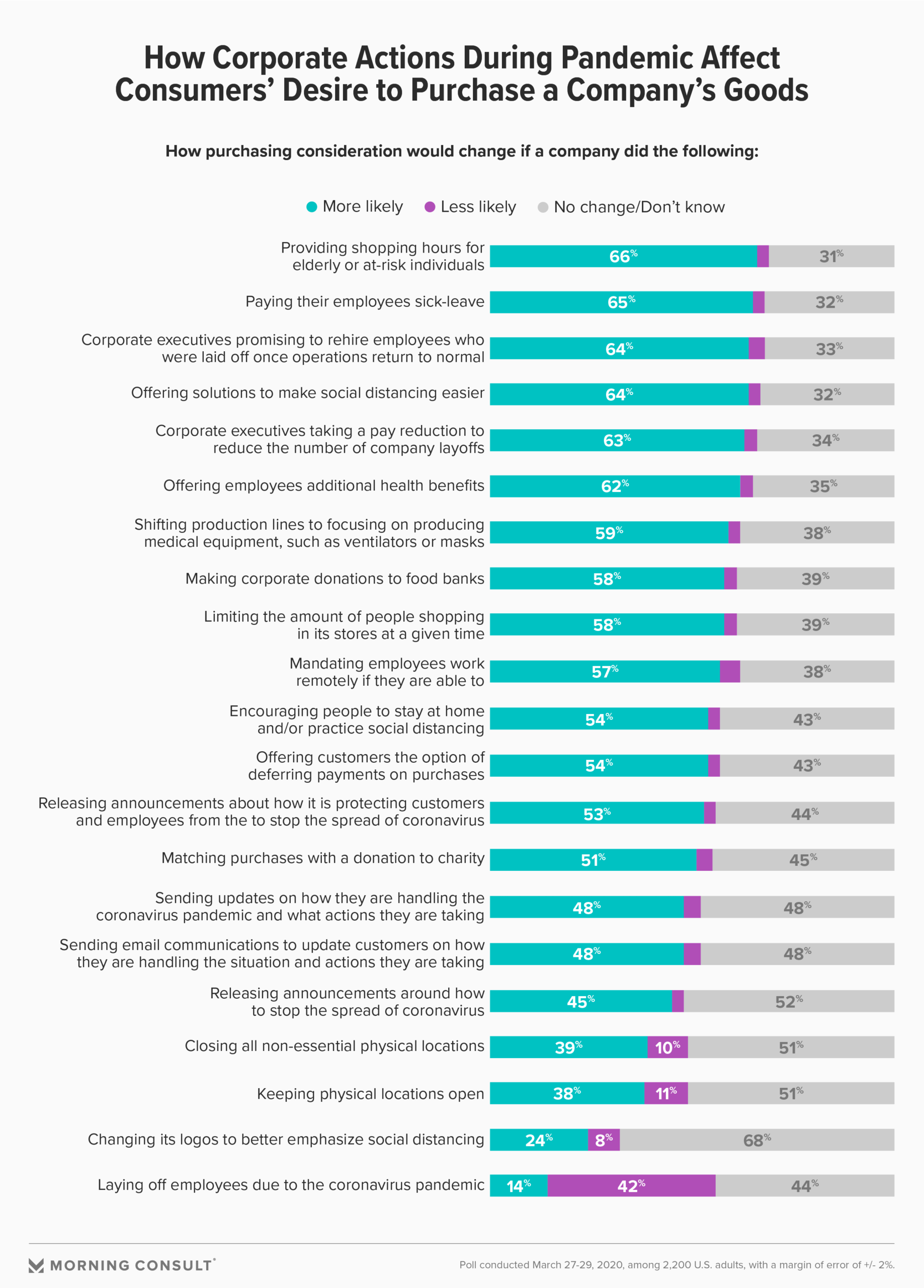 Roughly 2 in 5 said they'd be less likely to buy from a brand that laid off workers during the pandemic. The survey of 2,200 U.S. adults holds a margin of error of 2 percentage points.
When Sephora laid off many of its part-time employees via conference calls in late March, it sparked backlash on social media, even from some of its most loyal customers. A Twitter user who identified as one of the company's highest spenders, called VIB Rouge customers, said the brand was "cancelled" in her eyes after layoffs. 
If companies must resort to employment cuts, a simple public statement could change public sentiment back in their favor: 62 percent said a statement about support being given to laid-off employees would make them more likely to continue purchasing from a brand they already buy from.
"If companies can explain the rationale behind their decisions and speak to the support that they're giving to employees who are laid off, that definitely helps the situation," Sakal said.
While wrong moves during times of crisis could spell disaster for major retailers, Carlton said those that maintain trust and communication with customers might also bounce back more quickly after this economic downturn, as they did after the financial crisis in 2007 and 2008. "Large, strong brands" that did this were able to recover financially in one year, "whereas others took three to four years," Carlton said. 
Deb Gabor, the founder and chief executive of Sol Marketing and author of two books on branding, advised companies to communicate frequently with consumers about any changes or disruptions to services during the pandemic in order to have more control over their brand image.
"In the absence of information, people are going to make up the worst-case scenarios in their heads," Gabor said. For example, if a retailer experiences shipping delays and doesn't share a specific explanation, customers might assume warehouse workers are sick, even if that isn't the case.
If consumers are left to come to their own conclusions about business changes over the course of the health crisis, they could develop inaccurate impressions about brands. Sakal said that the opinions consumers form about brands during this crisis can last for years, so companies that treat their employees and communities well now could benefit down the line. 
"Coming out of this situation, companies could have all this goodwill racked up, all that positive sentiment built up in consumers' minds," Sakal said.
Alyssa Meyers previously worked at Morning Consult as a reporter covering brands and marketing.
We want to hear from you. Reach out to this author or your Morning Consult team with any questions or comments.
Contact Us