Self-Quarantined Consumers Want to Learn Things Online. Brands Are Listening.
Companies are offering classes as a way to market their services to a broader potential customer base
For many companies, especially in the retail and service industries, the people who are stuck at home represent millions of dollars of lost business. But for some companies, bored consumers who are looking to fill their free time productively represent an opportunity to expand their markets and brand recognition by providing virtual educational experiences, even if they aren't part of the company's business model. 
Beerud Sheth, the co-founder and chief executive officer of the bot and cloud messaging platform Gupshup, said his company typically works with enterprises, but it compiled a YouTube crash course on building bots from scratch for the general public in early March and regularly updates the series. 
"Suddenly the interest is higher, so we're just making these tools that are normally available for businesses available more widely," Sheth said.
Although Gupshup is well known in the chatbot space, Sheth said he hopes exposure to the free classes will increase brand recognition among a larger customer base and demonstrate the value of chatbots to companies across industries.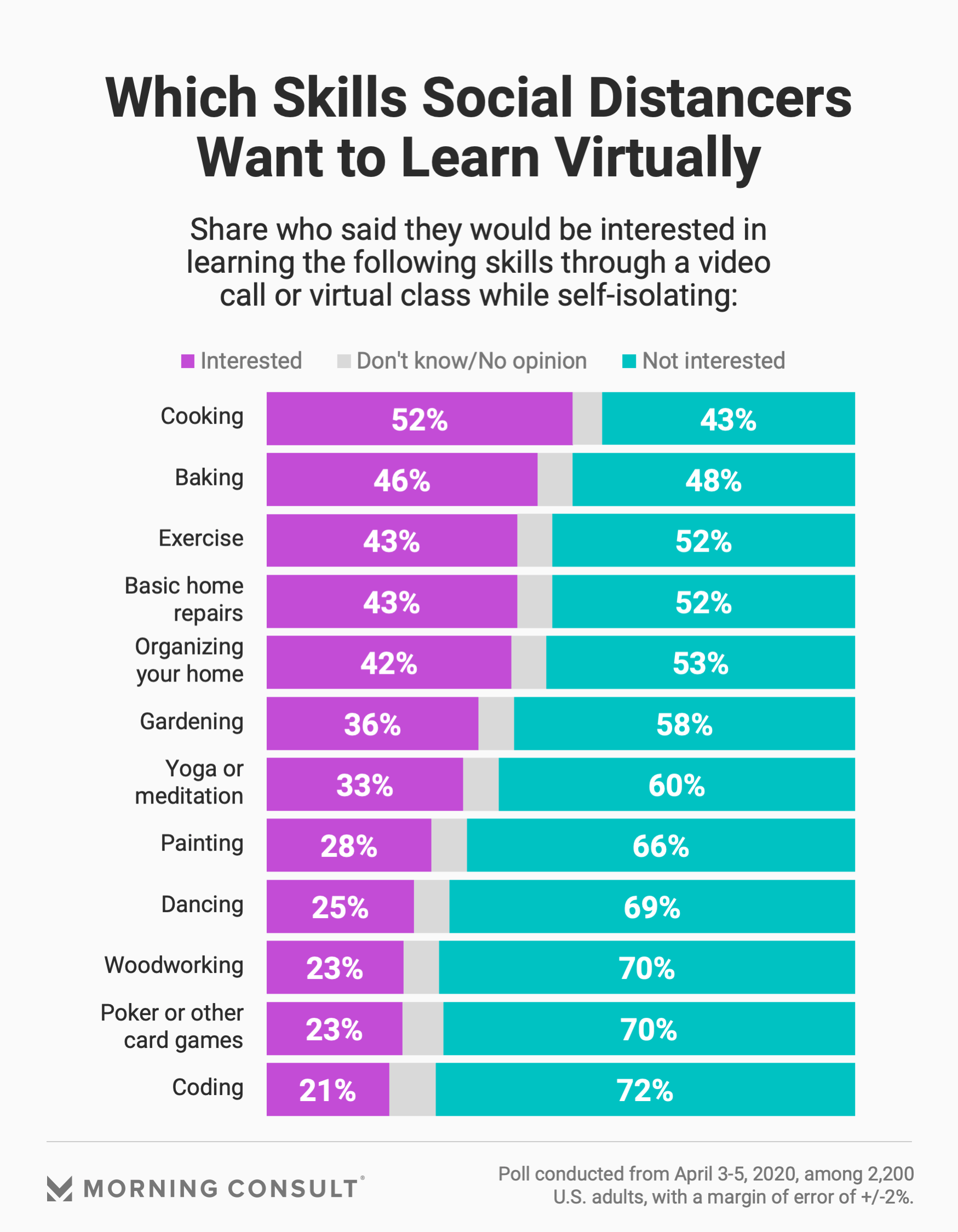 Online class attendance while self-quarantining is still an emerging trend: Just 11 percent of the public has attended a virtual class that taught a new skill in the past three weeks, according to an April 3-5 poll conducted by Morning Consult. Twelve percent of the 2,200 U.S. adults surveyed said they had already joined a video call for an exercise class in the past three weeks.
But many said they'd be interested in participating in such video calls, with a particular attraction to culinary skills. Fifty-two percent of respondents expressed interest in learning cooking skills, and 46 percent said they're interested in learning to bake. 
Exercise classes and basic home repair lessons are also in demand, as 43 percent of respondents said they'd like to participate in each, and 42 percent said they would take a class to learn to organize their home. The poll holds a margin of error of 2 percentage points. 
Sarah Hassler, chief executive officer and chef consultant at Hassler Hospitality Group, said she came up with the idea for "Social, From a Distance," a virtual dining event hosted by four chefs, who all connected via Zoom from their respective locations in upstate New York, not long after New York State announced that restaurants would no longer be allowed to offer on-site dining.
The chefs worked together to promote the event with email marketing campaigns and a flood of social media posts, and sold 300 tickets at $35 apiece, Hassler said. Then they each prepared one course to be delivered to attendees or picked up on April 3, the day of the event.
The chefs spent more than four hours on the Zoom call with attendees giving instructions on plating and wine pairing, discussing the farmers from which they sourced ingredients and sharing the inspirations behind their meals.
While coordinating dinner for 300 over video conferencing presented some technical challenges, Hassler said the marketing opportunity was invaluable for the chefs, who have had to close down their restaurants or rely solely on take-out business.
"If you are still hanging in and still active and still pushing, people are looking for your business right now," Hassler said. "It will give you brand recognition. There's an opportunity here, and people should be taking it." 
Green Flower, an online cannabis education company based in Ventura, Calif., also shifted its marketing plan not long after coronavirus first hit the United States, said Max Simon, founder and chief executive. 
The company traditionally works with professionals such as doctors, lawyers and investors who are interested in learning about cannabis for business purposes, but it wanted to make its classes more easily accessible to those who want to learn about cannabis as a tool for personal use during the pandemic. 
"We got to a place of understanding that it's a really sensitive time, and people are quite scared," Simon said. "We feel that it's important to really market the purposefulness and the message of how valuable cannabis is in general right now."
In order to do so, Green Flower made its most popular online course, which typically costs $400, available for free. Those who signed up also received a limited-time offer to sign up for additional training programs at half-price, an effort that Simon said could expand Green Flower's brand to become more about personal use as well as business development.
More than 7,400 people signed up for the program in less than two weeks, Simon said, and engagement on the Green Flower platform in general has been more than three times higher in the past week than any week prior.
Like Green Flower's course, many of these new educational resources are designed for adults, but some companies have designed remote learning experiences for children who are also stuck at home as schools keep their doors closed for the time being.
Emily Rudder, the marketing manager at podcast company Wonder Media Network, which creates podcasts tied to social justice causes, said she and her team came up with a new strategy to provide more educational content by drafting curriculum resources for students of all ages to accompany two of its podcasts.
"The second that we were all self-isolating and there was a wave of parents and educators seeking out resources to teach their kids at home and online, we mobilized," Rudder said. "Rather than just the call to action saying, 'Go listen to the podcast,' we can say, 'Listen to the podcast, and then have your kids create their own episode.'"
The curriculum is available for free, Rudder said, but Wonder Media Network partnered with the National Women's History Museum in Alexandria, Va., and reached out to other educational institutions to promote the effort. The museum is featuring some Wonder Media Network podcasts on its website, which Rudder said could lead to an increase in downloads and subsequent partnership opportunities.
Wonder Media Network is considering its curriculum to be a trial run for potentially building more robust educational resources down the line. Rudder said the reception from teachers so far during the company's first week of outreach has been positive, although the initiative is still in its early stages and has yet to be incorporated into virtual classrooms.
The additional emphasis on education fits well with Wonder Media Network's existing brand, Rudder said, but many other companies can also come up with training courses that their consumers will find valuable.
"Any company can do it, but when there's brand alignment or mission alignment in some way, it's always more meaningful," Rudder said.
Alyssa Meyers previously worked at Morning Consult as a reporter covering brands and marketing.
We want to hear from you. Reach out to this author or your Morning Consult team with any questions or comments.
Contact Us