Facebook Faces a Long, Uphill Branding Battle to be Known as a Metaverse Company
Meta is starting off with a net favorability rating of negative 3 percentage points, according to Morning Consult Brand Intelligence data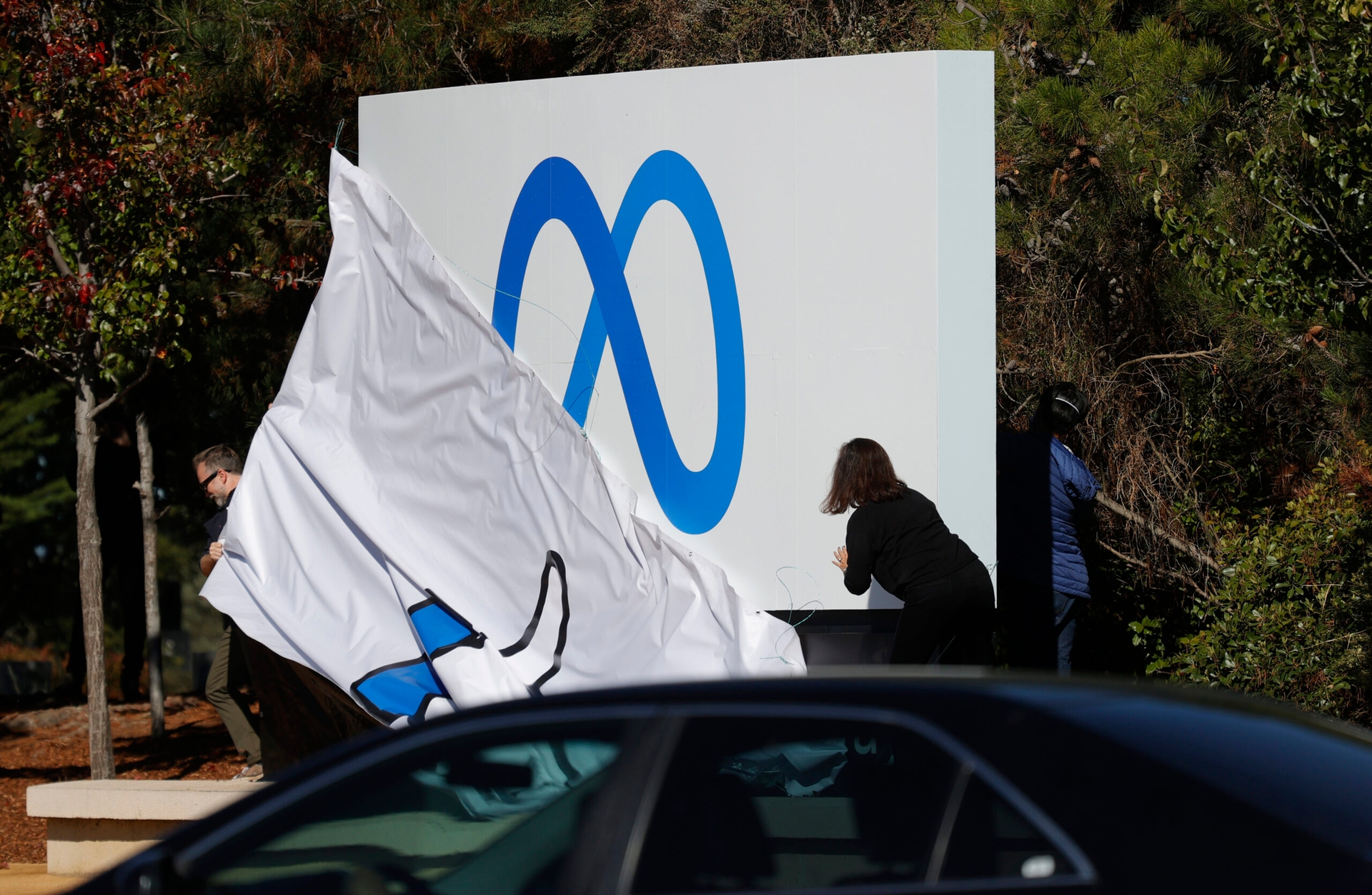 Key Takeaways
Meta's net favorability rating is highest among Gen Z and millennials, at 2 points and 4 points, respectively.

Net trust in the company is low, at negative 5 points.

Most Americans haven't heard anything about Meta, but those who have report hearing more negative than positive things, resulting in net negative buzz of 5 points.
Meta Platforms Inc. — the company previously known as Facebook Inc. — has spent the past few weeks trying to convince the public that its new name and direction are more than just a stunt to deflect from a slew of bad press. But marketing experts are unconvinced that Meta's rebranding efforts will pan out as planned — and data from Morning Consult shows why.
Facebook's net favorability rating in the United States has been on the decline since the Cambridge Analytica scandal in 2018, while "negative buzz," a metric that represents ​​when respondents report hearing something negative about a brand, has spiked in recent weeks following the company's latest controversies, including the leak of internal documents and a widespread outage that hit its platforms. That's according to data from Morning Consult Brand Intelligence, which tracks these metrics for thousands of brands in more than a dozen countries. 
The most recent data on Meta, collected over the course of nine days in early November, indicates that the new brand is not actually new — or improved — in the eyes of the American public. 
Triple threat: negative favorability, trust, buzz
Meta has a net favorability rating of negative 3 percentage points. Though Facebook's favorability rating has been cut in half since Morning Consult began tracking it in October 2016, it was still higher than Meta's, at 20 points as of early October. 
Though most Americans aren't yet familiar with the new brand, net trust in Meta is also in the negative zone, clocking in at negative 5 points among all adults. Among generations, millennials were the only cohort to report positive net trust in Meta. Conversations about the new brand have also been more negative than positive, resulting in net negative buzz of 5 points:
Americans Don't Particularly Like or Trust the Meta Brand
U.S. adults were asked if they have a favorable or unfavorable impression of Meta, how much they trust Meta to do what is right and if they've heard mainly positive or negative things about the brand
Polls conducted Oct. 30-Nov. 8, 2021, among roughly 7,300 U.S. adults, with a margin of error of +/-1%. Figures might not add up to 100% due to rounding.
"Brands that are not well-liked rarely spawn a brand that is liked," said Allen Adamson, co-founder and managing partner of the brand marketing agency Metaforce and an adjunct professor at the New York University Stern School of Business. "Where the brand comes from has a lot to do with whether you like it."
Generation Z and millennials, groups typically skeptical of corporate America, see Meta more favorably than the general public: The brand has a net favorability rating of 1 point among Gen Zers and 4 points among millennials. That, however, could be because they view Facebook so negatively that any change in name was likely to draw more positive outlooks.
It nonetheless could be a good sign for Meta, which is trying to regain the attention of young users who are increasingly captivated by competitors such as Snapchat and TikTok. But a name change on its own won't be enough to accomplish that goal, said Jorge Aguilar, a partner at brand consultancy Prophet who specializes in advising clients in the tech space.
"What's going to help attract this younger generation is having the content and experiences on the platform that consumers value," Aguilar said. "Meta has the financial wherewithal and the vision to get there, but it's not going to be through the blue app. It's going to be through something like the smart glasses."
The smart glasses, developed in partnership with EssilorLuxottica's Ray-Ban, are just one small part of Meta's ambitions in the virtual and augmented reality space. The big plan is to build out a "metaverse," which Chief Executive Mark Zuckerberg described as "an embodied internet where you're in the experience, not just looking at it" — and that might appeal to the young consumers who have abandoned the Facebook platform in recent years.
Jason Harris, co-founder and chief executive of independent ad agency Mekanism Inc., pointed to ByteDance Ltd.'s merger of Musical.ly into TikTok as an example of a successful rebrand targeted at a younger generation. But, unlike Facebook, the Musical.ly product had already had some success resonating with that demographic. 
"Younger audiences care about things they can use," Harris said. "They're looking at what they can use today, and Meta doesn't have an in-market product for that demographic right now."
Still, more than half (55 percent) of all adults said they've never even heard of Meta. An analysis of Twitter data from October suggests the rebrand may not have had as much of an impact on the social conversation as Meta would have liked. The number of tweets associated with the platform's ill-timed outage last month dwarfed the amount connected to the Meta branding announcement.
However, the rebranding did appear to have at least helped prevent another news cycle surrounding the leaked Facebook Papers from blowing up again:
The Facebook Outage Blew Up on Social Media. The Meta Rebranding? Not So Much
Volume of tweets associated with each topic, by day
Relative tweet volume was calculated based on a sample of 10% of all tweets that mention Facebook, and is subset to tweets that include hashtags relevant to the three topics between Oct. 1-Nov. 1.
Analysis of Twitter data by Morning Consult data science/Haley Sorensen
"This is a marathon, not a sprint"
Given low favorability ratings for both Meta and Zuckerberg, low trust in the rebranded company and net negative buzz surrounding it, a successful rebranding into a metaverse company is likely at least a few years off at best, marketing experts said.
"This is a marathon, not a sprint," Adamson said. "It's going to take several years and lots of money to establish this new image. Hopefully by then, Zuckerberg will have rehabilitated the Facebook brand, Meta will mean the metaverse and Facebook will be just a quiet, boring social media company. Then he'll have a shot." 
But in those few years, Meta will have another problem to solve: Most people are currently not interested in the company's business proposition, the metaverse, according to a Morning Consult survey conducted Oct. 29-Nov. 1. And it won't be easy to alter the public perception of the brand based on a concept, as opposed to a more concrete and easily digestible product or service.
"The more tangible it is, the easier it is to brand," Adamson said. "The challenge is that Facebook is real now — people can touch it and see it in the news everyday — but Zuckerberg is trying to build something out of vapor."
That's why Aguilar, a self-described optimist when it comes to the Meta rebrand, said the company should approach its reinvention as a series of small steps, not a single giant one. Meta's investments in hardware, such as its Portal devices, its smart glasses or its Oculus (soon to be renamed Meta Quest) virtual reality headsets.
Those kinds of use cases will get the average person more acquainted with augmented reality and virtual reality, Aguilar said. Then Meta can work to incrementally introduce users to the metaverse. There's some optimism Meta will eventually be able to pull it off: Harris called it a "good business move" by Zuckerberg to assert ownership over the metaverse, while Aguilar argued it could ultimately set Meta down the road to brand recovery.
"It's so easy to criticize Facebook. No matter what they do, they get negative coverage," Aguilar said. "While part of that is justified, I also feel like the move they made is a really good one. They have planted a flag in an area that's undefined, but emerging as we speak."
Some marketers, however, argue that Meta should have waited until it was further along its new path before publicly unveiling the rebrand. Christine Alemany, chief executive of branding and marketing agency TBGA, said Meta "seems to be using the same playbook" it did with its Diem cryptocurrency project, which rebranded from Libra last year but has yet to bear fruit.
"Diem was supposed to launch in early 2021, and then it was slated for sometime this year, but the year is almost out," Alemany said. "It's a show, not tell, situation. This time, with the new pivot to the metaverse, the company is going to have to follow through on everything they're saying."
Trouble with timing and motivation
Meta's lack of a tangible product is hardly the only issue marketers — and the general public — have with the timing of the company's rebranding announcement.
Fifty-one percent of U.S. adults said they think Meta rebranded in order to distance itself from negative press, according to the Oct. 29-Nov. 1 poll, and public relations experts agreed that instinct is likely correct. A Meta spokesperson did not directly respond to this story, but referred to previous statements company executives have made that denied the news cycle was the reasoning for the timing of the rebrand.
"Either it is a P.R. move, or they are just so arrogant as to think that what's happening right now around the controversy is irrelevant to their future and they can just blow by it," said Lisa Kane, group director of strategy at Omnicom Inc. branding agency Siegel+Gale.
Meta likely had this move in the works for a while, she said, and chose to launch it now, in the midst of controversy. Timing aside, Kane argued it was a "strategically sound decision to change your name when your company and your vision has outgrown its current brand."
But Kane and several other marketers who spoke with Morning Consult said they would have advised Meta to pump the brakes on its rebrand until the company moved further beyond the scandals in which it's still deeply embroiled. 
"The timing is atrocious," Adamson said. "Timing is a critical part of executing a rebrand well, and there's too much noise around Facebook and Mark Zuckerberg right now. The Facebook brand equals the Zuckerberg brand." 
In almost any other situation, a CEO would step down at a time like this, when they "could be dragging down the corporate brand," as Zuckerberg's favorability rating indicates he could be, Alemany said. 
But that is an unlikely move. As an alternative, marketers suggested Meta put forth new in-house leaders to address the public, such as the heads of Instagram or Reality Labs, to draw at least some attention away from Zuckerberg. Announcing a new face for the Facebook app in particular would have been beneficial, Harris said, as it would have allowed Zuckerberg to step away from that brand to focus on Meta's bigger goals with the metaverse. 
"That would allow people to look at Facebook as something new with a new team," Harris said. "It just seems like he was changing the wallpaper without messing with the structure of the house, and that's a problem."
Alyssa Meyers previously worked at Morning Consult as a reporter covering brands and marketing.
We want to hear from you. Reach out to this author or your Morning Consult team with any questions or comments.
Contact Us