Amid Afghanistan Withdrawal, Biden's Net Approval Rating Is Underwater for First Time
President's support among Democrats has softened, while Republican opposition has hardened
Key Takeaways
48% of voters approve of Biden's job performance and 49% disapprove — a record low in his net approval rating.

The share of Democrats who "strongly" approve of Biden fell 7 percentage points after the Taliban took control of Kabul earlier this month, to 47% – the lowest of his presidency.

A slim majority of independents (52%) disapprove of Biden's job performance. 
As voters watch the crisis in Kabul unfold amid the withdrawal of U.S. forces from Afghanistan, their views about President Joe Biden's job performance have dipped underwater for the first time in Morning Consult polling since he took office in January.
The previously noted erosion of backing for Biden among independent voters earlier this summer amid a spike in COVID-19 cases and inflation has been followed in recent weeks by a drop in enthusiasm among Democratic voters and an energized antipathy among Republicans, according to daily Morning Consult Political Intelligence tracking.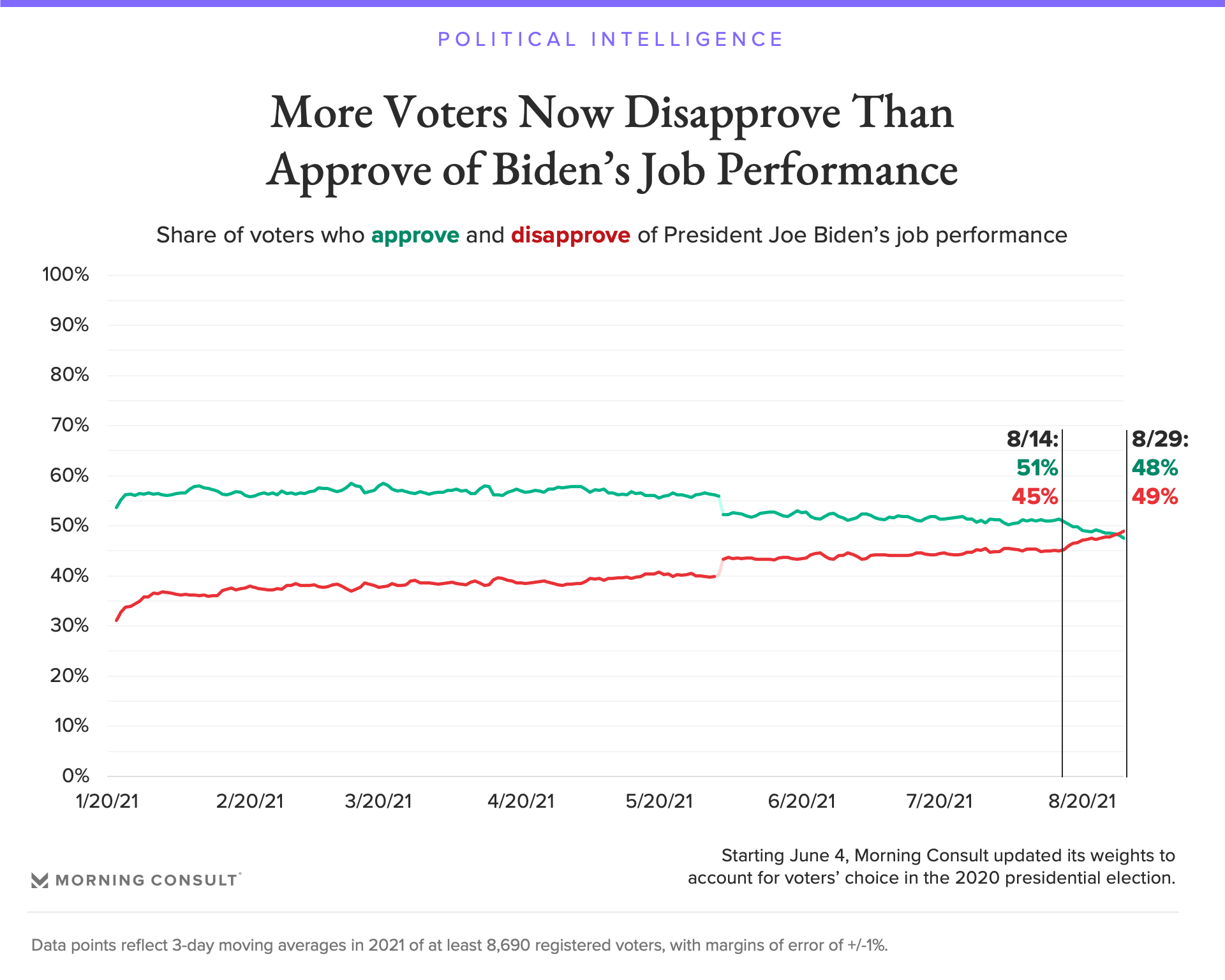 The latest polling, conducted Aug. 27-29 among 15,623 registered U.S. voters, found 48 percent approve of Biden's job performance and 49 percent disapprove. It marks a drop of 7 percentage points in the president's net approval rating (the share who approve of his job in office minus the share who disapprove) since polling that concluded on Aug. 14, the day before Kabul fell to Taliban forces which jump-started a chaotic effort to quickly evacuate Americans and allies from the country.
Perhaps the most striking movement was among Democratic voters, who have softened their support as Biden fends off criticism from both parties over his administration's strategy to withdraw the United States from the country's longest war.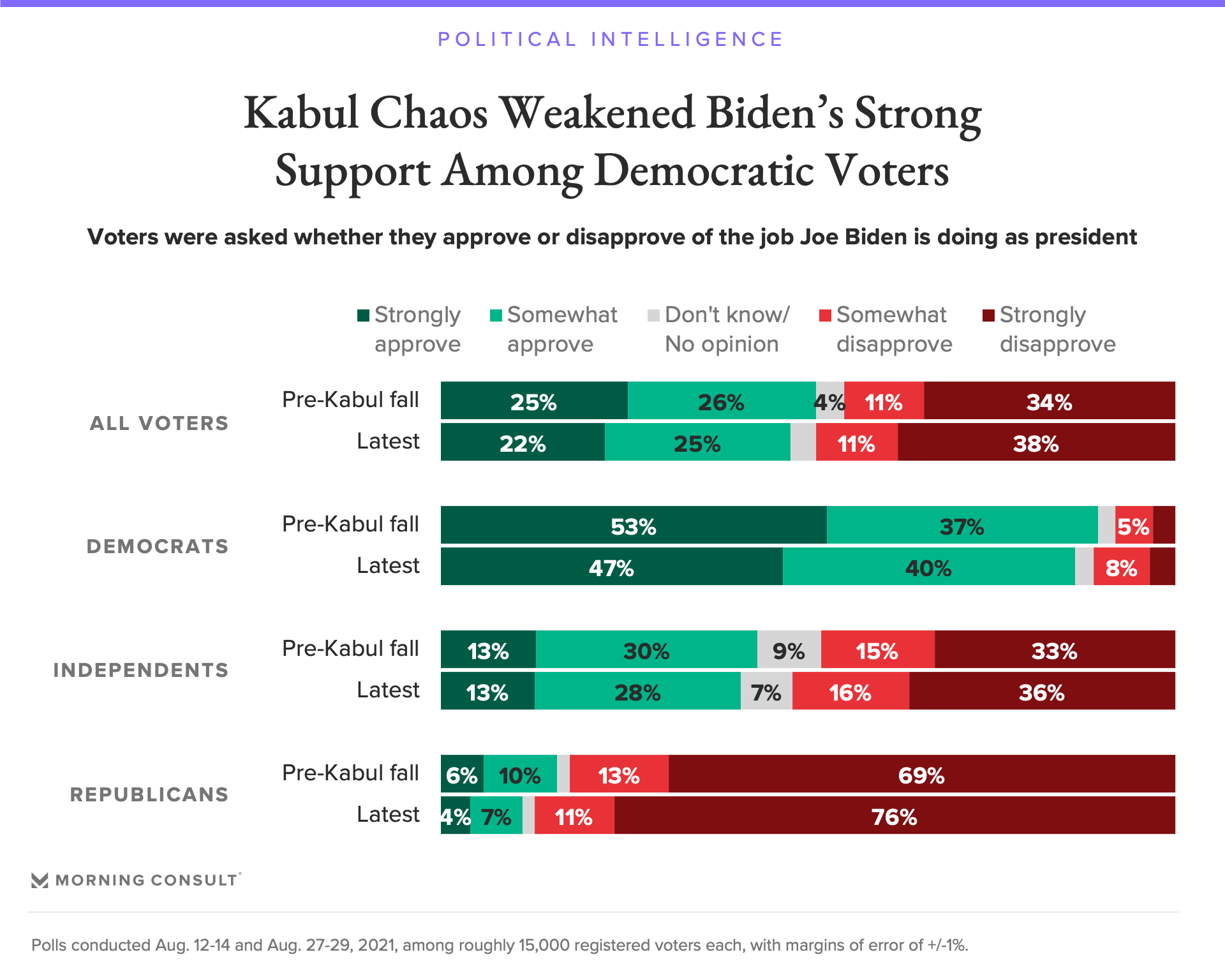 Since the Aug. 12-14 surveys, the share of Democrats who "strongly" approve of his job performance fell from 53 percent to 47 percent – the lowest number of his presidency so far.
The recent weeks have also brought an intensifying negative sentiment among Republican voters, who have demonstrated growing opposition to the withdrawal they once largely supported.
Just over 3 in 4 Republicans (76 percent) "strongly disapprove" of Biden's job performance – higher than at any other point since he took office on Jan. 20. 
The political ramifications of a foreign policy issue that emerges more than a year before the midterm elections are impossible to parse, but the crisis that's unfolded over the past several days appears to have compounded Biden's growing problem with independent voters, whose net approval rating for Biden has been either even or underwater in daily tracking since the first week of July.
According to the latest surveys, 41 percent of independents approve of Biden's job performance and 52 percent disapprove – a 6-point decline in his net approval rating since Aug. 14 that only exacerbates the burgeoning challenge he's already facing with unaffiliated voters.
Correction: A previous version of this story misstated the size of the drop in the share of Democrats who "strongly" approved of Biden's job performance between surveys conducted Aug. 12-14 and Aug. 27-29.
Eli Yokley is Morning Consult's U.S. politics analyst. Prior to his current role, Eli was Morning Consult's senior reporter covering U.S. politics. Eli joined Morning Consult in 2016 from Roll Call, where he reported on House and Senate campaigns after five years of covering state-level politics in the Show Me State while studying at the University of Missouri in Columbia, including contributions to The New York Times, Politico and The Daily Beast. Follow him on Twitter @eyokley. Interested in connecting with Eli to discuss his analysis or for a media engagement or speaking opportunity? Email [email protected].
We want to hear from you. Reach out to this author or your Morning Consult team with any questions or comments.
Contact Us