Kavanaugh Vote Shakes Up Susan Collins' Coalition
Maine Republican eases primary concerns, but questions linger for general election
Key Takeaways
Democrats soured on Collins by a net 48-point margin from the third quarter to a month after her Kavanaugh vote.

68% of Republicans approved of her -- a net 43-point jump.
One month after Sen. Susan Collins provided the decisive vote to confirm Brett Kavanaugh to the Supreme Court, the Maine Republican finds the political ground has shifted beneath her ahead of a potential 2020 re-election run.
Collins -- one of the most moderate Senate Republicans -- has long been popular with Democrats in her state, but her support among that party's voters dropped drastically in October, according to Morning Consult tracking. Meanwhile, her standing rocketed among Republicans, realigning her support as candidates begin to consider possible campaigns in 2020.
Overall, 45 percent of Mainers approved of her job performance in the month following her Kavanaugh vote, compared to 39 percent who disapproved. It marked a 9-percentage-point downward shift in her net approval from Oct. 6-Nov. 6, compared to her numbers in Morning Consult's latest quarterly Senate Approval Rankings, based on surveys conducted from July 1 through September 25.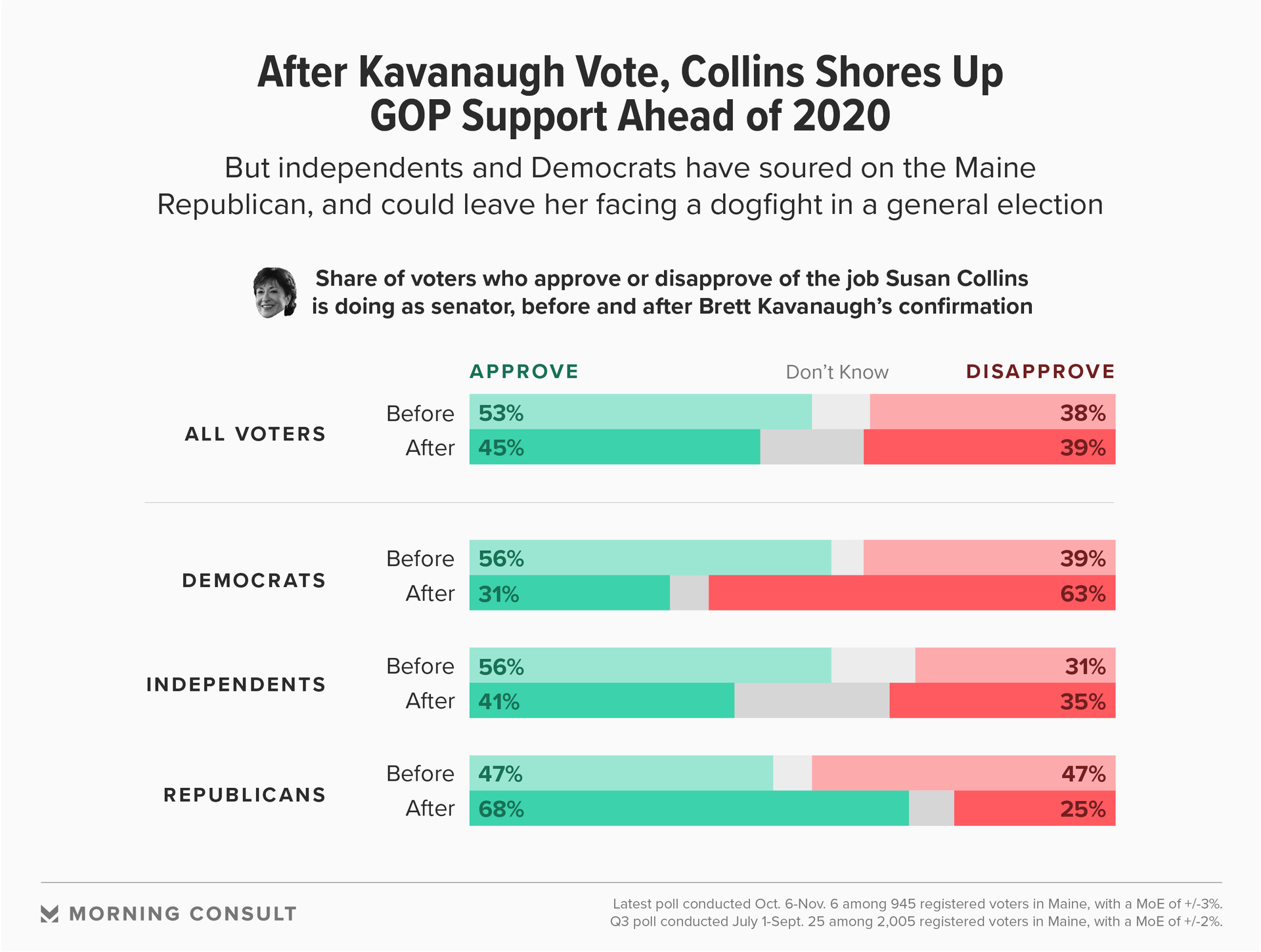 The bulk of the negative shift came from Democrats, who soured on Collins by a net 48-point margin, leaving her 32 points underwater with that group a month later. Thirty-one percent of Maine Democrats approve of her, while 63 percent disapprove. Among independents in her state, there was a net 19-point drop, through a 41 percent plurality still approve.
If the Kavanaugh vote damaged her standing among Democrats, it appears to have strengthened her support with the Republican base, which dwindled last year after she bucked her own party and helped kill the GOP's attempt to repeal and replace the Affordable Care Act.
From the second quarter to the third quarter of 2017, Collins' net approval dropped 40 points among Republican voters, with 46 percent approving and 48 percent disapproving. In the quarter before the Kavanaugh vote, Republicans in the state were split on her job performance, 47 percent each, but in the latest survey, 68 percent approved and 25 percent disapproved -- a net 43-point jump.
Collins has won with diverse groups of voters before. To win a race in the state, said Mike Leavitt, former executive director of the Maine Republican Party, "you're going to need to have some crossover appeal."
"There may be an element of the Democrats who are upset with her and are for anybody but Susan Collins, but the Republicans aren't like that and the independents don't vote that way," he said in an interview Tuesday.
Sandy Maisel, a professor of government at Colby College, said Collins has been elected with "a lot of Democratic support" in the past, but he expects those voters to prove unforgiving in the wake of her decision on Kavanaugh.
Collins won re-election in 2014 by 36 points, with 67 percent of the vote. In 2008, the year President Barack Obama won Maine with 58 percent of the vote, she won by 23 points, with 61 percent of the vote. Strategists say she's secured votes from left-leaning independents to carry those margins, even with her past support for Republican-appointed judges and tax cuts.  
"She had a lot of goodwill built up," said Maisel, but he believes she lost some of it "not only by her vote, but also by her explanation of her vote," when she questioned the story of Christine Blasey Ford, who accused Kavanaugh of sexual misconduct that she testified occurred while the two were in high school.
Even if the Kavanaugh dip in her approval does stick, Republican strategists in the state questioned who could build a full coalition of disenchanted independents and Democrats and beat her in a two-way contest.
Two years out, the list of possible rivals isn't clear. Susan Rice, the former U.S. ambassador to the United Nations, floated her name for the seat in tweets, though experts in the state have questioned whether she would be able to mount a formidable campaign – mainly because she is not from Maine. A crowdfunding website has already raised more than $3.7 million for whoever might run against Collins over her support for Kavanaugh.
Collins has not said whether she plans to seek re-election, and a spokeswoman, Annie Clark, said her office won't be making any announcements to that effect in 2018.
"Senator Collins is very grateful for the incredible support she has received from Mainers over the years, and she continues to work hard every day on their behalf," she said in an email.
But if she does run, Leavitt predicted she would win "handily," citing support among Republicans and independents.
Maisel disagreed.
"I think the common view is that, if she runs, she's gonna have a tough time," he said.
Eli Yokley is Morning Consult's U.S. politics analyst. Eli joined Morning Consult in 2016 from Roll Call, where he reported on House and Senate campaigns after five years of covering state-level politics in the Show Me State while studying at the University of Missouri in Columbia, including contributions to The New York Times, Politico and The Daily Beast. Follow him on Twitter @eyokley. Interested in connecting with Eli to discuss his analysis or for a media engagement or speaking opportunity? Email [email protected].
We want to hear from you. Reach out to this author or your Morning Consult team with any questions or comments.
Contact Us